I hear a lot about the flat spots at Gore — like it or not, they're part of the Gore Brand. In the beginning during the ride up and slide down days, heels were free and trails like Rabbit Pond followed rolling terrain going both up and down. Nobody seemed to mind the exercise.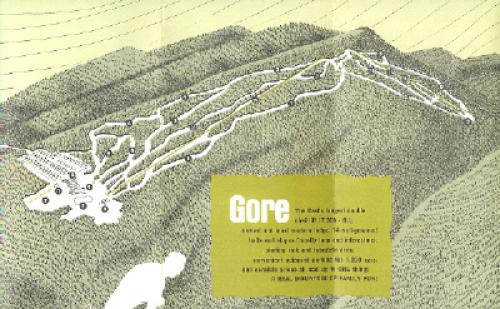 But during the early period of lift served skiing on Bear Mountain, in the mid-sixties, there were no flat spots. The East and the North Sides functioned nicely as a mountain with higher elevations, more vertical and more terrain than the Ski Bowl.
In the late sixties, the funds became available to develop the true summit of Gore. Some of the very best terrain at Gore Mountain was added under the Straightbrook and Summit Chairs. Hawkeye, Chatiemac, Headwaters, Lower Steilhang and Hullabaloo put true expert terrain onto the trail map. At that time there was only one way to get down to the base, without adding yet another lift. "Cloud" was born.