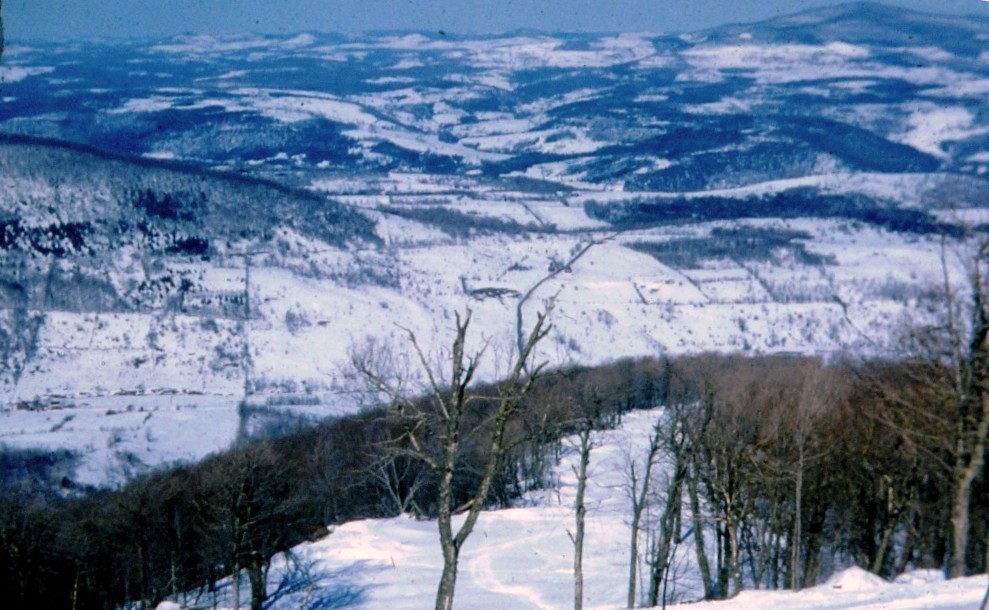 by Russ LaChapelle, as told to James Michaud
I often spent my summer vacations visiting the Liverpool Public Library, where numerous magazines were archived. Growing up in Central New York during the 1960s, I was introduced to skiing on a neighborhood hill and became interested in finding out about the places that offered this sport to the public.
For Christmas 1966, my parents gave me an Eastern Ski Atlas, which detailed the many places to ski in the northeast, including pictures of trail maps. I can vividly remember being taken to the various names and locations from the maps and even writing the ski areas to obtain their brochures. This led to collecting and comparing road maps sold by several different gas stations, which also indicated where ski areas were. Some maps had the same locations noted while others did not, so I eventually created one map showing all of these locations collectively.
At the library, the older ski magazines mentioned a place in the Catskills called "Princeton Ski Bowl." I noticed that the gas station maps I'd collected never had it listed. I began noticing that this happened often with other locations, but being new to all of this, I couldn't figure out why. Many of these locations had "wintry" names and/or included "mountain" as part of what they were called. Princeton Ski Bowl, located in the Catskills, struck me as a funny name for a place to ski. Also, the little bear, seen in the ski magazine advertisements seemed unrelated.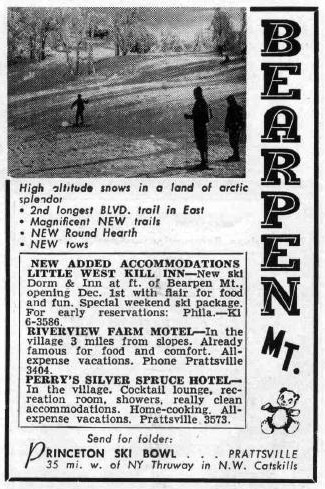 In 1969, my family moved to the Albany area, which began a three-decade quest to experience for myself what northeastern skiing was all about. After numerous trips in the 1990s across the northeast, the western states and Canada, I returned to the curiosity of my youth and began investigating Catskill ski history. People I spoke with often mentioned Bearpen in terms of its overall importance. They related to me that because of when and where this area operated, many locations that we ski today came to be. What I had forgotten was that Princeton Ski Bowl was, in fact, Bearpen Mountain. I kept hearing about it, but did not make the connection until later.
Everyone talked about Bearpen in almost reverential tones, like it was "the one that got away." I found it interesting that no one really mentioned why it was no longer there. Later, the truth attached to this secret slowly unfolded. Sensing my passion, people all said, "You need to learn about Bearpen! You need to go see Bearpen!" In those days, when artificial snowmaking did not exist, many older people told stories of skiing at Bearpen in the middle of May. For me, in the Catskills, this seemed ridiculous, but I kept an open mind. Still, I kept thinking, "If it's so great, why haven't I heard of it before?"
First Visits to Bearpen
As information slowly trickled in while checking out other places to ski in the Catskills, a trip to Bearpen fell into place. I drove through the small town of Prattsville, over a steel bridge, and took a left onto Greene County Route 2. This wandering uphill road finally leveled off to a view of a massive ridge with two huge peaks on either side: Bearpen in all its magnificence. Moving on, I traveled another half mile to the next ridge and witnessed this magnificence yet again, but this time with depth! Remaining on Route 2, I drove downhill into Little Westkill Valley, where I parked and began my trek into the woods. Since this land was posted with New York State land signs, I knew I was not trespassing.
As I hiked uphill, I came upon stone walls running across the downhill contour and newer tree growth mixed with patches of grass. I determined these to be originally pastures. Farmers had used the stone to section off their property boundaries and Mother Nature had taken over due to it no longer being used. As it related to the existence of a ski operation, what I saw did not make sense. From the valley floor, ski trails were clearly visible coming down from above. However, because the stone walls had not been disturbed (at least in the area I had explored), the trails could not have reached down to this particular base location. This told me that the ski mountain could not have been operated from the valley and had to be an upside-down creation similar to Intermont, a Central New York area I had skied in my youth.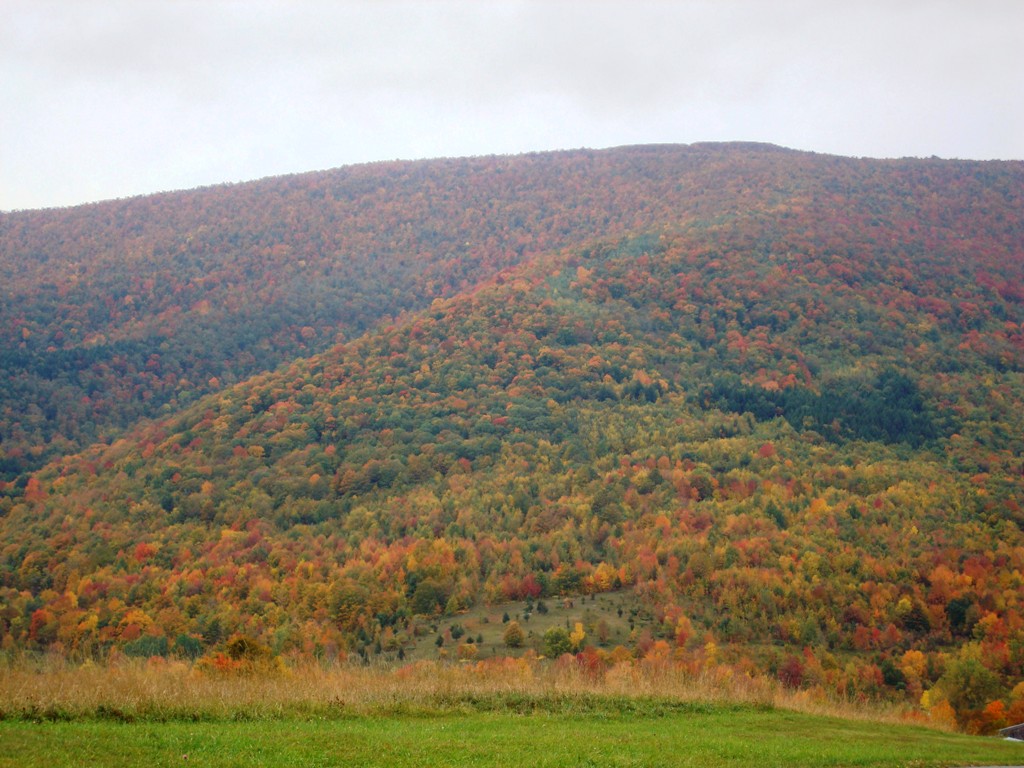 I returned to my car and continued through the valley about a mile, where the road intersected Greene County Route 3. I followed this road to the point where it became dirt. On my left stood Vly Mountain with its own unique character, creating an incredible feeling of depth. Steeper than Bearpen, I envisioned continuous expert terrain that was twice as long as "Outer Limits" at Killington. This mountain is the icing on Bearpen's cake.
A few days later, I made contact with Bob Hull, the Roxbury town assessor. Well-versed in the history of the area, this fantastic gentleman answered many of my questions. Over the course of three phone calls, Mr. Hull did several things. Initially, he opened the door to speak with Bruce German, one of two men who created the Roxbury Ski Center, aka "No Name." This aspect is a topic onto itself, but ties to Bearpen in an interesting way.
In preparation for the first season the Princeton Ski Bowl operated, the town of Roxbury granted a permit on the western side of the mountain for the existing but well eroded Vega Road to be regraded. This work would allow connection to an additional parking lot in that valley for those who came to ski. Initially, Bruce German, along with his soon-to-become partner, Romeo Signetti, would become the employees who ran that lot.
The following year, the permit needed to access that area would be denied. Inspired by what the operation had become, German and Signetti acquired the land that the road ran through the middle of and began construction of the Roxbury Ski Center. Mr. Hull also told me about the way it snowed in these parts. He mentioned that the ski area closed once because it snowed too much, which brought me back to what I had heard earlier about being able to ski the mountain in May.
Through our last phone call, Bob made arrangements for me to meet with his son Dennis, who would take me up on the mountain via ATV two weeks later. We rode from his home to a dirt road labeled, at that time, "Ski Run Road." This road was explained to me as the path traveled by old army trucks — vehicles that brought skiers up to and across the summit ridge ending at a small parking lot, which was the unloading area (elevation 3,500 feet).
Bearpen's Stats
After traveling a small distance, we came across a rectangular pond and some cinder blocks: remnants of the summit lodge. Continuing past this point, old ski trails, yet to be fully taken over by nature, became easily seen. I was also shown a couple of old trucks that had been used to power rope tows. At the absolute summit, a powerful engine was still in place, which he described as being the drive for the main rope tow. It was at this point that I finally understood why Bearpen was still a big topic around the area. Its northeast exposure and continuous fall-line of 1,900 vertical feet to the valley would be considered excellent criteria for any ski area. Through the use of topographical maps, I would later discover that Bearpen had an overall vertical drop of 2,120 feet: unheard of for lift-served skiing in the Catskills.
Moreover, Bearpen sits right in the middle of everything in the Catskills with gorgeous views in every direction. Depending on where one is on the mountain, Plattekill can be seen to the west, the backside of Windham to the east, Hunter West to the southeast, and Belleayre/Highmount to the south. On this particular day, the air was crystal clear, offering a beautiful view of the distant Adirondack foothills near Northville, the Berkshires, and many of the Catskills high peaks.
There were also some intangibles at work; things only a skier could appreciate. Most important was the feeling of depth, with spurs similar to the fingers of a hand that was unlike anything I had experienced at any of the large northeastern ski areas. A certain feeling came from the manner in which the trails were cut — using what the mountain offered rather than creating the skiable terrain anew. All this terrain is at the center of a 4.5-mile ridge at 3,500 feet, along with another 100 vertical feet at the actual summit. The north end of the mountain develops into a horseshoe shape, which creates an ideal protected location for a valley base village.
Bearpen apparently has no issues receiving its annual average snowfall of 200 inches. Similar to Plattekill, it is in a naturally advantageous position to grab snow, including lake-effect precipitation. But there's more. On the west escarpment, there are two huge terrain "scoops" that drive wind (and with it, snow) up toward the top of the mountain. Plattekill experiences a similar, but lesser phenomenon across its varied exposure.
The ski area at Bearpen was positioned at the center of where these two scoops meet. This same west wind carries the snow over and onto its northeast-facing trails, helping to build the snow base. During a visit one winter, I stood at 3,000 feet and saw this incredible phenomenon actually happen — watching snow fall onto the mountain from above and simultaneously rise from below.
Anyone who has been to such great northeastern mountains as Mad River, Mount Ellen, Stowe, and Sugarloaf can understand what makes those ski areas special. Bearpen, without a doubt, belongs in that group. What makes it even more attractive is its location: only 2.5 hours from a huge population to the south.
Meeting Bearpen's Founder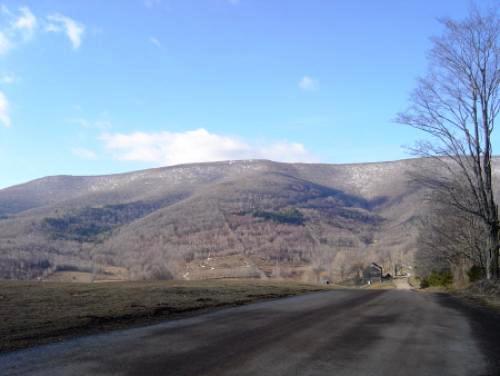 After my original ATV tour, Dennis Hull got me in touch with Prattsville native Tom O'Hara, who transported gas to the summit of Bearpen to run the tows when the ski area was in operation. Tom was also an ATV rider and took me to the summit, where he gave a detailed description of the mountain back then. Thanks to Tom, I was able to establish contact with the man who built Princeton Ski Bowl, Dr. Benjamin Lane, an eye doctor from New Jersey. Through his local contacts, Mr. O'Hara was able to provide me with his address.
At this point, the year 2000, I wrote a letter to Dr. Lane explaining my interest and asking for his help. This letter met with no response. After a second effort, I was able to get through to Dr. Lane at his office. He explained that my letter was sitting on his desk, and that he had intended to contact me, but his busy optometry practice kept getting in the way. He explained that no one had ever tried to contact him regarding the Ski Bowl's history. This point partially explained, in my mind, the reason for the mystery and lack of information that surrounded Bearpen. He and his older brother generously offered to meet me at the entrance of Ski Run Road about a month later.
Along with Tom O'Hara and the Prattsville town historian (a skier himself), we headed down the road on our tour of the mountain, my videotape capturing what a Hollywood screenwriter would die for. I began to understand Dr. Lane's rationale as the minutiae he developed almost 50 years before unfolded in front of me. At the end of the day, he and his brother thanked me for all that the day had been for them and hopefully we could do it again. Numerous phone calls spanning several months would follow with more meetings on the mountain and visits to his home, where his optometry practice is located. Through these efforts, the information necessary to create "The Bearpen Story" was developed.
The Beginnings of Bearpen Mountain Ski Area
While studying at Princeton in the early 1950s, Ben Lane became an avid skier. With the help of Ralph Nader, he was elected President of the "Outting Club," which included making arrangements for road trips with his college buddies to many mountains throughout the northeast. Ben became so obsessed with skiing that he began scouting locations in New Jersey to create a home mountain for the club.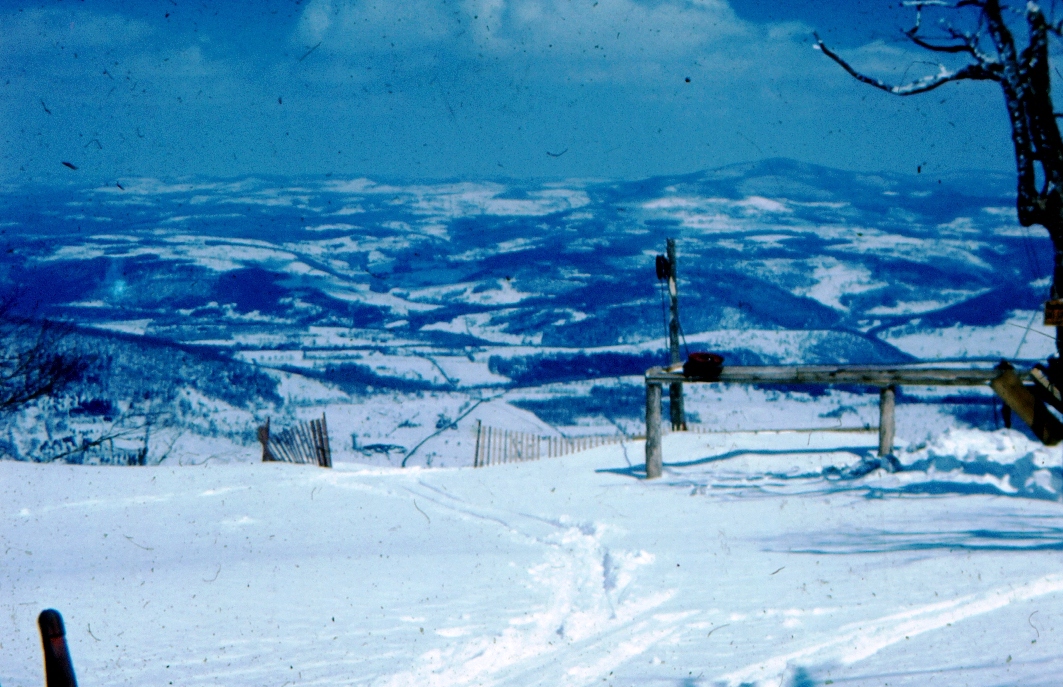 Lane first investigated High Point in the northwestern corner of the state, but determined it to be unworkable. Then, he visited the ridge now known as Mountain Creek, which he saw as having far too much ledge on a northwest exposure. He later traveled north to the Catskills and climbed the fire trails of Hunter Mountain. In Hunter, Ben thought that he had found utopia, but Catskill Park rules and regulations prevented a full-scale development of this mountain, as it does to this day.
Quite popular with the Outting club were ski trips to Pine Hill, home of state-run Belleayre and its next-door neighbor, privately-owned Highmount. While skiing at both areas, Ben's eye was drawn to a ridge in the distance that always showed signs of tremendous snowfall. This mountain, later determined to be Bearpen, was always whiter than any of the surrounding peaks and often enshrouded by clouds. At Princeton in the spring, he took advantage of the university's resources to begin his study project, and determined that, on average, Bearpen received more snow than any other location in the region.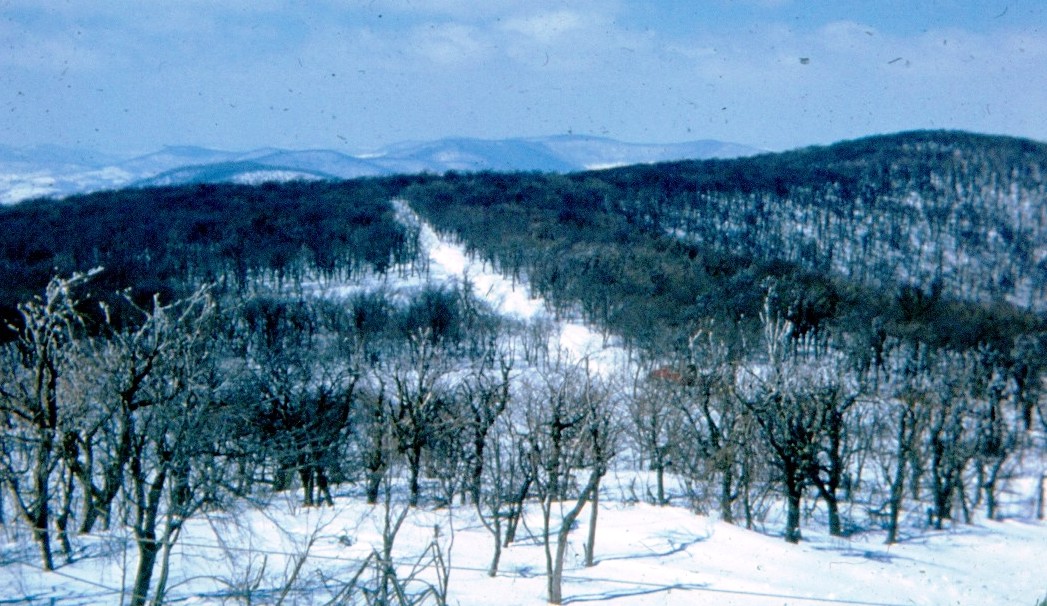 After summer recess, Ben drove to Bearpen via the Halcott side and into Johnson Hollow where he met, of course, the Johnsons. Bob Johnson would take Ben up a dirt road to their family hunting cabin on the western escarpment of the mountain. From there, they bushwacked their way to the summit ridge. As they explored the summit, Ben began to realize that the mountain met and even exceeded his requirements for a ski center. The combination of its location outside the Catskill Park, a valuable northeastern exposure (great for snow preservation), and a potential 2,120-foot total vertical drop were filled with promise. The mountain face, with little to no ledge, would allow for terrain to be engineered in a manner unlike and beyond what was found anywhere in the Catskills. Bearpen Mountain was absolutely perfect!
The biggest issue that Ben faced was the 17 working farms in the valley. Although these farmers saw the ski operation as an opportunity to work during the winter months, the farms were all they knew: their bread and butter. They would allow skiing into their pastures, but no base lodge could be built in and around the land he was soon to acquire. Ben, through title searches in the towns of Delphi and Catskill, was able to secure the rights to more than 700 acres of mountain-top property. A portion of this property, on the summit ridge, would be used to create a road that linked to the existing Prattsville Vega Road (later to become known as Ski Run Road) to the ski operation.
By the beginning of the 1958/59 season, the contacts Ben had made created interest from all of the major ski-lift manufacturers. Serious discussion would take place with Jean Pomagalski, founder of Poma lifts, to create the first detachable chairlift in America. Investors, including representatives of Sun Valley, eagerly came willing to discuss their involvement in bringing Bearpen to resort status.
A Villain Appears
Well before Ben knew of Bearpen Mountain, NYS surveyor Ed West took on the task of reestablishing the topography necessary for the issue of his 1946 survey. Through this process, the previous 1903 survey was drastically altered. Within Greene County, the already well established Halcott and Prattsville town lines, and where they intersected the Delaware County line, became corrupted. Beyond Ben's knowledge, this survey brought into question the actual location of the property deeds according to the details found in and around Bearpen Mountain.
This meant that even though Ben had bought titles handed down through the years, the land he purchased, according to the language of those deeds were now — based on what Ed West redrew — legally situated in a different location.
Since Ed West was employed by New York State, it became necessary for someone to be the means by which land could be acquired without creating a conflict of interest. Percy Goff, a Prattville native, by his own words knew and respected Ed West as a father figure. He entered into numerous business transactions with West, from which also came the knowledge associated with the lands on Bearpen Mountain. Through this information, Percy researched and located descendants of deed owners going back to the originally established land owners and was able to purchase quit claims that established him as the now rightful owner of key locations on the mountain (which were not where they originally were).
| | |
| --- | --- |
| | |
| 1901 Survey | 1945 Survey: Redrawn Lines |
One day, workers for Slutzky Construction, commissioned by Ben to create skiable terrain, were confronted by Percy who demanded they immediately stop because they were disturbing his land. I have spoken with Orville Slutzky and many other longtime Prattsville natives — all of whom confirmed the account of those events that Dr. Lane that had conveyed to me. Moreover, I also gained knowledge of other properties, not on Bearpen, on which Ed West had moved lines. These properties, sometimes even on New York State land, mysteriously became owned by Percy Goff. This process would then lead to a timbering of the land that would eventually return back to the State of New York. After many years of intense court room battles, Ben eventually lost ownership to Percy Goff of almost 300 acres: the heart of the ski area.
Some years later, Percy would present an accumulation of land parcels that Ben had owned and lost, along with other properties he had acquired on Bearpen Mountain, for sale to the state for just short of $1 million. Technically, New York State is now the rightful owner of "legally" stolen land!
The New York State Connection
In 2000, as part of my research, I traveled to Catskill to fully understand the tax maps associated with Bearpen Mountain. I could see that Bearpen was surrounded by, and for the most part, owned by the State of New York. For its size, the mountain is located in a rather unique position. Outside the Catskill Park "blue line," it is the highest elevation in the Catskills. This line divides the "Forever Wild" property from that designated for recreational use. The New York State constitution protects much of the land within this line and restricts how it is used. In short, it's easier to do something outside the blue line than inside. Since Bearpen is outside the Catskill Park, it becomes more attractive and easier to develop as a ski area.
What is maddening for skiers is that the Slutzkys, owners of the Hunter Mountain ski operation, can't develop the real summit of their mountain! New York City has spent incredible sums of money and resources to build and protect a reservoir system constructed over many years. Throughout the Catskills and beyond, with its massive infrastructure in place, they protect "their" water by buying up strategic pieces of land on which people cannot even set foot.
Attempts to Revive Bearpen
After putting together the Bearpen story in the spring and summer of 2001, I attempted to bring the ski area back to life. I located engineers who had previously worked with New York City to carry out an environmental impact study as well as an architect who was acquainted with investors who were ready to build the project.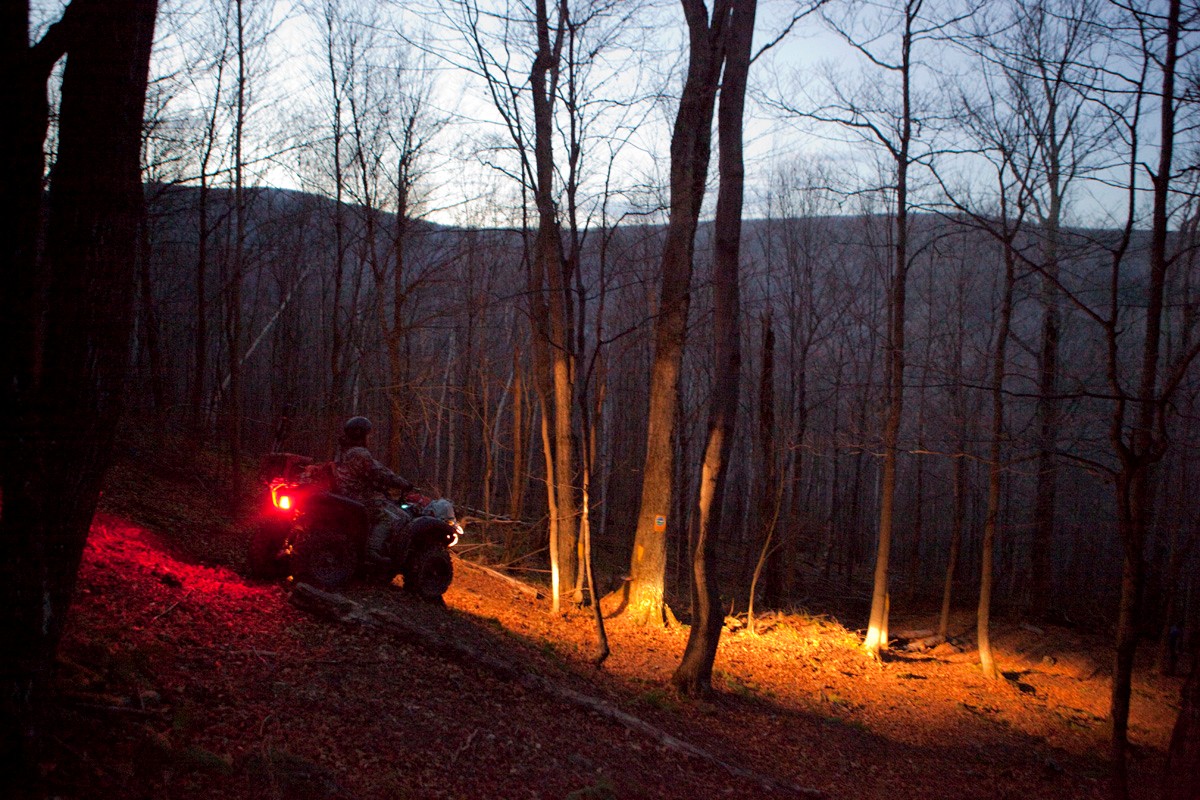 As part of my plan, the present landowners, acting as a consortium, would get their taxes paid and become partial stockholders in the ski area. This would allow the investors to spend their money to build the area rather than immediately needing to buy the necessary land parcels. Eventually, the ski area could, after it had financially established itself, make an offer to acquire property from the various owners. The plan also called for a separate company to be created a couple years after start-up to build real-estate projects as a mechanism to transform the ski area into a full-blown resort. At the time, with Bearpen estimated as a $200+ million project, this approach seemed to be best way to move forward.
Then, 9/11 occurred and with it the fear of the unknown. Shortly thereafter came the ENRON fiasco, causing huge financial losses to those who were planning to invest in Bearpen. In short order, my original plan lost all its momentum. Since then, I have met with investors from Japan, Canada, India, and the U.S. in an effort to keep the project alive. All saw the resurrected resort as full of merit, but were unable to see a return of their investment within a reasonable amount of time. The economic downturn of the last few years has basically killed off any remaining investment possibilities for new ski areas nationwide, and especially in this corner of the U.S. The logic and common sense associated with its construction now mean nothing to those who would invest.
There was a time when ski entrepreneurs who thought big, like Walter Schoenknecht at Mount Snow, could easily find people who were ready to provide the necessary money to help them realize their vision. This attitude is no longer seen, having been replaced by the buy-out debt process of those areas that currently exist.
The Future of Bearpen
With my plan for a revived ski area no longer viable, for the past eight years, I have moved upon this mountain with the necessary tools to make it skiable again. Bearpen is a canvas and for many days, I have been its artist. Understanding nature and all of its interactions — the witness of a bald eagle flying proudly above the valley with its wings spread or a bear drawn in curiosity to the sound of a chainsaw as he moves on through the woods — is worth its weight in gold. As I come down into the valley, exhausted, there is a tremendous reward from knowing that something can be made possible by taking a rare, but certain lesson from the past and bringing it to the present, where it will hopefully determine this proud mountain's future.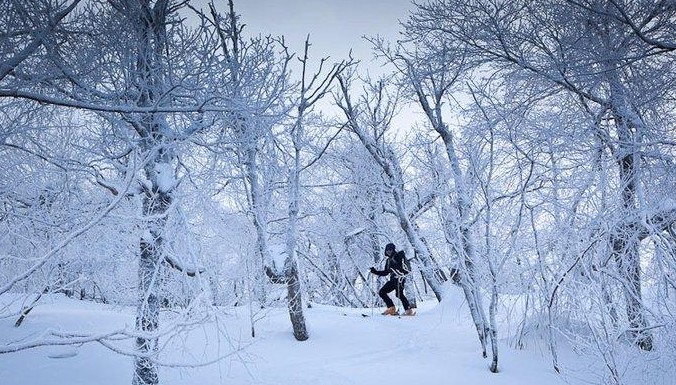 Now that the full, yet unnamed trail is completed, Bearpen has direction and with it an offering to anyone willing to make the effort. New York State allows snowmobiles to travel on this land, so the summit is accessible via a road constructed by Percy Goff before it was sold to the state. By darting in and out of public and private property, you can backcountry ski the nearly 1,900-foot vertical right down to the vehicle you arrived there in.
Why Bearpen Matters
My immediate objective is to bring Dr. Lane (age 80) and his brother (age 83) up to the summit and watch them ski "their" mountain all the way to the valley. This is something I see as important. To witness these men, at their age, ski the mountain they love so much will make everything I've done over the years worthwhile. Whether he wanted to become a pivotal figure in northeastern ski history or not, because of the foundation that Dr. Lane laid more than 50 years ago, several Catskill mountains were founded and drew from his work at Bearpen. For the ski world, the concept of laying out trails on the mountain spines so the wind brings the snow onto rather than off is emulated today.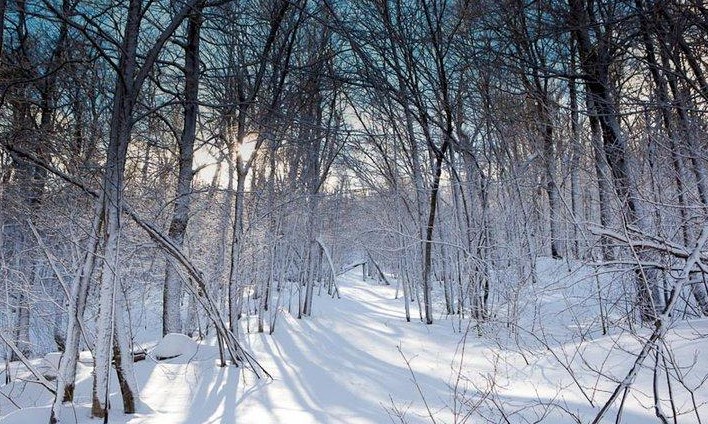 Picture, if you will, Dr. Lane in the early 1950's, standing in line for up to an hour to get on the single chair put in place by the state at Belleayre. As he waits, his eye is fixed upon an incredible mountain in the distance that was to become his destiny, only to be "legally" taken away a few years later. It's heartbreaking: unbelievable, but true.
While it's indisputable that the Vermont ski areas had and have enough going for them to attract plenty of people, if Bearpen had survived or been built anew, it would have completely reconfigured the northeastern ski map. Whereas a large percentage of the ski traffic today on the New York State Thruway bypasses the Catskills on its way to southern and central Vermont, the mountain could have served as an economic foundation for the entire region, including such already established areas as Plattekill, Belleayre, Hunter, Windham, and even now-dead Bobcat. Instead of Killington, which came later, Bearpen would have become the "Beast of the East."
In the meantime, Bearpen — with the right vertical, the right location, the right snow conditions, and thousands of acres of great terrain — sleeps and waits, as it has for many years. For more on Bearpen, see NY Ski Blog's interview with ThatNYguy, Russ LaChapelle.
---