NYSkiBlog has long advocated for a public and private partnership to invest in the infrastructure New York skiing will need to stay competitive now and in the future. This summer the players came together with a significant package for financing snowmaking efficiency improvements across the state. Scott Brandi — the President of I SKI NY — was a driving force on the project and we asked him for details.
---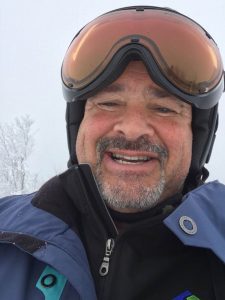 NYSkiBlog: Scott, where are you from originally? How long have you been skiing? Where did you learn to ski? How many ski days do you get in an average year?
Scott Brandi: I was born and raised in the Soundview section of the Bronx. I started skiing when I was 10. My first lesson was at Okemo. In college we skied Scotch Valley and Hunter. Now I ski Hunter, Windham, West and Gore around 35-40 days year. Usually a couple of hours in the morning, rarely a complete day!
Tell us a Scotch Valley story!
I used to ski there with my pals a few times each winter while I was at SUNY Oneonta. It was a great place, never crowded, bowling alley in the lower level and the drinking age was 18 so we always had a beer or two at the end of the day. I remember a double double Borvig lift and a smaller Hall off to the side. Around 700 vertical feet, best slope was under the lift!
How long have you been involved with I SKI NY? When was it founded? What is its mission?
I served on the board of directors for many years and took over as President in 2006.
From our 1975 Mission statement: I SKI NY is dedicated to the continued growth of the New York snow sports industry by working on behalf of membership to promote fair legislation and regulations, develop marketing programs, create educational opportunities and enhance the awareness of snow sports throughout the State and  the region.
How is it funded?
SANY has various streams of income including membership dues from ski areas and associate members, our annual expo, partnership programs/sponsorships, Kids Ski Free and related marketing and ticket sales and grant funding too.
We're interested in the new NYSERDA program to invest in NY ski area snowmaking efficiency. Tell us about the genesis of this project? What challenges did you face?
Like any program developed with the State it took time and the involvement of many different parties. The legislature led by Senator Little and O'Mara, the Governor's office led by the Department of Budget, NYSERDA and I SKI NY. We've been speaking to all branches of government about the needs of the industry and our economic impact on the upstate economy during the 4 months of winter as well as the recent challenges brought upon by changing weather-patterns.
The idea was mine, loosely based on the smaller exchange program that Vermont developed a few years ago. The challenges have always been getting the powers that be to take us seriously and understand our importance to the economy and to the quality of life we offer to the communities and regions we serve.
The program is capped at $300,000 per ski area, which works out to 16 or 17 resorts. Are there any restrictions on who can apply? Is the program available to both public and private areas?
The math works if all apply and actually install guns as per the program requirements. One must pay in advance and install the units. Not all ski areas in NY have the funds to invest so some will apply for less then the maximum allowed. Yes public and private can apply.
How will applications be evaluated and granted? If the response is strong as we suspect is there any chance that the program can be expanded?
Applications will be addressed on a first-come first-served basis. We are working on the next step as we speak.
Obviously NYSERDA is all about energy efficiency. Do you see the possibility to create similar programs for other aspects of snowmaking like pumping capacity?
Maybe.
We know you have been active working on the electricity tax paid by private areas. Any news to report there? Not yet. We have a bill in Senate and Assembly to eliminate use and compensation tax on energy used to make snow, classifying us as a manufacturer or processor. We would accomplish this with a tax code amendment.
What else do we need to know about ISKINY?
We'll have Discover NY Ski Day again this season on January 17 and our new promo Learn To Ski NY on January 11 will offer deep discounts to skiers and riders. We hope Learn To Ski will encourage new participants to come out and try our sport!
Our EXPO event is viewed as the best regional ski industry event in the nation. Over 350 attendees with 70 trade show booths, 30 seminars, networking and socializing. This year it is at Peek n' Peak September 17 – 19.
Thanks for your time Scott. We are excited about your initiative, thanks for making it happen.