Originally Posted on March 22, 2004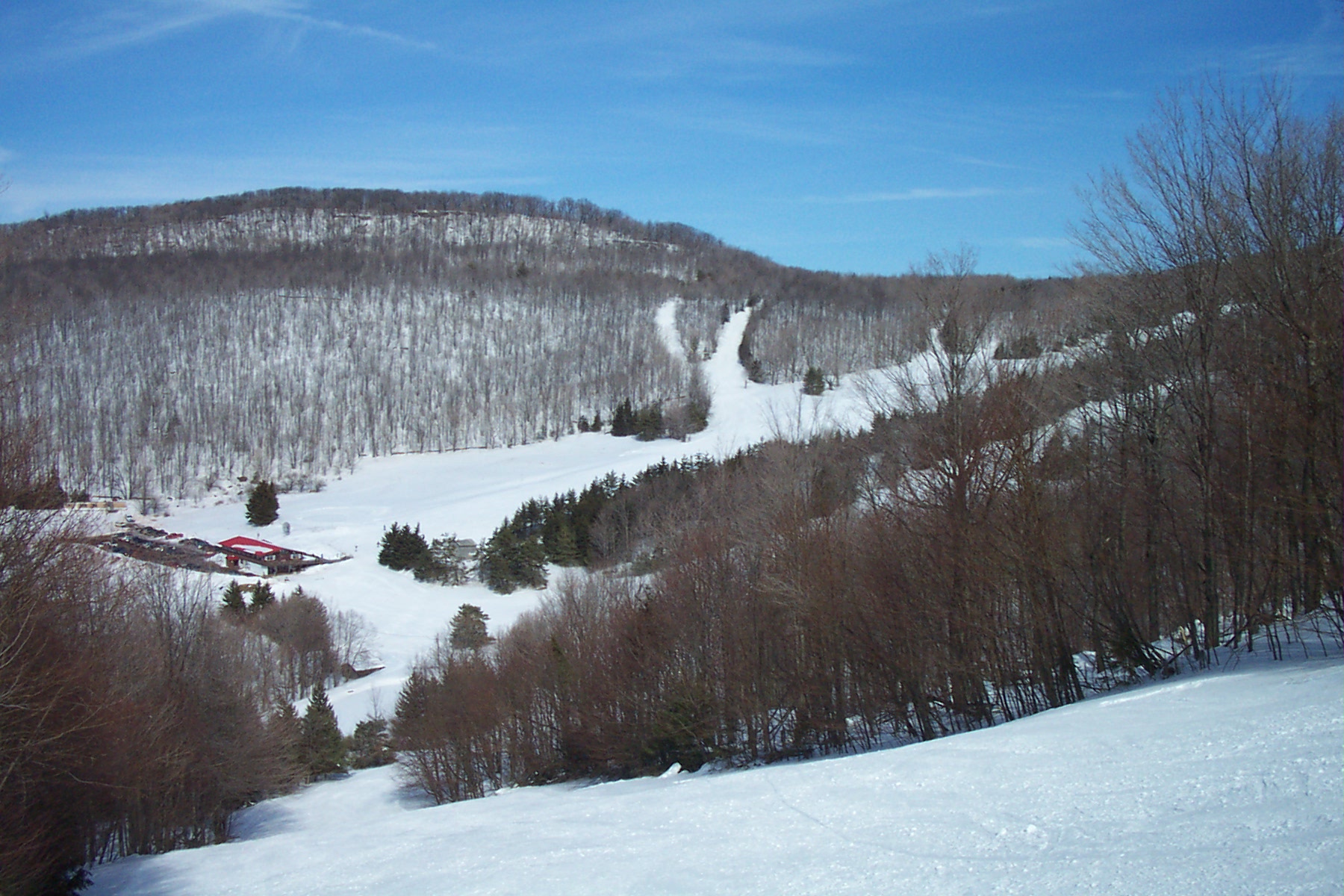 by James Michaud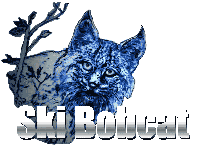 Much of our culture and economy is predicated on eliminating all that is considered old and out-of-date. Cars, computers, refrigerators, train stations, sports stadiums, even if state-of-the-art at some point in time, they still end up in the trash heap after being used for a few years. Ski areas are no exception to this rule.
Over the past decade, a new conventional wisdom has evolved that states in no uncertain terms: if a resort doesn't modernize and adopt several of these components, it will lose customers, and eventually be forced to close. However, not all ski areas subscribe to this logic. There are many that stubbornly refuse to provide anything approximating a "modern skiing experience." Some of these mountains have figured out a way to survive and even modestly prosper in their roles as relics, but most are hanging on for dear life. It's not easy to market an anachronism in a technology-intensive sport.
Tucked away in bucolic Delaware County, on the western edge of the Catskills, Bobcat has become a kind of Holy Grail for back-to-the-basics skiers. Despite its modest statistics — a 1,050-foot vertical drop, 80 acres of skiable trails, and 150 inches of reported yearly snowfall — Bobcat offers something you can't get at most other winter resorts. It's as if someone had taken the ski hill you grew up at, deep-froze it in 1972, and reopened it for business last week. The fact that the mountain is only open on Saturdays, Sundays, and holidays makes it even more of a treat (or a risk). Bobcat doesn't just remind you of that old-fashioned ski area from your childhood, it's the real McCoy.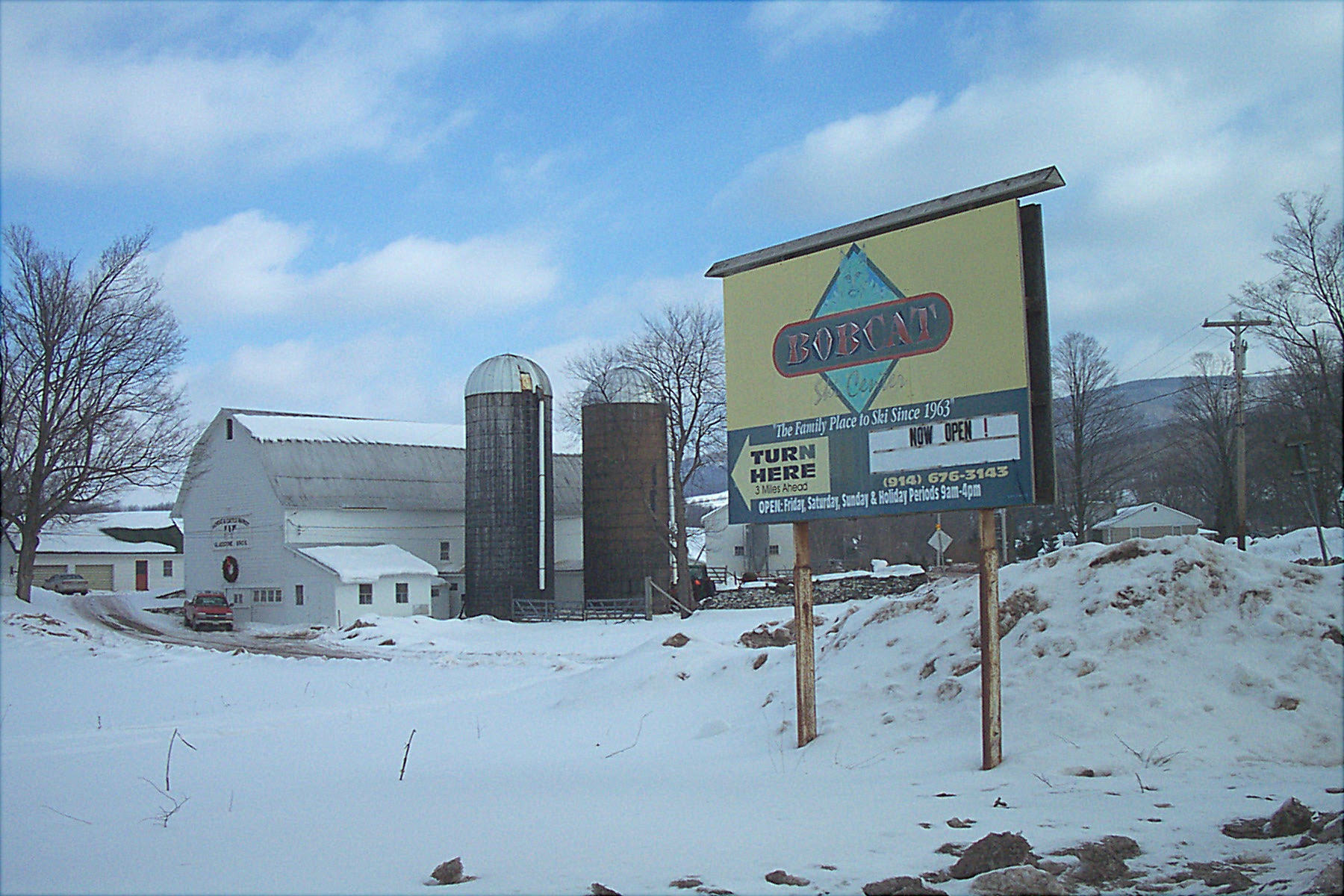 For first-timers, the Bobcat adventure begins just after exiting Route 17 in the western Catskills. After driving for a half hour along the scenic Pepacton Reservoir and then through the village of Andes, you'll feel as though you've been teleported into a Russell Banks novel: lots of cows, farms, snowmobiles, and hunters in pick-up trucks (along with signs advertising the services of deer cutters and taxidermists).
In the main street of Andes, stoic locals rub shoulders with big-city tourists and increasing numbers of second-home owners. Since 9/11, real estate prices in this part of rural Delaware County have spiked upward as anxious New Yorkers bought up bail-out residences in case of another terrorist attack. You can see why so many people are attracted to this region — the scenery is gorgeous, and the villages are charming.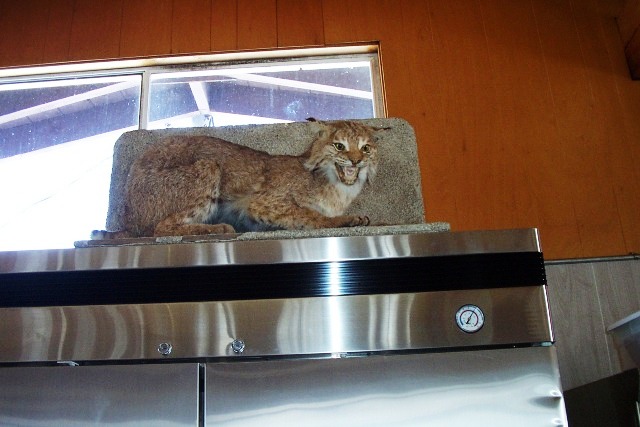 Originally opened on Mount Pisgah in 1963 — under the uninspiring moniker "Catskill Ski Center" — the ski area was renamed "Bobcat Ski Center" 10 years later in honor of the many elusive felines that prowl the area's woods. Standing sentry throughout the lodge are a dozen deer heads and two stuffed bobcats. Most of the animals were shot on the premises, I was told.
As I wandered the building, the Bobcat time-warp took hold quickly. Very little there seemed to have come from the past decade. In the rental area, a large quantity of the equipment appeared to be well more than 15 years old: long, straight skis and Herman Munster-style rear-entry boots. In a corner of the ski shop, I spotted two pairs of garage-sale-ready Rossignols and Dynastars for sale: $50. A nearby closet was filled with a dozen more old straight skis. When I asked the salesgirl whose they were, she replied, "oh, those belong to employees."
Old press releases, notices, and advertisements still hung on the walls. A stack of printed handouts from 2001-2002 advertised the prices of Bobcat's lift tickets ($25). They also listed group ski lessons at the giveaway price of $14 an hour, with private instruction for a laughable $25. Oddly enough, while the exterior of the ski lodge probably hadn't seen a new coat of paint since the Ford administration, the gift shop in the basement was surprisingly well stocked with Bobcat and Catskills paraphernalia (I picked up a t-shirt emblazoned with an old trail map for $4).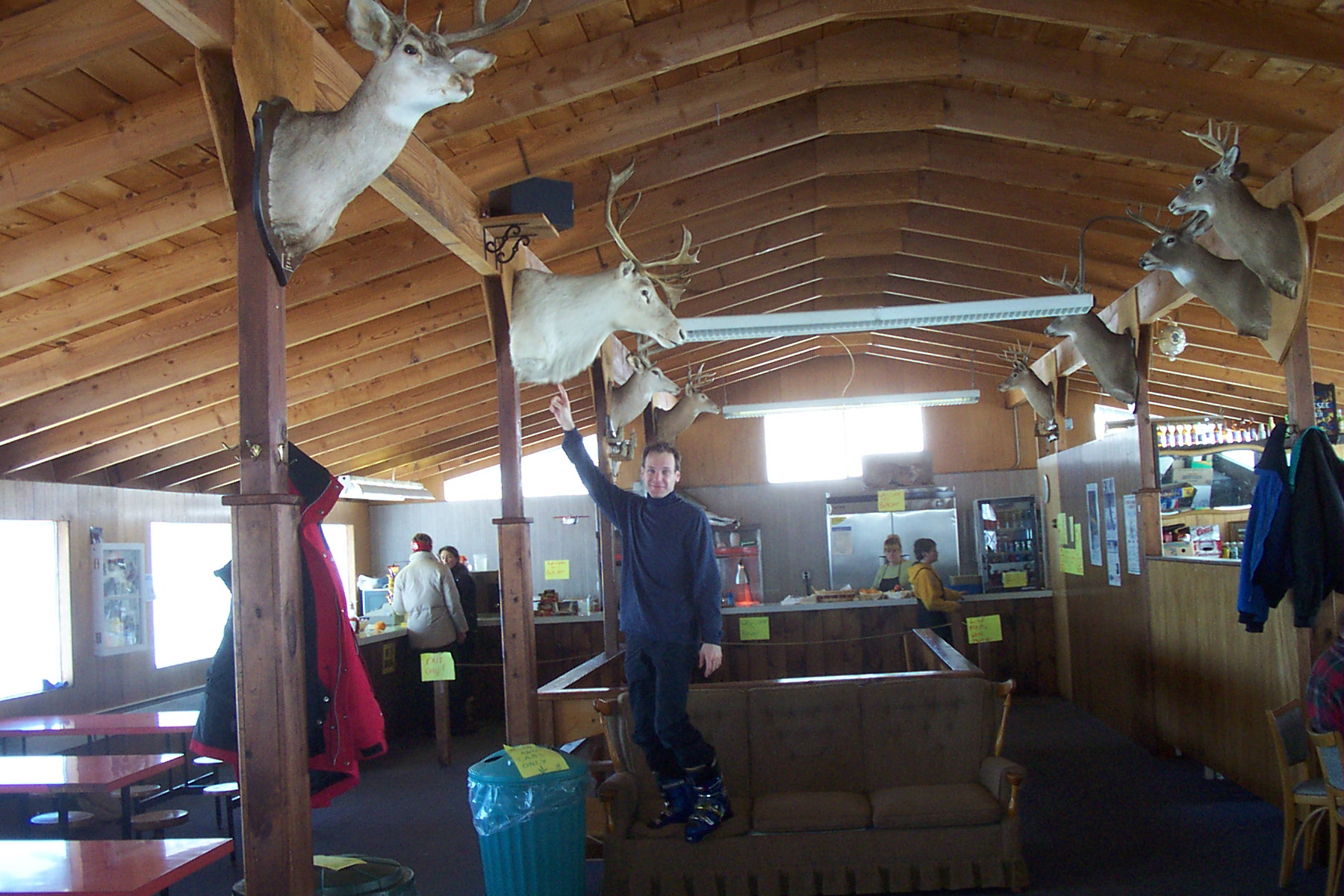 After buying my ticket, I headed to the lifts: two t-bars that had just celebrated their 40th year of continuous service. Housed in sheathed aluminum enclosures, these sheds looked exactly like, you guessed it, cow barns. In spite of their antique appearance and a bit of rope to hold things together, these old-timers ran just fine. As the story goes, after the state lift inspector gave them a positive evaluation a few weeks earlier, he was heard to say (while shaking his head in astonishment), "I wouldn't be surprised if they ran another 40 years."
The ski trail signs were also several decades old: faded, but still legible. To groom the trails, the area relies on a bright orange Tucker Sno-Cat bought in 1973, a relative newcomer to the Bobcat scene. Instead of the obligatory pierced and tattooed lift attendants in snowboard boots, manning the t-bars at Bobcat was a group of affable older gentlemen, dressed in jeans and feed hats. While they looked more like people you'd run into at a John Deere dealership, all were accomplished t-bar operators.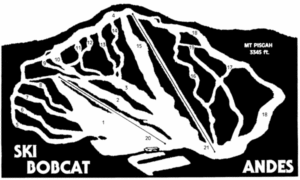 Several years ago, faced with the impossible task of keeping up with the Joneses (or the Hunters, Belleayres, and Windhams), Bobcat made the choice to leave its ski conditions to the caprice of Mother Nature. And as is the rule in this part of the U.S., sometimes it's heaven and sometimes it's, well, interesting.
By noon, light skier traffic, combined with a fair amount of sunshine, had softened up the trails nicely. I was surprised by the amount of interesting terrain contained in such a seemingly small area. Fun, narrow, and intriguingly laid out, they're full of a hard-to-define element missing from most of today's ski areas: character. Making this very rural experience even more authentic: you could see nothing from the summit except farmland, forests, and hills: no real estate developments, hotels, superhighways, or other visual clutter.
Throughout Bobcat Ski Center's four decades of existence, much of the physical infrastructure has remained the same. But there has also been one constant human factor: Chuck McIntosh and his brother Roger. Their family purchased Bobcat's first season ticket in 1963, then bought half of the ski area in 1965, followed by the other half in 1971. The McIntoshes owned Bobcat for the next 16 years, before selling it to the Schuman family from New York City. The Schumans, in turn, hired Chuck and Roger to operate the ski area, and they still do to this day.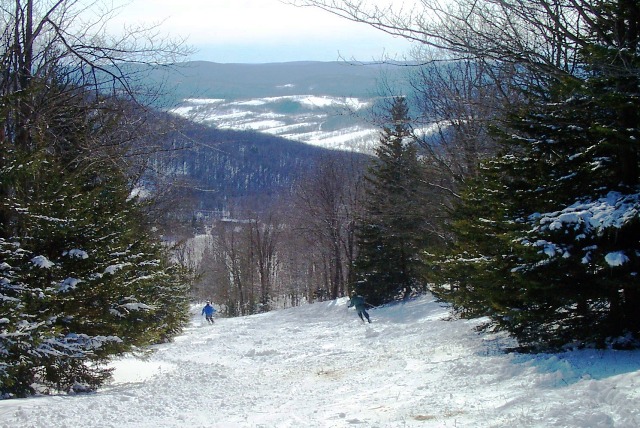 Most winters at Bobcat begin with Chuck recording his customary "Bobcat will open as soon as conditions allow" message. But last year, he announced that due to a death in the owner's family, Bobcat wouldn't open for the season. Compounding the agony, while shuttered for the winter, Bobcat received well above average snowfalls.
But only ten months later, Bobcat's bare-bones website announced that the ski area would reopen for 2003-2004. While it's been rough going with this winter's fickle weather, when I left at 4 pm, the lodge was filled with families for its annual chicken BBQ and square dance.
Later That Evening
As I looked through the photos taken with my digital camera a few hours earlier, I had a hard time finding any sign that they had been taken in 2004. In spite of less than perfect conditions, I had experienced an almost perfect day of skiing on a hill that looked and felt like a lost area, but was still open.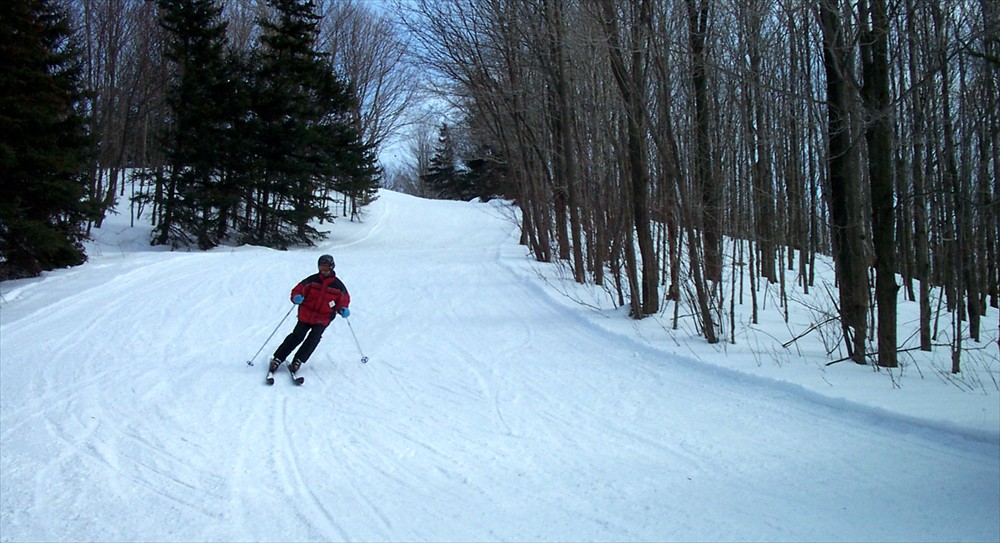 Given Bobcat's remote location — almost three hours from New York City, two from Albany and more than 1.5 from Binghamton — the ski area doesn't have a large local population base to draw on for ticket sales, not to mention intense competition from the other Catskill resorts. Although the long-term survival of ski centers like Bobcat is uncertain at best, I'm hopeful that more people will take advantage of a hidden jewel like this and support it.
Update Fall 2010
Bobcat's final day of operation was March 19, 2005. If you spend any time with me skiing in my "home" region, the Catskills, you'll eventually hear me lament the fact that Bobcat Ski Center is still closed. Even though I only skied there maybe a dozen times, it was the closest I ever came to a private lift-served mountain.
A while back, a small grassroots group formed to investigate the possibility of bringing the ski area back to life. Two years ago, a new deck was built for the base lodge. Unfortunately, there are no plans to reopen Bobcat in the near future.
Update Winter 2013
Eight years after Bobcat Ski Center closed, I finally made a return trip to Andes, NY to see what the hill looked like and, if there was enough snow, to bootpack up the 1,050 vertical feet and do a run for old time's sake: Bobcat, NY: 3/24/13.
---
---