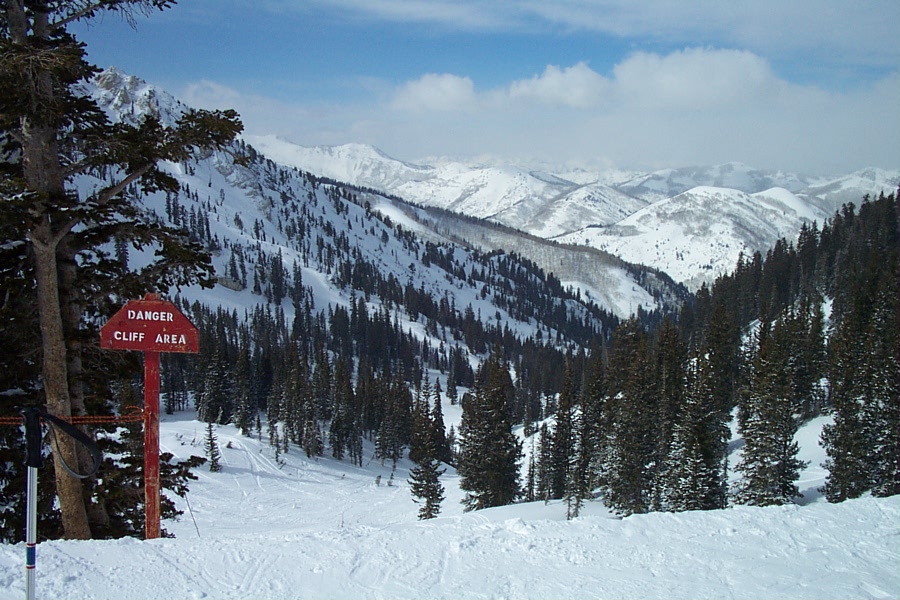 by Bryan Luftglass
I consider Solitude my home hill.
That's a fairly insane statement from someone who has to jump a 4.5-hour flight from Newark, New Jersey to get there. But it's been my go-to mountain for the past few seasons.
After falling in love with Solitude, I scrimped, saved, and waited until I could afford to convert my already-extended savings and credit into a place to live at the base of the mountain. This serves as my headquarters to ski, bike, and hike from. The peace and quiet also provides a virtual sensory-deprivation tank in which I can unwind.
On paper, Solitude is a mountain that's easy to dismiss. The phrase "contempt prior to investigation" comes to mind. If Solitude were located anywhere in the East, it'd be considered a Top 5 ski area, but with so many world-class mountains in such close proximity, most people don't even bother with it. Smack in the middle of the SLC-area Wasatch, it's sandwiched between Little Cottonwood Canyon to the south and the Park City megalopolis to the north, all of which I had skied extensively — and even ski-bummed — back in the late 1970s.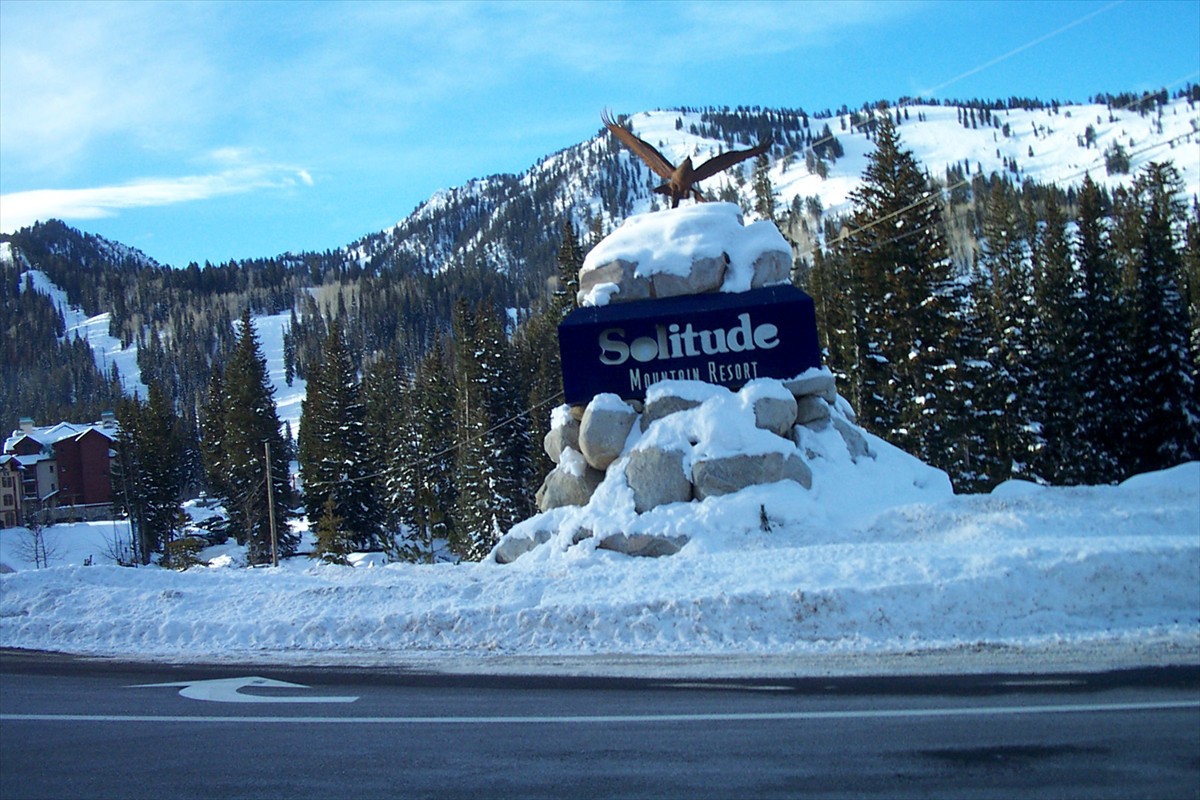 Until a few years ago, my experience with Big Cottonwood Canyon consisted solely of looking at trail maps, statistics, and descriptions of Solitude and Brighton to gauge whether they were even worth my time. My ongoing conclusion was that they were both way too small, until chance brought me and my family to Solitude around Thanksgiving of 2006. The skiing that day consisted of little more than man-made snow on groomers. But a glance at the potential surrounding me and a few wind drifts just below the top of the Summit chair justified another visit.
A month later, I was back in SLC just before Christmas when my daughter and I decided to check it out again. After boarding a UTA bus full of boarders at the mouth of the canyon, the first sign of good things to come was realizing that we were the only ones to disembark at Solitude. The ratio was two of us getting off the bus at Solitude and 50 staying on for Brighton. This seemed promising. The base lodge parking lot was practically empty and the lodge itself was nearly deserted. No lift lines? What's going on?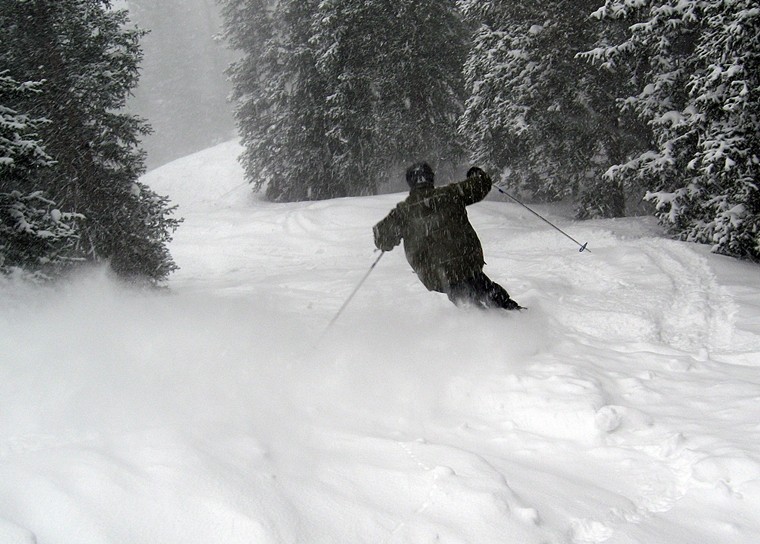 The next good sign was the excellent (even by Utah standards) conditions. The surface across the groomers was uniformly good. More importantly, it was easy to find stashes of foot-deep powder from the previous storm five days earlier. I had found my drug-of-choice mountain and with it a resolve to find a vacation place to buy there. Mind you, up until that point, I had skied only a handful or two of days at Solitude and had only scratched at the expansive terrain options. Two years and multiple trips later, I lucked out and was able to reel in a place to buy.
What You Can Expect
Virtually every ski area in Utah has the basics: great snow, both challenging and mellow terrain, decent burgers, and 3.2 beer. To sum it up, what I find so attractive about Solitude is precisely because the mountain is so hard to sum up.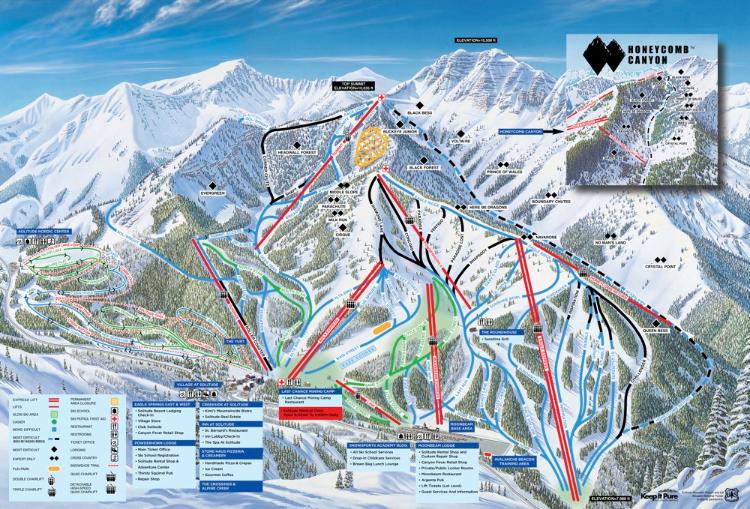 Ski industry personnel refer to sections of mountains as "terrain pods," which are normally centered around one or more lifts. Each of Solitude's pods has a very distinct character, so a lot of variety is packed within its 1,200 skiable acres. Once you learn your way around, the mountain feels even bigger than it first appears.
To really get the flavor of this mountain, let's go on a virtual ski day through Solitude.
A typical day often starts at the Moonbeam parking lot. From here, you can buy a ticket at the Moonbeam Lodge and walk a few yards onto the Moonbeam chair. This lift takes you about a third of the way up the mountain.
Let's assume that it snowed the night before (not a bad assumption). Instead of wasting time on the Moonbeam area's flats, let's head into the bowl above us, the area served by the Powderhorn II lift: the geographic center of Solitude. Taking the chair up, we rise past the top of the Eagle Express lift on the right (to be saved for a bit later), into the upper half of the bowl. This area has a few wide trails, some tree shots and a cirque full of other steep runs.
Before the Powderhorn II lift went in a few years ago, you could easily access powder and cut-up snow almost any time, because fresh tracks would last from storm cycle to storm cycle. The new lift made this part of the mountain much more accessible than before, so if you want pristine powder, this bowl has to be skied quickly after a storm. Let's take a few runs here, one on a trail and another in the cirque in totally untracked conditions.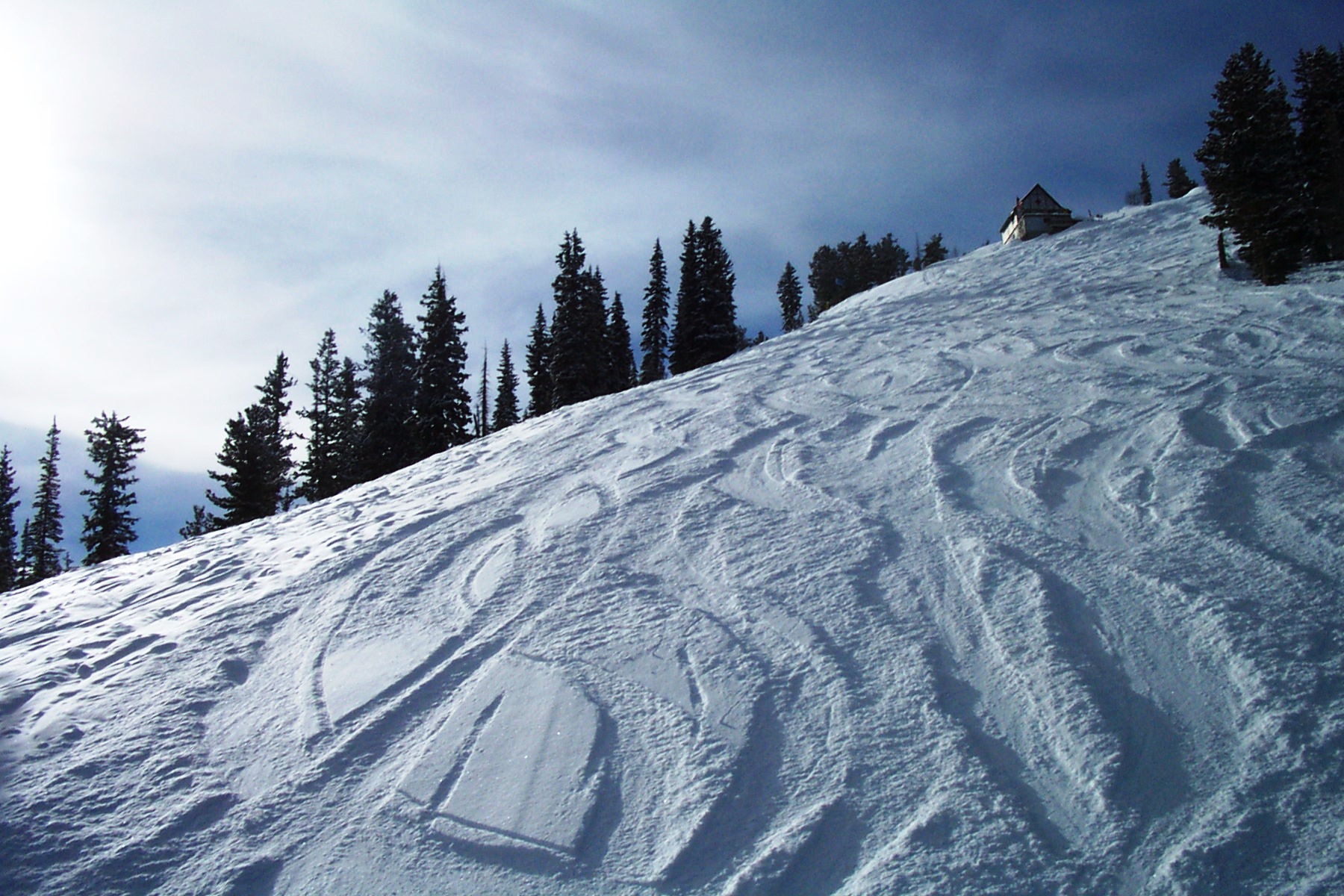 After a few runs, we'll collect some speed past the bottom of the Powderhorn lift, across some short flats, past the Round House lodge and into the Eagle Express (or simply "Eagle") area. Here, we have a choice of a half dozen or so slopes that provide a great selection of easy blue-trail heaven. At the bottom, you'll run into locals with multi-day and season passes who have bypassed the ticket office and headed straight from the west end of the Moonbeam lot to the lift, vying for first powder. (You'll probably see many of them having tailgate parties in the afternoon.) The lift will be crowded in a Solitude sort of way: either you'll get right on or, worst-case scenario, have to wait one or two chairs before you can load. However, within an hour after the lift opens, this area will be pretty tracked out.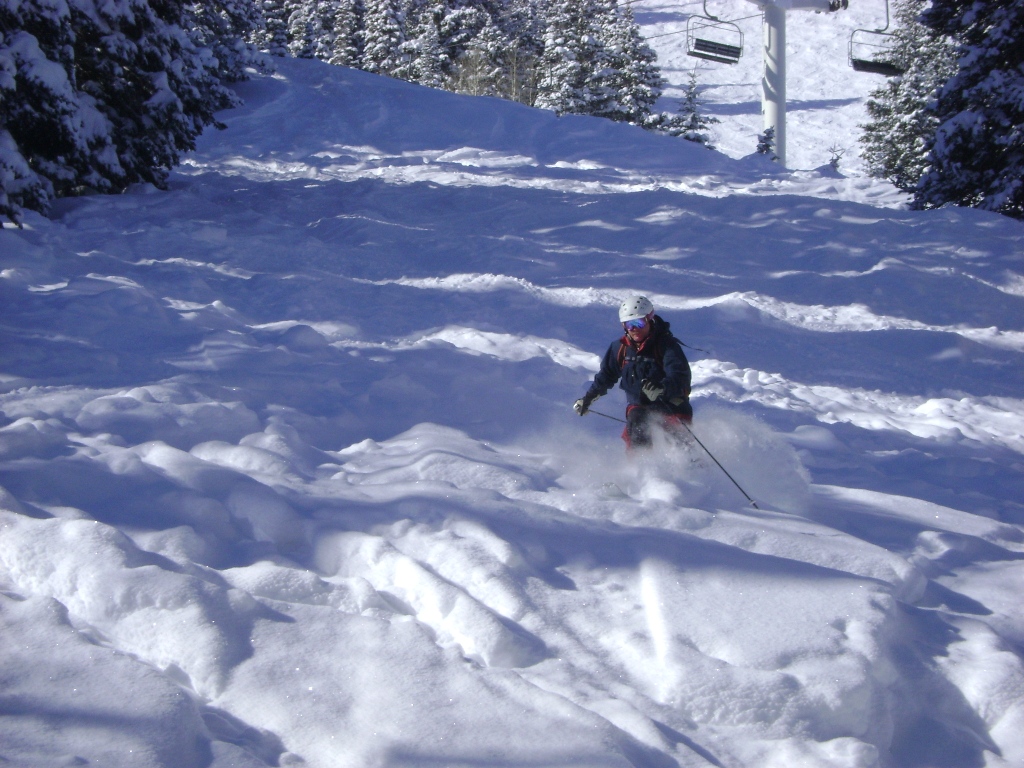 The Eagle Express takes us to a saddle on the ridge separating the main side from Honeycomb Canyon. Since it's early in our hypothetical ski day and Honeycomb is still closed for avy control, we'll drop back towards the resort's center, then head to the base at the eastern edge of the resort where the Apex and Sunrise lifts load. The removal of the old Powderhorn lift made this seldom-skied area even less busy. We'll also pass on the handful of runs under the Apex chair that, by the way, are great after a storm. We'll continue with a few runs off the Sunrise lift.
Sometimes it seems like Sunrise has been hung out to dry by Solitude's management and it's usually the least crowded part of the mountain. It's a slow chair and you can often hear first-timers on the chair behind you complain about that. Also, the lift starts further uphill from the village than Apex, involving a walk up from the village.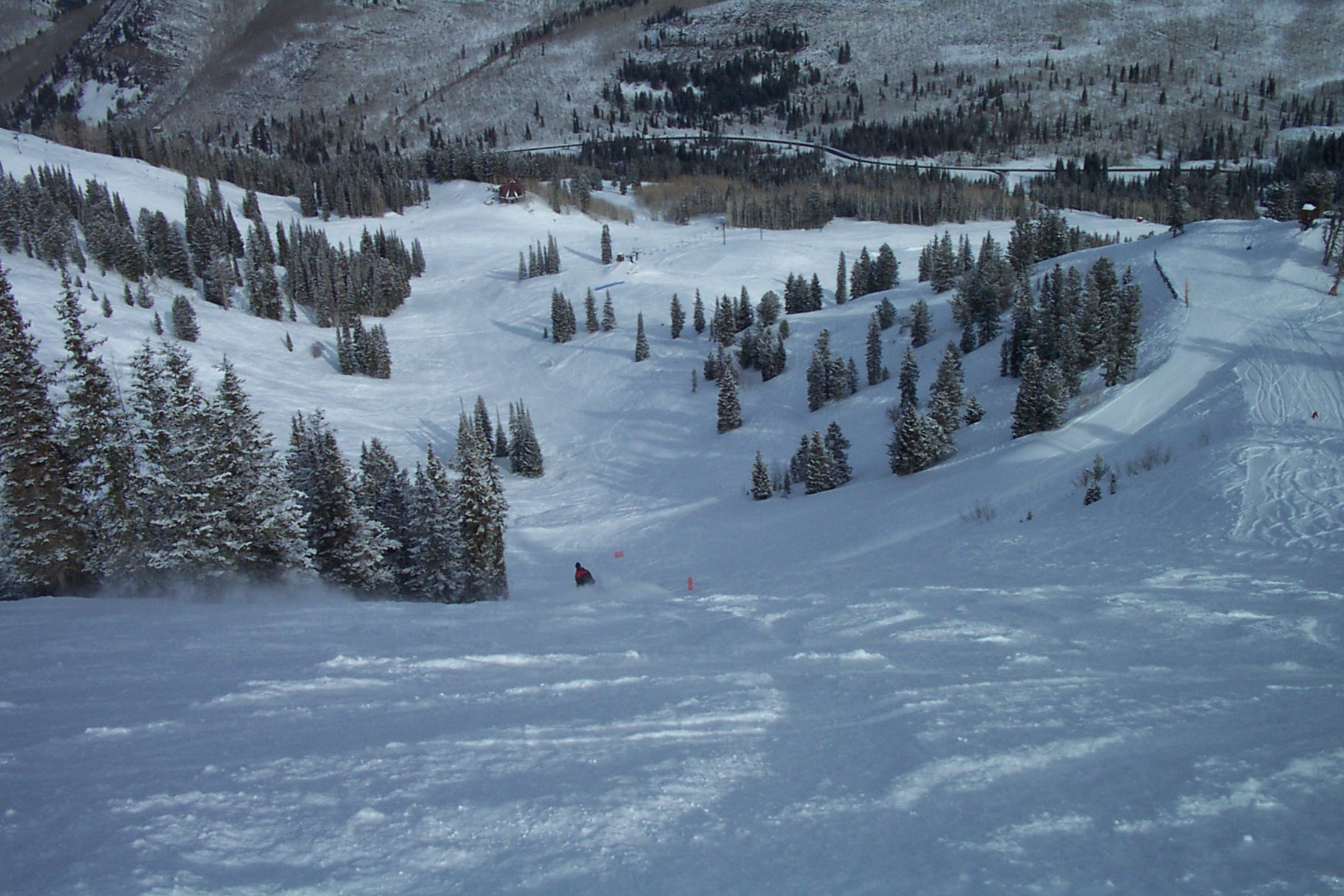 Still, on any given day, the Sunrise area might be my favorite place at Solitude. It's rare to see more than a quarter of the chairs occupied. The blue runs often stash powder into the afternoons and there's some great tree skiing in between. Sunrise is also the most common way to access the Summit chair, which has a bunch of extremely diverse runs. As you move east away from the Summit lift and towards neighboring Brighton ski area, you'll find short drops like Corner Chute and (with a traverse) Evergreen Chute, plus dips past well-spaced trees in the Headwall Forest. While we're here at the Summit, we can also take the Sol-Bright trail to the west edge of Brighton. Alternatively, a drop off the backside (with AT skis, beacon, shovel, probe and a friend or three), could take us right into Little Cottonwood at Alta.
Honeycomb Canyon (shown in the photo at the top of the article) is also diverse. It's a long, somewhat circuitous chasm with two primary sides and a long blue-ish run out down the middle with a few steep drops thrown in to keep you on your toes. The south and west side is one long headwall. Traverse as far as you want (or can) and drop in from there to the runout. The farther you traverse, the longer the run and the shorter the run-out.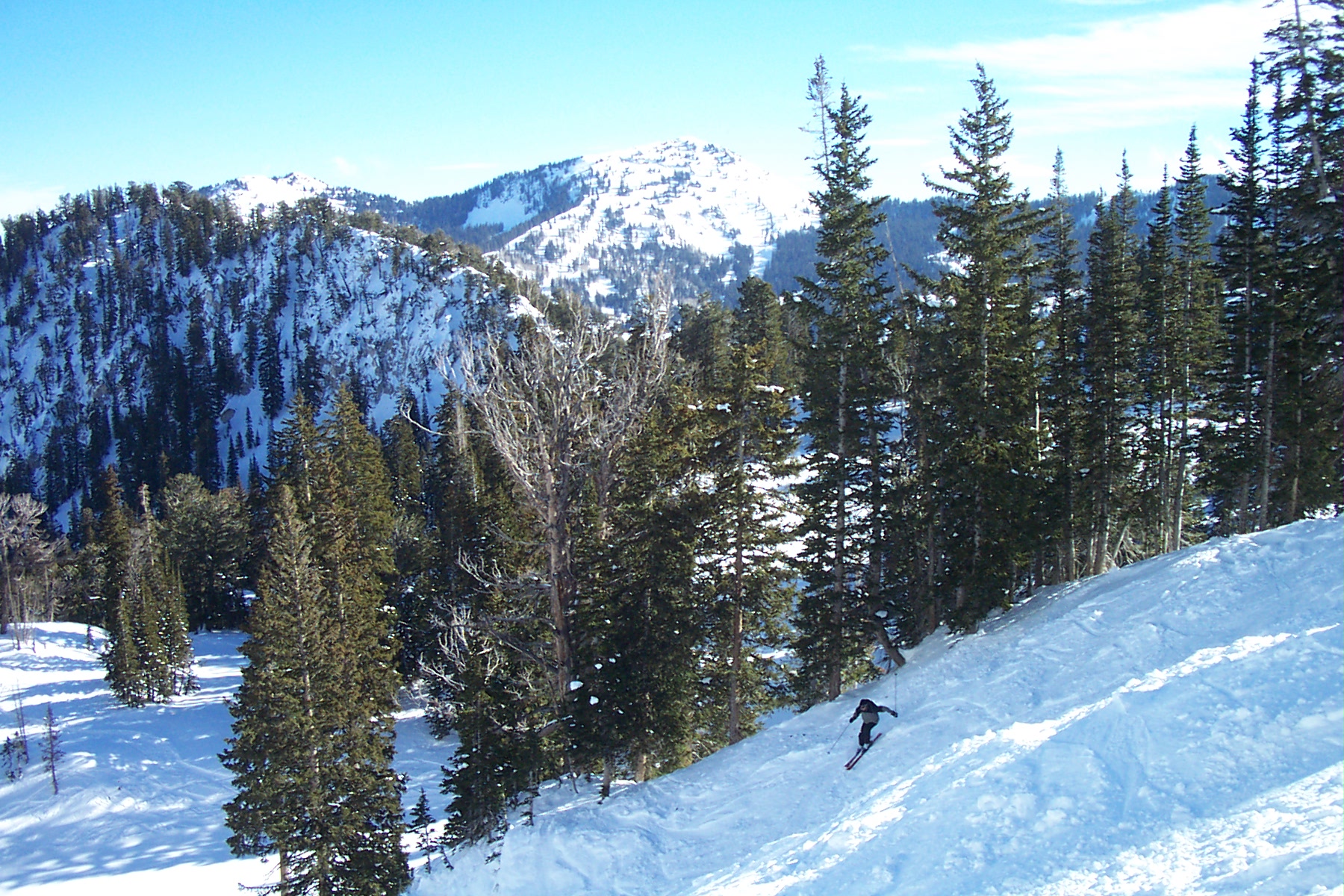 The east/north side of Honeycomb consists largely of tight chutes and trees. Traversing off the Summit chair is an option, but so is going back around front and dropping into the top portion through the gates off the Powderhorn lift or the bottom portion off of Eagle Express. Speaking of which, if you like steep tree stashes, the Navarone and Queen Bess areas are both very worth hitting from the Eagle Express or Honeycomb return lifts.
We've just circumscribed the breadth of Solitude, but this has been a brief summary. There's a huge amount we didn't cover, including Solitude's Fantasy Ridge, a crazy rock scramble up and short chutes down to Honeycomb, touted as some of the scariest inbounds skiing in North America. I've never skied it.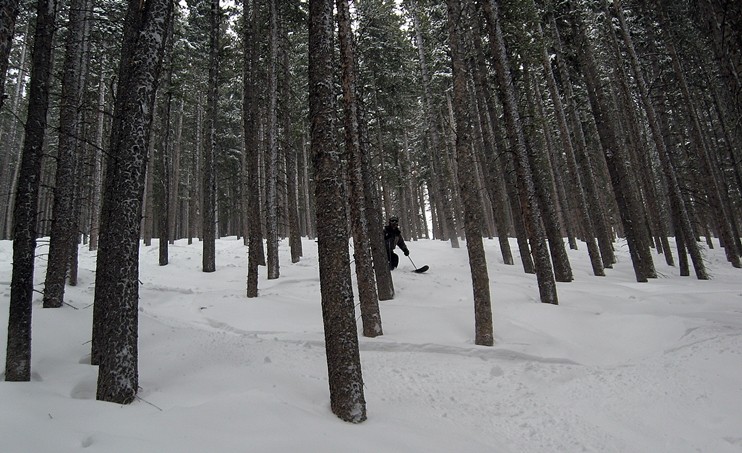 I've logged at least 50 days at Solitude, but it feels like I've only explored a fraction of the terrain. To sum up my thoughts, following are what I consider Solitude's main selling points:
Extensive Exploration Potential On Varied Terrain: The entire vertical is more than 2,000 feet, but the continuous vertical on any single run is far less. If that's a deal killer, go elsewhere.
Uncrowded By Nearly Any Standard: Far more elbow room than most other Salt Lake area resorts.
Great Snow Quality: Only beaten in this category by Alta and Snowbird. The upside is the comparatively small number of skiers, which means that you can find powder stashed longer than the Park City and Little Cottonwood ski areas.
Easy Access: Not only a short drive from SLC airport, but you're unlikely to have road closures (like that other Cottonwood Canyon), and once at the resort you can park practically at the lifts.
---