What is the snowiest city in America?
It's Syracuse, right here in Central New York. At 123 inches of snow a year, the city of 140,000 wins the title thanks to the lake effects storms that come off Lake Ontario. All of the ski resorts near Syracuse NY benefit from these storms.
By our definition, Central New York is the part of the state that surrounds Syracuse, a 3.5 hour ride from Buffalo or NYC. Most of the ski resorts here popped up in the 1950's and 60's as a result of the rising popularity of skiing and the steady supply of snow. Since then skiing has become part of the communities in the area. It is not uncommon to see school clubs and race events being hosted throughout the winter.
One of the things that makes the area unique are the independent mom-and-pop ski resorts that dot the map. Here you can still find $60 lift tickets and talk with owners in the lodge. It's an inviting atmosphere for locals and visitors alike. Several ski resorts here are found off I81, south of Syracuse.
Labrador and Song are less than 30 minutes from Syracuse. In August of 2021, Peter Harris, the owner of Labrador and Song, bought Toggenburg from Greek Peak, only to shutter the seventy year old ski area.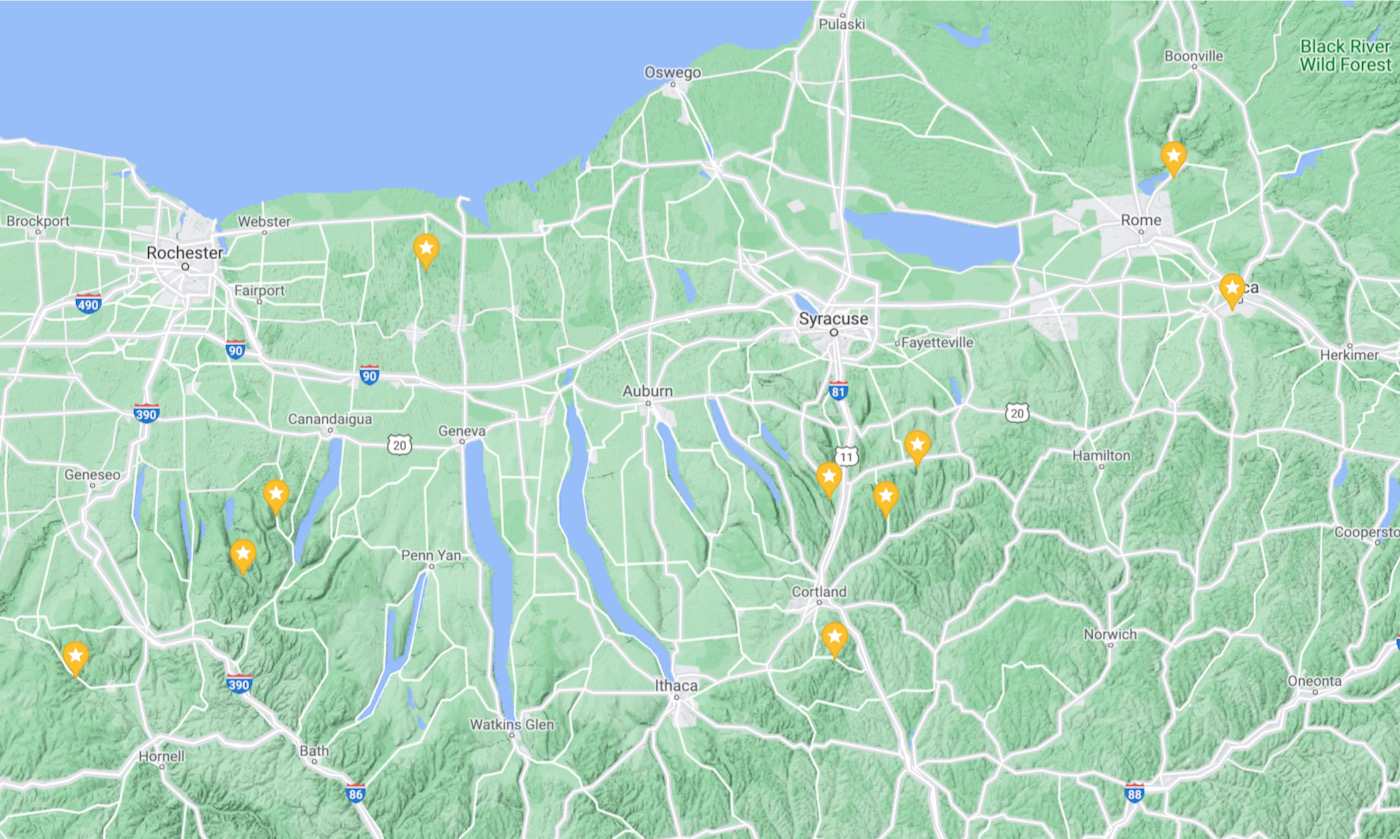 Further south, Greek Peak lays claim to the largest ski resort in the area for vertical drop and acreage. Looking east, just outside Rome NY, is Woods Valley. What the smaller resorts may lack in vert, they make up for with diverse terrain and uncrowded slopes. Most of the resorts get 110+ inches of snow, so there is always good skiing to be found. All the ski resorts in Central New York offer night skiing as well, so the fun doesn't have to end when the sun goes down.
Off the ski slope there are things to do in the area. CNY is hockey country and there's always an AHL game to catch. If college sports are more your thing, head over to the dome to watch the 'Cuse in action. There's also loads of local craft breweries and wineries, so don't forget to stop for a drink.
by Robert
---
---
Central NY Ski Area Quick Stats
| | | |
| --- | --- | --- |
| Ski Area | Snowfall" | Vertical' |
| Woods Valley | 180″ | 500′ |
| Song Mountain | 125″ | 700′ |
| Toggenburg* | 120″ | 760′ |
| Greek Peak | 110″ | 952′ |
| Labrador | 110″ | 700′ |
| Brantling | 100″ | 250′ |
| Val Bialas* | 096″ | 245′ |
| Maple Ski Ridge | 060″ | 270′ |
*closed ski area