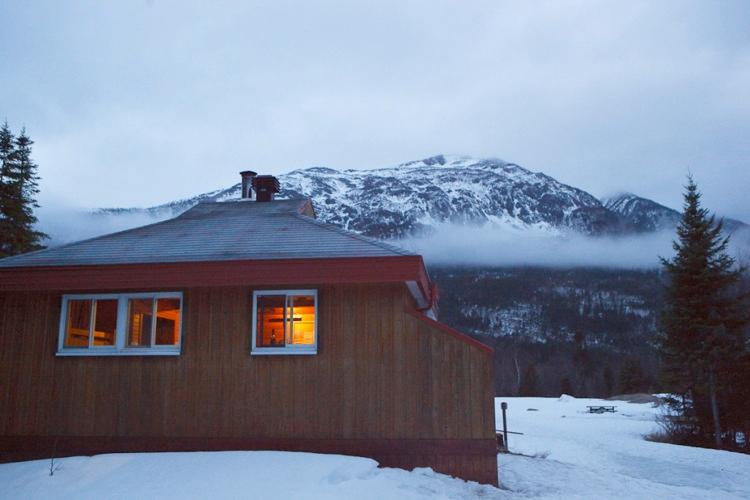 by Matt Lucas
Before the ski season began this year, I made a pact with a buddy around a warm campfire on a chilly Vermont evening that this would be the season we made it to the Chic Choc Mountains. A week or so later, I called to ask if it was just the bourbon talking, or if he was seriously interested. The follow-up discussion left no doubt that we were going to Quebec.
Although these preliminary conversations happened in the fall, there were a series of obstacles to overcome to actually get the trip underway. Besides being 17 or so hours from New York City, you need to book a place to stay with the Quebec park service organization, Sépaq.
Monthly meetings about pulling this off kept us stoked, but we didn't have a clue about where to go, whether we'd have phone service (negative), if the huts had a stove and pans (nein) or electricity (weh) to the most important issue: where to ski when we got there.
It wasn't until our ski season was rapidly ending amidst the hottest March in history that I started seriously surfing the web for a guide. The two most prominent services were Vertigo Adventures, run by Francois Roy and Ski Chic Chocs, whose outfit was featured in the many fantastic Meathead movies. I called Vertigo first to get some information and pricing, and Francois was exceptionally helpful, but he told me that they were experiencing their earliest thaw ever, and that I should look at the long-term weather forecast and consider canceling our trip.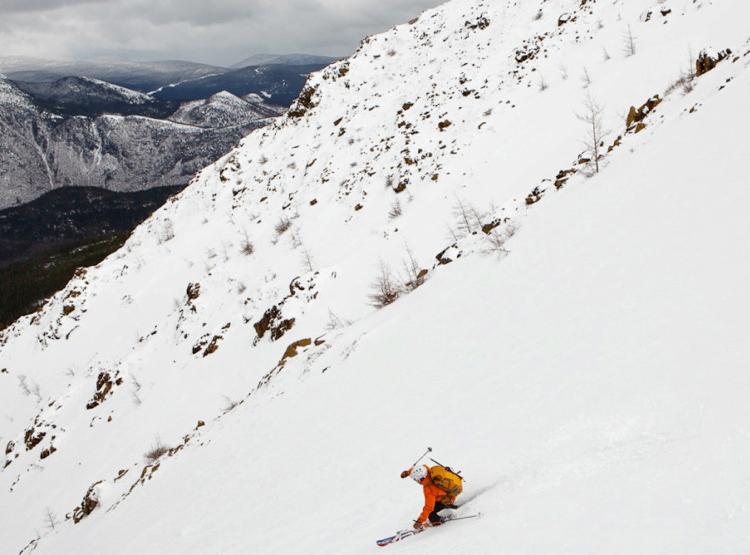 Our conversations didn't get much better over the next few weeks, and ended with him sending a few Google earth routes to possible ski locations with the single line, "Good Luck." He was apparently done skiing for the year.
It was at this point that I started bugging Ski Chic Chocs to take out my group. The concierge and driver, Pierre, had one question for me: "Have you been to the Chic Chocs to ski before?" I told him that I hadn't. "Ehh well, I can't recommend that you should come up now. The snow, it is almost finished and I wouldn't want you to have a negative experience, so you should cancel and book a trip for next year."
But aren't you guys in the business of hosting tourists? Can I not simply twist your arm to take my money? He replied: "Unfortunately, Matt, we have to think long term here. The season is done and we don't want you to waste your funds." I'd heard some interesting things about the French Canadians, but having two guides actively try to convince me not to visit an area I was desperate to see was beyond strange.
"Pierre, we have the trip booked and we're hoping for the best. I'm happy if we just hike some peaks to look for skiing for next time. Please ask your guides if they have any desire to show us around, no expectations."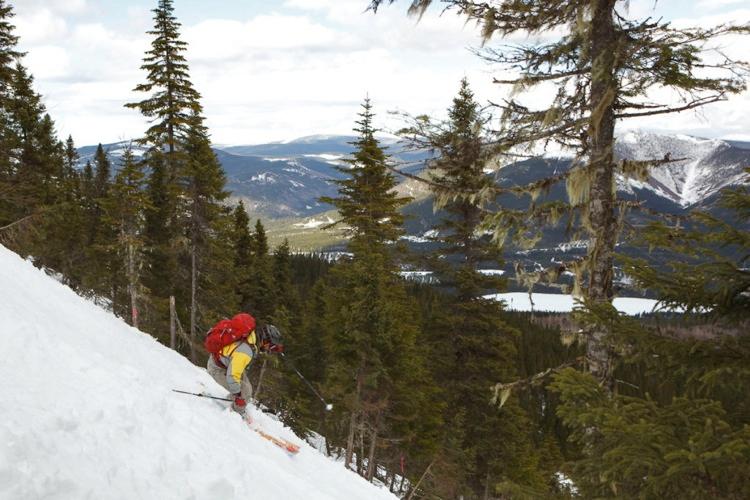 I could hear the wheels turning on the other side. "Okay, if you send your friends an email that crushes any hope of decent skiing, so we are all on the same page, I'll see if the owner will take you out. But no promises."
I hung up the phone and wrote the letter and then an hour later asked my friends if they even still wanted to go. As teachers, they had limited breaks and they pointed out that we already had the room. Besides, they were suddenly predicting a few centimeters each day and night. A few centimeters generated a lot of hope. I agreed.
At 3:30 am my alarm rang. Like three storm tracks converging on Mount Washington to create disaster, our imperfect storm of transferring three people's gear and a dog to a single car would be hitting my block in half an hour. At 4:30, we were on the road, having jettisoned almost as much gear in my apartment as we had in the hatchback. The drive is incredibly long. My least favorite state to drive through has long been Connecticut, but Maine gives it quite a run if your destination is the Gaspe and not Sugarloaf. Interminable is the only word I could use to describe it. New Brunswick is pretty similar, offering less, but at least in a shorter drive. The good news is that you're *almost* there.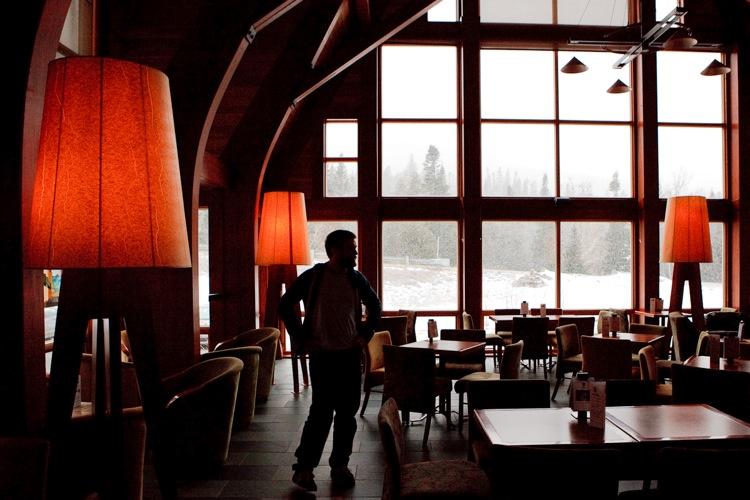 We arrived at the Gite, which might mean "little house" in French, although this one has a few hundred rooms, a 200-seat restaurant, and a soaring bar area. We promptly took a seat by the fire and ordered up gourmet sandwiches, local beer, and cast our gaze through the gigantic windows. The flurries outside had already covered the car. Breathing cold air and seeing fresh flakes was more than I could have ever asked for this April. As the world around grew colder, my stress and frustration from the drive was melting. It was going to be an amazing week.
The Ski Chic Chocs team met us for coffee early the next day to assess the conditions and come up with a backcountry ski plan. We all agreed to let the snow collect one more day before we did any guided skiing, and I was coming to really appreciate their low-pressure sales techniques. It was clear that the company was totally dedicated to making sure we had a good time skiing with them, and nothing else.
Each of us then went to get our only souvenirs, a $30 guidebook of the marked ski routes on the local hills. The book isn't available in English, but fortunately parking lots and triple diamonds are pretty easy to figure out in any language. We set out to get our touring legs warmed up and start knocking off some local descents. Mont Albert was calling across the street from our hut and we wanted to check out the Patroller's Wall.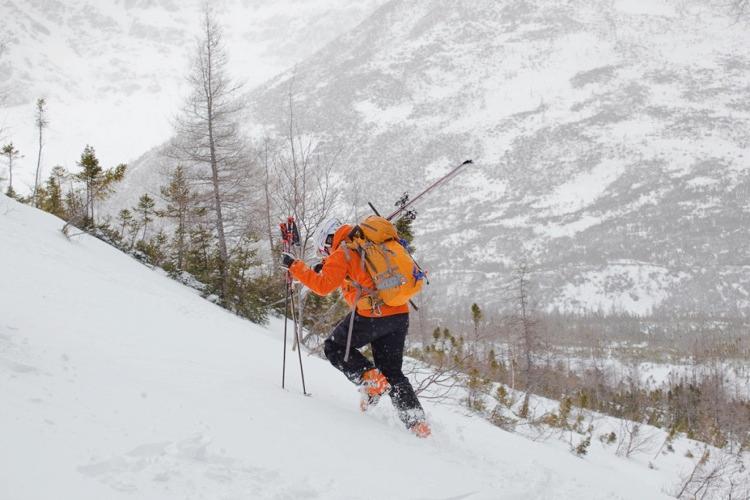 The next day, Stephane towed us in via snowmobile to the Madeleine Mines area, the universally acknowledged powder hog of this section of the Chic Chocs, which reaches a total accumulation of 400" some years. He did a great job establishing a game plan with us to make sure we'd be happiest with our day, and then kept us extremely motivated as we set personal bests for backcountry vertical. The fresh snow was mostly a foot deep and extremely light, but every half hour, we could expect another apology about the missing six feet of base as he pointed out more areas we might have skied. From our perspective we didn't feel like we were missing a thing.
We were staring at a lifetime of beautiful peaks to explore and endless backcountry skiing. There were mellow bowls and glades to Wasatch-style couloirs that amounted to more than ten Mount Washingtons, and a hut system that ranks among the best in the world.
The Chic Chocs are unique in the East, maybe because the distance you travel north ends up in a "parallel west," but they are distinctly ours. The glacially altered terrain reminds me quite a bit of my beloved Catskills, especially the flat peaks with church roof steep sides. Of course, we might be missing the 1500 feet of alpine zone, long slide paths, and indigenous caribou, but I guess we aren't really missing it at all. Sometimes, you just have to drive a little farther. Many, many thanks to Ski Chic Chocs. The experience and insight you added to our trip will never be forgotten.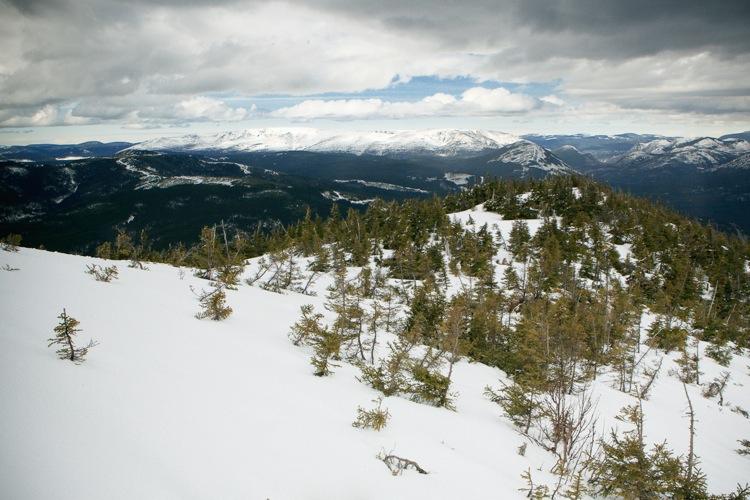 Ski Chic-Chocs Inc.
520, 1st Avenue West
Sainte-Anne-des-Monts (Québec)
Canada G4V 1H4
Phone: 418.763.3333
Email: [email protected]
---
Commentaires bienvenue dans toutes les langues.
---