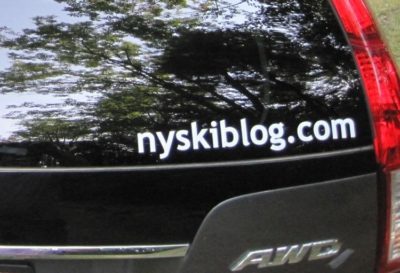 We encourage you to think skiing and snow. And, in the time honored tradition, we're going to add some hype to the buzz.
We have a small quantity of high-quality die cut stickers made by Prime Cuts of Burlington. (Shout out, Prime Cuts is no longer. If anyone has a quality source, please contact nyskiblog.)
This batch is white. The text is "nyskiblog.com" in Trebuchet MS, the legacy font from th original version of the website. We have 3 sizes available:
• Small is about 4″ long
• Medium about 8″
• Large (pictured) is about 12″
The smalls should fit on most skis and/or helmets, medium is pretty versatile for car windows and such, and large is great if you have a roof box or other larger spot in mind.
Include the number of stickers you'd like and which size(s).
Quantities are quite limited at this time. (We are looking for a new source.)
A donation of $5 per sticker is greatly appreciated to help defray costs. (Our cost was $5 per).
If you'd like one of the very few left, email us.