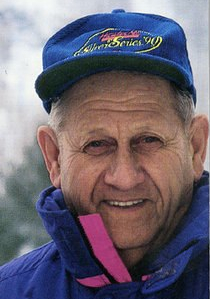 Orville Slutzky was born in 1917 and developed a love for skiing early in life. Raised on a farm in the Catskills, he and his brother Israel made their own skis and slid down the gentle slopes of the farm owned by their father Isaac.
In the 1950's the sport of skiing was gaining popularity in New York. A group of businessmen, lead by Orville and his brother Israel, developed plans to create a ski resort at Hunter Mountain. When plans to work with New York state didn't materialize, the brothers sought other investors to advance the project. They created the Hunter Mountain Development Corporation, the first operator of the ski area.
The brothers were pioneers in snowmaking technology which was new at that time. The Slutzky Brothers' Construction Company built the resort from the ground up. On January 9, 1960, Hunter Mountain Ski Bowl opened for the first time.
The Hunter Mountain Development Corporation faced adversity and bankruptcy. But the Slutzky brothers were not deterred. In the middle of the 1961-62 season Orville and Israel took full control of the ski area.
The brothers were relentless innovators, always willing to try new things. In 1964 Hunter became the first area in the world with top-to-bottom snowmaking with the completion of water lines to the summit. By the mid-1960s skier visits increased dramatically and the brothers reinvested profits to grow the business. New trails were cut and more snowmaking was installed. In 1980, Hunter Mountain became the first ski area to have snowmaking coverage on 100 percent of its trails.
The story of Hunter Mountain is a tale of determination and Orville Slutzky was a driving force behind skiing in New York State. Today Hunter is one of the most successful ski resorts in the northeast.
Orville's Slutsky passed away peacefully, in the company of friends and family today at the age of ninety-six. He had an indomitable spirit and will be missed. A celebration of his life and funeral services will take place on Sunday, April 21, at 10 A.M. in the Colonel's Hall of the main base lodge at Hunter Mountain.
NYSkiBlog sends our sincere condolences and best wishes to the Slutzkys and the entire Hunter Mountain family.
Photo courtesy of Hunter Mountain.