When most people think of skiing in New York, they picture the Adirondacks or the Catskills. What they don't know is that west of I-81, and near Buffalo NY, there is some good skiing. Western NY ski resorts benefit from lake effect snow, with snowfall totals large enough to shut down cities and highways.
Western New York offers a mix of public resorts and private clubs. The three largest mountains — Bristol, Holiday Valley and Kissing Bridge — are public. Bristol offers the most vertical drop, while Holiday Valley and Kissing Bridge are more spread out. The resorts in far western NY — Kissing Bridge, Holiday and Peek'n Peak — get the most snow, with some storms leaving multiple feet.
For those looking to avoid lift lines or find a more communal atmosphere, check out one of New York's private ski resorts. Hunt Hollow in the Finger Lakes region and Buffalo Ski Club are all about providing their members with the best skiing possible at a place where everyone feels like family.
The largest private resort by membership in North America is located just down the road from Buffalo. Holimont, located in Ellicottville, boasts over 4,000 members. For those of us unable to get out on weekends or take a day off, several Western NY ski resorts offer night skiing. Night skiing is a staple in the region, often providing access to the slopes at a discounted rate.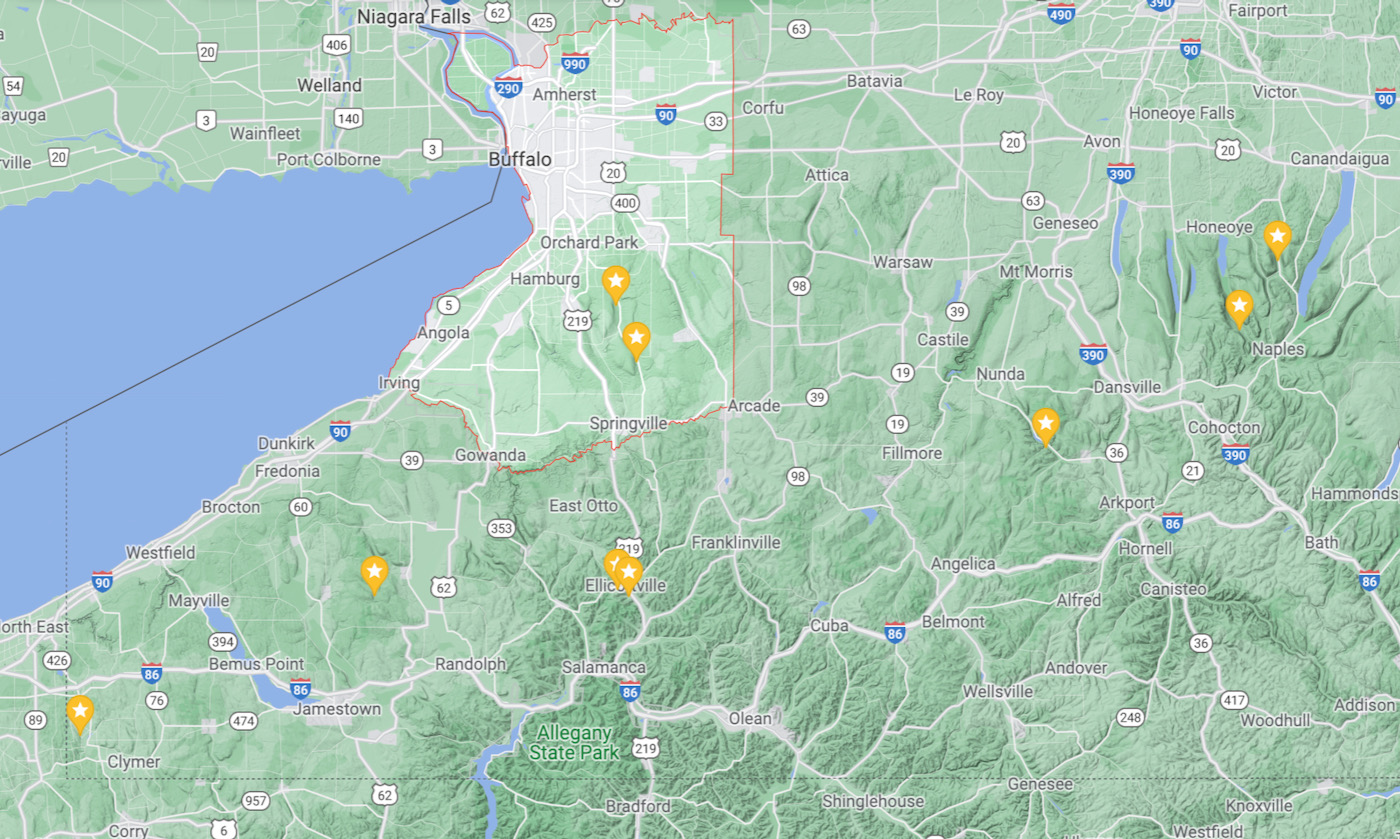 Whether you're a hardcore storm chaser or someone who wants to take a couple laps after work, Western NY has it. While you're out, enjoy a glass of NY state wine or beer at one of the many local wineries and breweries in the area or check out a Buffalo Bills or Sabres game.
Either way Western NY may be the secret ski destination you're missing out on.
by Robert
---
---
Western NY Quick Stats
| | | |
| --- | --- | --- |
| Ski Area | Snowfall" | Vertical' |
| Buffalo Ski Club | 180″ | 463′ |
| Holiday Valley | 180″ | 750′ |
| Holimont | 180″ | 700′ |
| Kissing Bridge | 180″ | 550′ |
| Peek'n Peak | 180″ | 400′ |
| Cockaigne Resort | 175″ | 430′ |
| Swain Resort | 130″ | 650′ |
| Bristol | 120″ | 1200′ |
| Brantling | 100″ | 250′ |
| Hunt Hollow | 090″ | 825′ |
---
Source:
• Western NY Ski Map from maps.google.com