New York is home to more ski areas than any state in the US; ISKINY.com counts more than 50.
There are choices: Olympic runs in the Adirondacks, the snowbelts near Buffalo and Syracuse, the high plateau in the Catskills and the small feeder areas near NYC.
There are two ski areas that continue to operate near NYC. Mount Peter and Thunder Ridge offer the amenities found at the larger areas and are great places to learn how to ski. Farther north, and in the Hudson Valley, Catamount has more vertical.
Farther up the highway are the Catskill ski areas, located about 100 miles north from New York City. There are 4 very different ski areas in operation in the region. All theses areas have solid vertical and acreage and receive 100 – 175″ of snow on average each season. This area is home to some of the most visited ski areas in New York.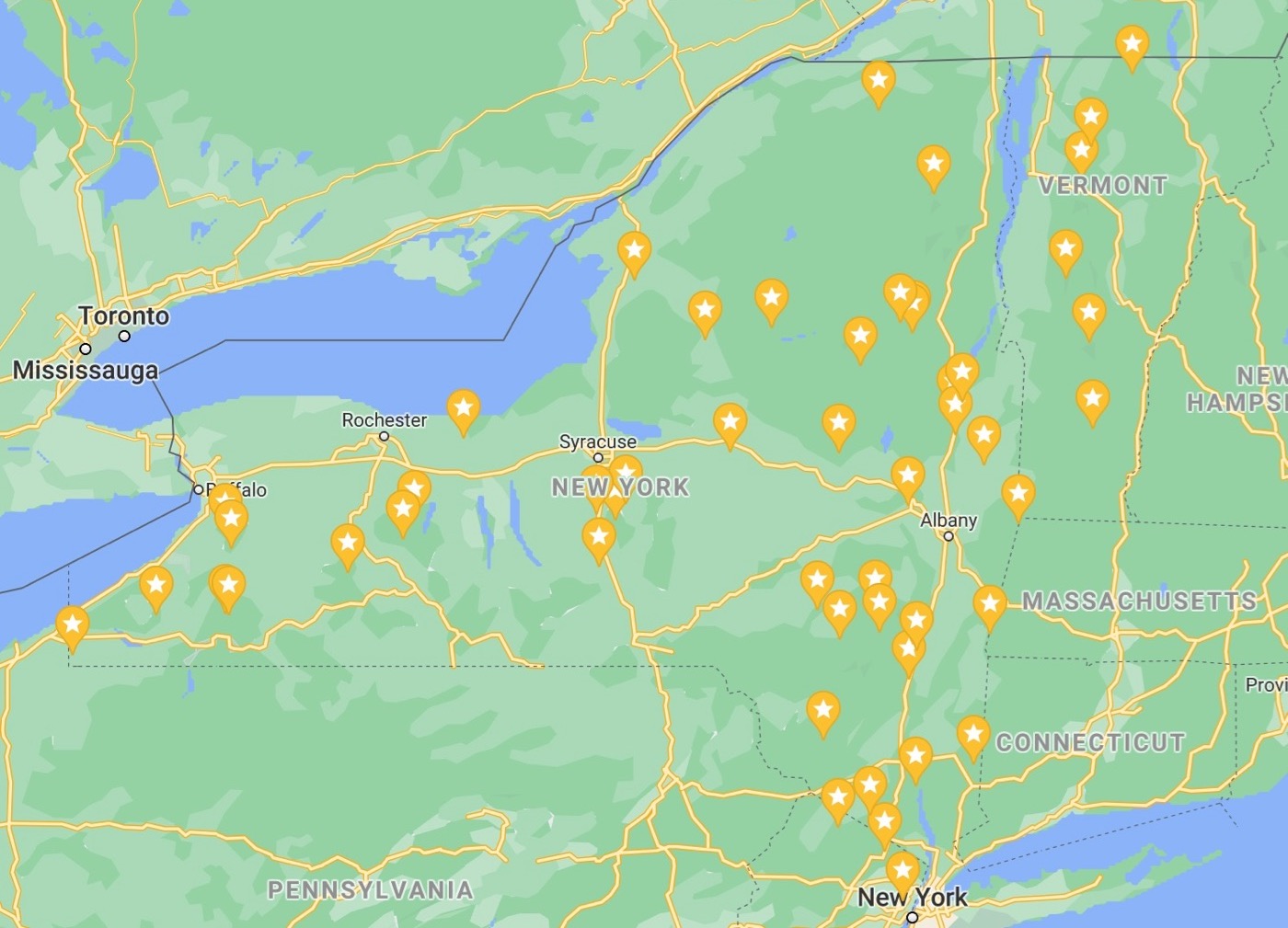 The Adirondacks begin an hour north of Albany. Located here are the two largest ski areas in New York State in addition to a handful of smaller areas. New York owns and operates Whiteface, home of the 1980 Olympics and Gore Mountain in the town of North Creek. There are also four smaller areas and four community rope tows.
To the west of the Adirondacks is the Tug Hill Plateau. The Tug gets abundant snowfall from lake effect snow coming off Lake Ontario.
In Central NY there is a cluster of mid sized ski areas that also benefit from the lake effect snows that come from the big lake. These areas can have some of the best early season skiing.
Western NY ski areas benefit from lake effect snow from both Lake Erie and Lake Ontario. These ski areas are built on generally built on long ridges and can have good amount of terrain. One of the most visited ski areas in New York, Holiday Valley, is in the great ski town of Ellicottville. Ellicottville is also home to one of the largest private ski areas in the US, Holimont.