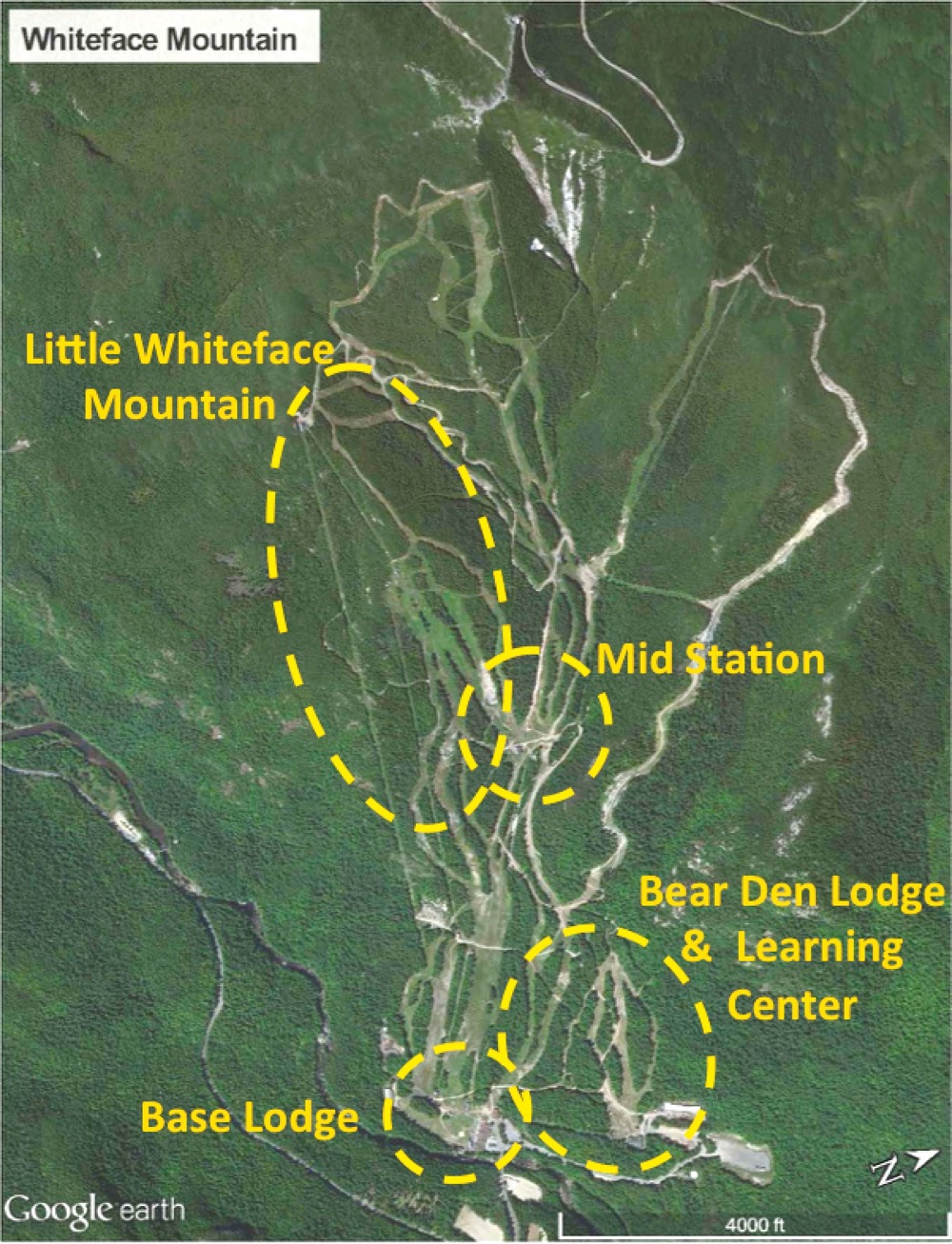 At the first meeting of the year of the Adirondack Protection Agency (APA) today in Ray Brook, NY, Whiteface proposed a slate of new mountain initiatives as part of the Unit Management Plan amendment process.
These initiatives are part of a long term plan that includes lift replacement, reconfiguration and rerouting, new trail expansion and existing trail widening to improve connectivity and skier flow, the use of an existing building as a warming lodge and parking lot expansion.
The purpose of this part of the process is to gain comments and input before the mountain seeks final approval. What follows is a summary of the highlights of the proposed new projects that were presented at the meeting today.
Proposed Projects
Construction of new intermediate trails on Little Whiteface (previously approved or conceptual actions in the 2004 UMP)
Replace Freeway lift, extending the upper terminal uphill to access new intermediate trails, relocating the lower terminal to base area
Add biking trails from Mid-station
Widen lower mountain trails including Easy Way, Brookside, Mixing Bowl, Easy Street, Boreen Loop and Boreen
Replace and extend Lift C (Bunny Hutch Lift) at Bear Den, creating a connection to Boreen
Widening of Bobcat, Bobcat Chute, Runner Up, Moose, Moose Cut, Flying Squirrel and Porcupine Pass
New beginner trails at Bear Den Learning Area, including one connecting Bear Den to Base Lodge
Add a second surface lift adjacent to Bear Den Lodge
Create a formal drop off area at Bear Den Lodge
Improve the intersection of Burtons Cut and Thruway
Widen Drapers Drop and Burton's
Utilize existing ski patrol/radio building on Little Whiteface as a warming lodge
Verify mileage of existing ski trails
Create additional parking by adding spaces to most or all lots
---
Aaron's Comments
The new Freeway will be a detachable quad that leaves from the base and ends on Approach around the top of Upper Mackenzie. The plan is to construct 2 new intermediate trails off top of this lift.
The new Bear Lift will be a quad that leaves from the base, has a midstation at the current top of Bear, and ends around the midstation lodge area.
The new quad and magic carpet at Bear Den will serve the extensive trail work we are planning in that area. We want to extend the lift top terminal higher to create better flow in and out of the area.
A Conceptual Action, we're proposing a 20M gallon reservoir behind Pumphouse 2. This project will help protect the Ausable River habitat, when the level is low, while allowing our snowmaking system to operate at full capacity.
Additional projects may be added based on ideas received during the public feedback period.
---
Editor's Note: It's important to understand that yesterday's meeting was the beginning of the approval process. As with other changes to the UMP, there will be public comment period and then the APA will make decisions. If the APA approves any or all of these proposals, the projects will still require funding.
See these links for more detail about the proposals for see the most current UMP.