Blog:
North Creek Ski Bowl
February 20, 2014
I've recently spent a lot of time to the south of Gore Mountain; downstate, the Catskills and Hickory. I hadn't skied in North Creek in over a month, and wanted to return to base in the Adirondacks.
It's been a different kind of month for me. The last several weeks I had limited experience with groomed trails, manmade snow or liftlines for that matter. I've been approaching things from a different angle.
We drove to North River Saturday morning and skied in the woods in the afternoon. Sunday was forecast to be a cold one, but as planned we headed off to Gore.
November 4, 2013
My days on the hill are taken up by skiing and photography.  I don't hesitate to admit it, blogging is my second favorite sport.
Good photos are key. For one thing, people are much more likely to read what you've written if you have sharp, imaginative images. Moreover, the words seem to come more easily when I've got five or six solid shots.
On the other hand, we rarely post original video on NYSkiBlog.  It's takes knowledge and energy to create compelling motion pictures.  Even if I was capable, taking good video takes too much away from the experience of skiing.  As evidence: there is only one video posted on our YouTube channel.
March 23, 2013
Ski Day 28: I left work yesterday at 3pm and headed north on 87. All week I watched a persistent uplevel disturbance that was producing a steady diet of light snow at higher elevations.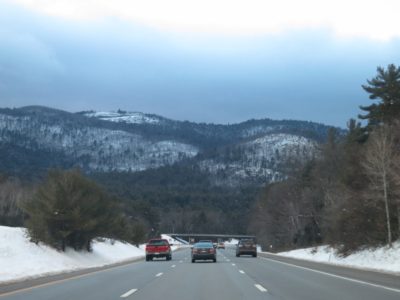 As I approached the Catskill and the Adirondacks, both ranges were shrouded in light snowshowers. I pulled into the North Creek Ski Bowl Base Area at 7:30 and headed into the lodge to boot up.
I had the place almost to myself. I wasn't sure how many runs I could get in, so I saved a little time by dressing lightly.