When your kid turned three years old, maybe you gave her ski lessons, like I did. Maybe you did it because skiing can be an exciting part of a great life. Or maybe you did it because you hoped she'd grow into an effortless, natural skier. Or maybe you did it because you wish you'd started at three years old.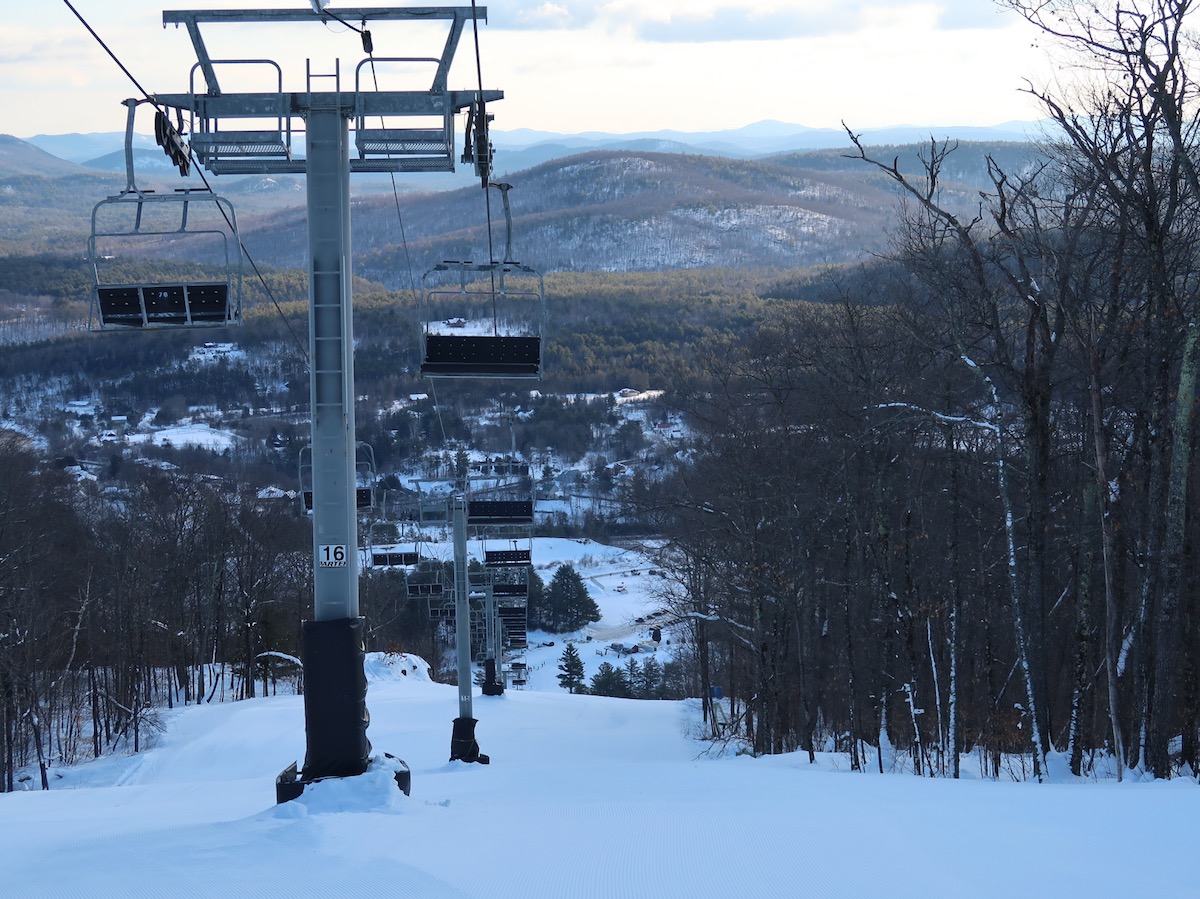 Or maybe it's a bit of all of the above.
We started our daughter in daycare at Gore when she was six months old. It seems that many ski areas don't take kids that young, but I think it's brilliant. If you can keep both parents skiing when the kids are really little, you might be helping to create another ski family.
When our only was three-and-a-half, we'd start her day with an hour lesson, and afterward we'd bring her back to the Bear Cub Den, Gore's daycare center, so Zelda and I could ski together for a few hours. Our daughter decidedly did not like going back inside, not one single bit. She didn't want to hang with all those babies, after riding the poma and getting first tracks on the Bear Cub Run.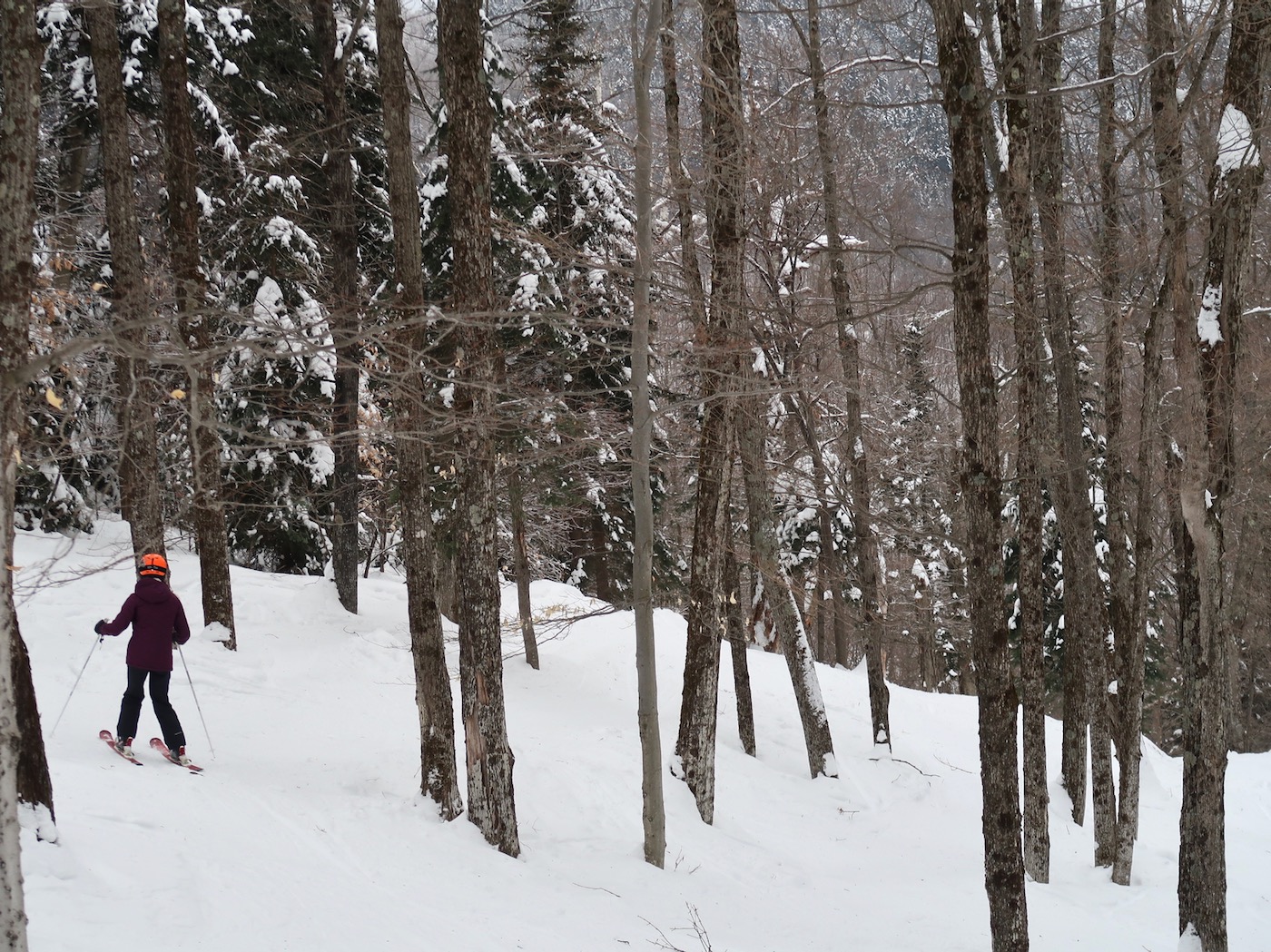 Eventually she graduated to chair lifts and skiing all day. She got to be a good skier. She's probably skied less than 100 days in her life, but a chunk of those were private lessons. BJ Prior and Erin Barton of the Gore Ski School really taught her how to ski.
She's got good form. She uses her poles, naturally, without thinking about it. She stays forward and if she feels challenged, she remains balanced doing small stem-christies. It's very cool to watch.
Over the last few years though, her passion has become gymnastics. Practices are frequent, including weekends and she hasn't been skiing nearly as much. She skied four days at Gore last year, not enough to justify a pass. This season, until this past weekend, she had only two days, way back in November.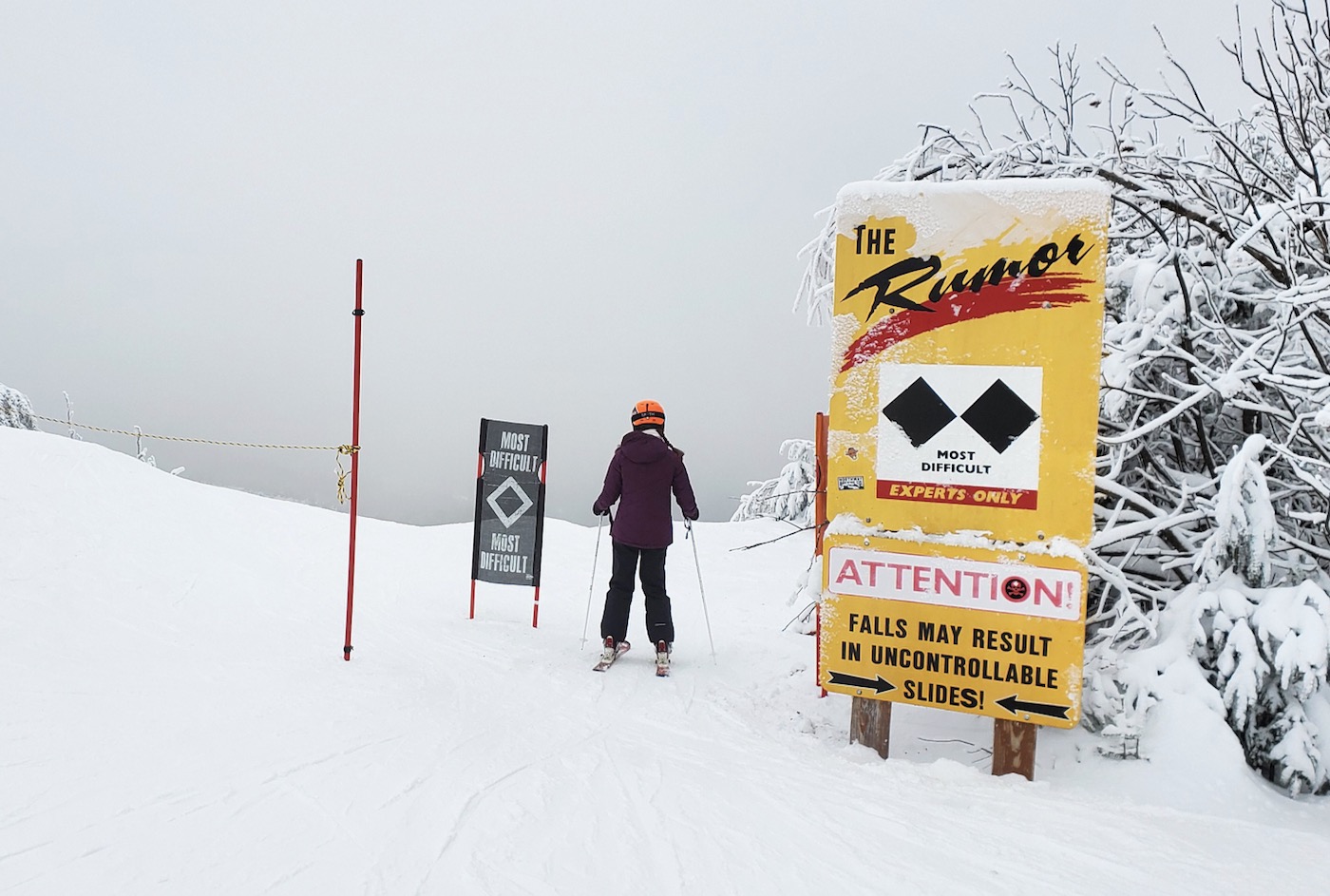 Which is why what happened this weekend really surprised me.
Over the last few seasons, our daughter has been generally fearless in the trees, and only intimidated by the steepest steeps at Gore. Two years ago, when 46er opened, we skied right up to the headwall, paused, re-considered, and sidestepped back uphill to ski the Hudson Trail.
This past Sunday, we were first at the Yurt and first in line for the Hudson Chair. Don was working the lift, and he always gives me a good tip: "46er was groomed overnight." The lift started to spin early, and we were on our way up the hill at 8:15.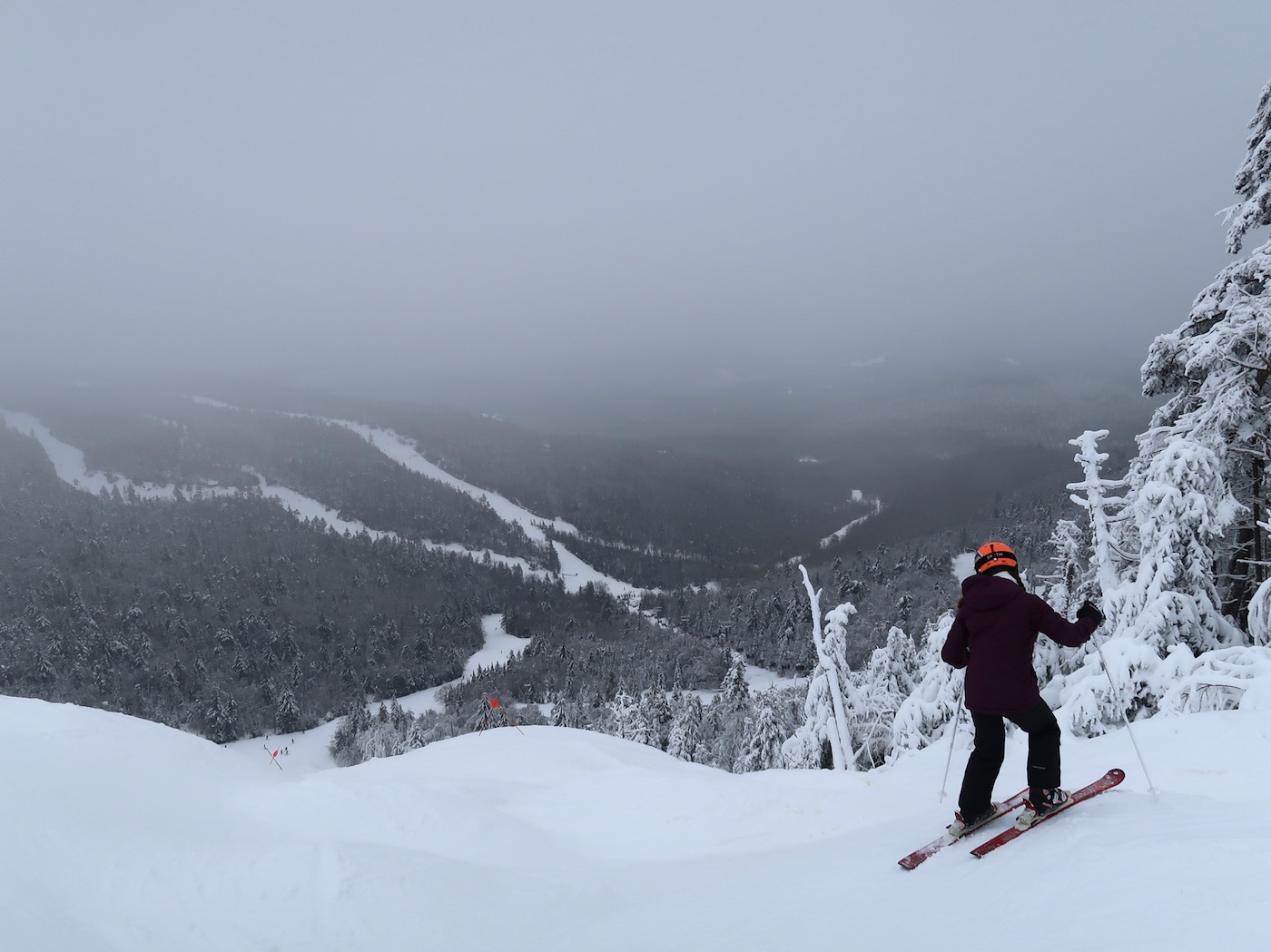 I've learned, always listen to Don. Without pushing too hard, I hope, I raised the idea of grabbing it while the cord was perfect. Two points for us, we were on a slow fixed-grip lift, with no one ahead of us, so we had some time to talk it out. By the time we arrived at the top of Little Gore, we were going for it.
The cord was firm but grippy and she nailed it. On the next ride up, she asked me "Dad, how does that compare to Lies?" I told her "46er is steeper than Lies, but it's shorter. And Lies won't be cord, by the time we get to it."
Apparently some kids at school had been talking about Lies, making it out to be the full-on shizzle. She'd gained confidence on 46er and was looking for some bragging rights to go with it. "To the top Dad, to the top!"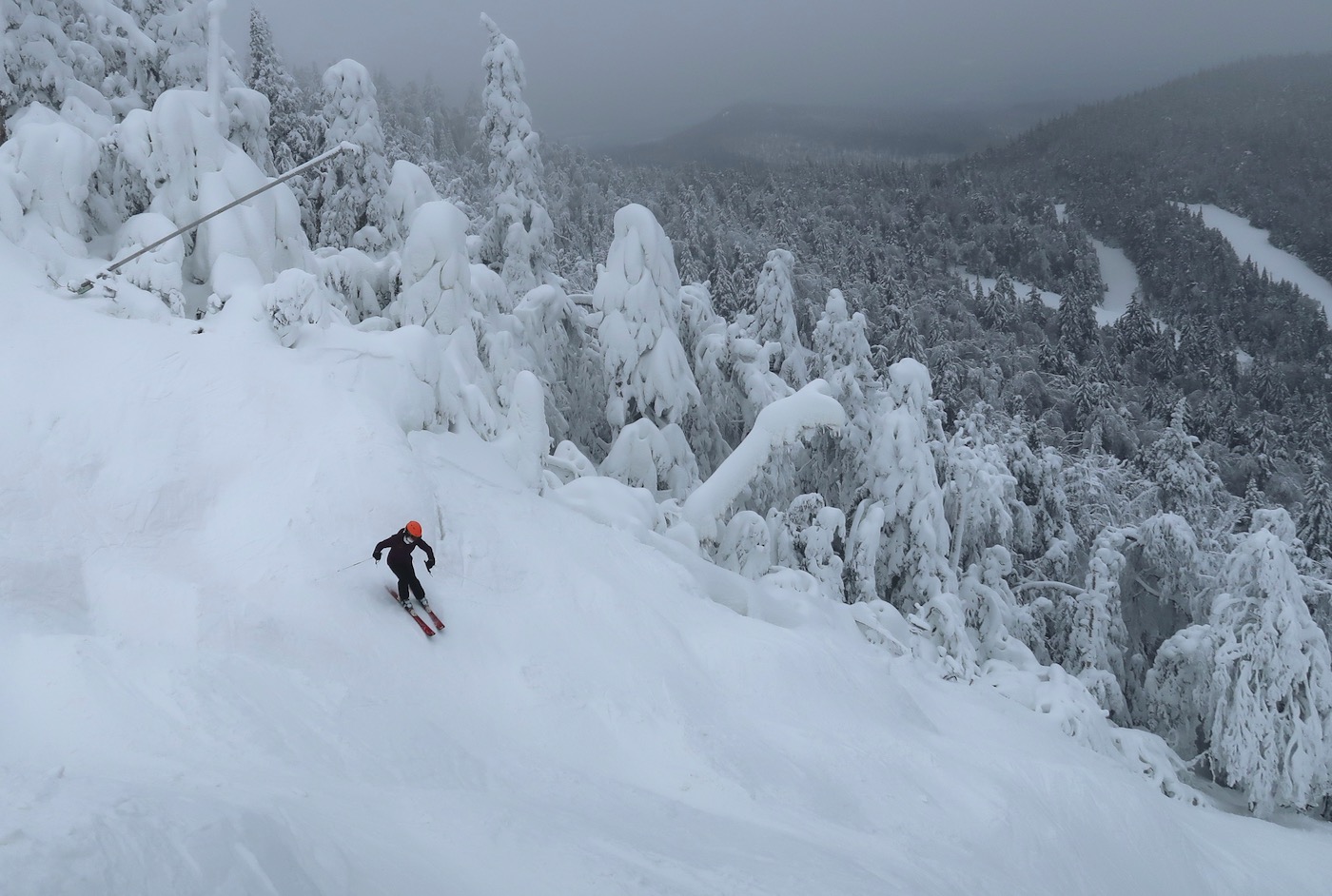 But first things first and everything in proper order — one doesn't just jump to the summit. We worked up to it, skiing Barkeater and the Tahawas trees on the way. We arrived at the Saddle via the North Chair and went into our Wood-In tuck, over to the Dark Side.
After another fixed-grip ride to the top of Lies, she dropped in. I went for my camera, but she was gone. She top-to-bottomed Lies and then hightailed it down Headwaters to the Straightbrook Chair, leaving me in the dust.
Over on the Straightbrook side, the options visible from the lift are many, including Chatiemac and Straightbrook glades and Double Barrel. So many choices, but she wanted Rumor. "Dad can I do it?" I told her "Concentrate on one turn at a time."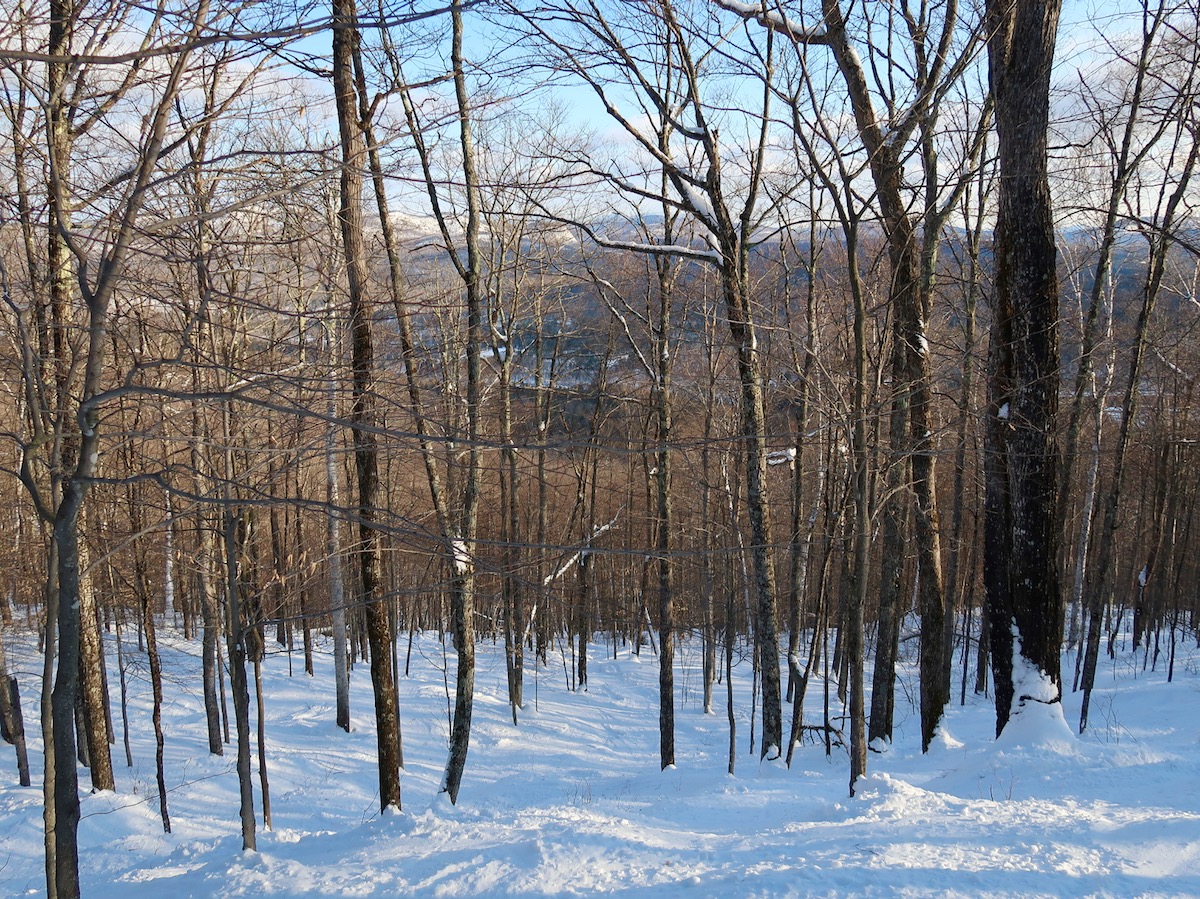 As we passed the Experts Only sign at the top, the snow felt really good underfoot. This was all-new cold manmade that had never seen any bad weather. She wanted to go first. I crossed my fingers, hoping that the backside of that first drop was edgeable.
It was some the best manmade I'd ever skied on Rumor, without being under the guns. I admit we billy-goated it, but she got down in style. After a second run on Rumor, we sampled the trees across the summit and then headed back down towards the Ski Bowl through Twister Glades and Barkeater.
It was probably my proudest day as a ski dad. Seeing her do it was a lot of fun, but even more than that, was sharing how she felt, when I caught up to her, for a fist bump at the bottom of the Rumor.
If you got this far, thanks for reading. Love to hear your comments about family milestones that were important to you.