Snow-starved times call for desperate measures to get one's ski fix. On a recent spring weekend, I day-tripped to North Creek Ski Bowl to get my fair share of abuse. The year season turned around for the metro area and points north. But on this weekend other options were closed, from the mid-February thaw.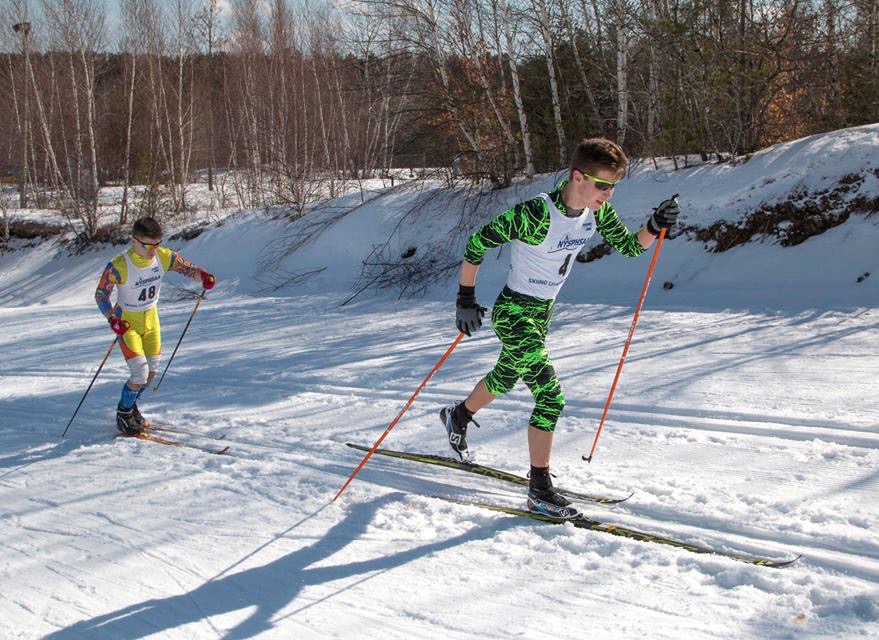 The North Creek Ski Bowl is 40 miles further from my home than my go-to day trip destination, Prospect Mt in VT.
Last year in the miserable 2015-2016-ski season, the Ski Bowl pretty much saved New York cross-country ski racing. ORDA laid out a serpentine — some might have called it Mickey Mouse — course winding around and turning back in on itself, uphill separated from downhill by surveyor's tape and prayer. Not unlike a cyclocross.
Over the ensuing summer, ORDA laid out a comprehensive cross-country trail on the tubing hill and secured homologation from the International Ski Federation (FIS) for a 2.5 km loop.  Combined with snowmaking and great grooming, if Gore/North Creek want to bid for a World Cup race, they're good to go in the trail department.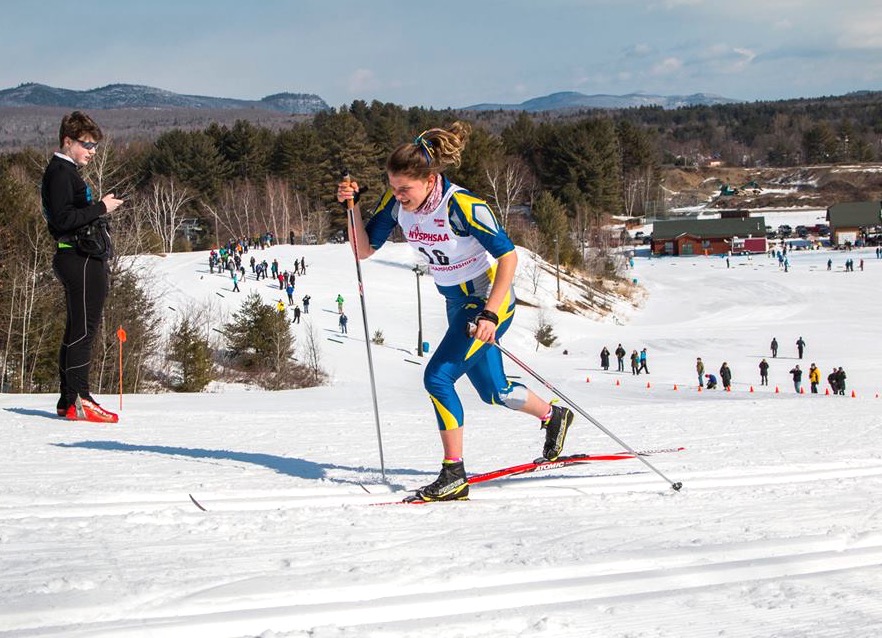 My first encounter with the Ski Bowl was a 5 k classic race in January. Two laps of the new FIS loop. It was an interval start, two laps of the aforementioned loop. This race was a Junior Nationals and Eastern State High School championship qualifier, with a good 500 juniors in addition to us master blasters.
Two skiers started every 15 seconds. I was paired up with local skier Doug Diehl. Fifteen seconds after the gun went off, he was 30 meters ahead of me. I blew the kick wax and herringboned much of the big climb and was tentative on the biggest downhill. I really wanted to ski a bunch of laps to get the race course imprinted on my brain.
With the "spring ahead" to daylight savings time, I was glad that the Ski Bowl didn't open till 12, I could sleep in until 5:30 AM. After feeding cats, getting breakfast and Cuban coffee, it was launch time.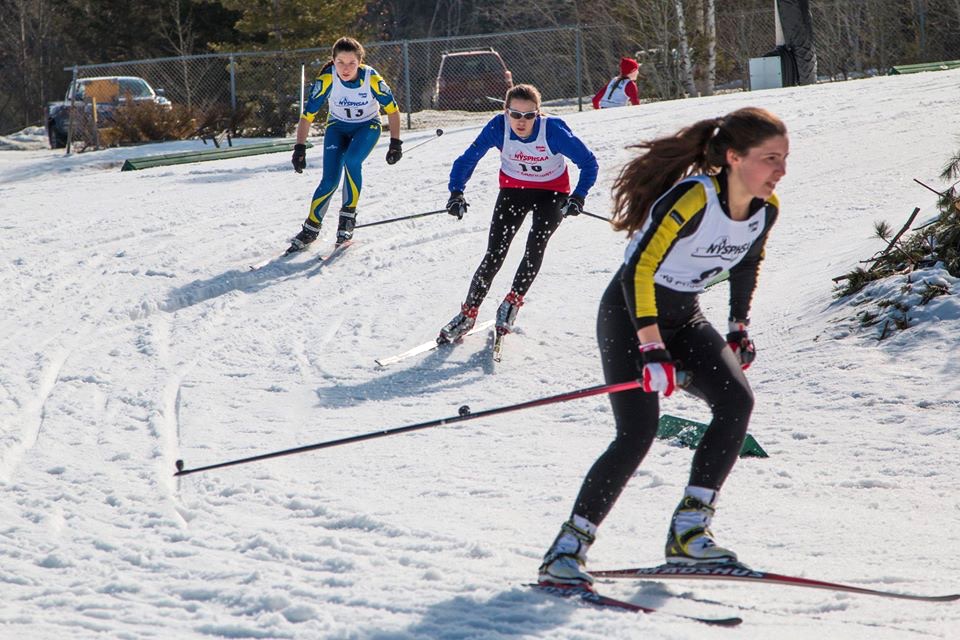 Where the Ski Bowl lodge probably exceeded occupancy limits for that January race, today it was quiet. A couple of people, renting cross-country skis, a couple of families taking younger kids on to the bunny hill.
Peru Nordic teammate David Burt was just heading out. I scrambled into my boots and clipped into skate skis to join him. Conditions were variable: a mix of well-groomed, if thin, frozen granular and windblown spots with packed powder. Twelve degrees and a steady blowing wind where it was exposed.
The 2.5 k FIS loop snakes around the edges of the Ski Bowl. There are a couple of short trails off into the woods, but today they were ungroomed. An inch of snow fell overnight, just enough to freshen up base.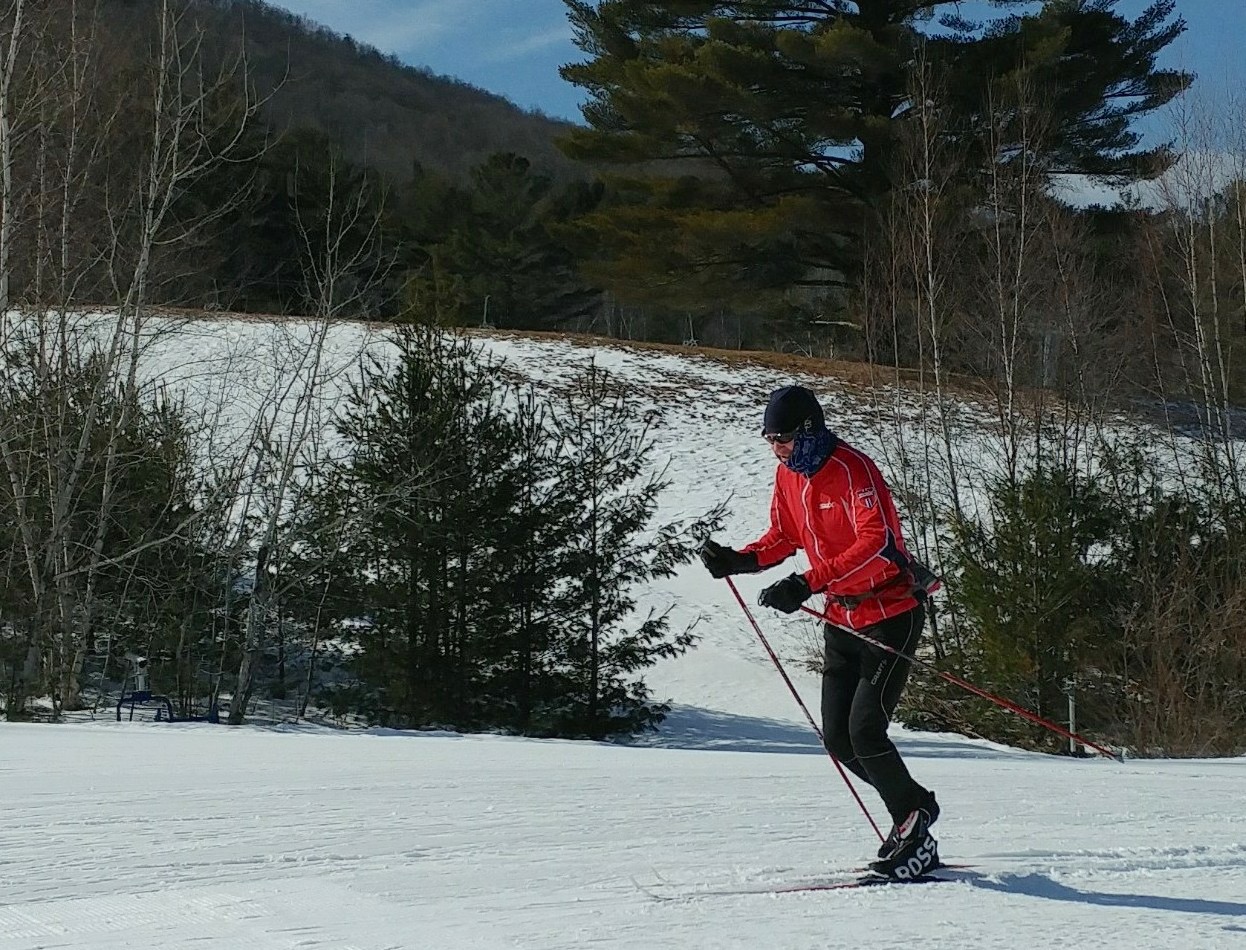 After about 200 meters of easy skiing, we rounded a sharp left by the yurt (ever wonder what happened to the yurt at Mt van Hoevenberg?) and hit the A climb. In the parlance of FIS trail design, any homologated xc loop requires an A, or really tough climb, and a B climb, which is shorter but not necessarily less steep.
Halfway up the A climb, Dave and I paused to catch our breath. There's a flat bit before a left turn taking you to a 20% pitch, then it gets easier, but still goes up and around a hairpin. The first part of the ensuing downhill takes you straight towards the top of the bunny hill ski lift, then to a serpentine, wicked fast downhill. If you don't scrub too much speed, you'll get almost to the crest of the next hill.
Then down alongside the chairlift, and a cranking left turn to the B climb. It's shorter than the A climb, but with a 15-20% grade, it still packs a punch. Then a fast downhill to the flats at the base of the hill. You pass by the bottom of the halfpipe and the chairlift, and you're ready for another lap.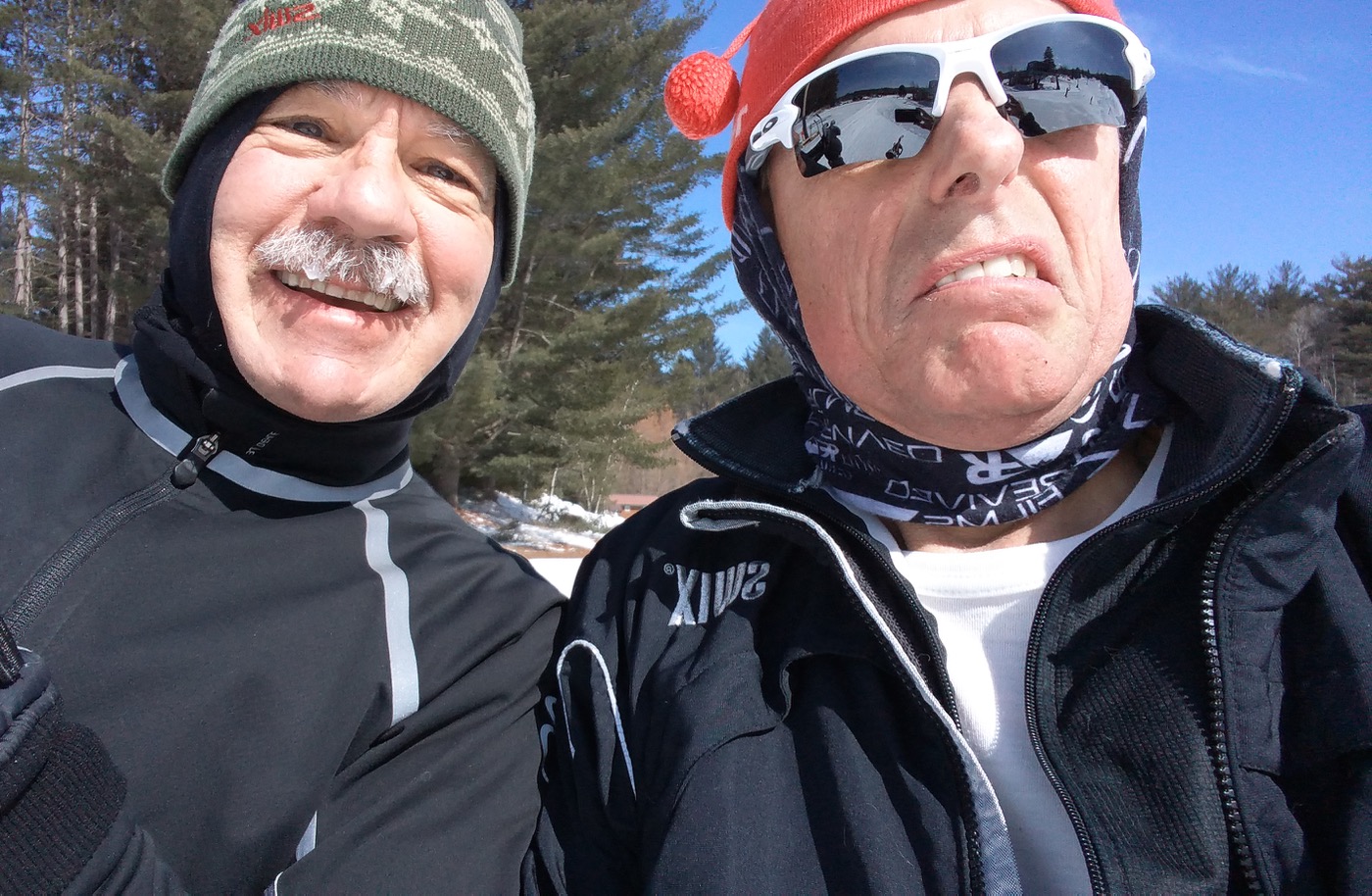 After four laps, I was fried. As often as I've skied at Mount van Hoevenberg, and all the time I spend going uphill during dryland season, I was still unprepared for this place. It's a blunt instrument of a race course. I crawled around the race course one more time, because it was a beautiful, bluebird day and I wanted to enjoy it.
Modern cross-country ski racing is multiple laps done on short loops designed to be TV and spectator friendly. By contrast, the men's 15 k at the 1980 Olympics in Lake Placid Trail was one loop with many shorter climbs that accumulated fatigue. Design parameters were different 40 years ago.
If you go, you can certainly ski easy by skiing shorter loops down low. But there's fun to be had testing oneself on the race course. ORDA is to be commended both for developing this race course, and their foresight in bringing snow making to Mount van Hoevenberg. These developments bode well for future the future of cross-country skiing in New York.
---
Some photos courtesy Gore Mountain Nordic Facebook