Monthly Archives:
February 2014
February 24, 2014
I packed my car in the rain and weighed my options. I was getting a late start, but with February comes a later setting sun and options, especially this year with everybody pushing 100% coverage.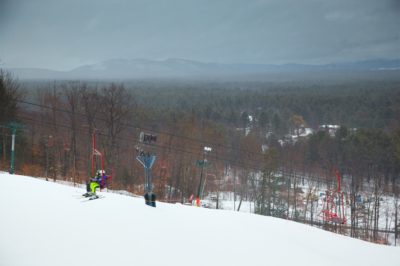 I recently saw a weather guy call this week the seventh inning of the season. I guess that makes sense, because if you're a serious skier you know that we're deep into the game, even as we hope for solid March and extra frames.
With everything on the table, I drove to West Mountain for the first time since 2012. I'd have a night skiing option if I arrived late or wanted to grab more vertical. West is located so close to I87 that even with the weather, I didn't think the drive would be tough.
February 20, 2014
I've recently spent a lot of time to the south of Gore Mountain; downstate, the Catskills and Hickory. I hadn't skied in North Creek in over a month, and wanted to return to base in the Adirondacks.
It's been a different kind of month for me. The last several weeks I had limited experience with groomed trails, manmade snow or liftlines for that matter. I've been approaching things from a different angle.
We drove to North River Saturday morning and skied in the woods in the afternoon. Sunday was forecast to be a cold one, but as planned we headed off to Gore.
February 17, 2014
With only a half day to ski, I had decisions to make. Wake up early, drive an hour to Gore and spend the morning exploring a fraction of the mountain, or drive 45 minutes to Big Tupper for untracked lines and ski-on lifts all morning?
For me, Tupper was the right call. Sunday was my first time on the hill since President's Day 2012. Arriving at 8:45, I found a parking lot with maybe a dozen cars. After grabbing my $25 lift ticket, I headed for Chair 2.
Chair 3 wasn't running and looking up towards that forbidden peak, I wondered if Tupper would see the kind of snowfall it would take to open it up this season.