Monthly Archives:
October 2013
October 31, 2013
The fourth annual cross-country ski swap to benefit Fahnestock Winter Park will take place from 9AM to 1PM this Saturday, November 2, at the Taconic Outdoor Education Center located at 75 Mountain Laurel Lane, Cold Spring NY.
With 15 km of groomed trails near Cold Spring NY, Fahnestock is a great cross-country resource for skiers in the New York metropolitan area.
"We look at it as a service to our community," said Paul Kuznia. A dedicated skier, Kuznia is director of both Fahnestock and Taconic Outdoor Center. "A lot of our customers aren't experienced skiers. They come to the sport later in life, and they learn to enjoy the winter."
October 28, 2013
Over the past few years, we've published several features in the Magazine about the most underutilized arrow in the northeastern skier's quiver: Québec.
From the Eastern Townships and Laurentians in the south to Charlevoix and the Gaspé Peninsula in the north, the province offers a number of great mountains, but its special sauce is the many interesting small areas similar to Hickory in the Adirondacks or Plattekill in the Catskills.
With the 2013-14 season inching closer, we learned over the past week that one of the most beloved of these locals' hills, Mont Alta — located an hour northwest of Montréal in the Laurentian snowbelt — is going to reopen after being closed last season, with the goal of transforming it into a co-op.
October 21, 2013
The nights have finally turned cooler, and it's been hard not to notice leaves piling up by my door each morning. Halloween candy has been on sale at the drug store for weeks, and the farmers market is turning out more apples than there are tourists in NYC.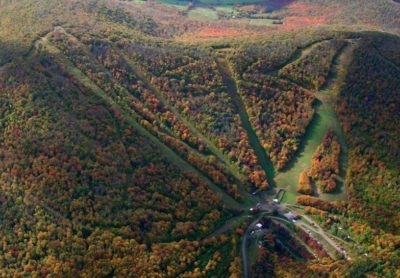 There is no fall tradition that brings me more excitement than heading up to Plattekill to manicure the woods in preparation for the upcoming season. Working on a glade is the best way to own your local ski hill if you can't afford to buy it.
Making the pilgrimage to Plattekill before the snow falls gives you some real skin in the game. It ensures that you'll deserve a copious overnight snowfall before your day off.