Monthly Archives:
January 2013
January 30, 2013
Last month I used the ABC's to teach children how to shape their turns for speed control. This month I'll try to help intermediates get out of the rut and make better turns. To suit the higher ability level, I've moved the analogy from grade school ABC's to high school Geometry.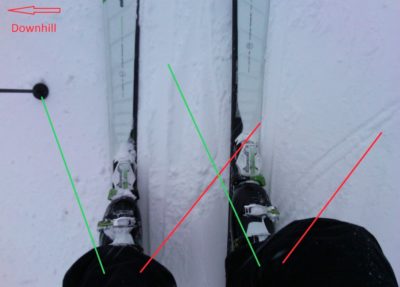 When I work with intermediates, I try to get them to think of their boots as being square instead rounded. In past we'd tell students move your shins directly forward into the front of the boot. Now, with modern technique we want to move those shins diagonally into the corner of our imaginary square boot tops.
If you tip both shins in the same plane into the corner of the square box (top of your boots) the skis will roll up on edge. Start by tipping your shins into the uphill corner of the square on the bottom half turns (after the apex). Try a gentle green trail and notice how your skis respond. As you gain confidence with this move try to gradually push toward the corner earlier in the turn. Not only are the skis parallel, but the planes that the shins tip in are parallel.  This leads to the leg angles that are parallel too.
January 27, 2013
Ski Day 16: Saturday started normally. We woke at our usual time, me at 6am, and the girls at 6:45. We played it like a Sunday with Zelda sitting it out. Neve and I were at Gore by 7:45, and we got in one of the first Gondi cars to load.  Same as it ever was.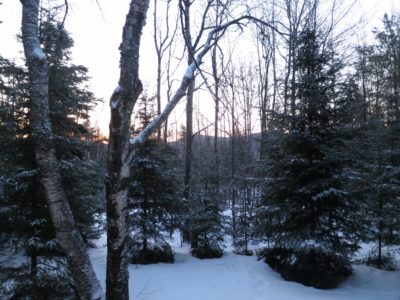 We skied a mix of pure corduroy and ungroomed manmade snow on the lower mountain. The cord was decent, and the little drifts of windblown manmade were a total blast. The bottom mountain was cold, but calm.
Neve was pushing to go to the top. On our second run, the rope was down and we dropped into Pine Knot. A slight breeze and colder temps made it very chilly at the summit.
January 23, 2013
Gun running has been a persistent topic of conversation over the past year in the mainstream media. We, the subversives at the NYSkiBlog have taken to giving it a new meaning.
Instead of an illicit trade, we use the term to describe that awesome experience of skiing top quality manmade cold silk snow under the guns at ski resorts in the Northeast. To be completely forthright, skiing under the guns today during the work week felt way too good to be legal.
The product on the slopes of Hunter was the best manmade snow I have ever skied.  It's simple science; super cold temps + compressed air + water = pure silk. Arctic cold for days, dozens of canons and fan guns, meant that it was laid down in bulk.