Monthly Archives:
January 2012
January 30, 2012
Mount Washington is a long way from New York City in more ways than one. The gulf between the two landmarks is greater than the 380 miles that separates them: the northern Appalachians tallest peak has one of the most challenging environments in the east. The drive feels especially long if you're a young guide entrusted with a group of city dwellers who've never faced the challenges of an alpine zone.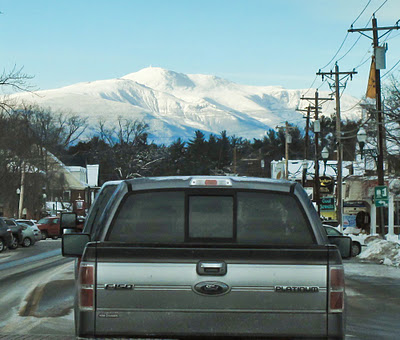 Recently, I made the journey with a group of inexperienced adventurers from the city. I tried some bad snowboarder jokes to try to lighten the mood and help speed the trip; but the only true cure for lingering anxiety is diligent preparation. Once you've prepared, success hinges on determination and knowing when to abandon a summit bid. If you do make it, the reward is significant. Nothing beats the feeling of standing on top of Mount Washington in the dead of winter surrounded by teammates.
January 28, 2012
Good skiers know that the best snow late in the day on groomed trails is always right along the edge; however you need solid short radius turns to hang there. If you want to ski in the woods or bumps, it's the same deal, you need those short turns. We don't live in the land of the large open bowl, so if you want to be a good skier in the northeast, you need rock solid short turns.
Do this "corridor drill" in the morning when the groomer tracks are still fresh. Find a nice moderate pitch and make short turns staying inside the track of one groomer width. Work on keeping your belly button pointed downhill with your legs turning under a stable upper body accompanied by rhythmic pole touches.
January 24, 2012
I've wanted to ski West Mountain for a long time. When I was a kid, every time we drove to Vermont my dad would look over from the highway and say "we should stop there sometime." On my most recent trip north I saw the lights from the highway, and remembered those childhood car rides. On the return trip I decided to stop, and what I found surprised me.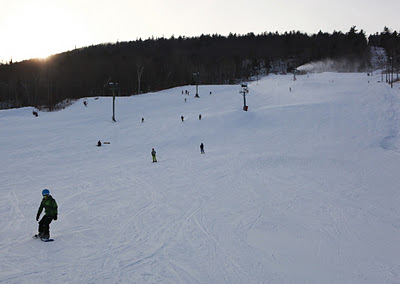 For me, showing up at a ski area in the late afternoon was unique and memorable. When we arrived, we were greeted on the triple side by a couple of friendly snowmobilers who gave us directions to the proper base area. The young lady at the ticket counter could have been the owner's niece judging by the way she carefully sharpied the expiration time on our lift tickets.