Monthly Archives:
November 2011
November 27, 2011
Ski Day 2: You might reasonably question the prudence of driving five hours from the flatlands to Gore this weekend. I did question it, but ultimately for us, the decision to ski paid off.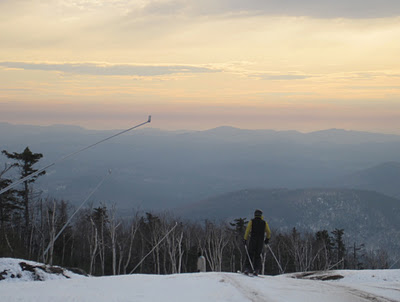 We arrived at Gore at 8 am, had breakfast and booted up. Part of our motivation to come north was our desire to get Neve back on skis early in the season. Kindergarteners have a very busy schedule in December and we wanted to get her back in the groove before we arrived for Christmas break. At 8:30 we left her with her instructor Erin and headed to the Gondi.
Patrol was talking to everyone in the gondi loading zone. "Do you know conditions are very thin up top?" Zelda thought twice about the warning, and decided to lap the Sunway chair, to start. I boarded the gondola alone and very jazzed, to be riding a lift.
November 26, 2011
I had a plow guy, and I have to admit I took him for granted. When it snowed, he plowed. When it snowed hard, he plowed twice.
Roger cleans up after the Valentine's Day Storm
His name was Roger. During the mega storm of February 2007, he backdragged enough of our drive in the middle of the night to allow me to get safely off the road. Then he came back in the morning with his tractor. He dug it all out, and then came back again with the plow to clean it up — all included in his price of $35 per storm.
Once he pulled me out of a jam with his truck and a chain, and wouldn't take a dime. He said "I'm pulling you out of the snowbank because you're my neighbor, not because I'm your plow guy."
November 24, 2011
Last Sunday's work day at Plattekill may have been the start of something beautiful. I don't think I've ever met anyone who's skied the mountain and wants it to change, much. But over beers, I wondered aloud about enhancing it, and to my surprise, ownership agreed.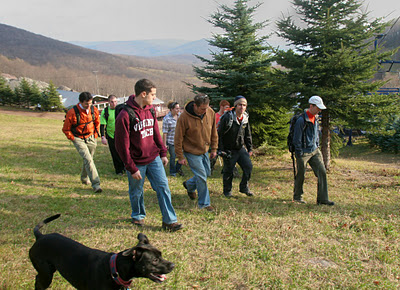 Even more surprising was the unexpected and overwhelmingly positive response from the skiers who ski volunteered to give up a Sunday to work together to clear some new lines.
It was weird being on the mountain in "stick season," having just skied lift-served pow at Plattekill three weeks ago. But the mountain was abuzz with bikers flying downhill and through the trees, and over immense jumps that are hard to fathom until you see an armor clad rider fly off them.