Monthly Archives:
May 2011
May 26, 2011
The 2010-2011 ski season started off slowly, without a lot of natural snow. In our corner of New York — the southern Adirondacks — we only had ten inches of snow by New Years Day.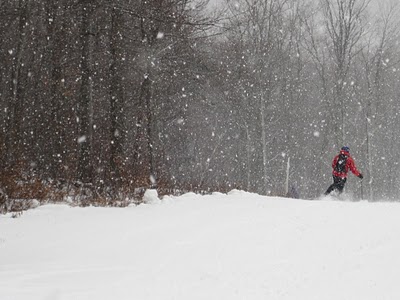 Opening Day at Gore Mountain
But sustained cold through the entire season ensured that what we got stuck around, and NY ski mountains made steady progress covering trails with manmade snow.
My season included a nice lists of firsts. I skied the opening days at Gore, Hunter and Plattekill. And my day at Hunter was the debut of New York's first six pack chairlift, the Kaatskill Flyer.
May 17, 2011

I first ran into Steve Wright in cyberspace on the First Tracks Online eastern forum a few years ago. As Jay Peak's Vice-President of Sales and Marketing, he occasionally popped into discussions to add a comment or two. But instead of coming off as a ski-resort salesman — there only to perform damage control or to publicize something — Steve took us behind the curtain to explain how and why things happen at ski-area marketing departments, both at Jay Peak and industry-wide.
As Jay transforms itself from a no-frills mountain with the deepest lift-served snow east of the Rockies into one with a fair amount of destination resort accoutrements, we thought that it'd be interesting to hear his thoughts on a variety of marketing-related topics.
Your first ski-area marketing job was at Killington. What was it like?
As you can imagine, there was a very heavy corporate hand, and I don't necessarily mean that in a negative way. During its halcyon period, there were a lot of good things happening, including the K1 gondola and other big investments. There was always a ton of energy down there, but not much flexibility to communicate what we wanted.