Monthly Archives:
March 2010
March 31, 2010
The New York State Legislature is currently considering cutting funding for ORDA from the 2010 – 2011 NYS Budget. If this funding is lost, it could seriously impact skiing at Gore and Whiteface, and the local economies of Warren and Essex Counties.
Essex County has created an electronic petition to support the continued funding of ORDA. If you are in favor of state funding of ORDA consider signing the petition.
March 29, 2010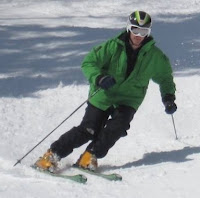 This morning started partly cloudy and 18 degrees. The sun was flashing in and out until about 10am, and then the clouds moved in.
Our first 4 runs were on Gore's famed Front 4 – Twister, Showcase, Sleighride, and Quicksilver. They were midwinter groomed with some sweet corduroy. Skiing was fast and empty. There was a huge uphill wind on all sides of Gore. I hit Chatiemac and it was still all cord.
Next stop the Darkside. Lower Stielhang, Hullabaloo, and Lower Darby were in excellent shape and had not been skied off. The bottom of the High Peaks Chair was one of the few places on the hill where the wind was quiet.