Monthly Archives:
February 2008
February 17, 2008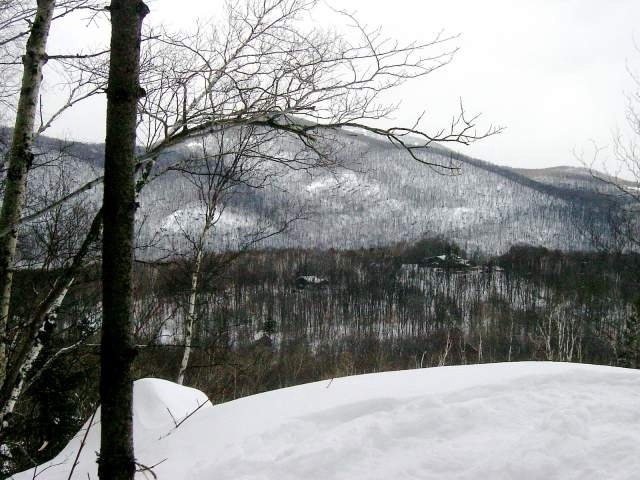 Ski Day 22
Inspired by the conditions I found in the Siamese yesterday, and deterred by the holiday going on at Gore, I decided to "sleep in" and see what I could dig up in the woods for a second day in a row. I got up at 7am and by 7:45 was walking down Harvey Road with my BC skis on my shoulder. I jumped onto Garnet Hill's trail system, and took Old Faithful to 4H towards the Garnet Hill ski shop. I was the first one on the trails, after the groomer, so I guess you could call it first tracks. The trails were in good shape. While skiing 4H, Mark and Julie, a couple of tele instructors from the area, popped out of a chute known as the "elevator shaft." It's a nice straight shot, steep, and somehow it hadn't been skied all week. I didn't ski it, but it was cool get the vicarious thrill watching them hit it. We skied together the ski shop, and I tried to convince either or both to head out with me. Julie had to work. Mark said he could give me 30 minutes. We went up the trail to the old mine, it's about a 400′ climb. We checked out the view, and then Mark headed down. I watched him disappear, linking turns back and forth, across the trail all the way down. I headed off towards William Blake Pond on my own. I didn't know exactly where I was headed, but I did know I didn't want to ski the same thing I'd done yesterday afternoon. Before dropping into the pond, I headed East, off the trail, toward the summit of Harvey.
Harvey is an oddly shaped mountain. I think it was originally huge, and maybe even part of Gore, before a glacier whacked it. It's shaped like an "T." The true summit is at the corner of the T. At 2500 feet, the summit is a nice enough spot with thin trees and views of Gore. But the most dramatic parts of Harvey are down at the far end of the of one of the arms…cliffs, great views, including view of the old Harvey Mountain Ski Area. And at the base of the cliffs there are some great steeps for skiing. Going along the top of the eastern arm of the mountain you ski on a ridgeline that is maybe 15 feet wide with drops of 200′ down each side. It's great stuff if you like that kind of thing. Going for the top, alone was a bit questionable. I've skied alone in the woods many times, but since I didn't really plan to do any backcountry this weekend, I didn't really have a proper pack, just a butt bag with a few essentials. I figured I'd go for a bit and see how it went. I set my turn around time at 10am.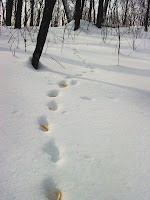 I climbed around the northwestern, lowest knob of the mountain, and after a little thicketeering, got into the wide open hardwoods. I'm not sure why, but there is a lot of room back there. The trees are very well spaced. Maybe a fire thinned it out. As usual, there were bobcat tracks everywhere along the ridge. You can actually use the cat tracks to find the easiest way through, as the cats seem to know the best route through the densest stuff that you encounter at the beginning of the bushwack. The skiing was so easy and pleasant. You were basically on top, sinking maybe 8 inches, and there really was no crust or sound from the snow. The reports indicating that North River didn't get the rain that fell in North Creek last week, seemed pretty accurate.
I made the top at 10:05, snapped a few pics and headed back down in my tracks. If you've got the whole day… the thing to do is drop off the southeast face, hug the cliff bottom on the southeast side and then come down the northface. It's pretty steep and you get about 500′ through hardwoods. From there, you can reconnect to the Garnet Hill trail system on Joe-Pete, one of the expert trails. That's the "traditional" circuit of Harvey, but I'd have to leave that for another day. I had to get going.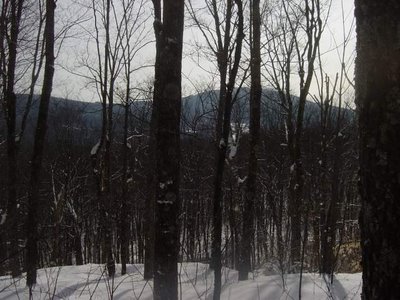 What took an hour and a half to get up, took about 20 minutes to get down. On the way back down from the mine, I tried to do "powder 8s" with Mark's tracks. Not easy with 205s and leather lowboy boots. But fun as hell. I skied back down Old Faithful, and took Solitude (a personal favorite) to Cougar Run…coming out at the North Acres farm. From there it's about 100 yards up the road back to the cabin. I had lunch, drained the pipes, and headed out. I was surprised that there was no traffic on 87 at all. I guess everyone is sticking it out until tomorrow. Back in downtown rural NJ, I'm glad I skied hard for 3 days. Time catch up on my blog, and wait for the beginning of Winter, Part 3.
February 16, 2008
Ski Day 21
I got to the mountain at the same time as yesterday. Instead of being totally alone in the base lodge, there were maybe 50 people inside. The holiday was on. At the top of the Gondi, there was no waiting at the rope – for the second day in a row, I was first down Pine Knot. I hit the Pine Brook glade on the way down – as good as yesterday really, except for a few spots you had to jump over. When I got to the Straightbrook chair it wasn't open…I waited.
Marc, the head of ski patrol, and Howie another patroller, ski up and wait with me. On the way up he "recommends Chatiemac" all the way down. I told him I was headed for the Straightbrook glades, and he repeats… "all the way down."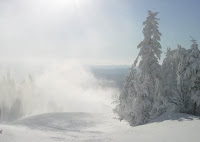 They had been blowing on it all night,and they still were. It was 5 below last night and the whales were ultra silky. I mean it's not a "natural" experience in any way. But it sure is fun. It's how I imagine surfing would be, if you were good at it. I got first tracks on Chati and probably 10th tracks as I had to repeat it. One the second run I hit the SB glades at the end, and they were better than yesterday. Or maybe I was better, not sure. I did the bumps on double barrel, as a tribute to joe-the-bumper.
Then, of course, I had to get over to the Dark Side. It was the best yesterday, and I wanted to be there first. Funny thing about Gore. A large percentage of the skiers who ski the top do exactly what I do…Gondi to Pine Knot or Uncas…ride the Straightbrook chair and then eventually move over to the Dark Side. By being insanely early, and by spending a little bit less time over on the front side, you can get over to the dark side close to "first." Does close count in skiing?
By the end of yesterday, the word was pretty much out. The north aspects had the best snow. But I wanted to see what was left over there. Lower Steilhang wasn't open so, except for that, I went in order…Hullabaloo to the Dark Side glade, then the glade on it's own, then Darby into Darby Woods. Some of the turns under the lift were bullet proof – blue snow. Darby Woods had the most untracked and loose snow on that side. Sometimes, it seems, the most obvious things get ignored.
I hit the Mineshaft glade and switched back to the front side. It hadn't seen the traffic and had the best natural snow of the day. Actually the Chatiemac glade still had some untracked too. Just keep skiing until you find it. I vowed that before I went down to Topridge, I was going to find Top Secret without anyone's help. I skied slowly, scrutinizing, and jumped in at the right moment. One thing is true, when things have been skied pretty hard, the homemade stuff is harder than what is on the map. Fewer line choices in the homemade…and it gets FAST in there.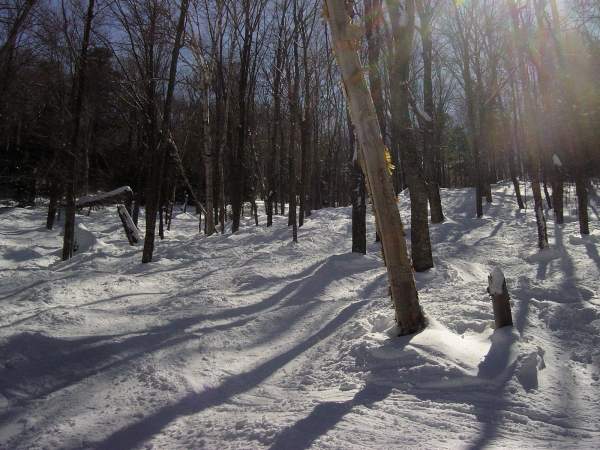 I hit Tahawas glades, High Pines, The Cave and called it a day. I skied down to the bottom and for the first time saw the amazing zoo that is the base area on the busiest day of the year. It was only 12:45.
PART 2: The Siamese Ponds Wilderness
I bought lunch in town at Sarah's Cafe and headed back to the cabin. I changed, ate my sandwich and put a butt bag together for some backcountry. Actually it's what we call the backyard up here on garnet hill. I drove to the lodge and parked as far from the ski shop as I could. On the busiest day of the year, I wasn't not a paying customer and I didn't want to use up a valuable parking spot.
I headed up to the old Hooper mine…probably a 600′ climb from the ski shop. The view up there is sweet. Thirteenth Lake, the old mine, the new mine, the lodge, the Siamese. Back into the woods and over toward William Blake pond. It's rolling and very pleasant back there. Mostly hardwoods with lots of space in between. You head across the ridgeline on Harvey Mountain.
It's so quiet up there. 800′ below families are learning to xcski and there is a buzz…but you can't hear it up top. Over to William Blake Pond and then up to the beaver swamp. It feels so far away. Past the beaver swamp…you really shouldn't be going out that far with just a butt bag. It is the wilderness, and skiing solo…well I was breaking my own rules.
I decided I go to the height-of-land between Gore and Garnet, and turn around. I decided turn around time was 4pm. I know how ridiculous that is. At around 3:30 I ran into the Gore-Garnet trip. I couldn't believe it – 5 hours to ski back from Gore. Seemed slow to me. I was considering joining this ski on Sunday, but if they aren't getting back until 4pm, I need other plans. Apparently they'd had an incident, and someone had to be evacuated, and it slowed them down. I knew a few members of the group, and had to yak for 10 mins. They headed down and I pushed onward, up to the height.
I just love it up there. I learned how to turn, on long straight skis, between trees up there. They are far enough apart to learn. We called it the playground. Right after the height, I paused, took some pics, and turned around, 15 minutes before my turn around time.
It's a hoot on the way down past William Blake Pond, when the conditions are right. It's not super fast…but …I forgot how much fun it is… step turns, herringbone, sidestep traverse…BC skiing is really liberating.
February 15, 2008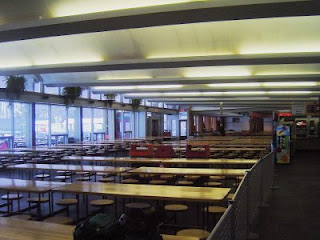 Ski Day 20: I scored. After debating the decision to burn all that gas on the drive up, I went for it. And Gore was great today. Put it this way, not everything was great, but ALOT of it was. Enough to keep me busy and smiling. I decided to take pics today for the first time in forever. My first picture was a completely empty base lodge at 8am. I sat in there, by myself, amazed that I was alone. I caught the first Gondi.
At the top, as usual, the summit was roped off. I went down, taking Twister, in the hope that Twister glade would be open. It wasn't and that was probably for the best. Do I really have to go into the crustiest glade on the mountain without a warm up? If it was open, I'd a been in there.
For the hell of it, I took 1A over to Showcase. It was ungroomed and it's short. I thought I could see the worst of it – the ungroomed at low elevation. It was tough. Serious crud. Doable but a lot of work. Rode the Gondi again. Fox Lair to Showcase. It was ok. I did a third Gondi – this is my new thing – I warm up – but only IF the summit is closed. Right as I got off my third Gondi…they dropped the rope on Pine Knot. I did Pine Brook glades. My first real test of the conditions higher up. Much less sleet and much more turnable.
On to the Straightbrook chair…Chatiemac and Hawkeye were about like Pinebrook…packed out enough to break up the crud, but still soft enough to be fun. Straightbrook glades were only OK. Double Barrel, and Lower DB as I call it, were primo. Room to turn, carvable bumps. I worked over to the Dark Side. It was like no ncp had fallen. Soft everywhere. Hullabaloo, the Glades, KHS, Darby – almost everything on the map was open and soft.
I only ducked one rope all day. When I got to the DS lift, The cool lifty with the glasses down there says to me … "they just dropped the rope on Lower Steilhang."
LS hadn't been open for over a week I think. It was over a foot of consistent dense "powder." So soft and smooth. You KNEW that there was bulletproof down there somewhere, but for two runs, I went light on my feet, and never felt it.
I worked that side backwards and forwards. Open Pit and Lies were nice, the headwall on Rumor was primo due to three days of non-stop manmade. The "easy" part, below the headwall, was icy death. I had lunch at the Saddle, took woodlot back over to the Dark Side, and worked it again. A sorta freaky thing happened in Mineshaft. The sun is finally coming out, and I'm *trying* to take some quality picks in the trees. A tele-guy comes up and asks me if I was Harvey. I guess he new me from firsttracksonline or skiadk. It was Jeff.
Jeff and I skied together… more Mineshaft, Tannery to Topridge and into the Cave. There are some stumps in there but when the snow is this deep you can launch over them. Great conditions, and it's great to ski with another tele guy.
High Pines, under the Top Ridge chair, spanked me. It was low enough in elevation to be cruddy. I actually think that maybe aspect or something came into play. The stuff that was great wasn't really higher than some other stuff that was only ok.
On my way down I hit Twister twice. The first run, Twister glades were open. As expected they were really tough. And I was beat. I skied from 8:10 until 4pm with 20 mins for lunch. Today was a great day.