June 28, 2016
Getting established internationally has been a challenge, with my work coming out of NYC and a family to tend in Quebec. I've been driving more often, trying to appreciate the kilometers and new sights.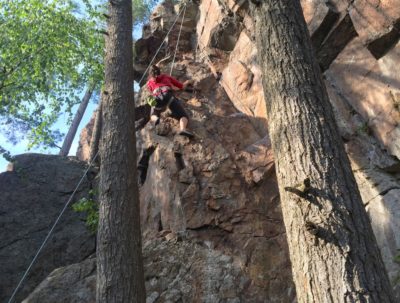 As much as I love skiing, winter driving can be stressful. We all have stories about heading north at midnight when the temperature hits -25F and the fuel light comes on, or when a tree falls in front of your car and blocks your way while you're moving along. I've come to appreciate a smooth and safe ride on summer tires, the fuel efficiency without a ski rack, and the long daylight hours.
I set out on Sunday just to sightsee and wait for the mercury to fall so I could get on some new rock and arrived at Mont Rigaud Ski Area at 4pm, the time when ski areas are emptying out in the winter.
June 13, 2016
Mountain biking is off to a good start this season at Plattekill Bike Park. After one of the warmest winters on record combined with a severe lack of snow, Plattekill opened for mountain biking in March.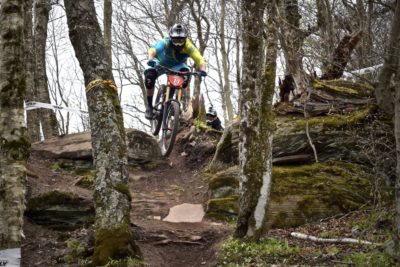 In fact, on the last weekend of the ski season — March 19-20th — the mountain was open for mountain biking on the triple side, and skiing on the double side. Naturally, I opted for skiing.
This year, Plattekill was the first lift-served mountain biking area to open in the East which brought out many riders. Currently, biking is taking place on the double chair side, as the triple chair is undergoing maintenance.
May 31, 2016
My interest in telemark began decades ago, as a young boy caught up in the wonder of skiing. I was always curious about those weird, bearded, old guys in the corner of the lodge with their cool, funky bindings.
Before February of 2015, my telemark experience was limited to a few days floundering on my brother's old setup: 1st generation Atomic shaped skis, 7tm releasable bindings and a soft 3 buckle boot. I started with two days at Alta's clinic designed for advanced alpine skiers learning to tele.
Last January, I met a strong telemark skier, new to Plattekill, who I started referring to as "tele quiver guy" in my head. Each of his skis, ranging from short slalom race skis to long, stiff, FIS GS skis to DPS Wailers and everything in between, were outfitted with 22 Designs' Hammerhead bindings.