November 21, 2014
Slowly but surely, ski resorts have been coming online this week like lightbulbs on an aerial map of the northeast. First a flash from central Vermont as Killington kicked off the region's ski season, then a flicker from Maine as lifts began cranking at Sunday River.
Even Governor Cuomo got into the act, announcing last Friday that Whiteface and Gore were opening for the season. In other words, it was time to get skiing.
The rain blanketing the Hudson Valley on Monday held the promise of snow further north, though with a warming trend that was likely pushing the rain-snow line at least as high as the Killington summit and possibly a good ways up Whiteface as well. I weighed my options: a $54 early season lift ticket at Killington for guaranteed skiing all day, or chance it with skinning up Whiteface as they remain closed during the week before starting full-time operations this weekend.
November 13, 2014
As someone who's positioned himself as a fan of low-profile, off-the-beaten-path ski areas, I always feel a bit conflicted when visiting and writing about resorts that are big, popular, and for lack of a better descriptor "mainstream."
That said, a cigar isn't always a cigar and on a handful of visits to the Alps, I've been to several major ski regions that are not only big, popular, and armed with completely up-to-date infrastructure, but also charming, full of local color, and with a number of worthwhile bail-out options to avoid the hordes. The Portes du Soleil in the northern Alps qualifies as one of these.
That's why my recent interview with Nadine Chevalier, Co-Director at the tourism office in the Portes du Soleil's biggest village, was noteworthy. She spent as much time talking about the region's intangibles — tradition, folklore, authenticity — as its supersized skiing stats: 265 miles of marked trails spread across a very conservative 10,000 skiable acres. During our discussion, she also painted an interesting picture of what it's like to grow up and spend her professional life immersed in the culture of the Alps.
Please read our interview with Nadine Chevalier:
Portes du Soleil, Room to Roam
November 10, 2014
November is a dangerous time of year for productivity. If you're like me, you've got a few extra tabs open in your browser at any given moment: one for NOAA, another for your blogging ski-weatherman of choice, and maybe another for a favorite mountain.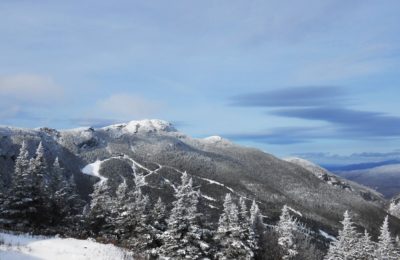 With rumors flurrying last week about a few inches here or a foot there and with Killington's trusty machinery as a fallback, I knew I'd be on snow come Saturday morning. The question was where.
For the first time since I learned to ski at age five, the season snuck up on me. I'm usually watching powder edits by mid-August and scraping off summer wax in early October, just in case. Fresh out of college and living in a new town with a job, though, I had other things on my mind this year. When temperatures started to dip toward the end of last month and pictures of dusted peaks began popping up online, I almost wasn't ready.