Blog:
Smugglers Notch
April 11, 2017
Smugglers Notch has been on my radar for more than five years. Without ever setting foot on the hill, I knew that Smuggs had it all: snow, terrain and old school vibe.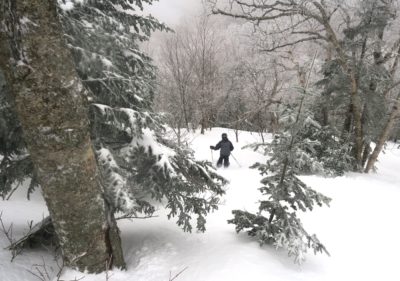 My experience in Northern Vermont is limited. I skied Stowe many years ago, as an intermediate. We had friends in the area and we would ski for a few days around Christmas. In those days I wasn't a tree skier and I don't remember us getting any new snow.
Then, about five years ago a bunch of us skied together for three days at Jay. The first morning the Jay Cloud went off at opening and delivered 5-8″ before lunch. My first experience with nice powder skiing in really widely spaced trees.
February 8, 2010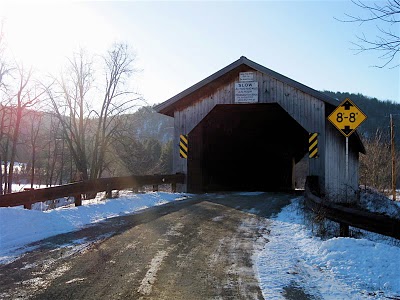 Hopkins Bridge
While it's all about families at Smuggs (almost suffocating at times, and I'm a parent), the terrain really impressed me. It's a good-sized mountain — a legitimate 2,600 vert covered by old-school EC terrain with lots of character, some steep shots, and skiable trees everywhere.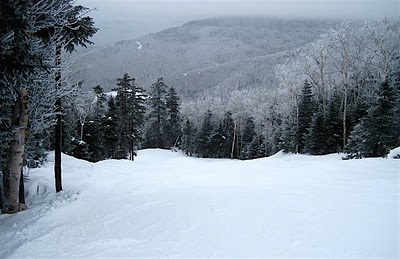 Harvey's Hideaway
Smuggs reminds me of a bigger version of Magic Mountain, including the outdated infrastructure: vintage double chairs and an undersized, out-of-date lodge at the bottom of the main hill. I can deal with slow lifts, but I'm kind of puzzled by how they've managed to avoid updating the uphill capacity while courting a demographic that insists on a certain level of amenities.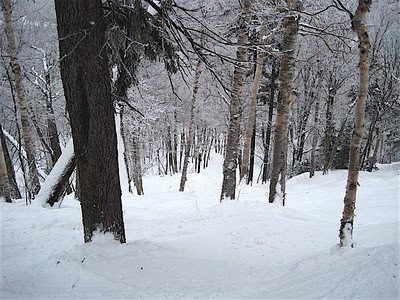 Moonshine Glades
Conditions were similar to Jay on Saturday: the trees were soft and the on-piste trails were very crunchy (once again, the r**n from two weeks ago did a huge amount of damage). I'd love to go back there when the snow is in better shape.