Blog:
Hunter
May 2, 2017
"Man it's raining outside. What the hell is wrong is wrong with you? Are you stupid?" I've heard people say that a lot over the years.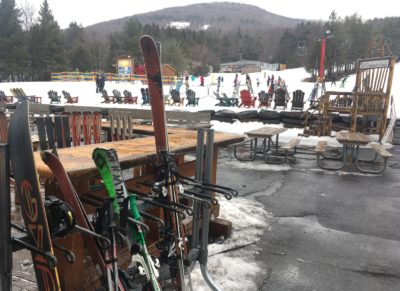 Luckily, skiing by myself bothers me even less then skiing in imperfect conditions. The ski season in the northeast is short; if I can get away and the mountains open, I want to be making turn. I don't really understand skiers who don't feel the same way.
That's why, on a Sunday in late March, I found myself parking my car at Hunter in the midst of a cold 34 degree drizzle. I booted up in the car, pulled on my Gore-tex and headed for the lift. I got two or three good runs in before it really started raining hard.
November 29, 2016
In spite of the long wait for ski season to start, my son and I overslept. Hunter is conveniently located for us, so our extra Zs were not a big problem. We pulled into the parking lot just a couple of minutes after 9 AM.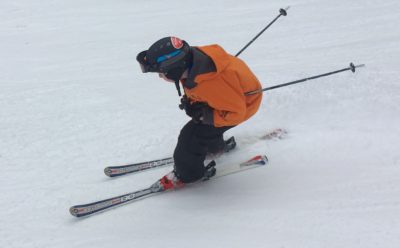 We were eager to get after it but I was kind of nervous too. I'm on the record as fan of early season skiing but this would be junior's first opening day experience. Would the traditional white-ribbon-of-death and the Hunter faithful overwhelm him?
We booted up, schlepped our skis over to the racks and redeemed our Liftopia vouchers at the ticket window. Hunter's detachable six-pack, the Kaatskill Flyer, whisked us off to the top. Hunter's website advertised four lifts and eleven trails for opening day. Open terrain was wall-to-wall and the base was deep.
March 14, 2016
In a low snow year, Hunter was reporting most of its terrain open. Weather forecasts were calling for a warm and sunny April day in March and I was thinking about Hunter for a day of midweek skiing.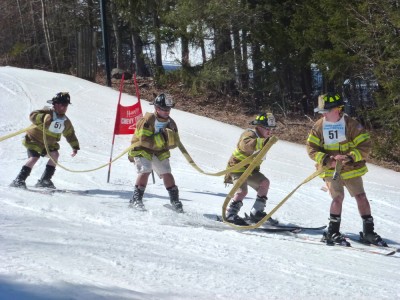 Temperatures ranged from the 40s to the 60s on my ride up, base to summit. The baseball hat and sunglasses were mandatory, but I was comfortable in my light ski pants with shorts underneath, a breathable shirt and a windbreaker.
Normal for midweek, the lifts and trails were empty. Hunter was hosting the annual fireman's races and there were plenty of firemen on the mountain, some wearing full gear and some wearing shorts only.