Hunter Mountain opened Saturday November 19 with two main routes down the mountain – the Mainline and Belt Parkway. I was fortunate to ski days 2 and 3.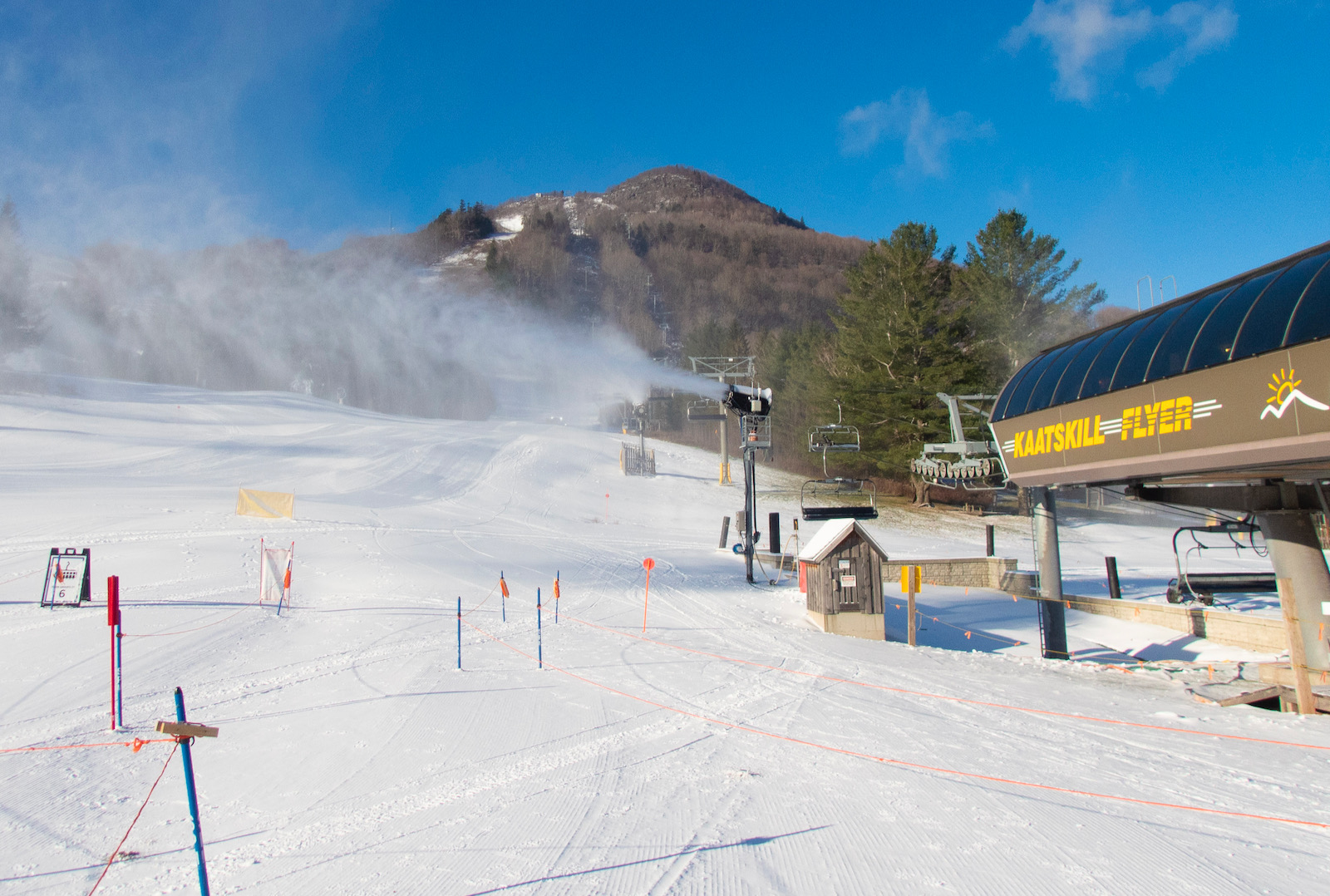 The unseasonable cool temps in the days preceding opening day enabled Hunter's team to lay down plentiful volumes of high quality snow. On the two open routes, conditions resembled mid-January more than late November. Kudos to snowmaking for a great job getting the mountain open.
My first day, Sunday November 20 was cold and windy. Between the weather and the snowguns blasting, it really felt like mid-winter.
The new snow was deep and soft, and our group headed down for the first run on the Mainline. Conditions at the top were wonderful, and I kind of forgot this was my first run of the season, picking up speed on the main section of Hellgate.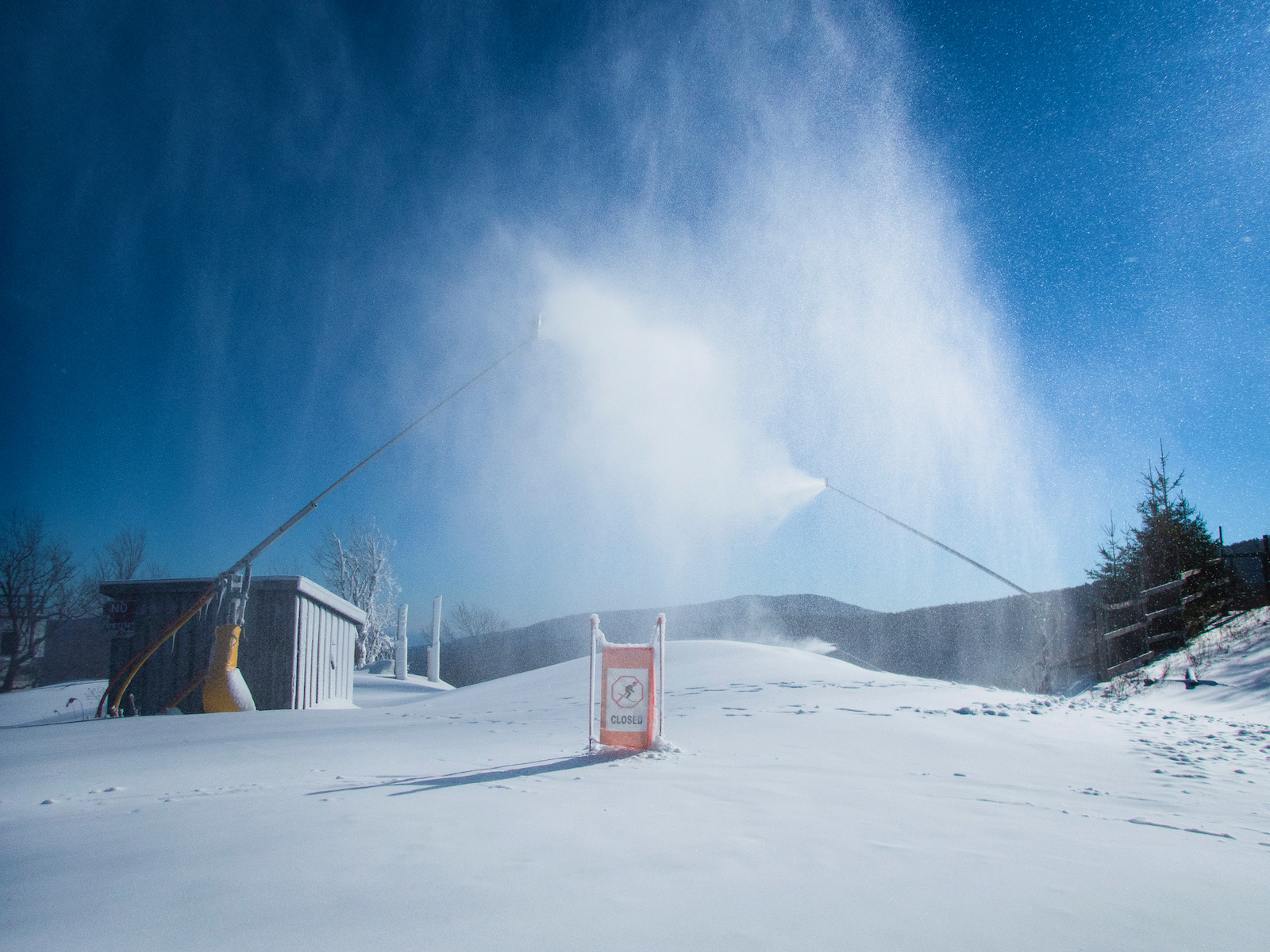 One of the guns was pumping out super-sticky snow. Suddenly my feet stopped dead in their tracks, and I plunged into the soft snow chin-first, and then completed a full forward roll. It all happened kind of fast, but slow enough to take in the full experience. Once I stopped tumbling, I checked to make sure all my limbs were functional and I slowly got up. No real harm done. If I could have nailed the landing, the whole thing would have been quite spectacular.
We continued skiing the Mainline for a few runs, and as most of my days at Hunter go, our group of ski companions was fluid with friends coming and going at their own pace. I pretty much spent the day with my friend Mark. We lost Greg and Bob after a few runs and picked up Vinny and Kristin.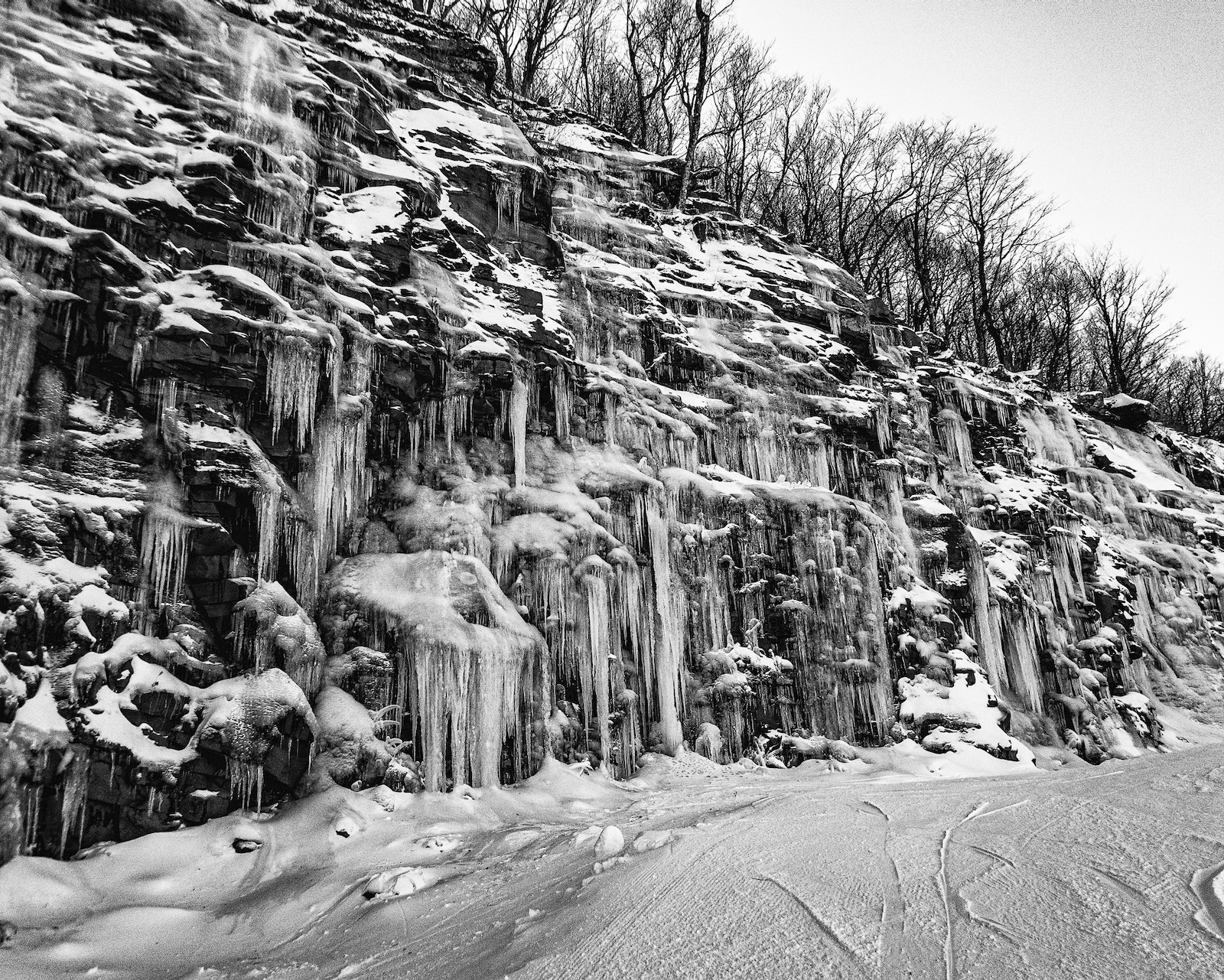 After several quick runs on the Mainline, we decided to go in to warm up a bit. It was that cold, or maybe we just weren't used to the temps. It was nice to see Hunter's base lodge has pretty much returned to pre-pandemic operations. After warming up, we went back out for a few more runs, really enjoying the mid-winter conditions. Day one amounted to 13 runs, just under 20,000 vertical feet.
Day two on Monday was my birthday. It's always a real treat to be able to ski on my birthday, as this doesn't happen every year. When scanning my pass, the liftie noted that my pass was triggering music on the scan gun: "Birthday" by the Beatles. That made my morning. It was warmer, sunnier and less windy than the preceding day. The snow cover remained plentiful, but was firmer than Sunday's conditions.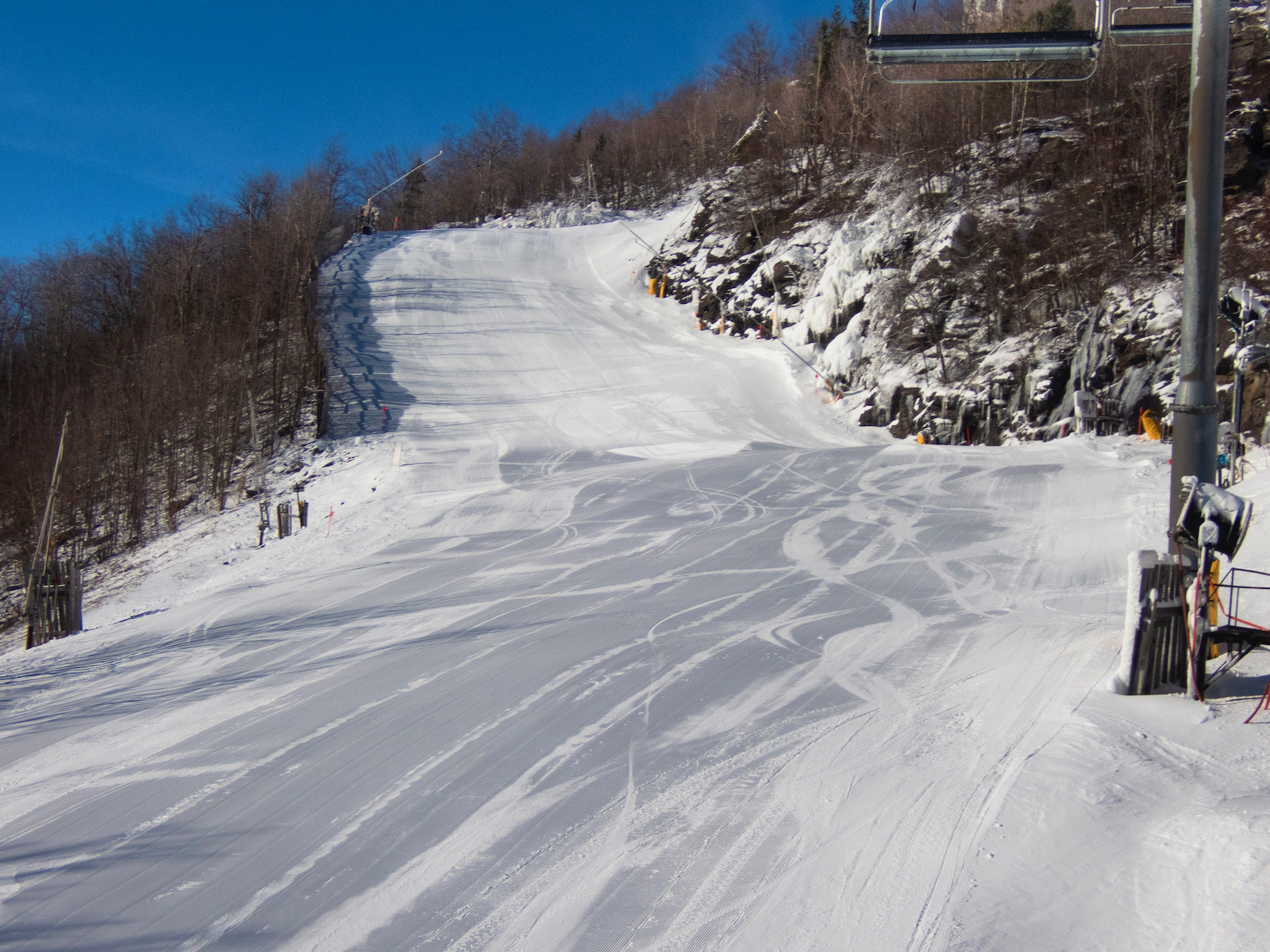 It always amazes me how much conditions change from day-to-day. Vinny, Pat and I were lined up for the first chair, while we waited for mountain ops to complete the morning grooming.
With the firmer snow, and Vinny leading the charge, our laps on Monday were quicker than Sunday's skiing. The snow was firm and the grooming was well done. After a few runs, everything started feeling right and I started keeping Vinny's pace of top-to-bottom without stops. Just like Sunday, the group became fluid and we were joined by the unofficial mayor of Hunter and our good friend, Buckwheat, plus Dana and John.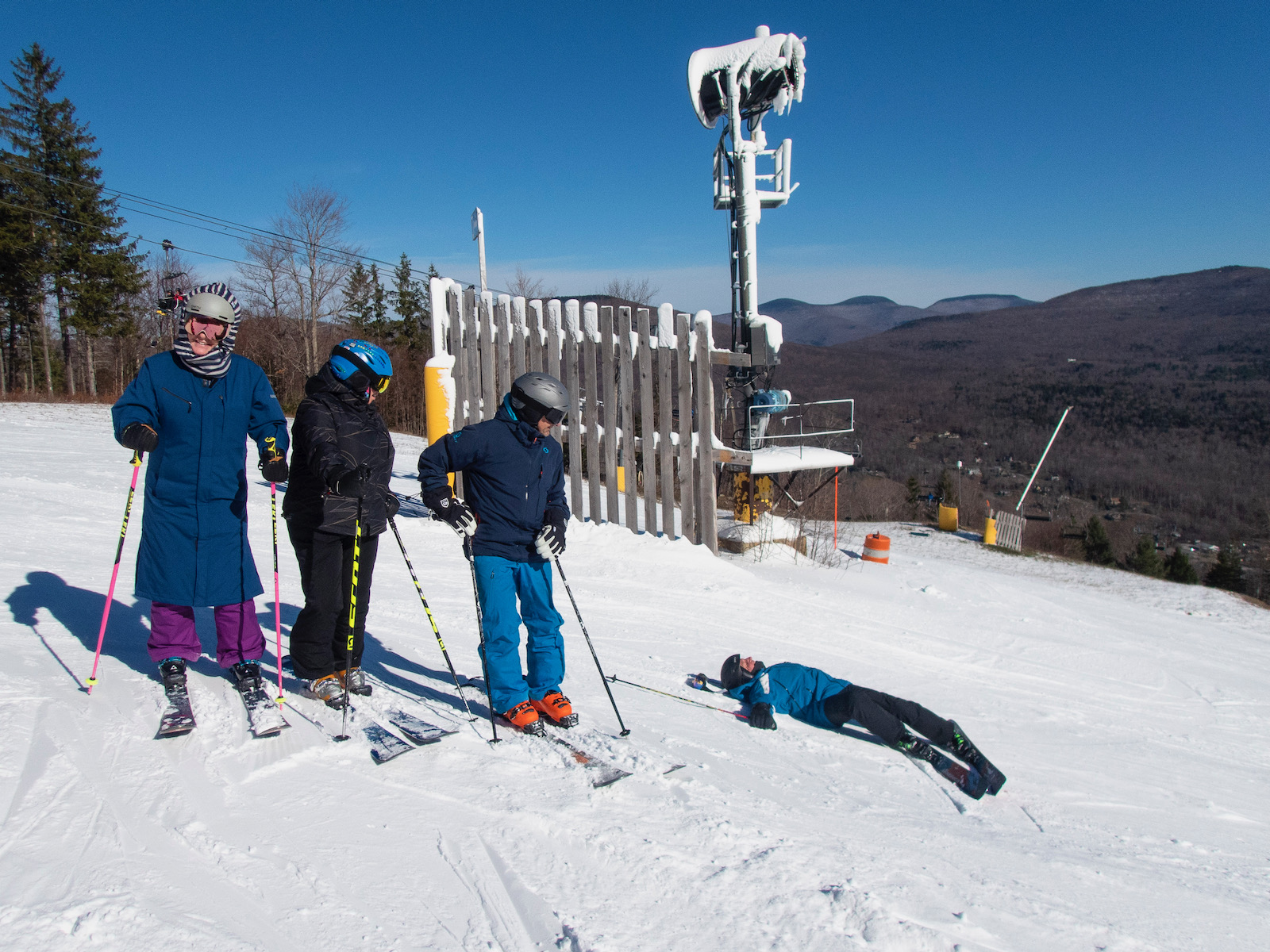 First days often come with unexpected experiences like my forward roll on Sunday. Today was John's first day, and while we were lining up for a group photo, he got tangled up and slipped. I was able to capture this important moment, and I think John will appreciate this photo.
Over time, the crew thinned out again, and I kept hammering at the hill with Vinny and Pat. We took a run over on Belt Parkway, where the top is always cold and windy. We made our way down and inspected the operations over at Hunter North, where snowmaking continued on the north side's signature trail, Overlook. That's a great run, and always adds to the fun when it's open.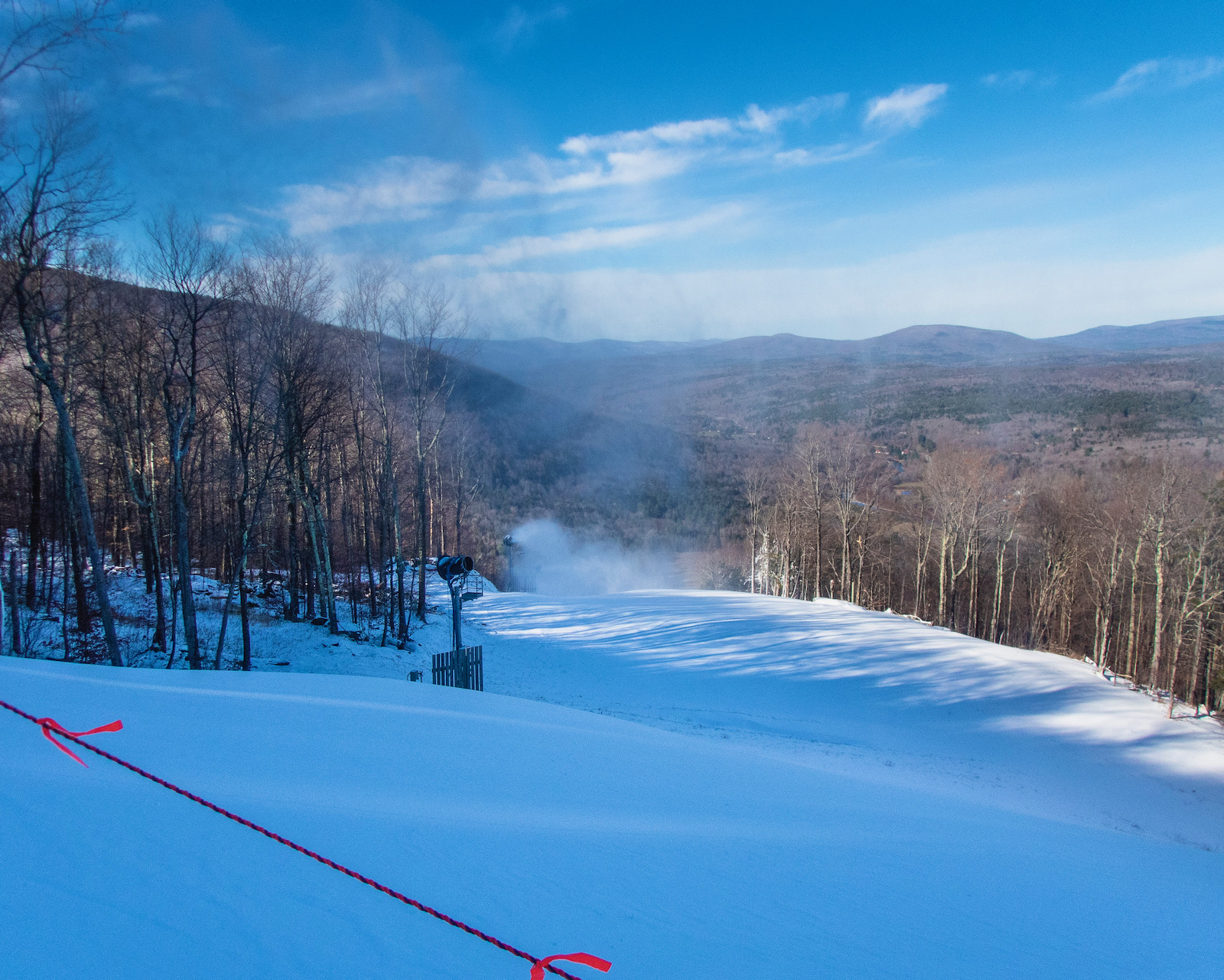 Monday was another day with good friends, solid conditions and nice weather. It felt like my ski legs returned pretty quickly. The stats on my Epic Mix app were a real nice surprise – 21 runs and 31,000 vertical feet. That's what trying to keep up with Vinny will do for you. Not bad for day two.
---
Steve Aaron has adventured the Catskills his entire life. He's an avid skier, hiker, cyclist and photographer, always armed with a camera. Steve's landscape photos have appeared in Backpacker Magazine, Hudson Valley Magazine, NY Newsday and the Albany Times Union. His work is also featured in pieces for Ulster County Tourism, Scenic Hudson, The Trust for Public Land and other outdoor oriented organizations. Every August, Steve publishes a wall calendar featuring beautiful landscape images from the Catskills and Shawangunks. For more information on the calendar, join Steve's mailing list.