Blog:
Plattekill
June 13, 2016
Mountain biking is off to a good start this season at Plattekill Bike Park. After one of the warmest winters on record combined with a severe lack of snow, Plattekill opened for mountain biking in March.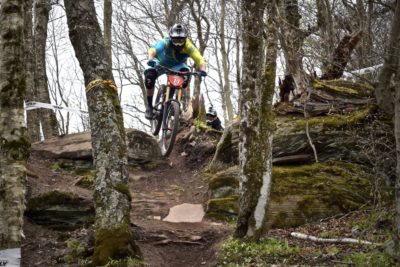 In fact, on the last weekend of the ski season — March 19-20th — the mountain was open for mountain biking on the triple side, and skiing on the double side. Naturally, I opted for skiing.
This year, Plattekill was the first lift-served mountain biking area to open in the East which brought out many riders. Currently, biking is taking place on the double chair side, as the triple chair is undergoing maintenance.
February 15, 2016
It was the worst of times, it was the best of times. It was February and a dead brown stretched across the hills of NY like a widow's veil. My eyes mourned for winters past and for winters yet to come.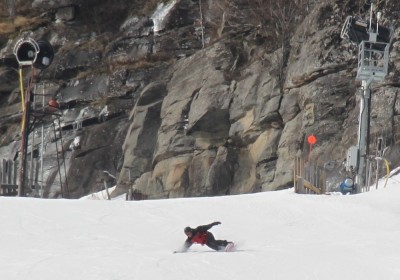 But under my feet it was different. Under my feet were my favorite pair of skis and soft, beautiful snow. Yes by Dickens, this has been the winter of despair. Killington has had less snowfall than New York City. Puffy parkas are languishing in backs of closets alongside wedding dresses and graduation gowns.
But I'm here to quell your fears. Skiing isn't dead yet. This ski season isn't dead. I can assure you, for I found meaning in the Catskills this past week at Plattekill and Hunter.
January 11, 2016
It wasn't the first day of the season at Plattekill; the words Day 5 were printed on lift tickets. But it was the first time this year that the triple chair delivered skiers to the top, and Laszlo was welcoming all to "opening day."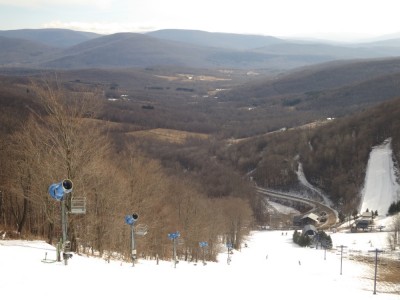 I set my alarm for 4am and was on road before five. A text from Mountain Ops the previous day indicated that one top-to-bottom run was likely via Sundown and Lower Face, and riding on Upper Face was still a possibility.
When we arrived guns were running on Upper Face and it was 12 degrees and calm at the base. I started to think it was going to be a gun running day, until I learned that it was an astonishing twenty degrees warmer at the top.