Blog:
Plattekill
March 16, 2017
In my own personal utopia, work would be a three-season activity, limited to those times when there is no snow in the hills. But life has a way of expressing it's own opinion, often in an insistent way.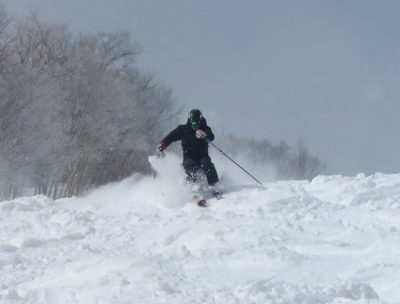 Midweek ski days are rare for me, even in years when my workload is sane. Still, by the time Zach texted me about skiing the biggest winter storm of the season, I had plans to hookup with Stella.
Tuesday the flatlands were shutdown by the storm, and I was the only one who made it into work. My brain was on overdrive juggling different projects, trying to clear the decks, for one day.
March 7, 2017
Anybody that's been paying attention to the evolution of skiing the last couple decades couldn't help but notice the steady growth in popularity of uphill skiing.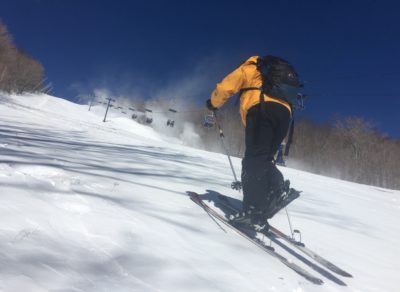 I've thinking about jumping in too. I have this vague idea that my mid-life crisis will involve the backcountry and I'm trying to prepare. A few years ago, with an EMS gift card burning a hole in my pocket, I picked up a pair of Petzl Alpine Trekkers.
These are hinged devices that click into regular alpine bindings that allow you to get into the game at a relatively low cost. I grabbed a pair of factory blemished climbing skins from Sierra Trading Post and I was off.
February 13, 2017
Part of being a ski race dad is traveling all over the state. It's not my favorite thing, but it's part of the game. I have to admit it's great to experience new ski areas.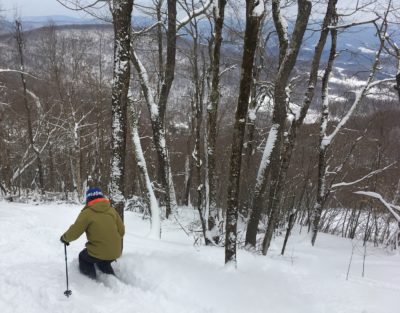 On our race trip to Hunter this past weekend, my son's coach decided to train in the Catskills on Friday. My wife agreed to come down in a separate car, freeing me up to ski Plattekill to discover why NYSB skiers love the place so much.
I had a pleasant drive from Windham where we stayed, taking in the scenic farms and winding headwaters of the Delaware River. I was the fourth car in the lot and parked maybe 50 yards from the door. I met forum member frk driving in; we quickly connected and booted up.