Blog:
Paddling
July 28, 2015
I put in another work weekend at our camp in North River.  It's not really work to me — stacking firewood and improving our trails — it's exactly what I want to do with my free time in summer.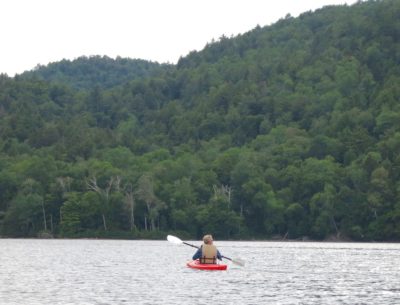 I actually daydream about cabin projects from my desk at work. Six million acres of opportunity for adventure all around, and I'm completely content on just a handful of hectares.
But Thirteenth Lake is practically in our backyard. Big and beautiful and right there, the lake is hard for us to ignore. After working on the Red Trail for the better part of the day we drove to the boat launch and put in. Even on a gray day the lake is a special place.
September 5, 2013
Rock Pond NY is one of the easiest and most satisfying places to go, or take a family. It's right there at the end of a long drive, just a paddle and a portage to a heavenly spot.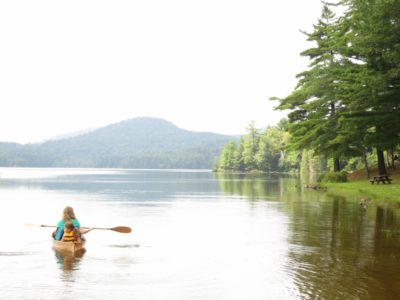 For us it started at Putnam Pond, 40 miles from our camp in North River. Through Olmsteadville and Pottersville, out Route 74 towards Ticonderoga, down the Chilson Road to the DEC campground.
We set out on Putts Pond, headed to North Pond and points beyond. Invariably someone, usually me, is hiking around via the trail. Transporting boats over rocky hills is a special skill, and for your sake, I hope you never perfect it.
July 24, 2013
Last summer, a group of individuals teamed up with the Sebago Canoe Club from Harriman State Park to bring recreational paddling to my neck of the woods. As long as you consider New York City "the woods," and recreational paddling to be any human-powered activity on a body of water or superfund site, you're set.
I was suspicious but intrigued enough to attended several benefit events on the lot and watched as shipping containers were filled with shiny fiberglass boats, outdoor showers were installed, and the best composting toilet south of the ADK suddenly appeared.
The North Brooklyn Boat Club (NBBC) is located under the hulking shadow of the Pulaski Bridge, one of the three drawbridges on the Newtown Creek. The Newtown separates Brooklyn and Queens and could have been one of the crown jewels in the state park system had the land been protected from Exxon and Mobil who have released more oil there than was spilled by the Exxon Valdez.