As much as I would have loved skiing the bumps at Killington this past weekend, I was coming off of two long drives — one to central Pennsylvania last Saturday to pick up a new minivan I'd ordered ten months ago and then an eight hour round trip on Friday to help my son move out of his dorm. I wasn't ready for another marathon drive, I was looking for local adventures to get outside.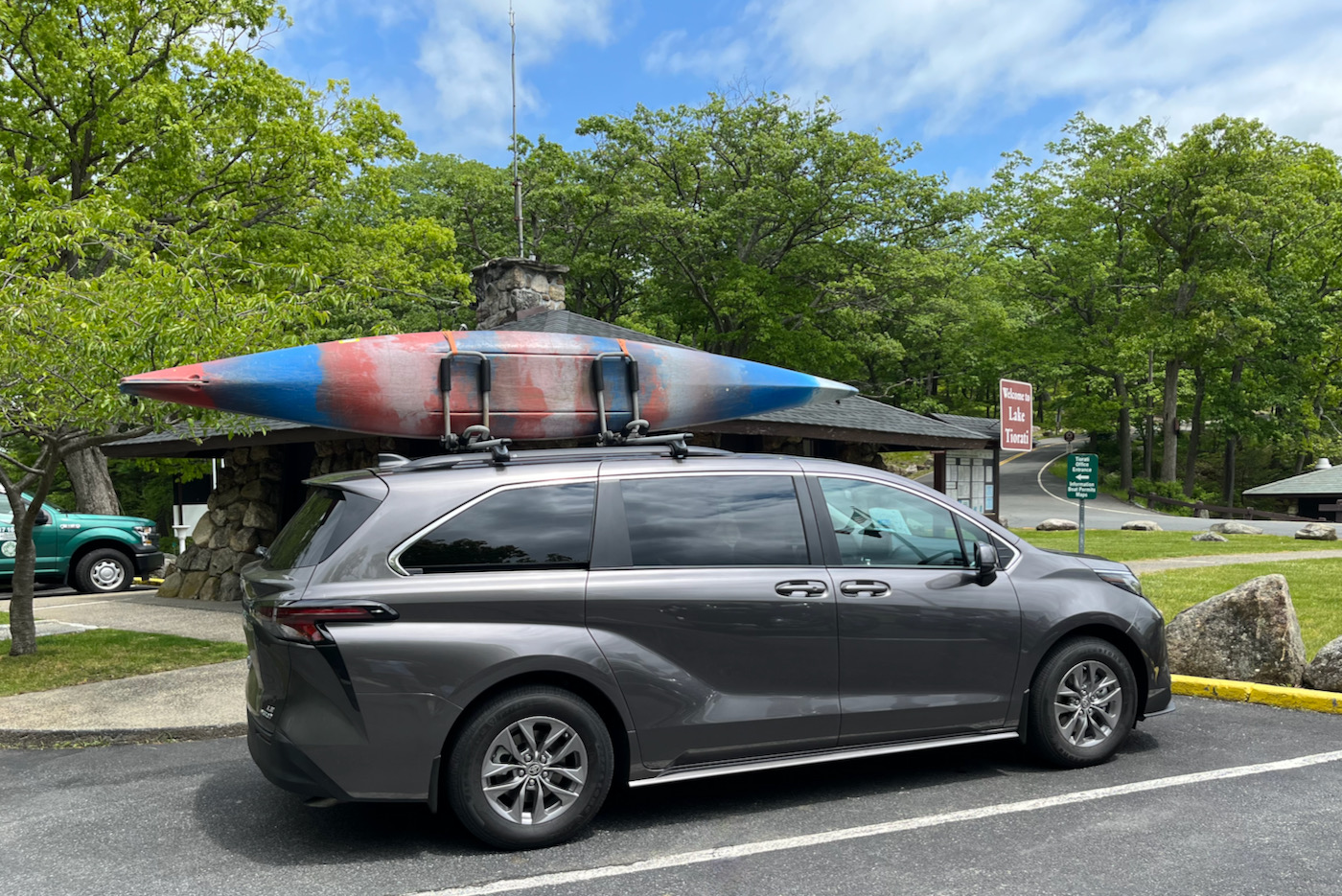 Last year I spent a lot of time paddling at Harriman State Park but I was too late to register my boats for one of the limited number of spots in the paddlers' parking lots at Lake Tiorati and Lake Welch. Parking is a problem during the summer so having access to the boaters' parking is a big advantage.
If my normal procrastination prevailed, I would surely have registered my boats after Memorial Day and missed out again. An opportune glance at the calendar — together with being too wiped to drive to Killington — saved me. I hoped it might be just early enough that I'd have a shot at getting a key. So it was back to Harriman.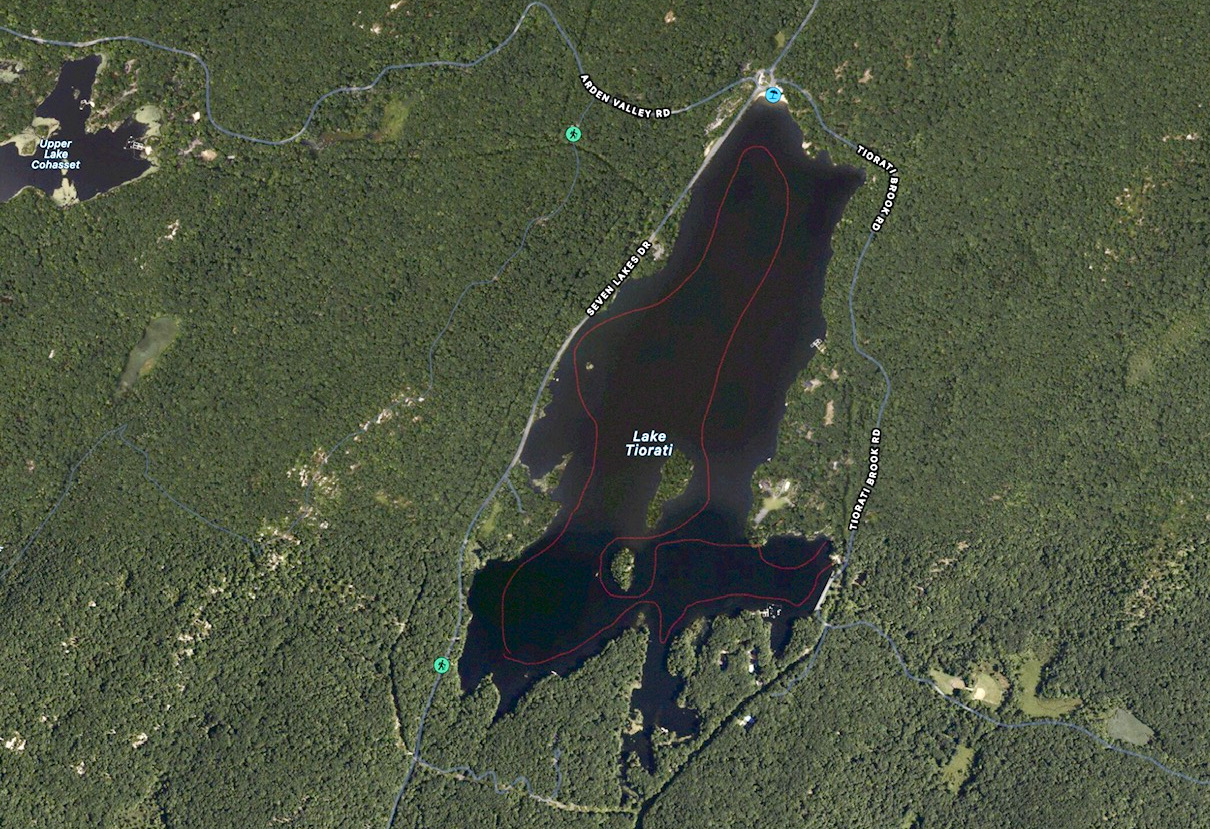 Going paddling would also be a chance to work out any kinks that might arise cartopping a kayak on my new minivan. I had a plan of course. I had ordered some load bars to mount on the side rails that came on the van. I mounted them up and tied down my kayak rack. A Toyota Sienna is quite a bit taller than a Subaru Impreza, leading to some challenges.
Lifting my boat up into its cradle was no problem but reaching over the top with a cam strap was out of the question. I had a solution in the form of two aluminum work platforms I purchased years ago for a drywall project. I retrieved one of them and it was just high enough to get my kayak tied down. I was on my way.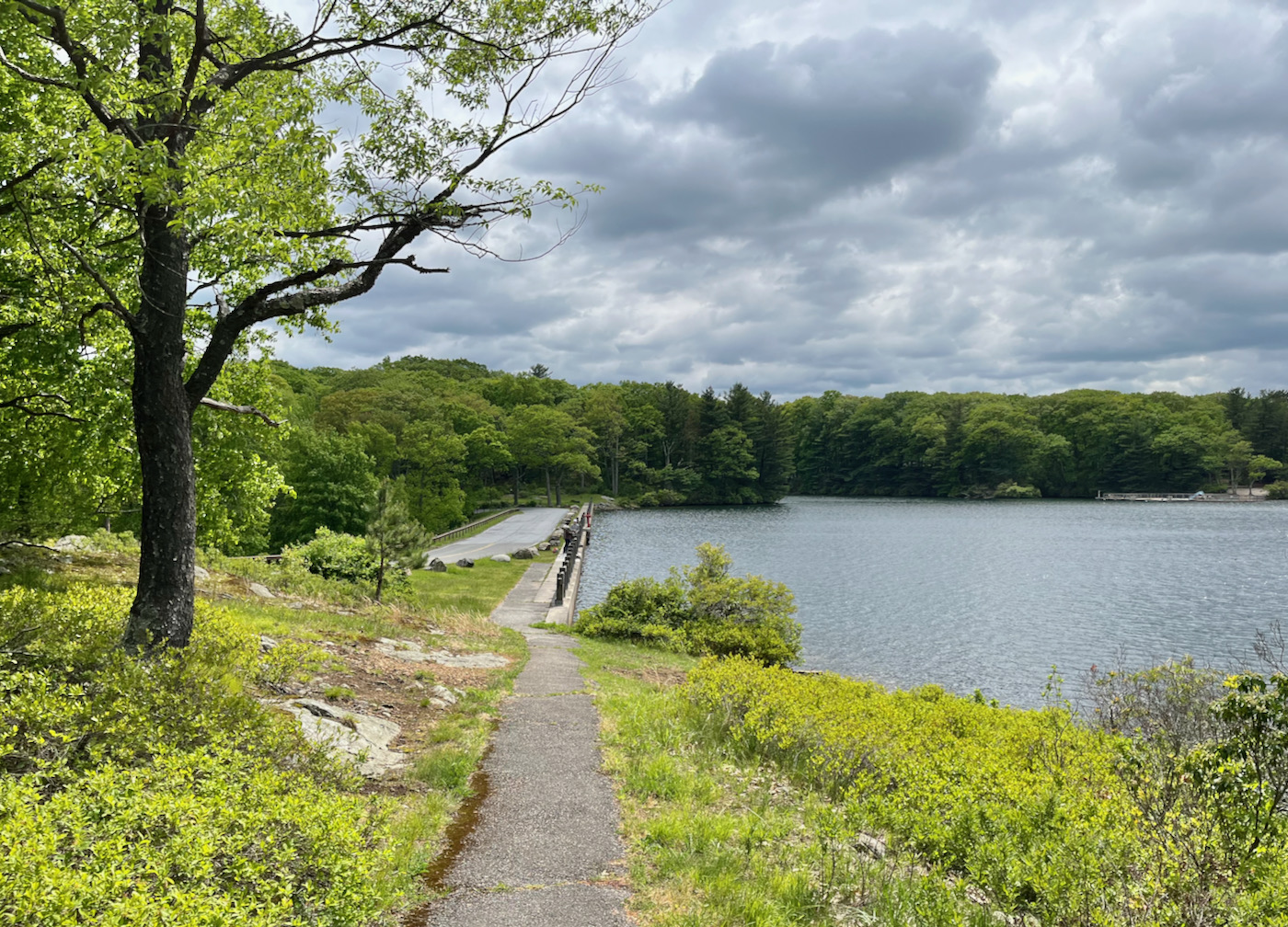 Happily I was right; there were still keys available for sale when I reached the park rangers' office at Tiorati circle. Since I hadn't been able to paddle it last year, and the park office is right on its northern shore, I proceeded directly to Lake Tiorati's boat launch.
There were a few people there ahead of me, one messing around with an inflatable in the middle of the ramp and another loading a ten foot bass boat into the five foot bed of his pickup. I didn't need much space so I was able to sneak by and launch from the edge of the concrete ramp.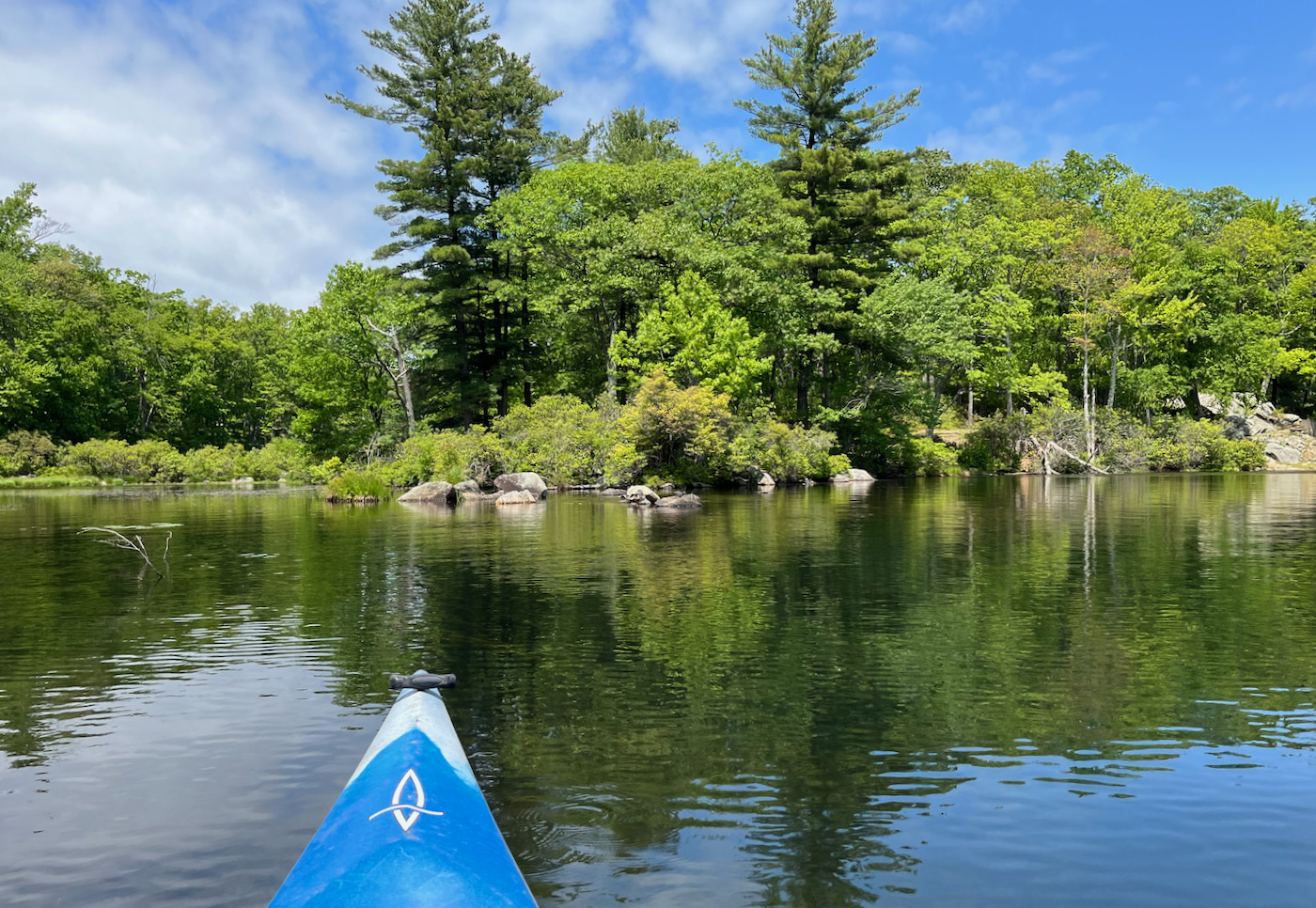 Lake Tiorati is an old friend. I first paddled there over twenty years ago and it is still one of my favorite spots. The conditions are never all that difficult; occasionally the middle of the lake gets a slightly windy. It can be enough to push you around a little in a lightly burdened canoe but I've never had any trouble in a kayak there.
The boat launch is right next to the concrete dam that holds the lake in. I paddled along it for a bit, then steered past a not-yet-opened summer camp. I poked my nose into the next bay — just enough for a peek, not a full exploration — then proceeded past an island on my way to the southwest corner of the lake.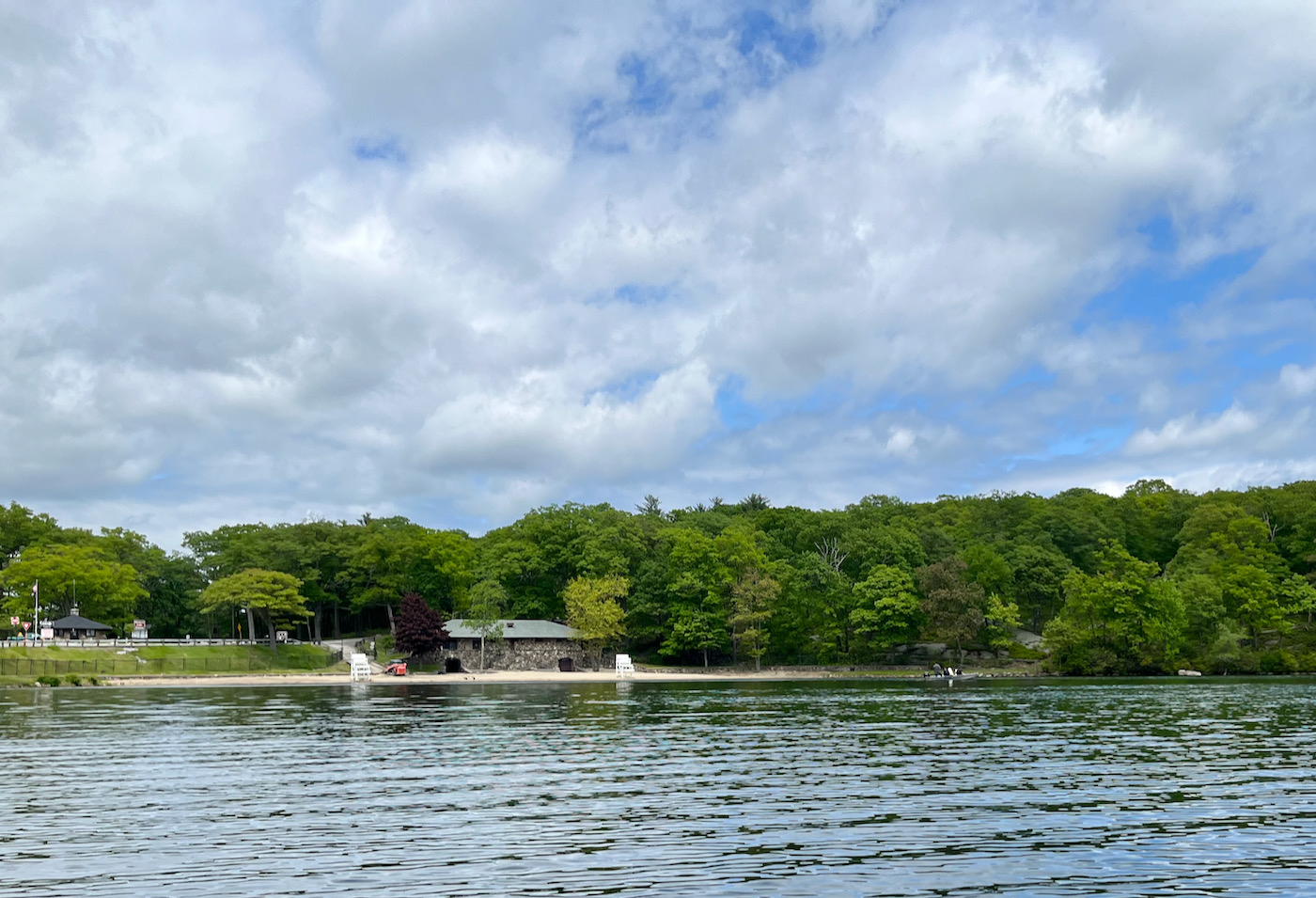 From there, I turned and paddled northwards along the western shore. Seven Lakes Drive runs along this side of the lake so there was the occasional whirr of motorcycles ignoring the speed limit on the straightaway but in general the early season traffic was pretty light. It was a quiet day.
I didn't see any other boaters until I reached the beach at the other end, and then it was just a few employees deploying swimming area buoys from a rowboat. Instead of continuing along the shoreline, I turned around and headed south right down the middle of the lake, as far from either side as I could get. I kept going until I reached the big island in the middle of the lake, where I finally encountered another boater, a solo angler, casting his line near the the island's rocky shore.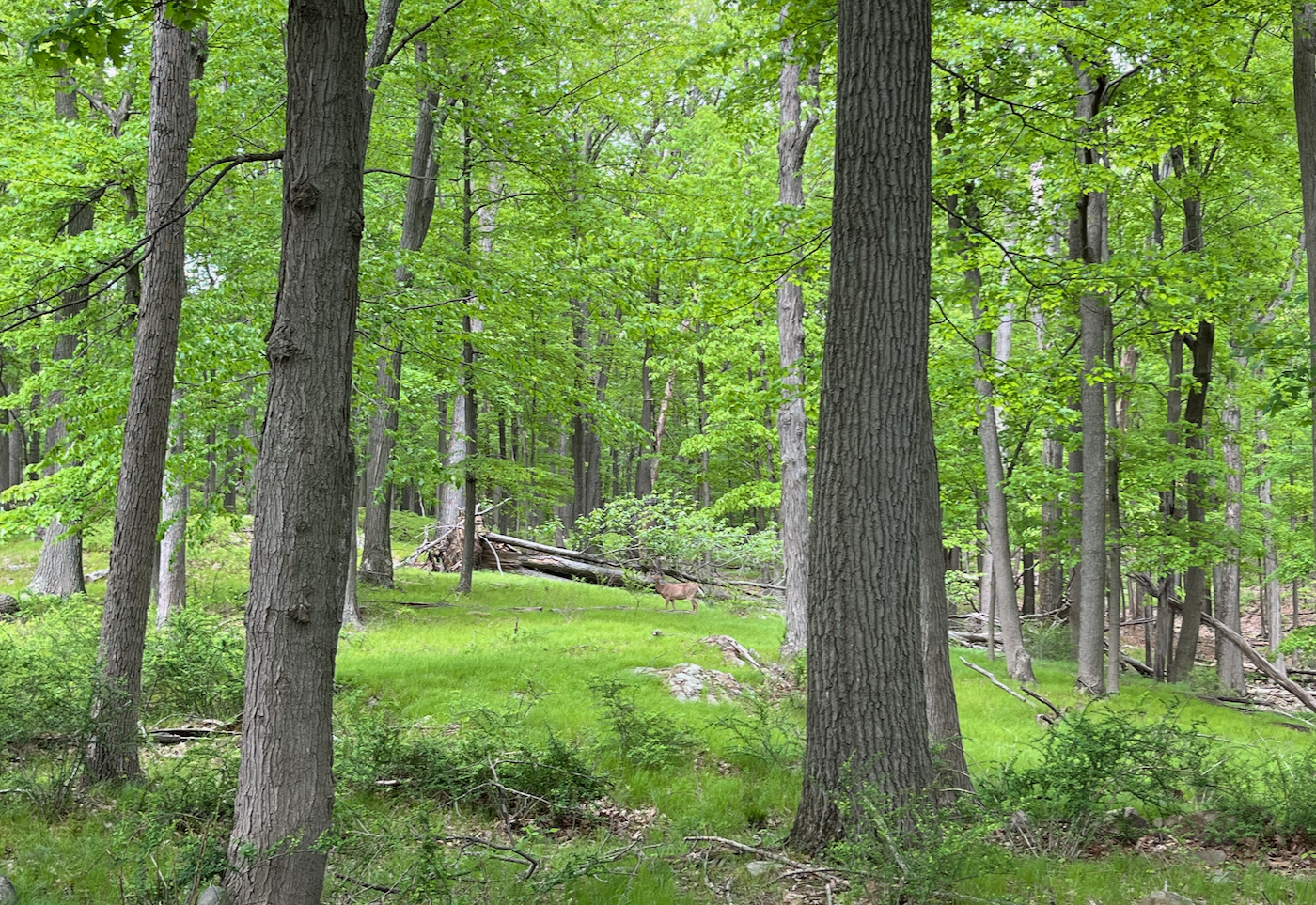 I paddled around the island and it's southern neighbor before turning back towards the boat ramp and returning to where I'd started. There was a guy playing fetch with his dog in the water, blocking the boat ramp. I waited for them to get out of the way long enough to paddle hard the last few yards to the ramp, driving my bow far enough up so I could disembark with dry feet.
I got my kayak back on top of my van in about ten minutes or so and was on my way. While futzing around with the padlock on the gate, I looked up to see a deer just a few yards away so I paused to snap a picture. She looked back at me and went back to browsing. All in all, it was just a pleasant afternoon on the water.