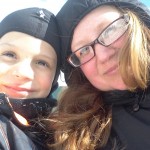 I don't love to ski. I don't see the first snowflake like something out of a magical Disney movie. I dislike being cold, and would rather be wrapped up in a blanket with a mug of hot chocolate, next to a roaring fire. Skiing isn't my passion, but I do it. I trudge through snow in clunky boots that weigh me down.
I had my first lesson a few years ago. I remember thinking, "Who does this? Who in their right mind would strap wood to their feet, look down a mountain, and think, yeah, this seems like a smart idea?"
I was placed with a group of college students who had been skiing since they were three. At 28, I was inexperienced and old. Everyone in the group, but me, could skate and turn and do everything asked of them. I felt defeated and wanted to give up.
As a child I was athletic and adventurous, the kid who would ride her bike off a roof without reluctance. Now I'm a mother to three children who do the same, and it scares me.
But, this was not something I was doing for myself. John, my significant other, had been skiing for more years than I had been alive when he turned 50. He was tired of skiing by himself, and for a birthday gift, I gave him lessons, for me. I did it so I could ski with him that season, and for the rest of our lives together. Love makes you do stupid things.