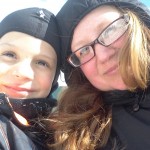 I don't love to ski. I don't see the first snowflake as something out of a magical Disney movie. I dislike being cold, and would rather be wrap in a blanket with a mug of cocoa, next to a roaring fire. Skiing isn't my passion, but I do it. I trudge through snow in clunky boots that weigh me down.
I had my first lesson a few years ago. I remember thinking, "Who does this? Who in their right mind would strap wood to their feet, look down a mountain, and think, yeah, this seems like a smart idea?"
I was placed with a group of college students who had been skiing since they were three. At 28, I felt old. Everyone in the group, but me, could skate and turn and do everything asked of them. I felt defeated and wanted to give up.