For reasons you might know, I hadn't skied in nearly a month. I knew I was out of shape, but not sure how far. I wondered about my wind, would it be affected? It was time to figure it out, on my first trip, back in the game. On Friday morning, I headed north toward the snow.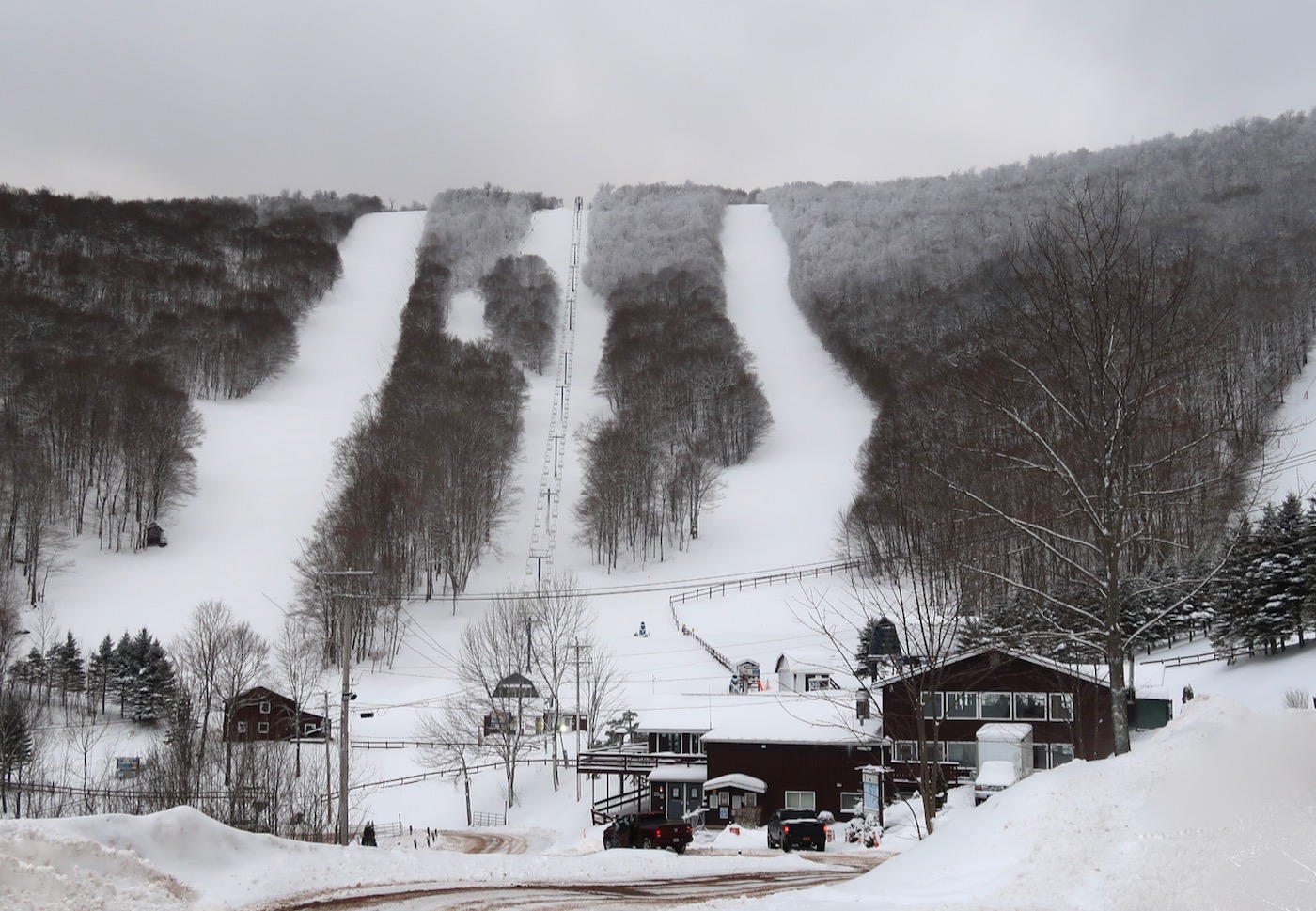 I still have this feeling that I'm on borrowed time, like skiing could go away at any moment. Planning to ski four days in a row was a sign, I was going to push it. It had been snowing all week, and physically there was no reason I shouldn't ski.
My doctor, a skier herself, told me to "take it easy." I think we both knew that advice would be heeded, but only up to a certain point.
Plattekill
Plattekill on a Friday seemed like a good option for my reentry. Just like old times, I woke with my Plattekill alarm set for 3:45. I got dressed, made coffee and headed out into the darkness at 4:30. I stopped for snacks on the Thruway. At my current weight, I can't miss a meal if I'm skiing. I got a sandwich and some nuts.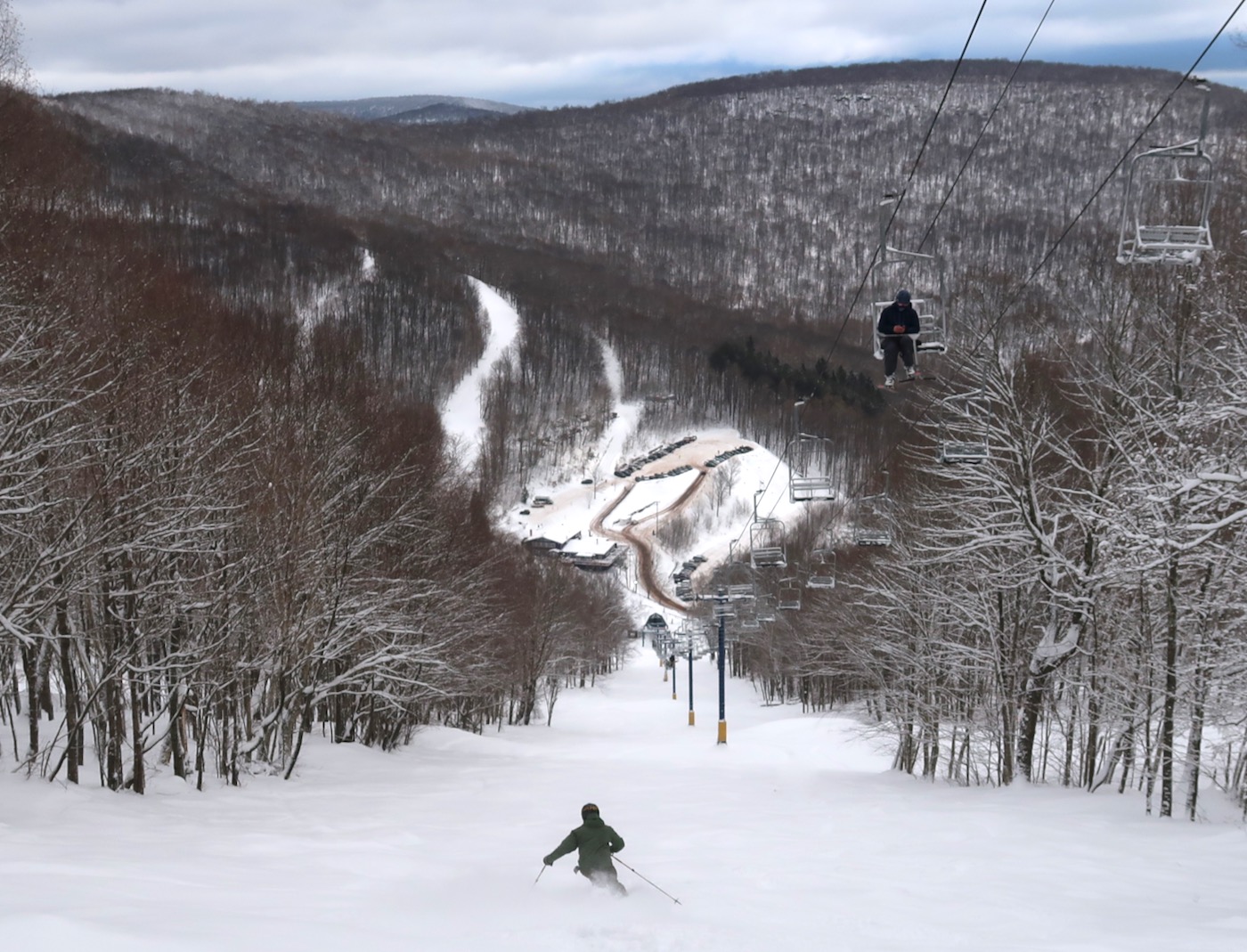 I was getting off at exit 19 as the sun came up. Over the Esopus River and though the woods I went, to Plattekill Mountain. True to form, I was first in the lot and Mad River Glen Dean was second. I booted up at my car, and headed toward the lift. I saw Scott coming up the access road, and gave him a wave.
Plattekill had had lake effect snow all week, including 3-6 inches overnight Thursday into Friday. There had been a mountain rental during the day on Thursday, but as is often the case, the terrain off the double was only lightly used. We skied Block, Plunge and Ridge Run. It was delicious.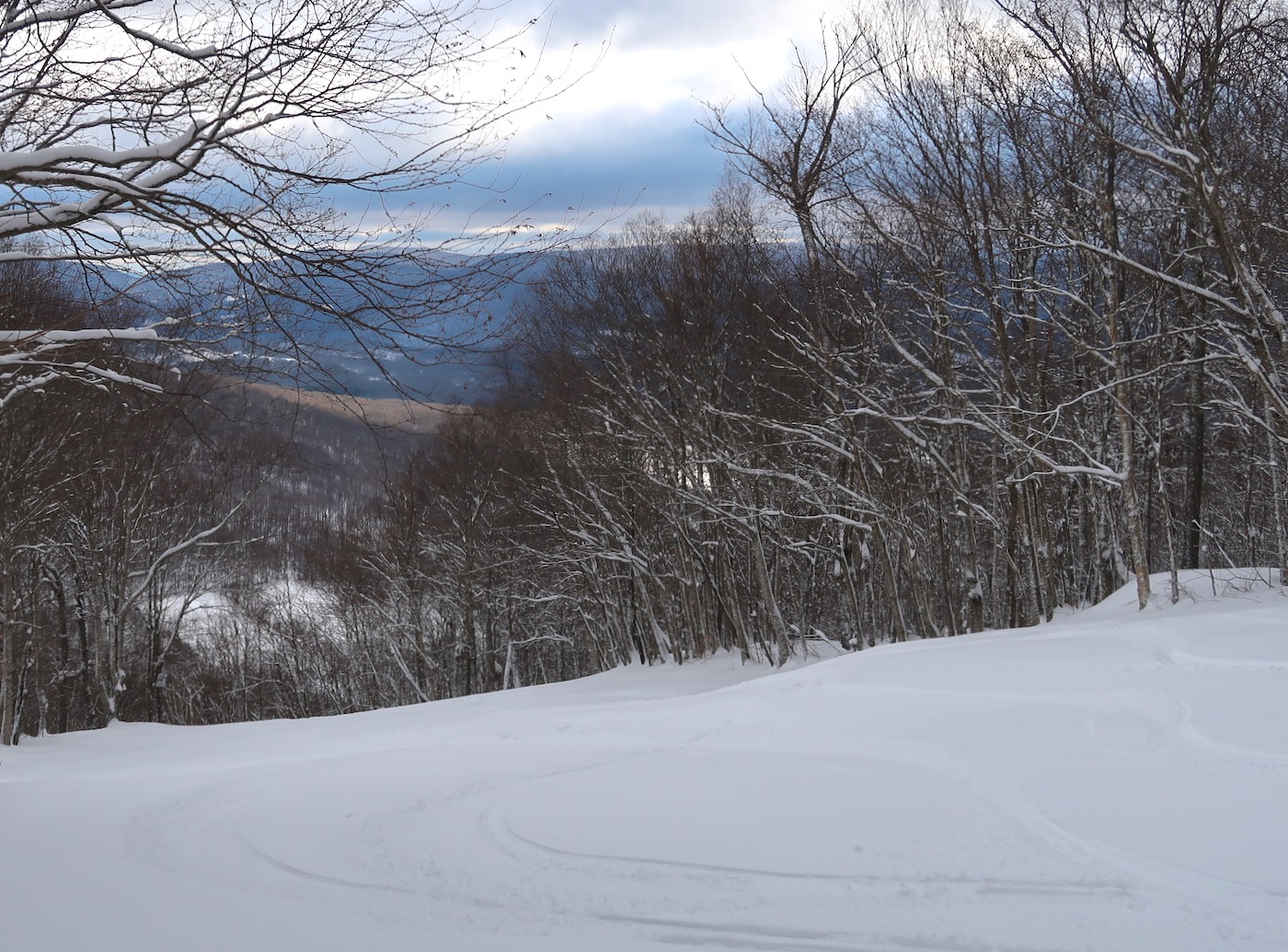 Moguljunkie and lemmycaution were in the house. They're probably a bit fast for me normally, likely moreso on month-old rusty legs. I was really banging out every turn, pretty tentatively to start. The powder was windblown and you really had to stay on it, be aggressive and ski hard.
The new snow was wonderful and in the trees, there was almost enough to ski without thinking. We hit everything on the double side more than once, dropping into the trees as we went. I skied until 2:30 and called it, trying to save something for the rest of my four day adventure. I drove Route 30 to the cabin, arriving ready to eat and chill and crash.
Snow Ridge
The drive to Snow Ridge from our cabin takes longer than you'd think.  Google maps has it at 93 miles and around two hours.  Often on an interstate, you can "make up" time. But on the way to Snow Ridge, if the lake effect is in play, even the speed limit seems fast. Generally, when I'm on those roads, the lake effect is on.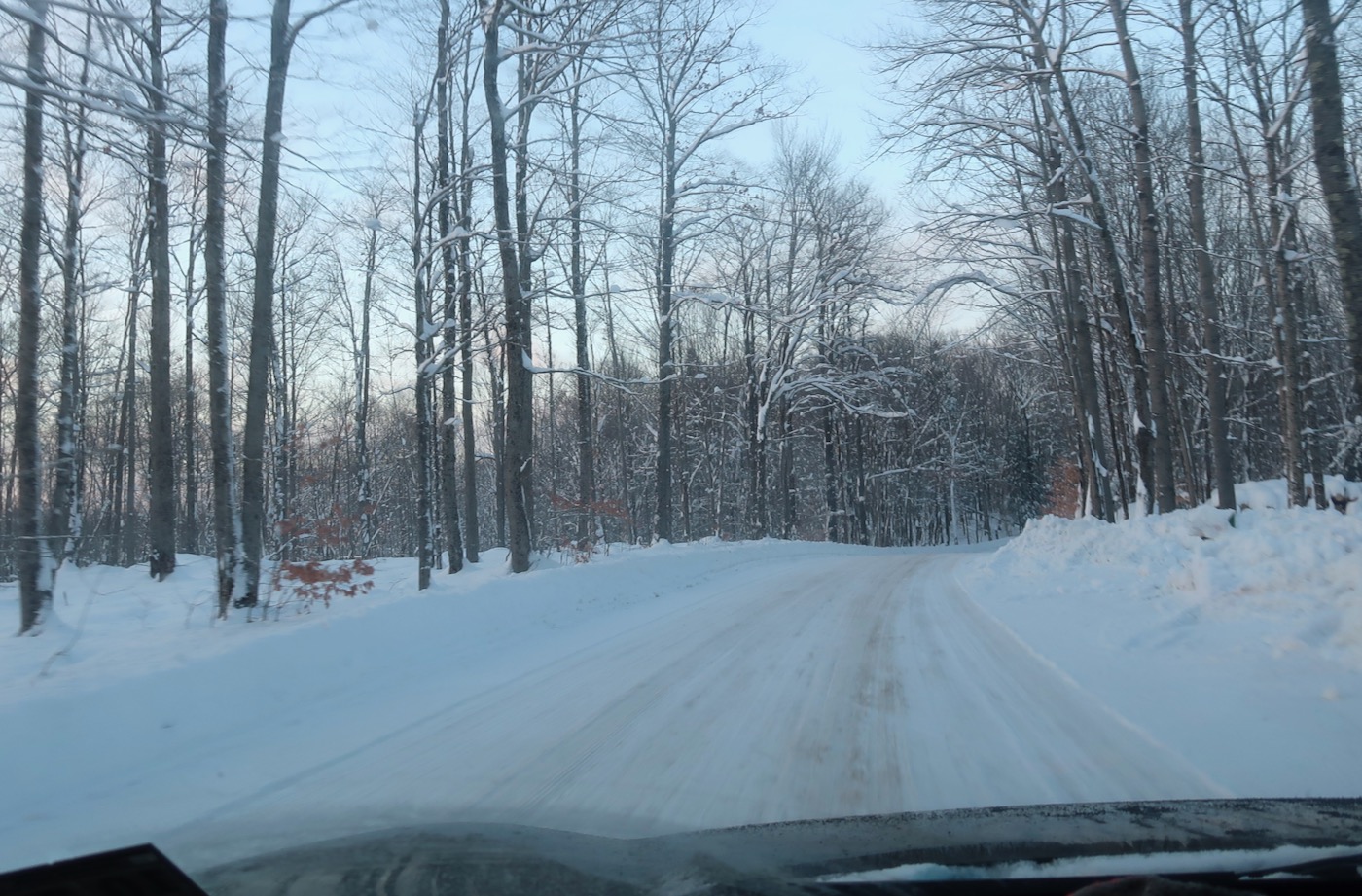 The crux of the drive from the east is on the Moose River Road, a windy an occasionally unplowed route that can put you on the edge of your seat, even at 35 mph.  On this trip it was easy and I made to Snow Ridge by 8:15.
Four of us, Brownski, Scottski, Robert and I, were at the front of the line to get on the Ridge Runner chair. First we skied the trails beneath the lift and then the trees that surrounded it.  At the start it was easy to find untracked snow on the trails.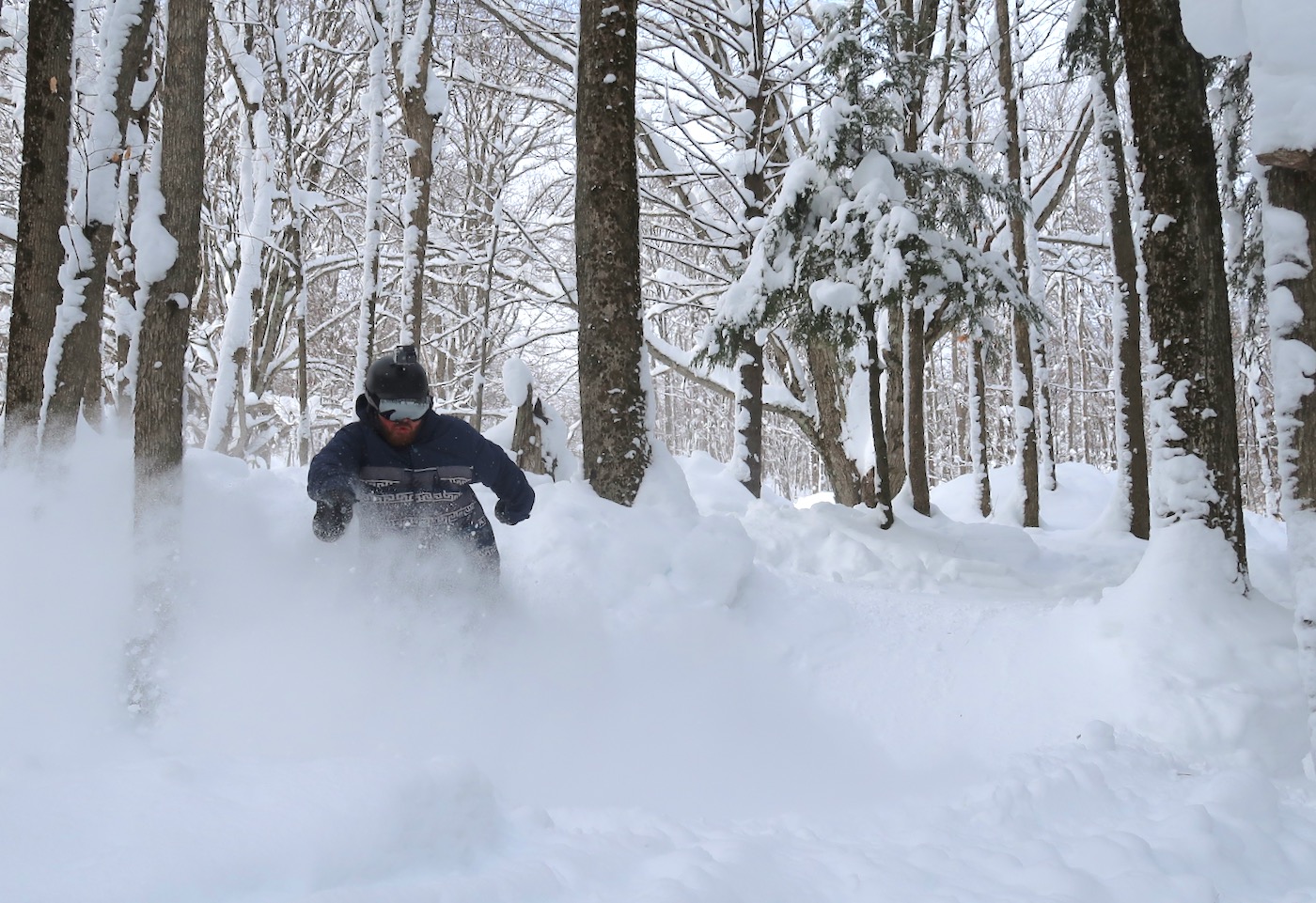 Before too long we were watching the clock, looking to get in line for the spinning of the Snow Pocket Tbar at 11am. After owner Nick took care of the final details, he smiled at us and said "you guys are going to have some fun!"
The Snow Pocket Tbar accesses some of the best powder and trees at Snow Ridge. And it only spins on weekends and holidays, which helps a guy like me, who's coming a long way. We rode it all day, with only one break for a cheeseburger. As the day progressed we traversed farther out on the ridge.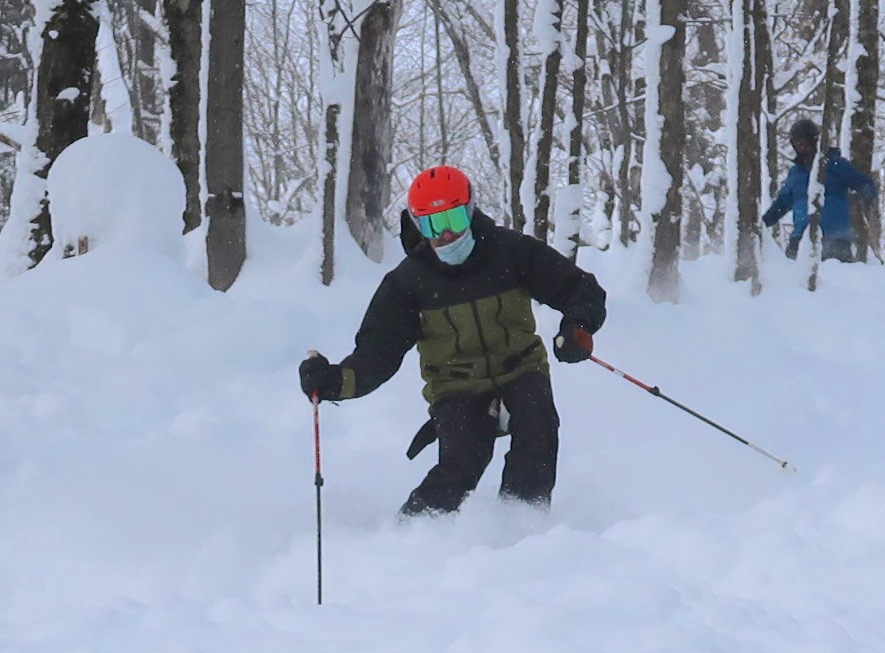 The snow was super-consistent and very deep and anything steep enough was skiable. We never touched bottom, not even once, all day long. We took one last ride on the Tbar as the Snow Pocket closed. We came back down towards the main lodge, floating our way down the front face. We'd skied almost the entire day.
Scott and I split, he back to the Catskills, and I towards our place in the Adirondacks.
Gore
I really like having a place in the Southern Adirondacks. I can string trips together, skiing my favorites.  It's a lot of driving, but less if I use the cabin as a base. On this trip, I stayed three nights and was able to ski four mountains.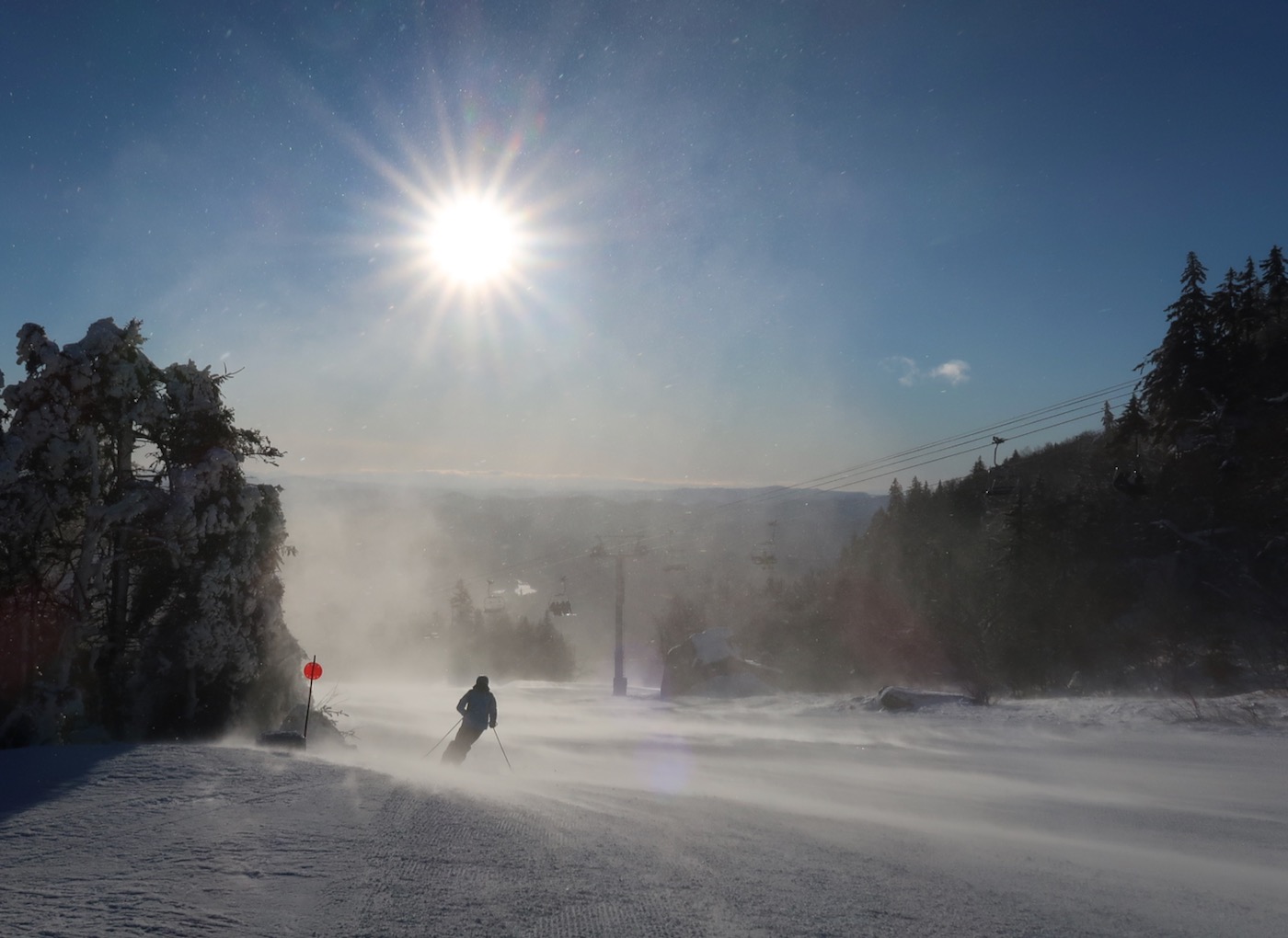 My Gore day was a chance to live a little bit like a local, waking at a reasonable hour to make first chair. Most memorable were the cold temperatures and high winds. It was quite a day to be on the mountain.
I was dressed for it, I came wearing every layer I had. And, I tried something new. I put my boots on, in the car, in the driver's seat, with the motor and heat running. I had to slide the seat all the way back to make it work. It felt like a big advantage, on such a brutal day, coming out of the car, fully dressed, with warm fingers and toes.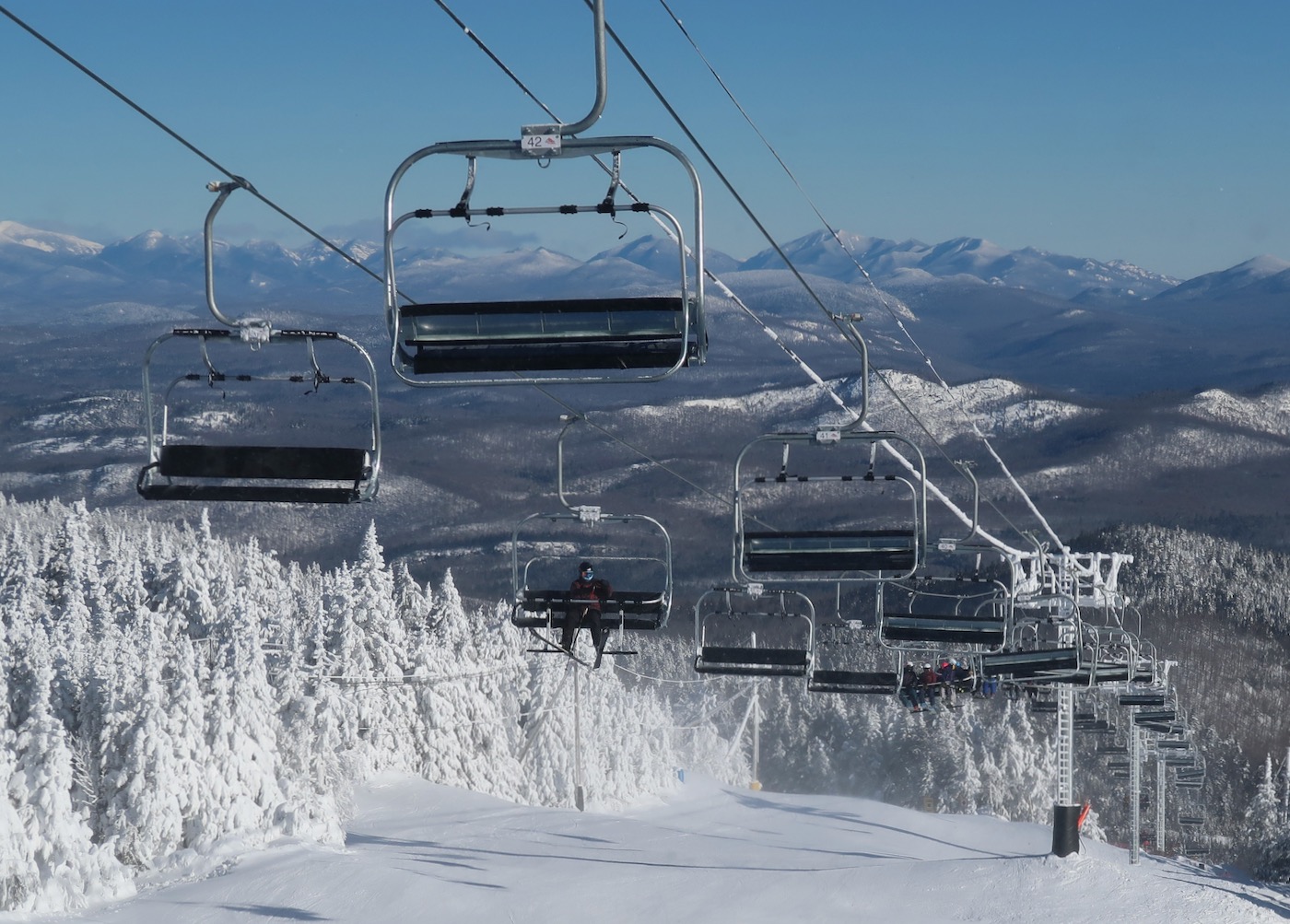 It took a while to get to the top. The Gondola (and Topridge) were on windhold, and riding the Adirondack Express felt dangerous. After one trip up, I decided to come back down and ride the Sunway Quad until Wood In — the only access to the top — was open. I definitely wanted to limit my time on the AE2 .
Once at the top, I skied my way across including the trees that were open, Chatiemac, Darby Woods, and later Tahawas. Despite the brutal cold, the skiing was solid everywhere. Everything was covered, and when you were out of the gale force winds, there was soft snow to ski on.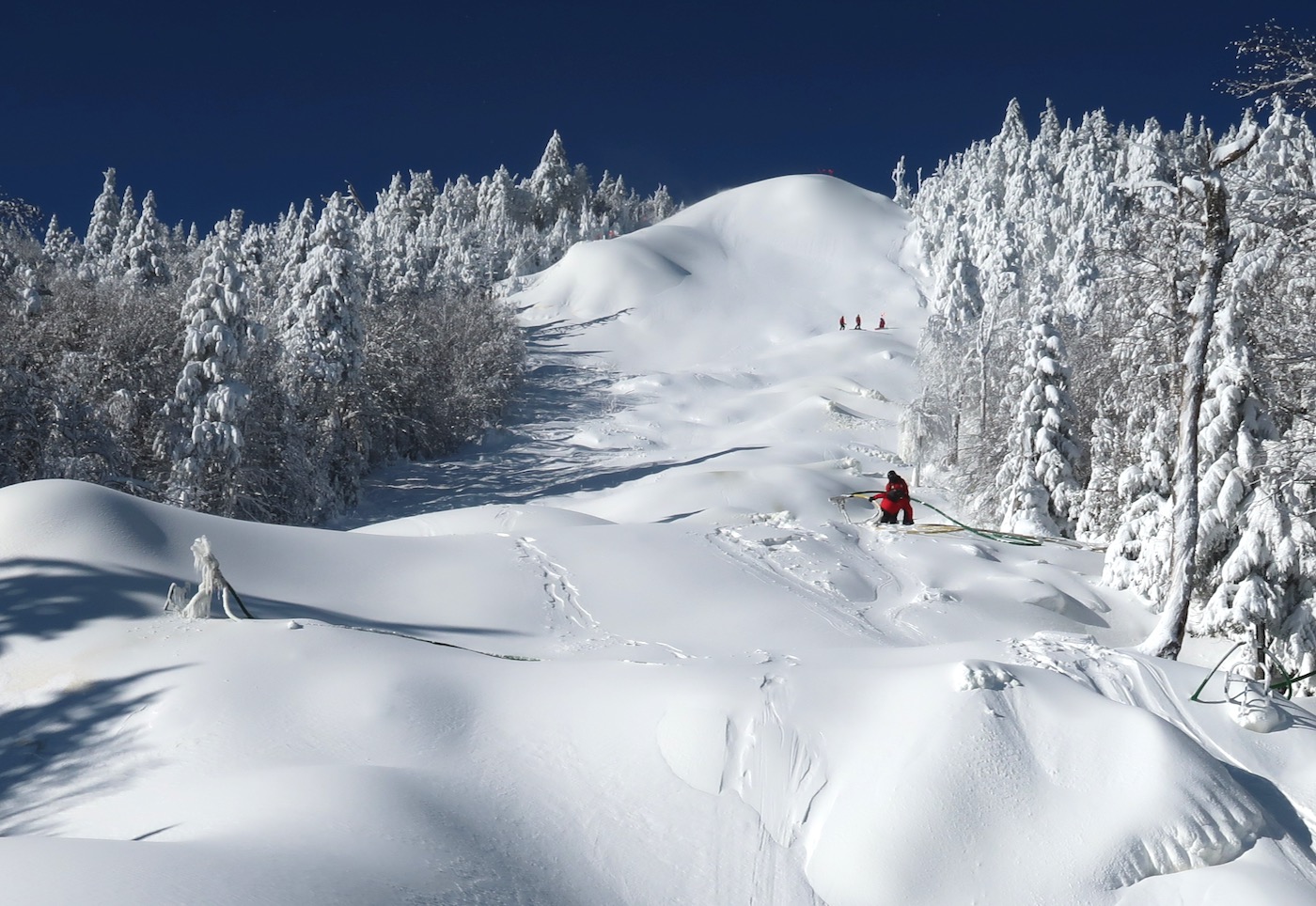 Given my hiatus from skiing, and the intense conditions, I decided to call it at 1:30. I skied past the base of the Rumor and it looked like patrol was getting ready to open it. It looked like a lot of fun.
In line at the Straightbrook chair, Suds said hello and we skied together. He was cold too, so we decided to ski the North Chair, the open trails and then the Tahawas trees. At 2:30 we closed it out on Showcase, which was as good as I've ever skied it, in ripping packed powder.
I headed back to the cabin to take a nap, and then track out our nordic trails before dark.
McCauley
This trip toured several of my go to New York favorites. For my last day of my four-day comeback tour, I included McCauley. It's relatively close to the cabin (60 miles, 1 hour and 20 minutes) has great terrain, and had been getting a lot of new snow. And I love the place. I used my Snow Ridge alarm, because I had to get up a little earlier to pack the car and drain the pipes.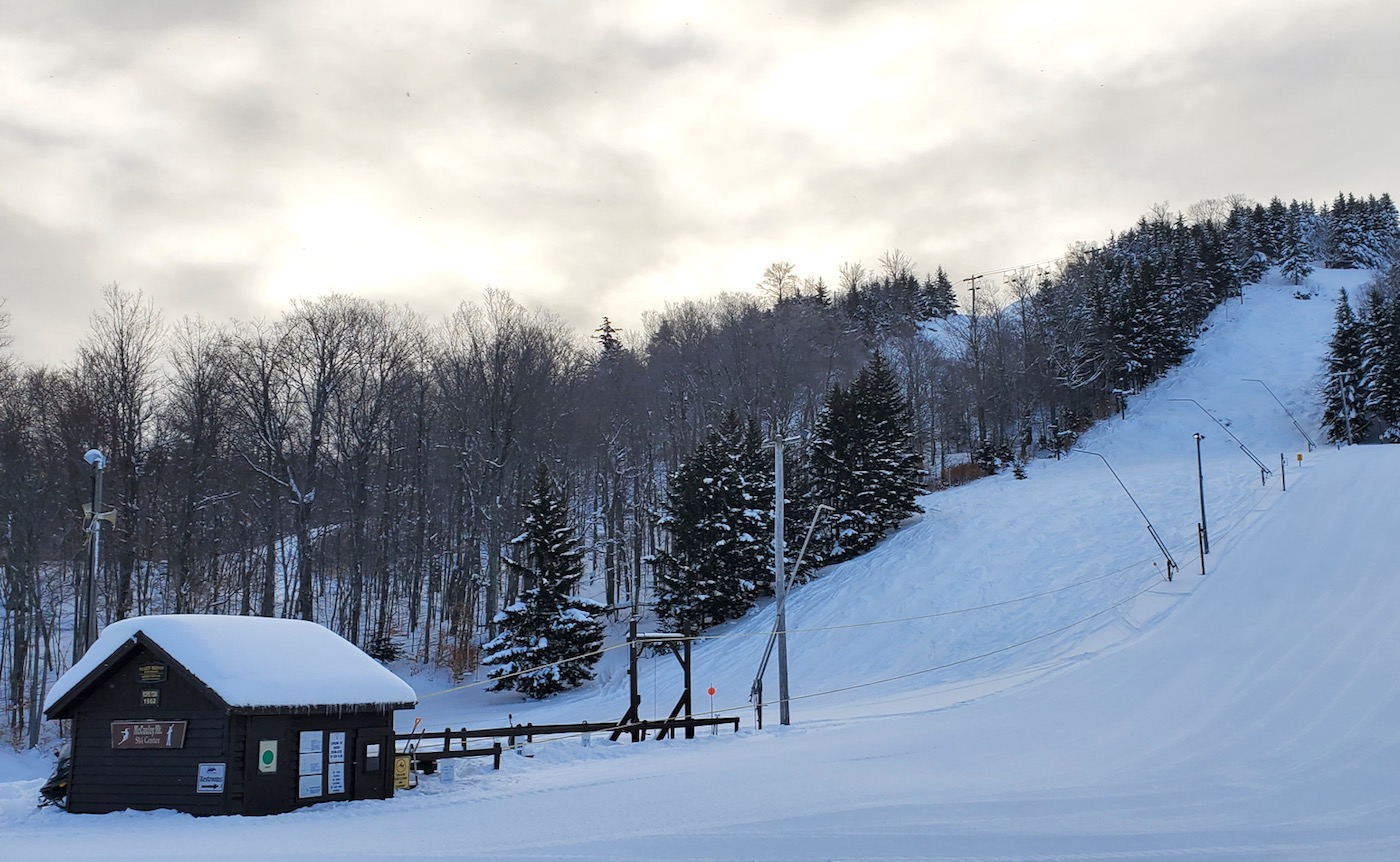 As I headed west, I knew I was early. The lifts at McCauley officially spin at 9:30 and I arrived just after 8:15. It was another cold day, below zero, but the wind was calm. Once again I booted up in the driver's seat with the heat running. At 9am the ticket window opened, I got my wicket and skied down and got right on the chair.
I'd hoped to snag a ski partner, and I even had an extra ticket, that I tried to use to entice someone to ski with me. I skied from 9am to 11:30 solo and I was starting to wonder how long I would last. Then from above, I heard "Harvey!" and I knew I'd been found. It was greyMoose from the forum.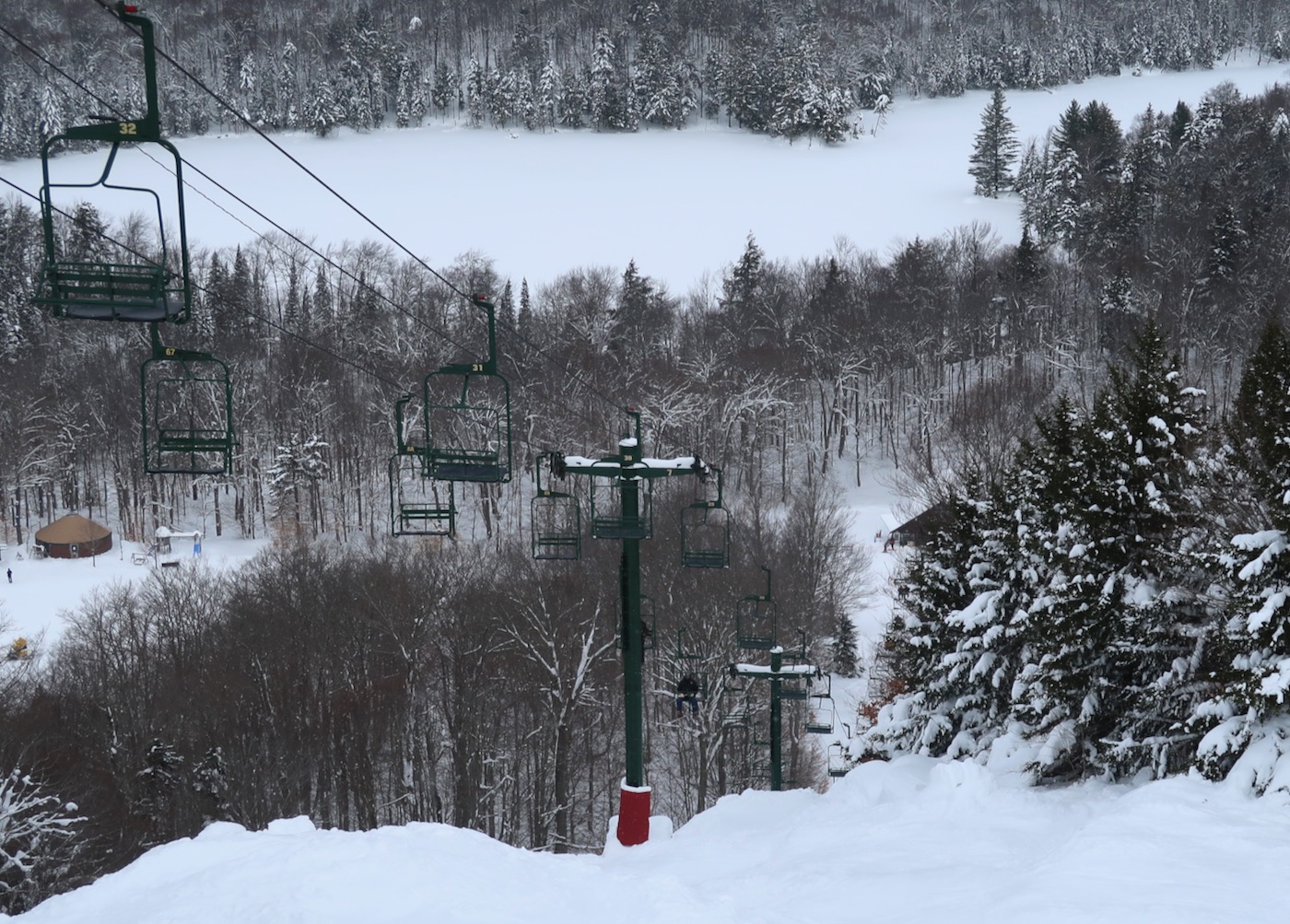 I tried to convince him to come with me to Olympic, which, I thought, had the best snow on the mountain. He had other ideas, and so I followed him. He led on a downward progression into the trees off Challenger: Big Dipper, God's Land, Lost Trail and Rambler Glades. It was a great call, for the first time that day I was in a groove, with enough energy to get my skis around.  Somehow the company motivates you.
Eventually the pull of the road and the long drive ahead, entered my thinking.  I took one last run on Olympic and skied right over to my car.  I felt pretty satisfied.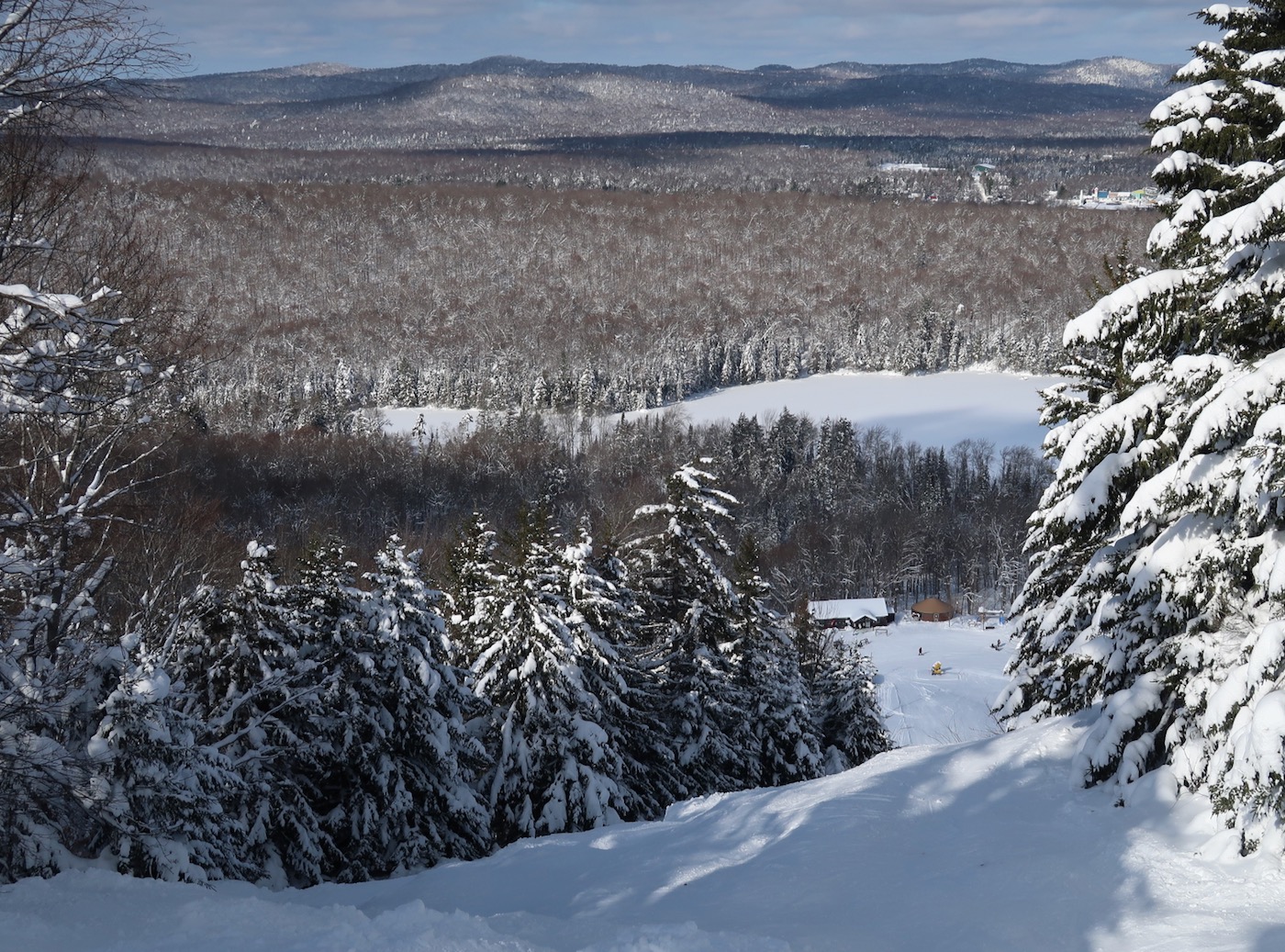 I'm not 100% sure what I was pursuing on this trip.  Part of me wants to chase storms with Scott, like we used to, concentrating on skiing and snow, with none of this other bullshit.  Another part of me thinks that my season could end at any moment and I wanted to make sure I got some more skiing at the hills that are on this page.
Whatever the motivation, it was a big adventure and I'll never forget it.  Maybe in time I'll remember this as my belated birthday ski. Good times!