I set three alarms, one for 5 AM, then one for 5:05 and one for 5:10. I only needed the first one and I didn't even get any guff from Danger Boy when I went to shake him awake. He got dressed and moved to the back Subaru's back seat where I had a pillow and a pile of fleece blankets waiting for him.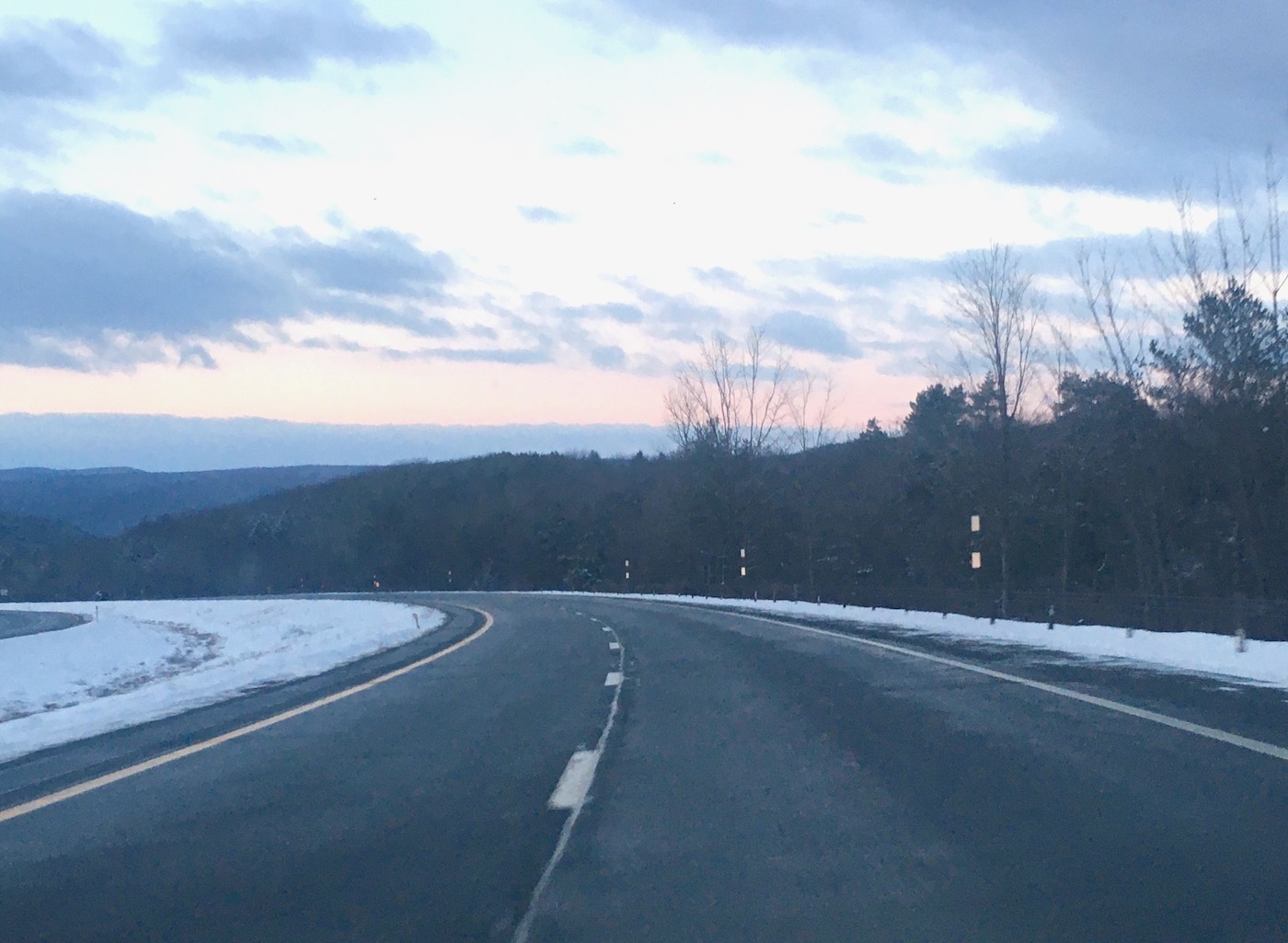 Our bags, skis, a cooler of drinks, snacks and a thermos of hot coffee were already in the car. We were on the road by 5:10. My planning and preparations had paid off. Getting my son up that early was a lot to ask so I let him sleep all the way to Virgil. We made our way out Route 17 in the dark.
We pulled into Greek's parking lot at 8:30. It was snowing lightly under a gray overcast. My son moved to the front seat to boot up while I went to redeem our Indy Passes.
He only had one boot on by the time I got back but it worked out. We were both ready to go at just at the same time and we headed over to Greek's main lift, a conveyor loaded fixed grip quad.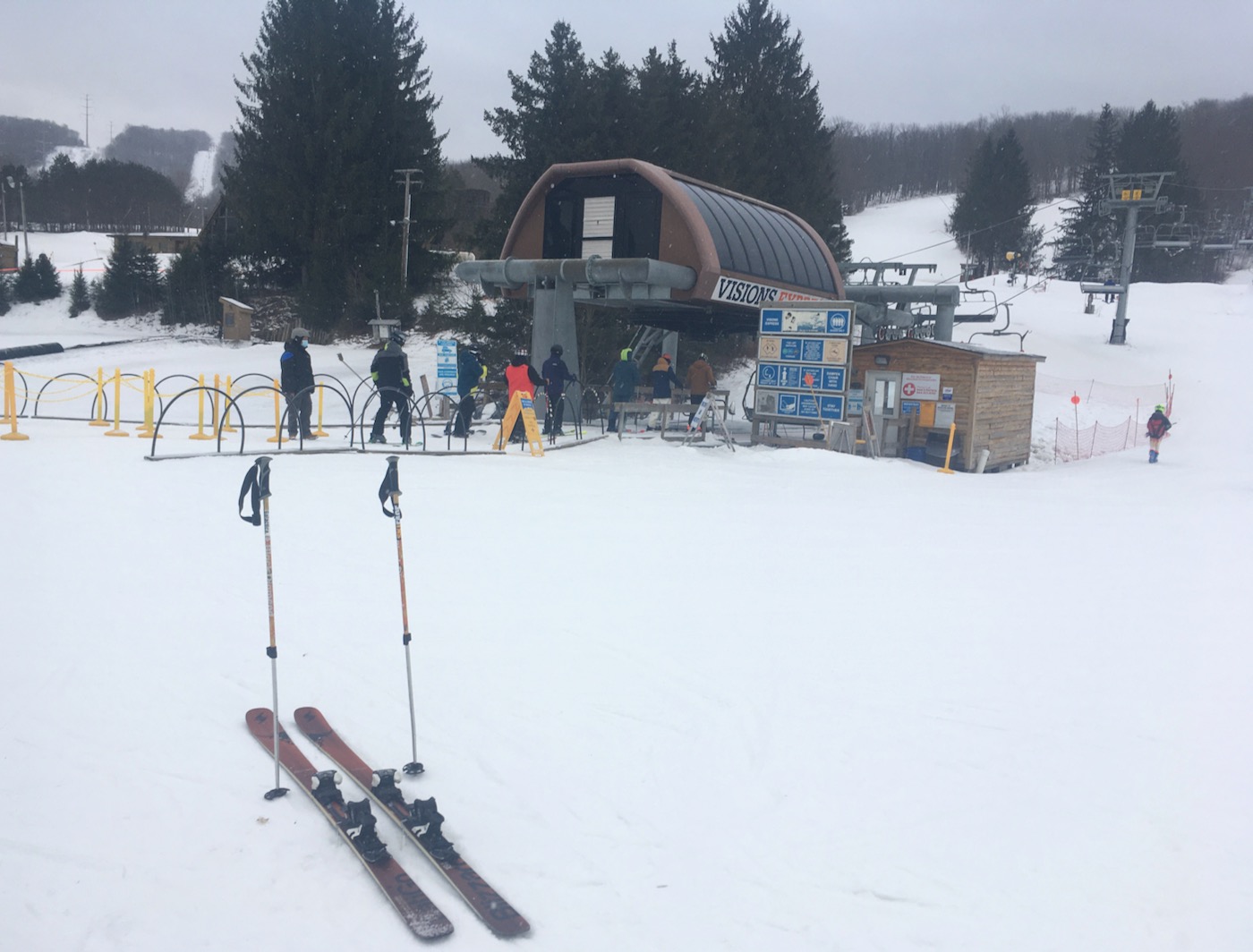 While the lines on the quad remained short, we warmed up our legs on some of the fall line trails there. By our third or fourth run the lines were starting to build so we traversed away from the quad.
The character of the skiing changes as you move away from the wide open trails and steeps above the main lodge. This area of Greek has more of a New England'y flavor, narrower wooded trails with twists and turns. I could see that Chair Two wasn't running yet so we continued on down to Chair Four and hopped on. When we reached the top, we went ahead and skied down Upper Mars Hill to access the blue cruisers under Chair Five.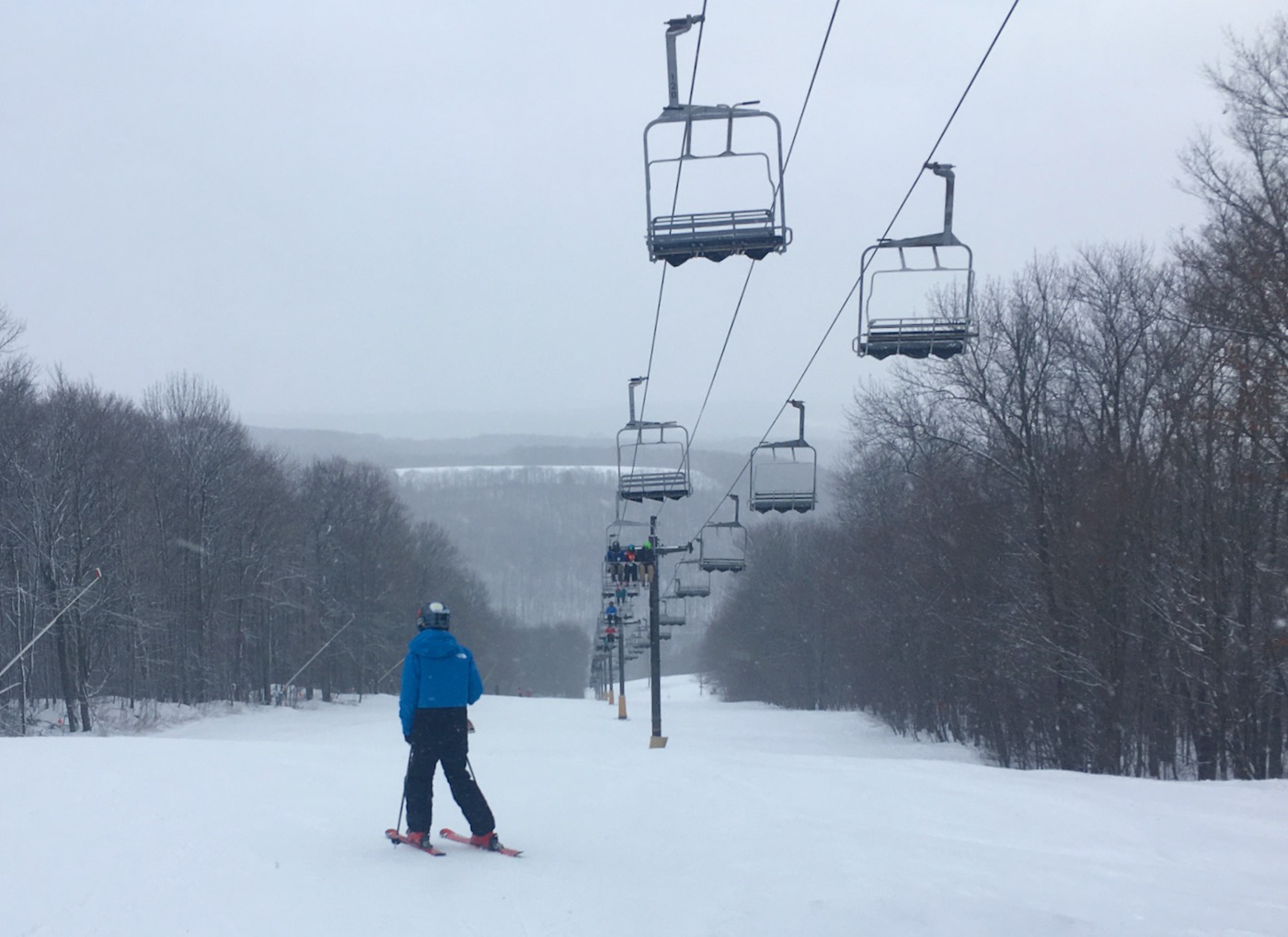 This end of the resort has a different feel to it than the area near the main lodge. Greek is a friendly, family oriented place in general but Chair Five is somehow even more laid back. We enjoyed one unhurried cruiser run after another. The lift lines were short, everybody was smiling. Skiing over there made us feel like locals, even though we had to get up hours before sunrise to be there.
Our previous visits informed our goals for the day so we didn't want to spend too much time down on that end of the resort. Our goal was to ski the Chair Two area so some time in the late morning we made our way back. Chair Two still wasn't running but they'd opened Chair One, a fixed double, so we could avoid the line on the quad and did a few more runs before checking on Chair Two again.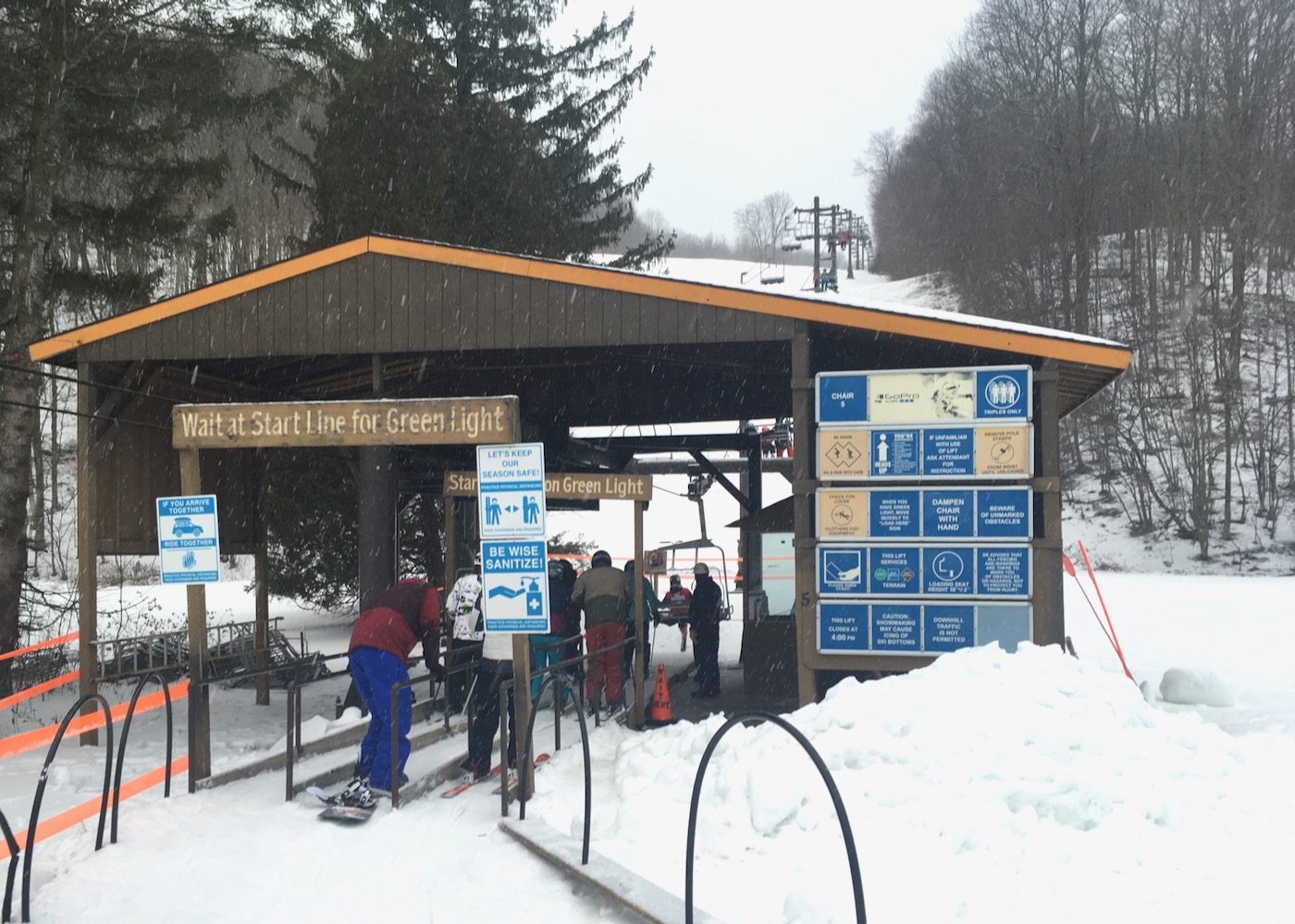 Finally, we scored. This time we found Chair Two was running. As far as we're concerned, Chair Two is the coolest zone at Greek. It accesses a few green and blue cruisers but the best part is that it dumps you right at the top of Aesop's Glade. There was just enough snow on the ground to ski the glades.
We spent the rest of the day here, enjoying the trees and taking runs on Pollux for variety. I even like riding Chair Two. It's an ancient double that makes its way up a narrow cut in the Forrest with short, wrought iron towers that remind you of the Eiffel Tower. It's the kind of thing that makes me feel connected to previous generations of skiers.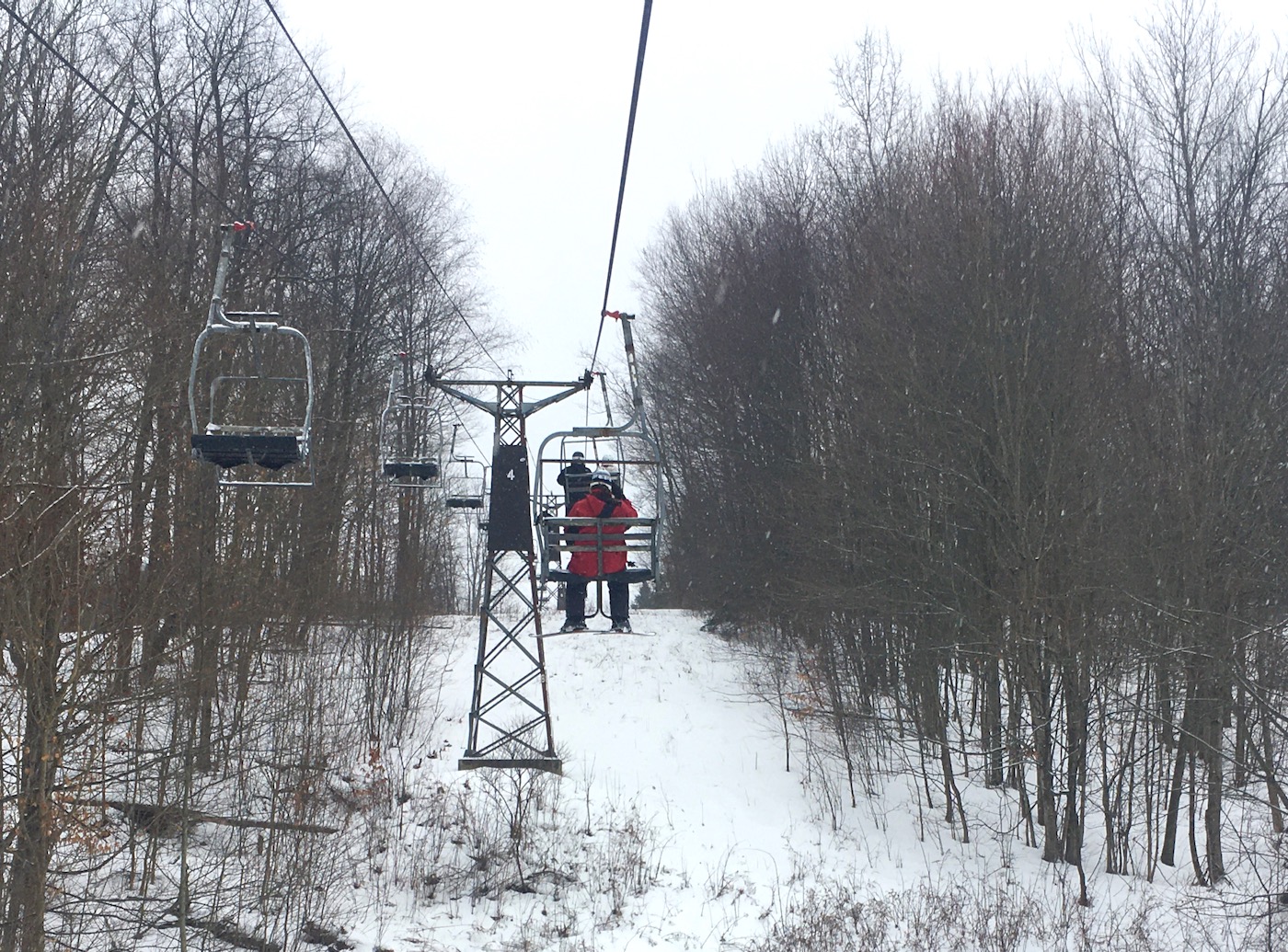 We enjoyed everything about Chair Two. Eventually Patrol even officially opened Aesop's and we were excited to be able to get into those trees.
We didn't push it too hard. After skipping lunch, we wrapped things up in mid afternoon and got back on the road. Danger Boy had been skeptical about driving so far to ski but he said several times during the day how much he liked Greek and how glad he was that we were there. It really was a great day.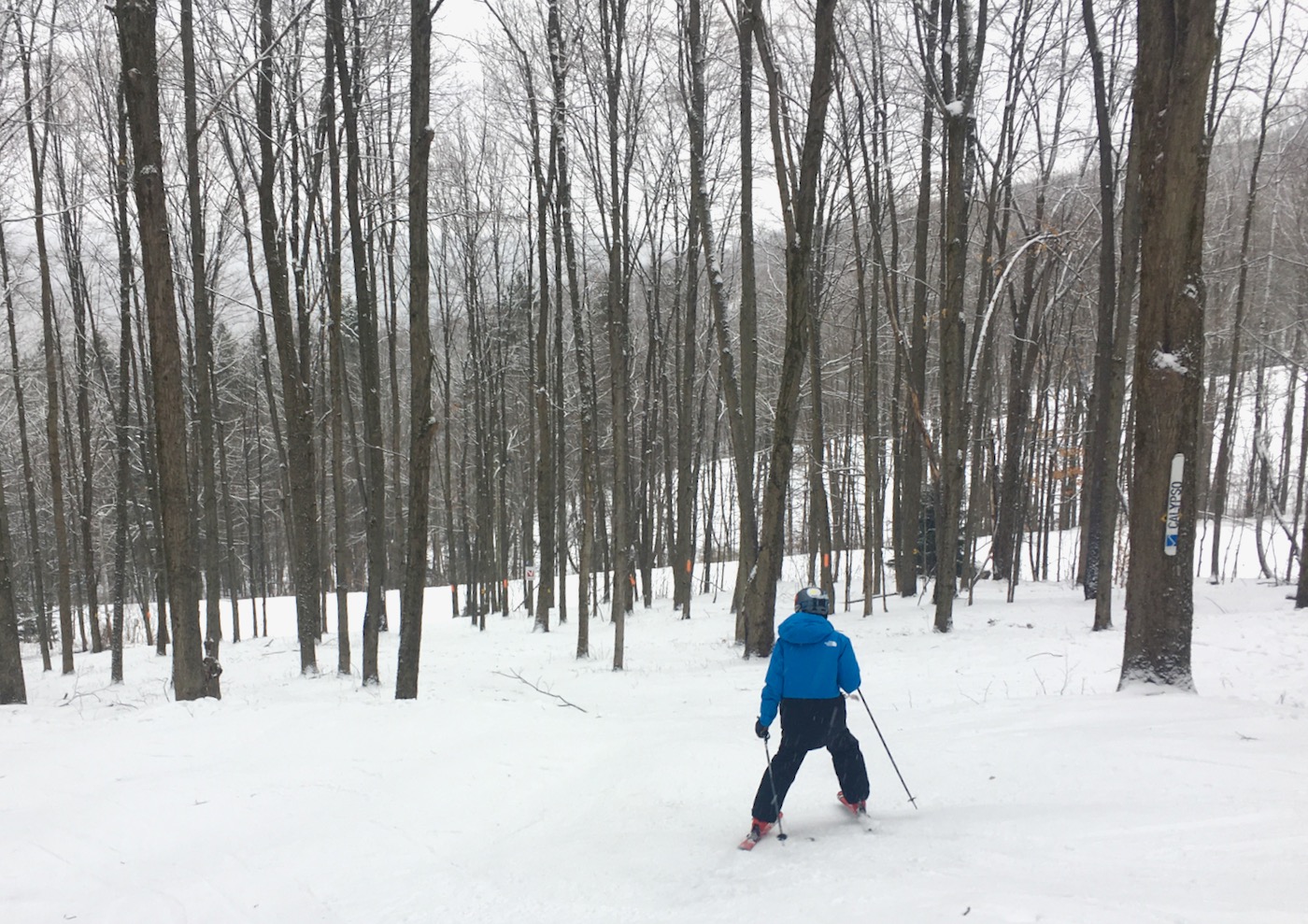 When I realized I most likely wouldn't be skiing Vermont this year I was annoyed, but I never felt like it would ruin my season. New York has a lot of good skiing to offer. We have big mountains and small. Greek should be on any New York skier's list of destinations.
---
NYSkiBlog is joining with The Indy Pass to bring exposure to independent mountains.
This piece is part of our effort. For more information on The Pass visit the Indy Pass.
---