Three weeks ago Doug Fish of Indy Pass sent me an email. "I'm coming East, here's my schedule. When are we skiing together?" I looked at his itinerary and started to weigh my options. I needed some time.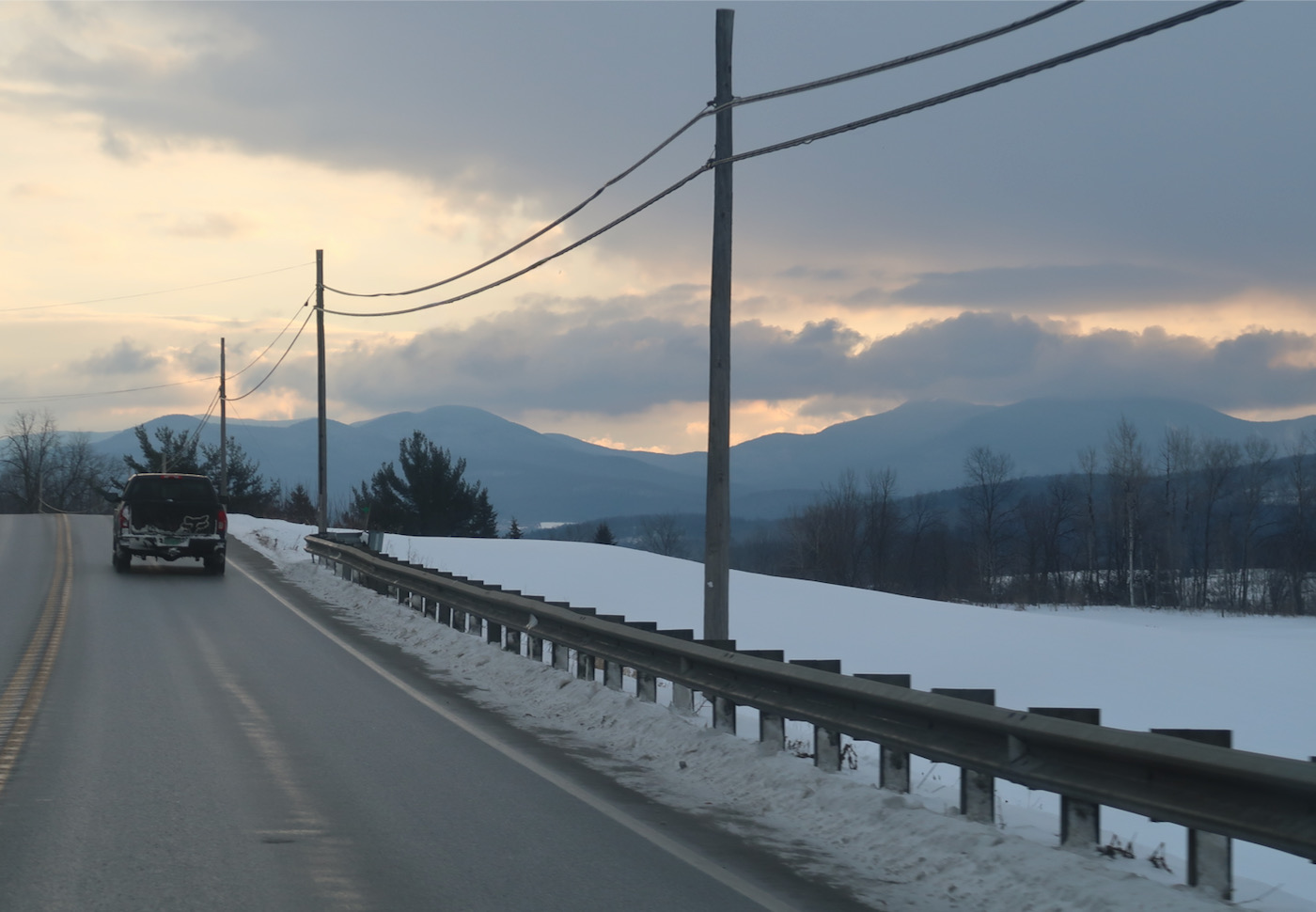 When it comes to weather, the farthest out I look is 240 hours. Each day, I do one simple thing; I check the GFS 240 hour snowfall map for the CONUS (aka Continental US). By noting the difference in the map vs the previous day, I can see if the GFS is seeing snow on that 10th day. Sometimes I leave a browser tab open and refresh it each morning, to more easily see the change in the modeled storm overnight. It's a bit of a game as storm tracks flip back and forth each day.
When Doug first reached out, it was too far out to make a call based on weather, so I stalled a bit in responding. A week later, as the GFS 240 started to come into play, I was seeing what everyone else saw: a devastating rainstorm on Wednesday followed by a chance for snow on Friday.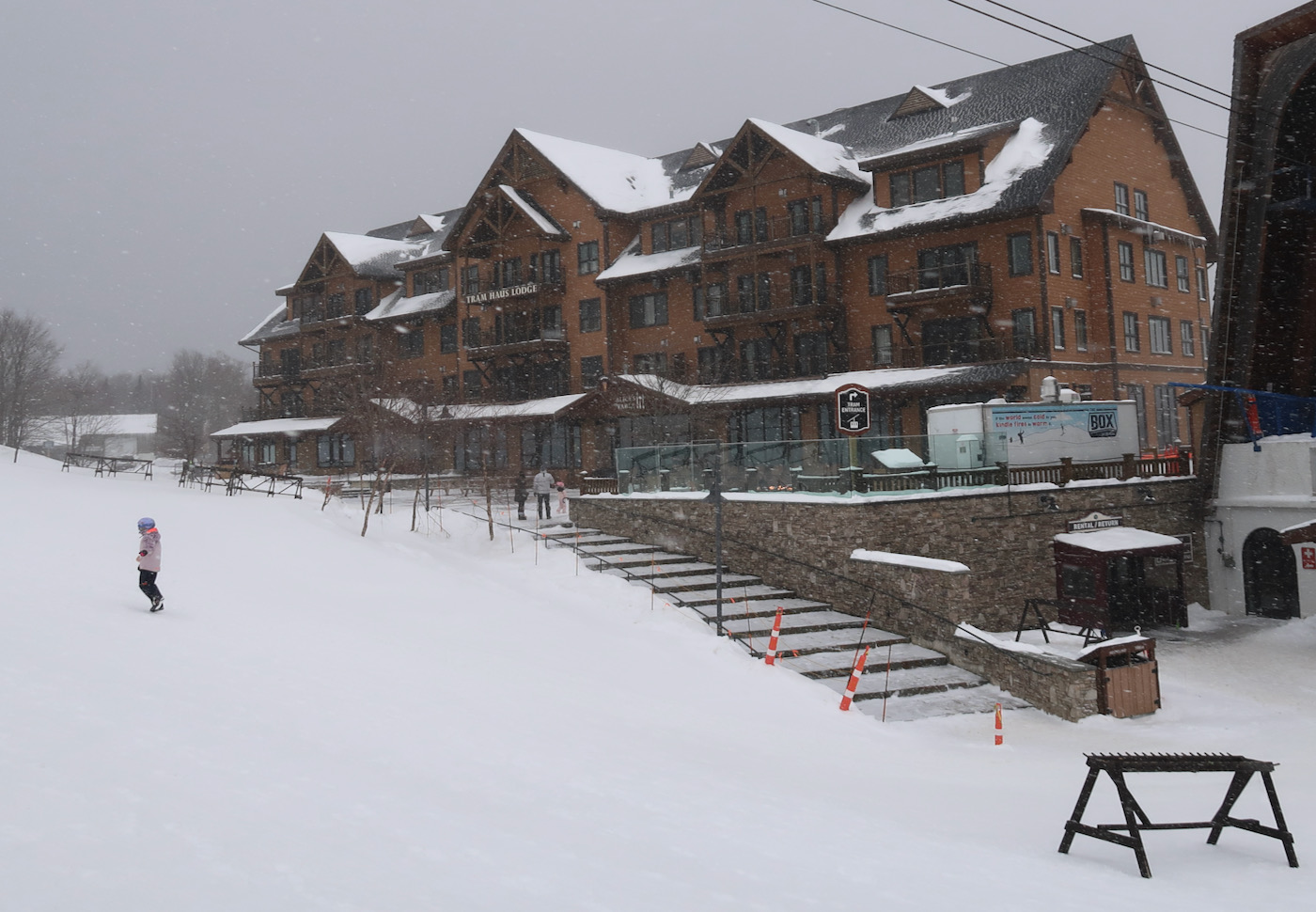 One thing I believe: the mountain in the East with the best chance to come back from that kind of wipeout, is Jay Peak. If this belief isn't universal, it is at least widely held.
In the end, the GFS really delivered, not all to the positive. There was a devastating storm that hit every ski area in the northeast (and some in Canada) with as much as an inch of rain. Following that, true to forecast, a snowstorm appeared on the horizon. A Miller B type storm — which generally favors Southern Vermont — delivered snow across much of New York and all of Vermont, including a foot plus at Jay.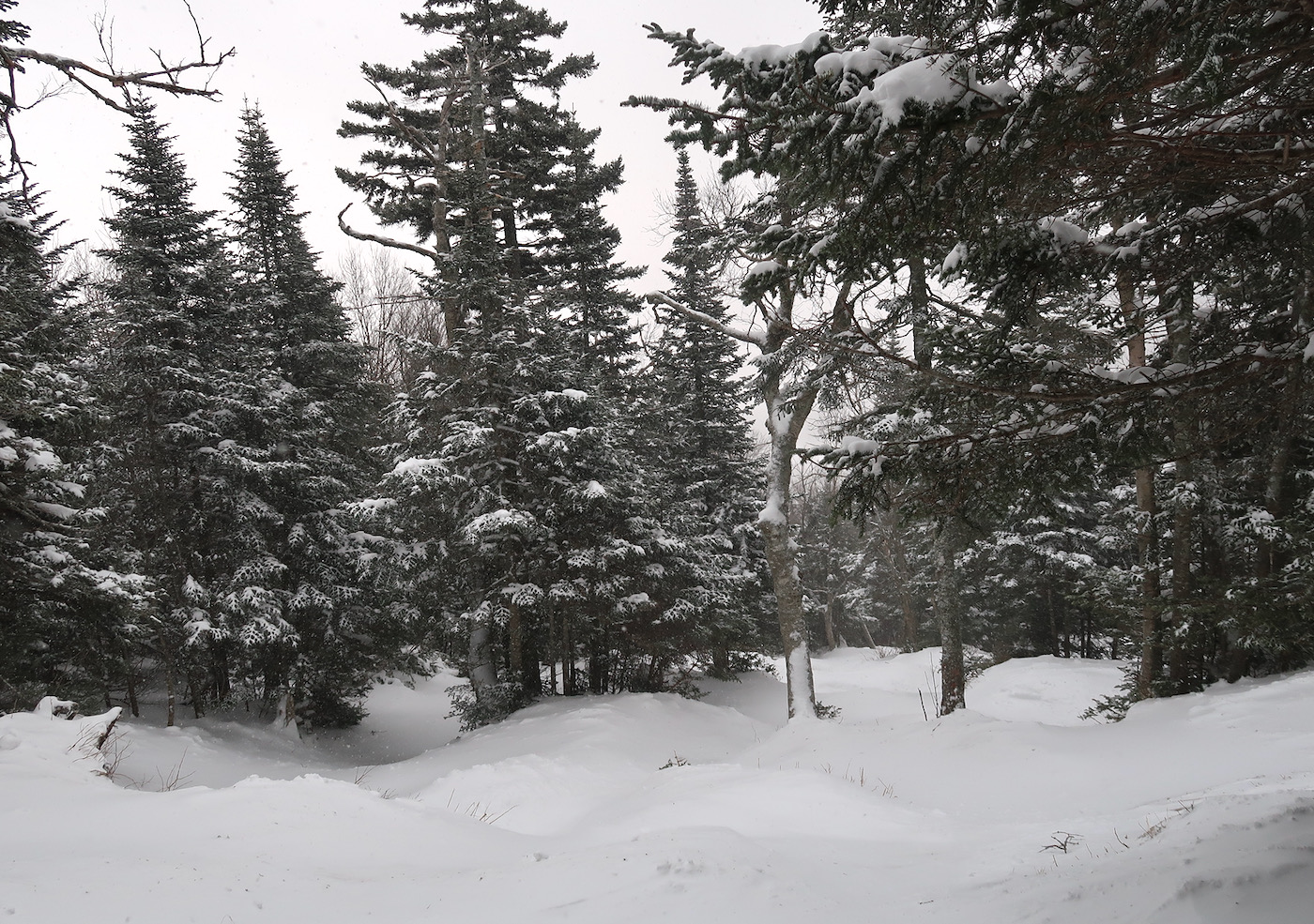 Doug was going to be at Jay for two nights, Saturday and Sunday, and I wanted to stay there too. Saturday night was the last night of President's Week and Jay was 100% sold out. My best option was for a room in the Tram House Lodge for a single night, Sunday night. Slopeside living with lift ticket, waterpark and room key all accessed with a single RFID card.
I took Friday and Monday off. Jay is a long way for me, and having four days really helps me spread out the driving on a trip like this. Thursday after work, I drove to our place in the Adirondacks. I arrived just before midnight, as it was starting to snow. I started a fire and tried to sleep, excited about the potential for adventure.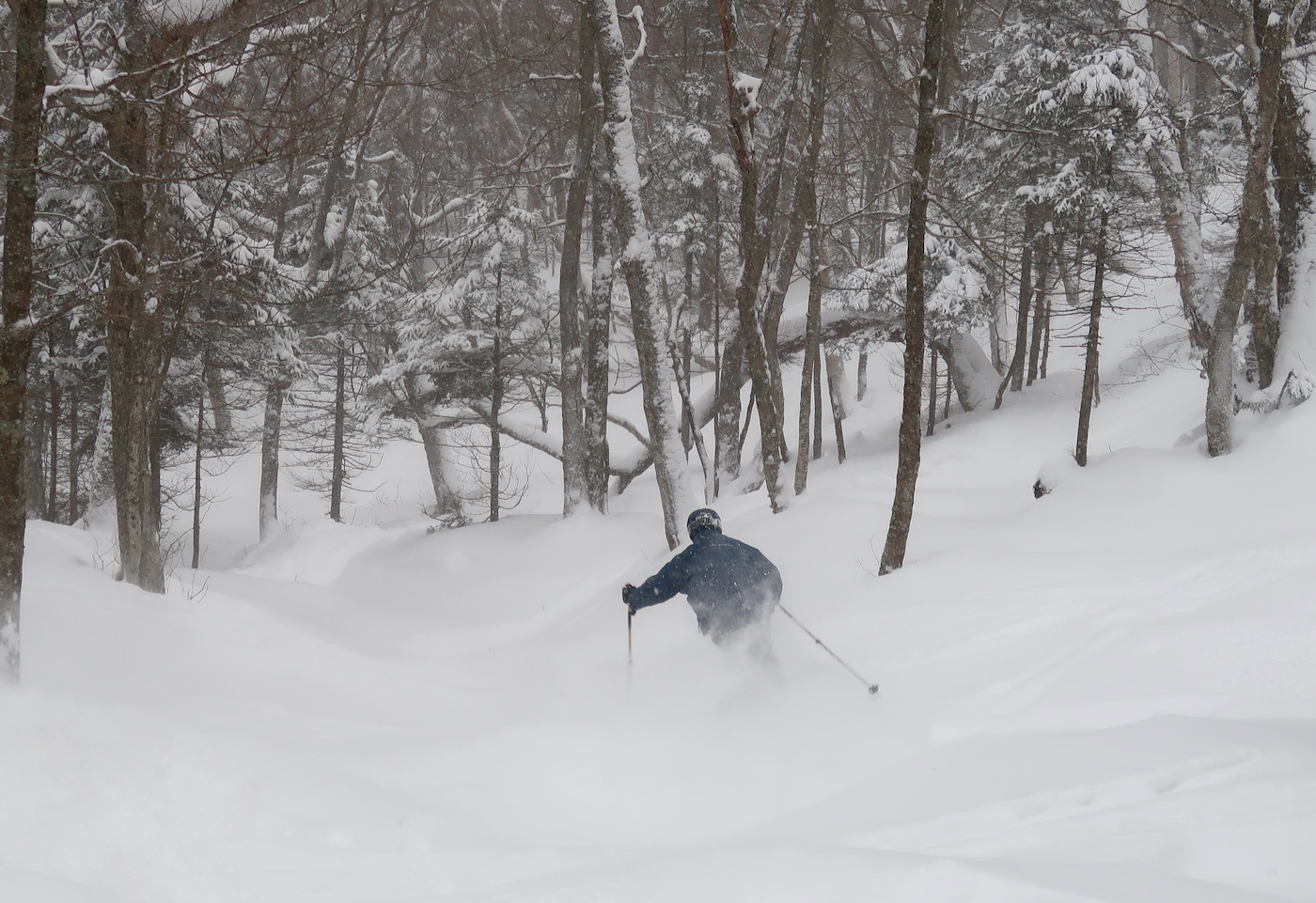 Friday was a powder day at Gore, and yes that was part of the plan. Duck and I skied the storm together and it snowed the entire day. The mountain reported 11 inches at close.  On Saturday, I skied the morning at Gore and in the afternoon I tracked up the nordic trails in our woods. Then I starting packing and staging my early morning exit.
Evidence I may need some kind of help: I now have a 2:45am Jay Peak from the Cabin alarm on my droid. The coffee was brewed, pipes were drained and I was on the road at 3:45.  My plan was to meet up with Scott and Hilary, and their friends Bill and Candace.  Bill and Candace ski Jay every weekend in the winter. Bill is a member of Patrol at Jay and had agreed to show us around. Nothing better than having a knowledgable guide on a powder day at a big mountain.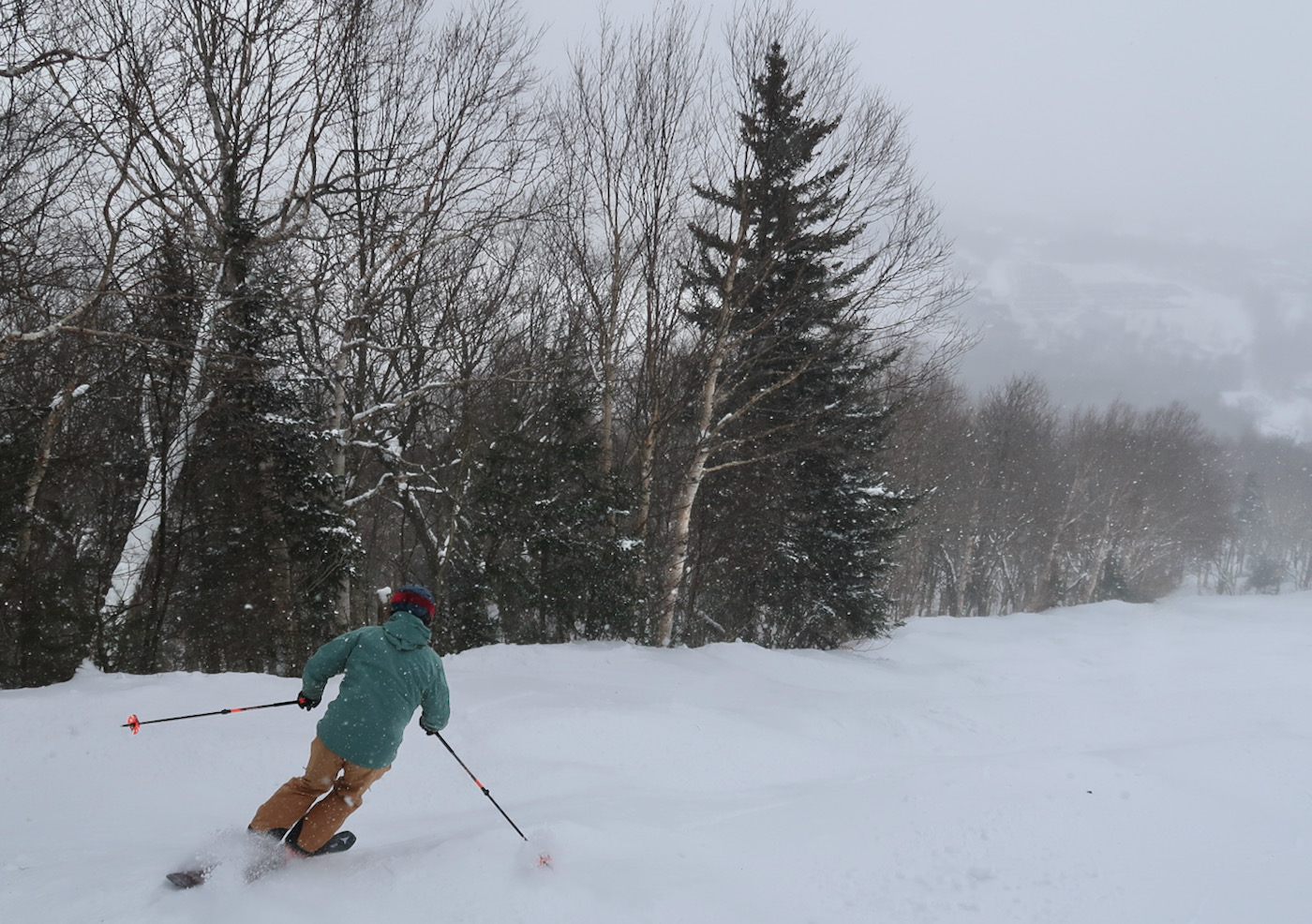 Three hours later I was driving in Vermont with a nice view of the mountain. It was partly cloudy and approaching from the west, I could see Jay from a good distance.  As I turned up Mountain Road there were flurries in the air. Route 242 gains elevation as you drive up to Jay's 2100'+ base. As we rose up, the snow became more steady, but still relatively light.
Scott and Hilary and I connected at the Tram House, to check-in and get our tickets. We met Bill and Candace outside when we were all set. It was windy and snowing harder now, but the temperature was in the mid 20s and everyone was warm.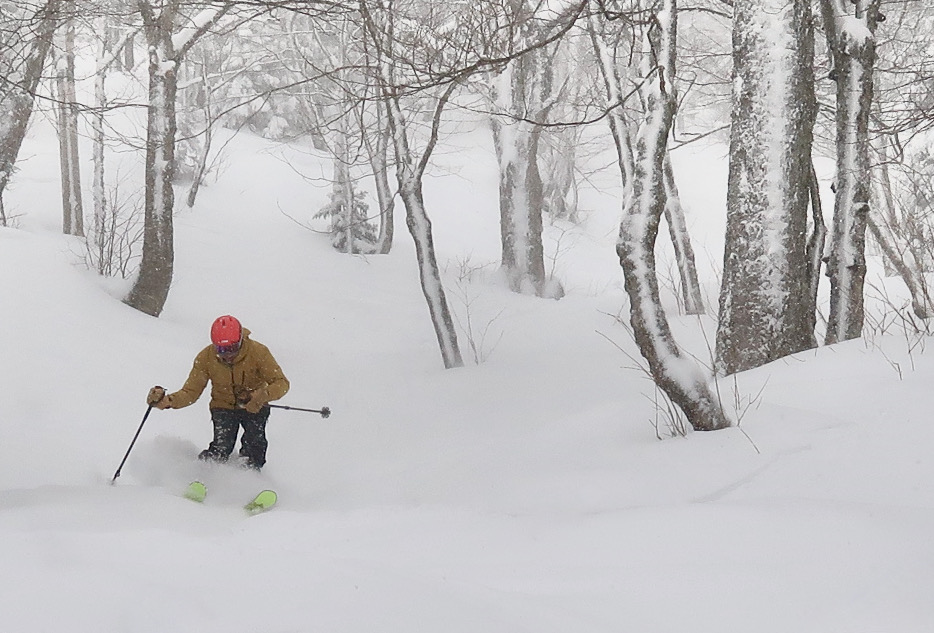 Doug Fish and Quinn McIntyre — both at Jay representing Indy Pass — were staying Stateside. It was nice having a Verizon cell signal. I don't often make calls while skiing, but I didn't want to miss my chance to meet and ski with Doug.  They agreed to ski over to us on the Tramside.  With seven of us, and we weren't really harboring the illusion that we'd be able to stay together while skiing.
Jay feels huge and almost alone in farthest northern Vermont. Jay can be windy, especially when it snows, and Jay's two summit lifts, the Tram and the Flyer, were both on windhold.  We really didn't mind. Wind was moving a lot of snow around and in the trees it was deeper than anything indicated on the Jay snow report.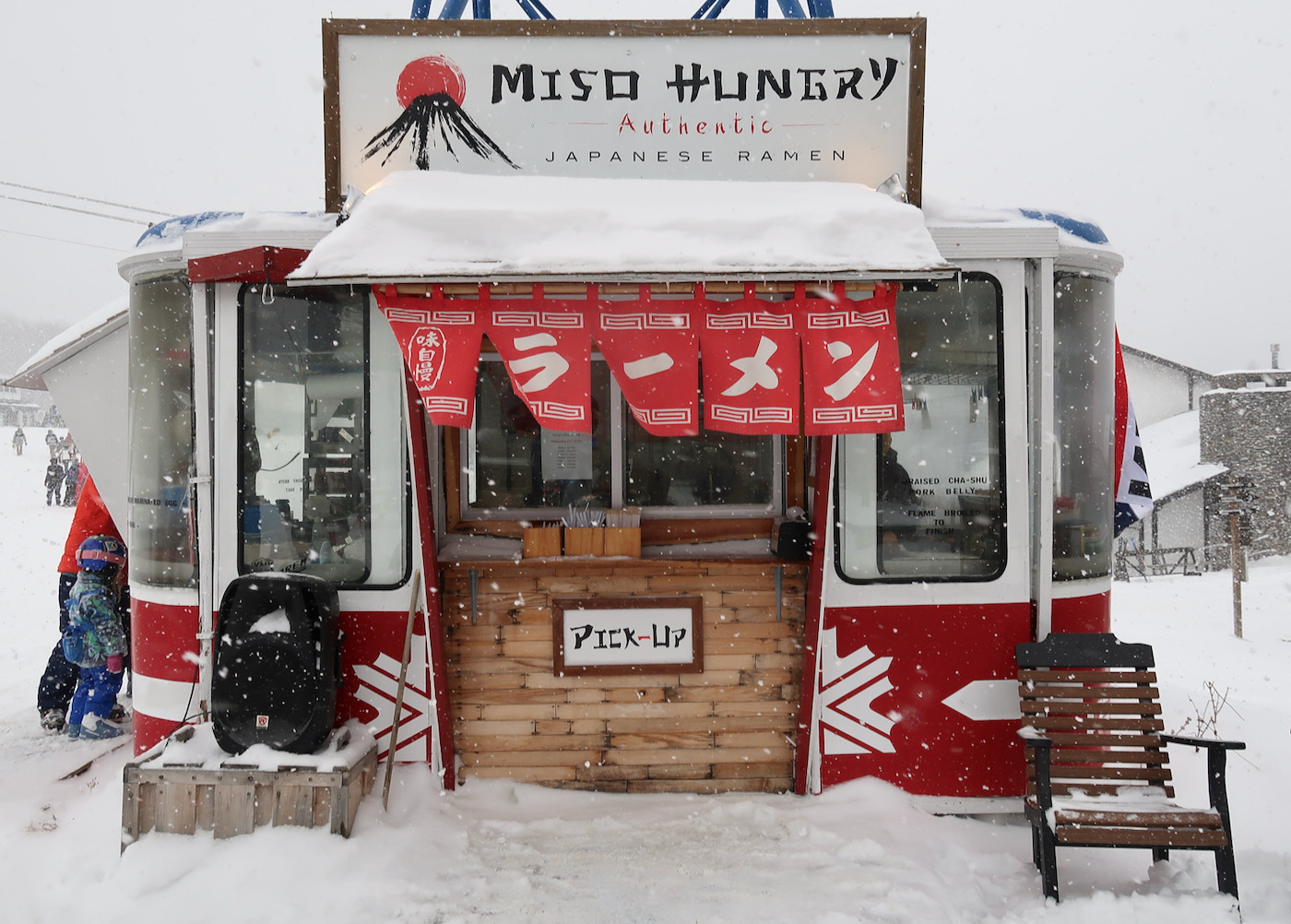 We went looking for low angle trees off the Jet and the Bonaventure lifts.  There was a good amount of new snow on top of the icy glacier that was left behind by the rain, and we wanted to float on top.
At one point Doug's inner powderhound took control of his cerebral cortex. The result was a ski adventure that ended with him hitchhiking a ride back to Stateside.  Pro tip: if you see Doug walking down the road with his skis on his shoulder, pick him up. He's got a one-of-a-kind way to show his gratitude.
At midday we stopped to sample the Spicy Miso Ramen we'd been hearing about all morning from Bill and Candace. We ordered and took it inside to Jay's Family Room.  It's evolved thinking to provide a big space for families to sit together to eat or gather without requiring them to buy anything.  As you look around Jay, you feel a built-in friendliness, that's great for families, or anyone really.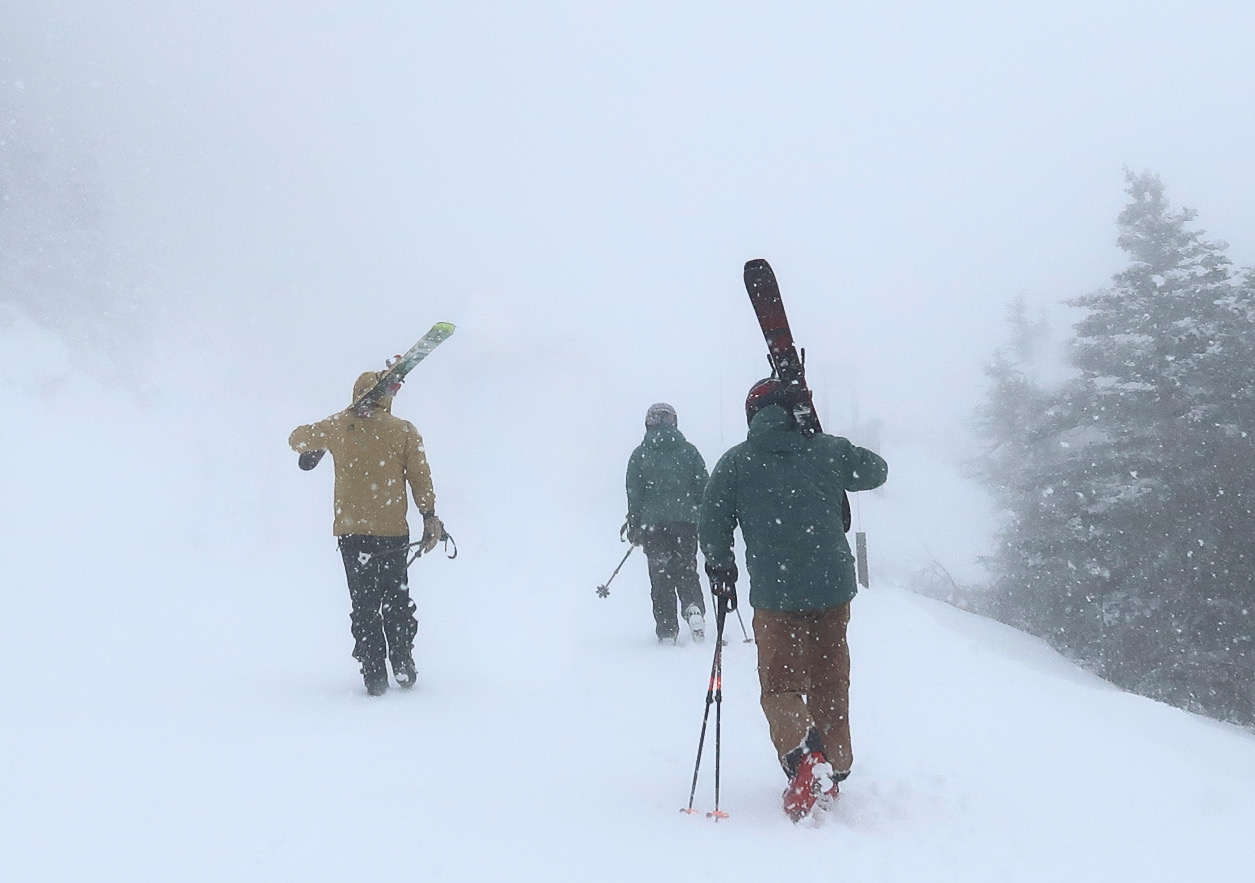 After lunch the intensity of the snowfall really picked up. There were bursts with snowfall rates above an inch an hour. It was like a snow turbo charger was switched on for half-an-hour at a time. We hiked up to the top of the Flyer to access the terrain that wasn't lift served on that day. It was the best skiing.
We skied until the lifts closed at 4pm and got a reservation for six at Alice's Table. Outside of powder skiing, there's maybe nothing better than sharing a meal and a Lawson's with six souls who skied powder all day long.  It was quite a treat.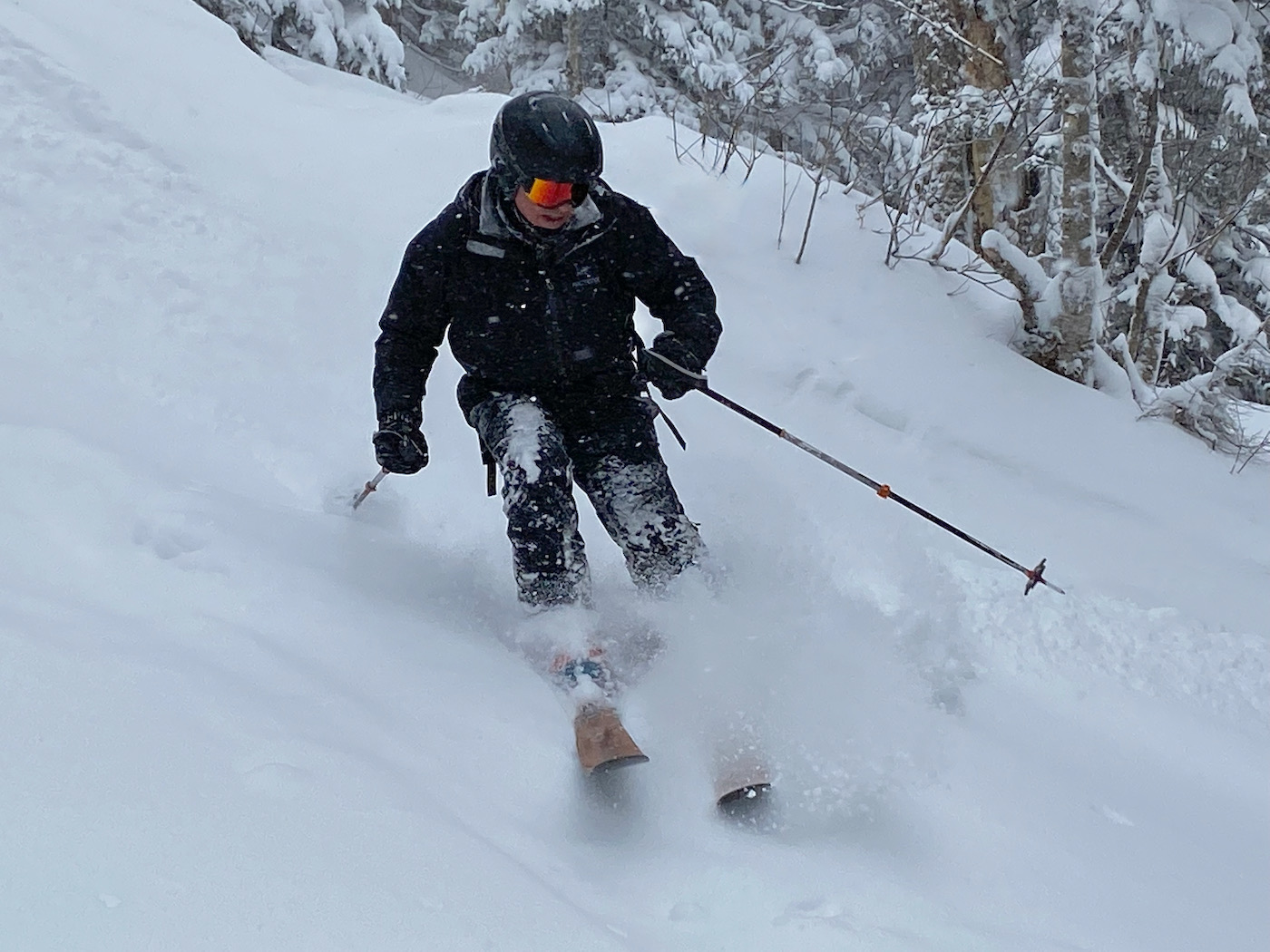 The next morning was sunny and brutally cold. Scott and I tried to remember what we could from the previous day, underneath the Bonny, as the Jet was down too.  We kept our eyes on the Flyer and the Tram, and the Flyer began spin as we were heading back down for our 11am checkout. I was tempted to head back out, for one last shot at Andre's, but after four days of skiing, including two bell-to-bell powder days, a ton of driving, and little sleep, I decided to save what I had left for the eight hour drive home.
We had another round of spicy miso ramen, and parted ways.  Scott and Hilary headed back to the Catskills and I wandered over to the administrative trailer park to see if I could find Steve Wright, the GM of Jay Peak.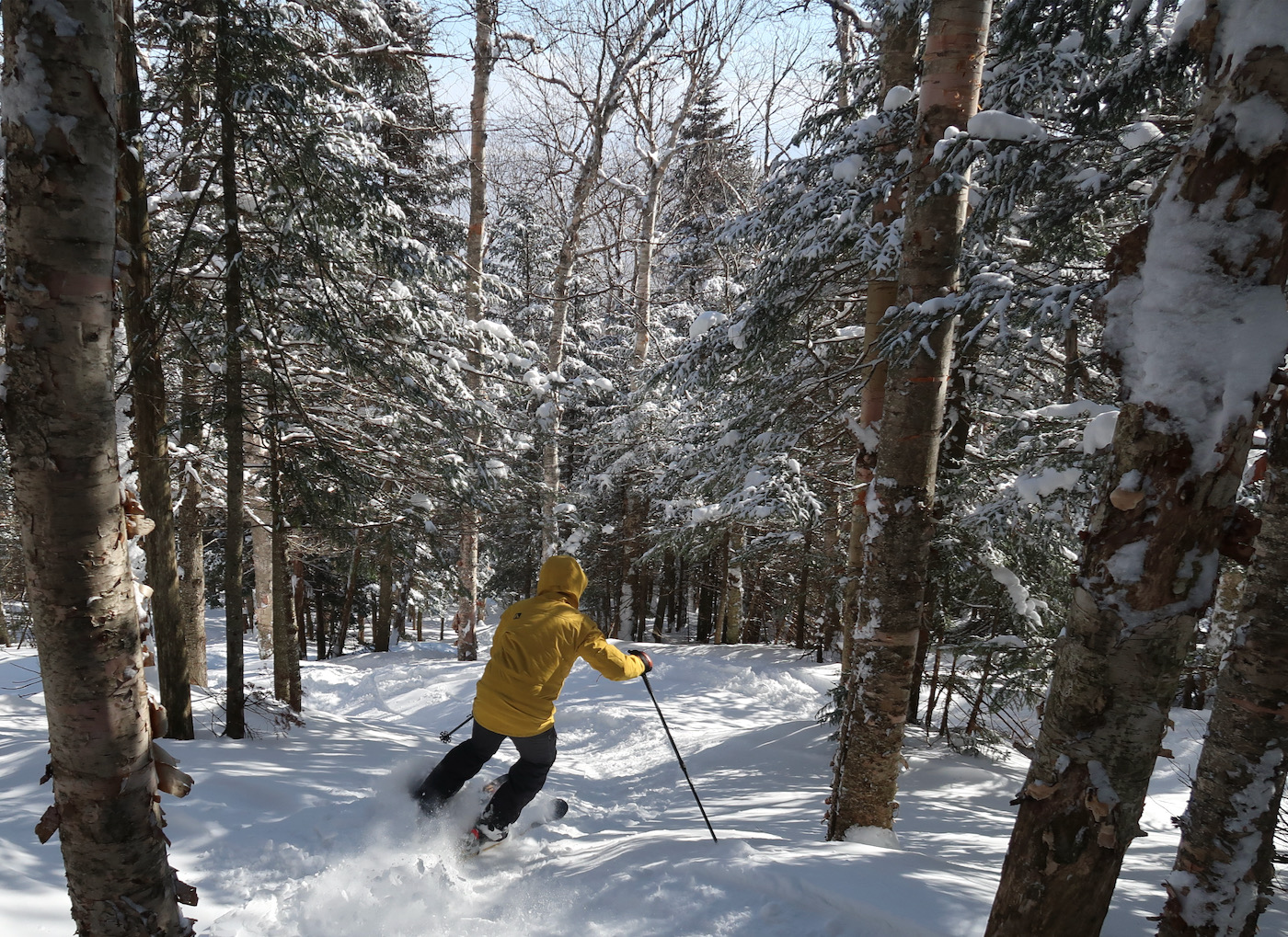 The last time I'd seen Steve was in 2011 when we'd shared a meal at the opening of Alice's Table. Obviously a lot has changed since that time when he was the VP of Marketing. The last decade, and especially the last two years, have presented challenges that have dictated change at Jay. Some of these changes are clear improvements that will remain into the future. This year is looking like a banner year, even without visitors from Canada, so the future looks bright.
Of course the big question on everyone's mind is who will buy Jay Peak. The general feeling among Jay watchers seems to be that a deal is imminent, and nothing I learned in our conversation contradicts that feeling. I sensed that Steve would like to get it done too.  All those years ago, he committed to the bank receivership that owns Jay, that he'd stay until it was a done deal, and possibly beyond.  He's done everything he can to assure the future of Jay Peak and wants to see it through.
I'm very interested in the culture at Jay; in my opinion there is nothing quite like it at a big mountain in the Northeast. When Steve took over the top job, he nurtured the culture of Jay. The brand is outspoken and honest, just like Steve. He respects his employees and the community of the Northeast Kingdom, and he acts on that respect. At the same time, he's running a resort with numbers that are interesting to potential investors. With a little bit of luck Steve will be leading Jay forward for years to come.
---
NYSkiBlog is joining with The Indy Pass to bring exposure to independent mountains.
This piece is part of our effort. For more information visit the Indy Pass.
---