I first ran into Steve Wright in cyberspace on the First Tracks Online eastern forum a few years ago. As Jay Peak's Vice-President of Sales and Marketing, he occasionally popped into discussions to add a comment or two. But instead of coming off as a ski-resort salesman — there only to perform damage control or to publicize something — Steve took us behind the curtain to explain how and why things happen at ski-area marketing departments, both at Jay Peak and industry-wide.
As Jay transforms itself from a no-frills mountain with the deepest lift-served snow east of the Rockies into one with a fair amount of destination resort accoutrements, we thought that it'd be interesting to hear his thoughts on a variety of marketing-related topics.
Your first ski-area marketing job was at Killington. What was it like?
As you can imagine, there was a very heavy corporate hand, and I don't necessarily mean that in a negative way. During its halcyon period, there were a lot of good things happening, including the K1 gondola and other big investments. There was always a ton of energy down there, but not much flexibility to communicate what we wanted.
How did you end up at Jay Peak?
By 1996, I had met my future wife, who was working in the special events department at Killington. She grew up in the Poconos right next to, go figure, future Jay Peak owner Bill Stenger who was running Jack Frost ski area. Their families were close friends, and Bill and I would occasionally run into each other. He'd always bust my chops and say, "What are you doing at Killington? You should come work at Jay Peak! We're doing this and this and this!"
Coincidentally, around 2004, it really started feeling like the wave at Killington had crested — positions were getting cut, development had stopped, etc. Jay Peak clearly aligned better with my sensibilities and what I valued, but the thing that sealed the deal for me was the flexibility that Bill offered. He said, "Every week, I've got 900 things to do, including raising funds for the resort, so here are the marketing keys, have a nice day!" I spent a year figuring out my opinion of what the brand was, and to his credit, Bill gave me a lot of leeway to add my voice to it. We're now at the point where he's confident in the brand, so he lets me run with it, which frees him up to do other things.
The main difference for me at Jay is that, in my position as Vice-President of Sales and Marketing, I'm driving a lot of the decisions about what happens here. When we add or take away something that feels disingenuous about what we are or what we say we are, I can raise my hand and talk with Bill about it, because he's a marketer. There are not many resort operators — at least none that I know of — whose pedigree is in sales and marketing. They're usually from finance or operations. What we have here adds a whole other layer of nuance to the way the resort gets run. It's not "uh oh, our labor/sales ratio is two points off where it should be." Here, it's Bill and I saying "it feels like we have the right amount of people, and the feedback has been great, and we're going to stick with it." It's a big deal to have a marketing guy own the resort.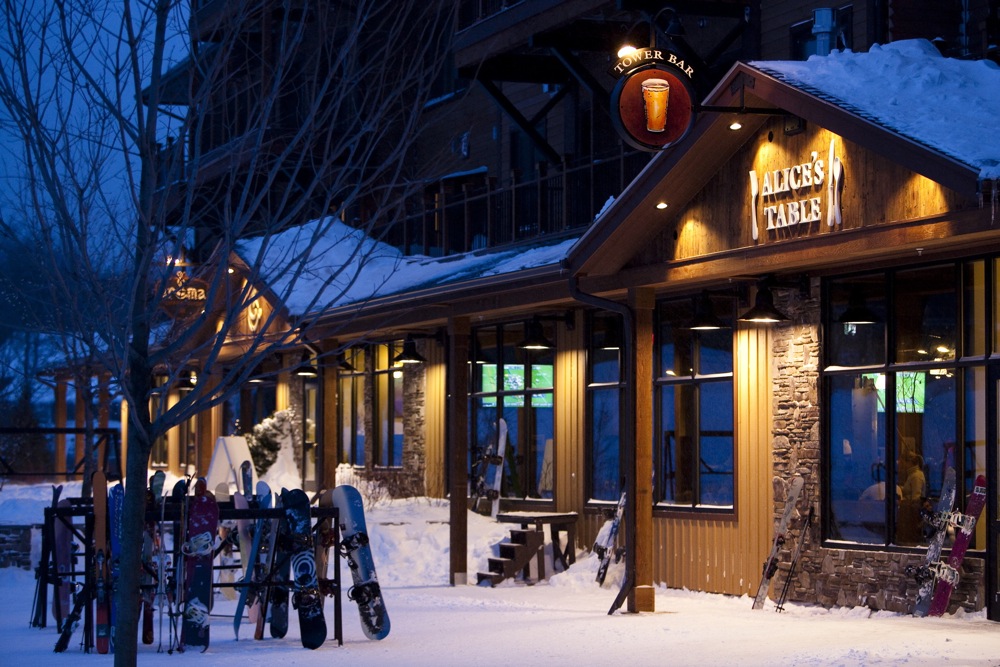 How does a ski resort that's driven by marketing differ from one led by operations?
In my opinion, mountains that operate at a fundamental level from a marketing/sales sensibility tend to value intuition more. Operations-focused resorts rely more on metrics and analytics, which is just fine most of the time. One example: from an intuitive perspective, it makes sense (if it's part of your brand coding) to run as long as you can at the end of the season — strip things down, make yourself lean, price and package yourself intelligently and get as much PR as you can from every channel you're on. From an operations perspective, and looking at it through a very linear filter, there appears to be a very narrow slice of short-term profitability when you run past the middle of April, so most mountains shy away from it. Based on the GM (is it an ex-operations, finance, or marketing person?), you're likely to get a very different perspective on whether to run late in the season. Obviously, this is just one example, but that's the gist of my opinion.
What do you try to learn from skiers on the internet?
When I go online, first and foremost, I'm interested in hearing about what people are saying about skiing in general. Secondly, I'd like to find out if they have any interesting opinions about Jay Peak. Most of the time, I'll just lurk, but if there's a conversation about something to which I might be able to add something helpful, I'll jump in. I honestly think that many people on ski forums know as much or more about the ski business than many of us who work in it. My own BS meter goes off if I say something that's not genuine. That may be why I find it easy to participate in forums, because the Jay Peak brand is, for me, very authentic and unmanufactured. It's easy when you're working for a company whose voice aligns with your own.
Given the mistrust some skiers have about snow totals published by ski resorts, when you hired a person to write snow reports for your website, how did you communicate that role to him?
We told him to tell the truth. It's true that marketers are supposed to get people to the mountain, but if you believe that "the most powerful element in marketing is the truth" (a great quote by William Bernbach), you close the loop pretty tightly on that thought without having to say too much more.
A few years ago, you held sessions to gauge customer sentiment about where Jay was headed. What did you learn?
They didn't want the ski experience to change significantly. They wanted us to improve some of the architecture and source what we could locally, both materials and labor.
Did they ask when the long-planned terrain expansion into West Bowl might get underway?
Yes, and I still can't give a solid date. That may be the most difficult part of our expansion plans to get approved. You'll definitely see the Stateside base area redone before we get to West Bowl. We have an interesting contest idea for that. We're going to go out to the local community and say, "send us your renderings of how you want the Stateside lodge to look." It can be anything from a cocktail napkin to fully vetted architectural plans. Whoever wins this contest will get a job on our design board to ensure that the plans reflect the winner's design.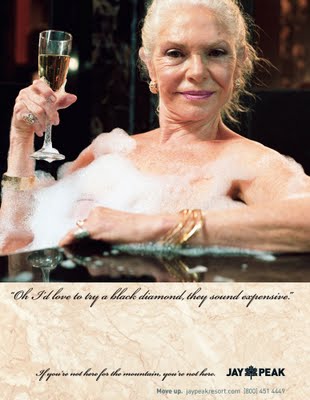 A few years ago, your ads poked fun at things that run counter to Jay: film festivals, luxury accommodations, valet parking, etc.
The genesis of all of this was to talk about things in a way that people pay attention to. It seems like every ski-area marketing campaign uses variations of the same themes and images — you know, kids smiling with their parents, that sort of thing. We felt that our brand was different enough that we could get away with talking about it directly and showing things in a unique way.
Jay messaging used to always be "it's all about the snow," and snow is and will continue to be a big drawing card, but in our estimation, we feel that the Jay Peak experience is about a lot more than snow. It's what the Golden Eagle used to be, or the feeling you get when you hear people speaking French in the lift lines, or the type of things you find on the menu at a restaurant here. Besides getting a lot of snow, there are certain things you can't quickly put a thumb on and we were undervaluing them. In my opinion, we undersold what this place really was about. So what we were trying to do initially is communicate the many different aspects of Jay Peak, which is tough to do.
Were you concerned about transforming into a full-fledged resort — exactly what you were goofing on a few years ago?
No, not at all. Two years ago, we were still playing off this clash between "us" and "them," and while we have taken on some of "their" aspects, even when we bring all these new things into Jay, it actually gives us a sturdier platform to talk about the skiing. We can say we're amplifying the fringe of the experience by bringing in these non-skiing elements, but the heart of Jay Peak is the skiing and riding, and those are the things that we continue to value."
Historically, there's always been a concern that there isn't enough to do here besides skiing, and that has obviously driven some of our development plans. We can now leverage these new offerings from a business perspective to add lifts, buy new grooming equipment, reinforce our snowmaking, or build Nordic trails to strengthen the message that we care about the ski experience.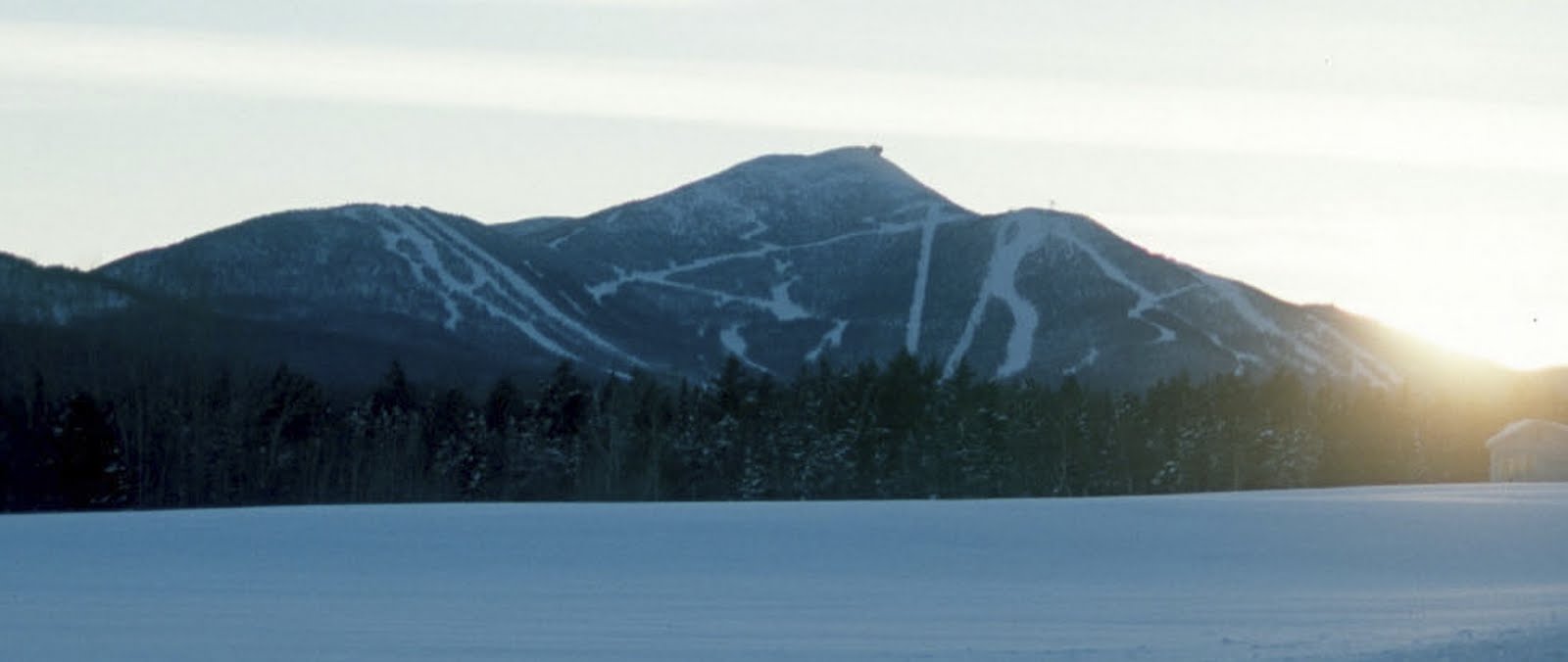 What does the "Raise 'Em Jay" tagline mean to you?
"Raise 'Em Jay" or "Raised Jay" means that you assign value differently — at least that's what it means to me. As a result of that difference, you're willing to drive the extra mile, go without certain things in order to save for something else, walk a different road, that sort of thing. In short, you can recognize how different the Jay Peak experience is. Being Raised Jay is as much about having your values, sensibilities, likes and dislikes aligned in a familiar way as it is loving our area. Additionally, what we're trying to convey is that the people who value the Jay experience tend to have aligned sensibilities as well. That's when the message becomes powerful – when the Jay Peak experience actually becomes bigger than just golf, waterparking, skating, and skiing.  I know it starts to feel a little deep-endish here, but I really feel that there's something powerful to all of it.
Now that you're trying to position Jay so it isn't exclusively "all about the snow," how would you encapsulate Jay's current brand message?
A ski area that respects its roots, even as those roots expand, stretch, and deepen.