There have been some drives, and there have been some drives from hell. Aside from the occasional bout with lake effect bands on my way into the Tug, most of those battles involve big coastal storms. Sometimes in the east, when it snows in the mountains, it snows in the flatlands too. Sometimes, I have to drive through it.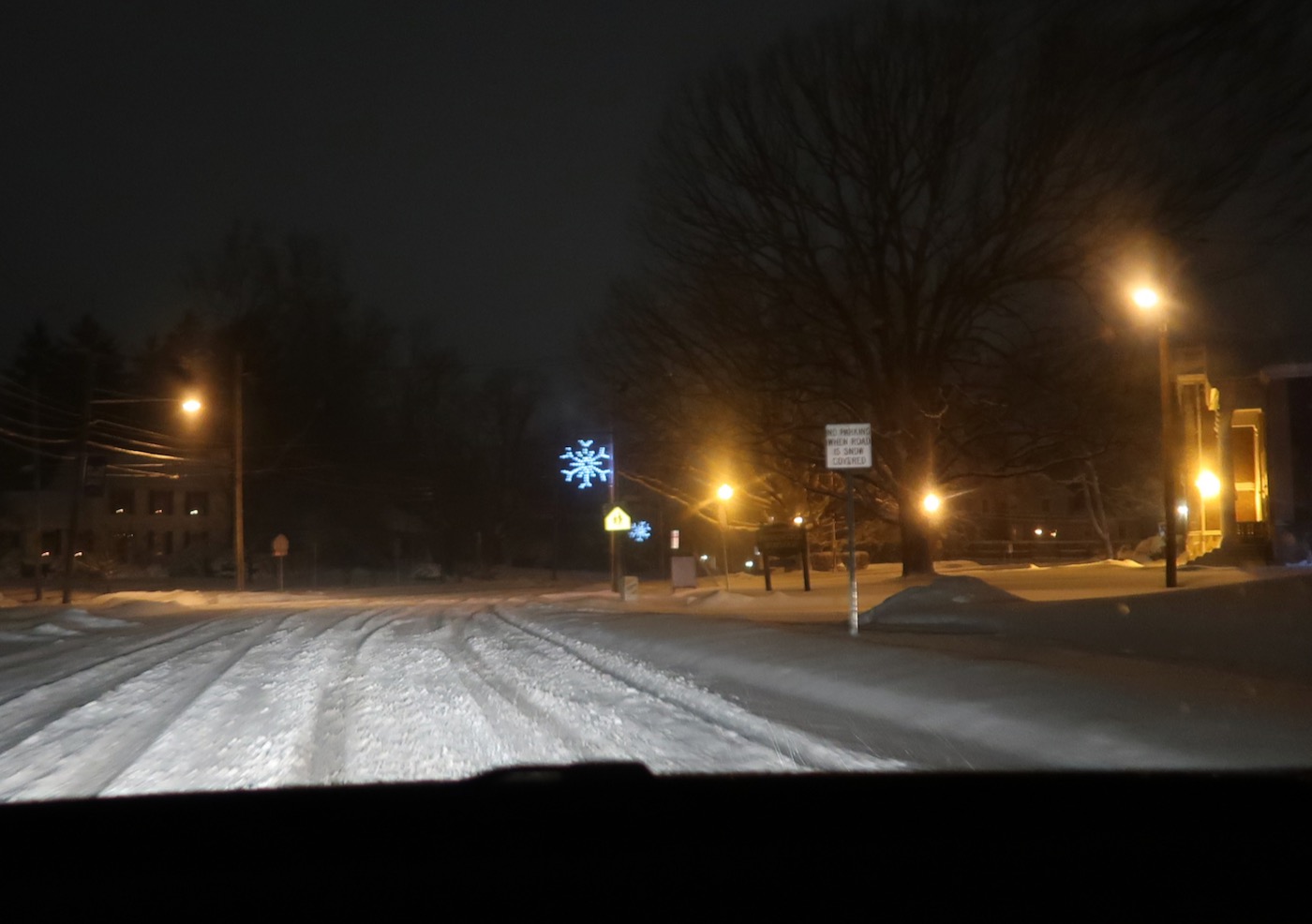 The new normal can complicate things. It's always better to arrive in the mountains before the snow starts to fall. It's often much easier to do that when you stay overnight.
We have a place in the southern Adirondacks and I have used it to my advantage. But in the Catskills this year, I've had to improvise. A few times in the past I've been able find a place to stay and it's paid off.
My most recent drive, up to Plattekill's first Powder Daize of the season, as a round trip, is a contender for my toughest drive of all time. In the long run, I hope the deep powder from the day will be the dominant memory.  At this moment, I need to tell the whole story.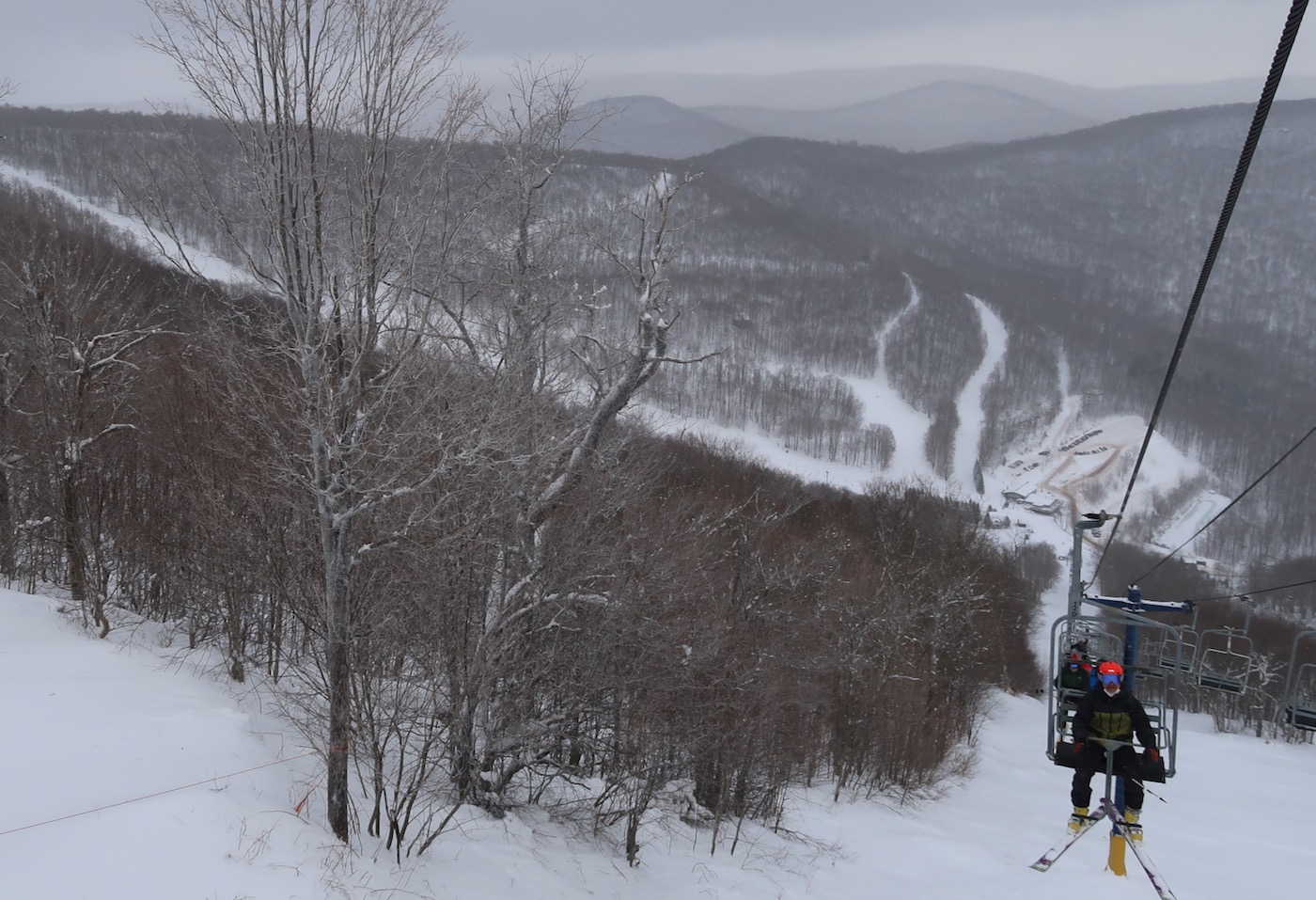 I set my new Nor'easter alarm for 2:45 am, a full hour earlier than my normal Plattekill alarm. One thing I've learned is that you can handle a lot more lot incoming, if you are early, and take your time. I was on the road by 3:30 with a lunch, a bottle of water and a full tank of gas.
I did something I always do, which was fill up again at the last cheap and convenient gas before getting on I-287. It's an old habit from the days when gas in NJ was 35 cents cheaper than NY. That decision turned out to be a good one.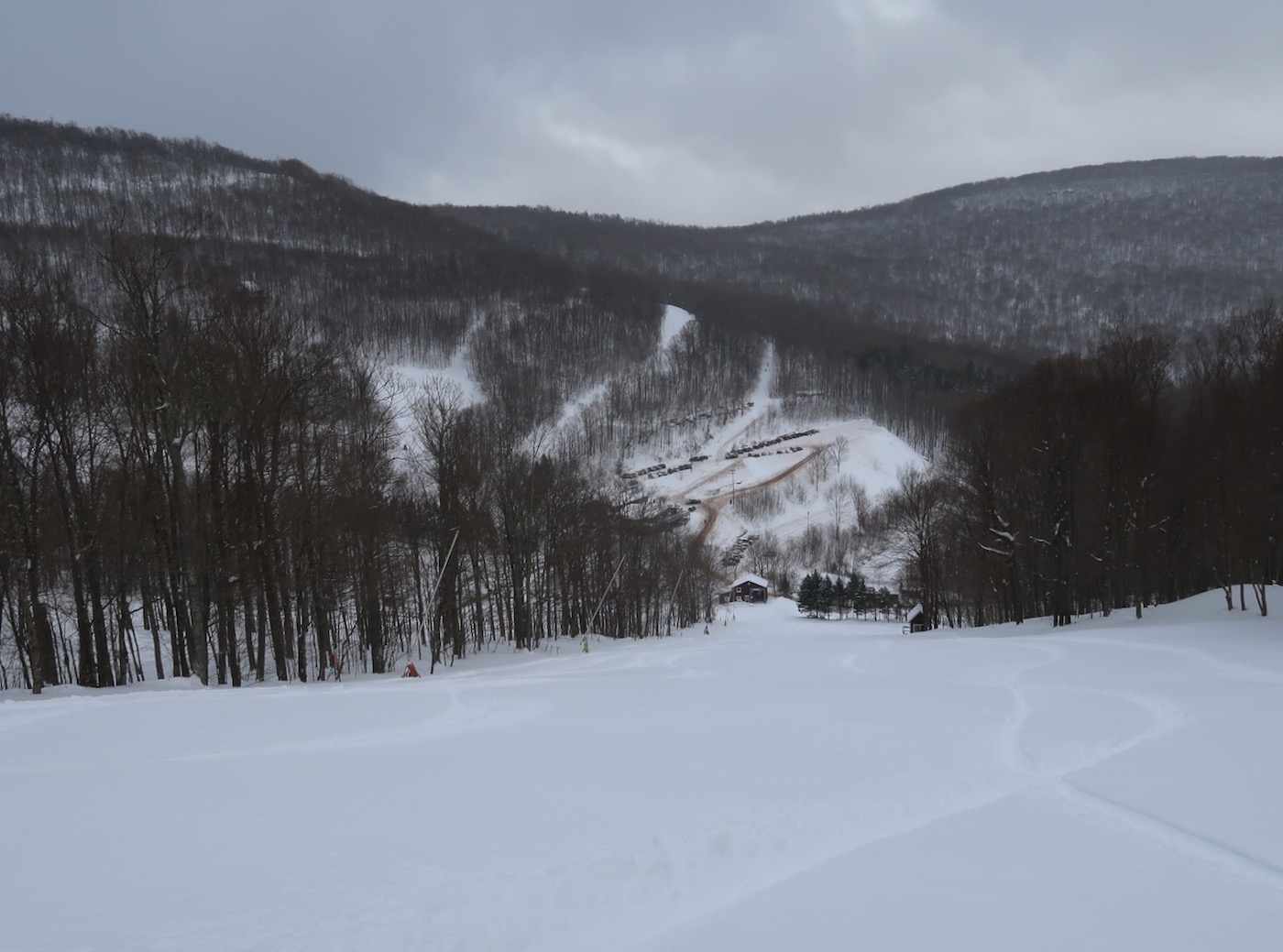 At the start, the drive was difficult. Surfaces varied from clean, to somewhat clean, to very snowy. Once I got into New York things were much better. After that, the speed limit was a reasonable speed to travel. I got to the mountain right "on time." The skiers I knew were arriving 30 minutes before first chair. First in line? We were the line.
We skied Northface first. The top was windblown and the bottom was a dream. Scott pushed for trees: "the snow will be consistent from top-to-bottom." Turned out there was a lot of truth in that, with some caveats. We learned quickly, the farther we went to skier's right, the better the skiing.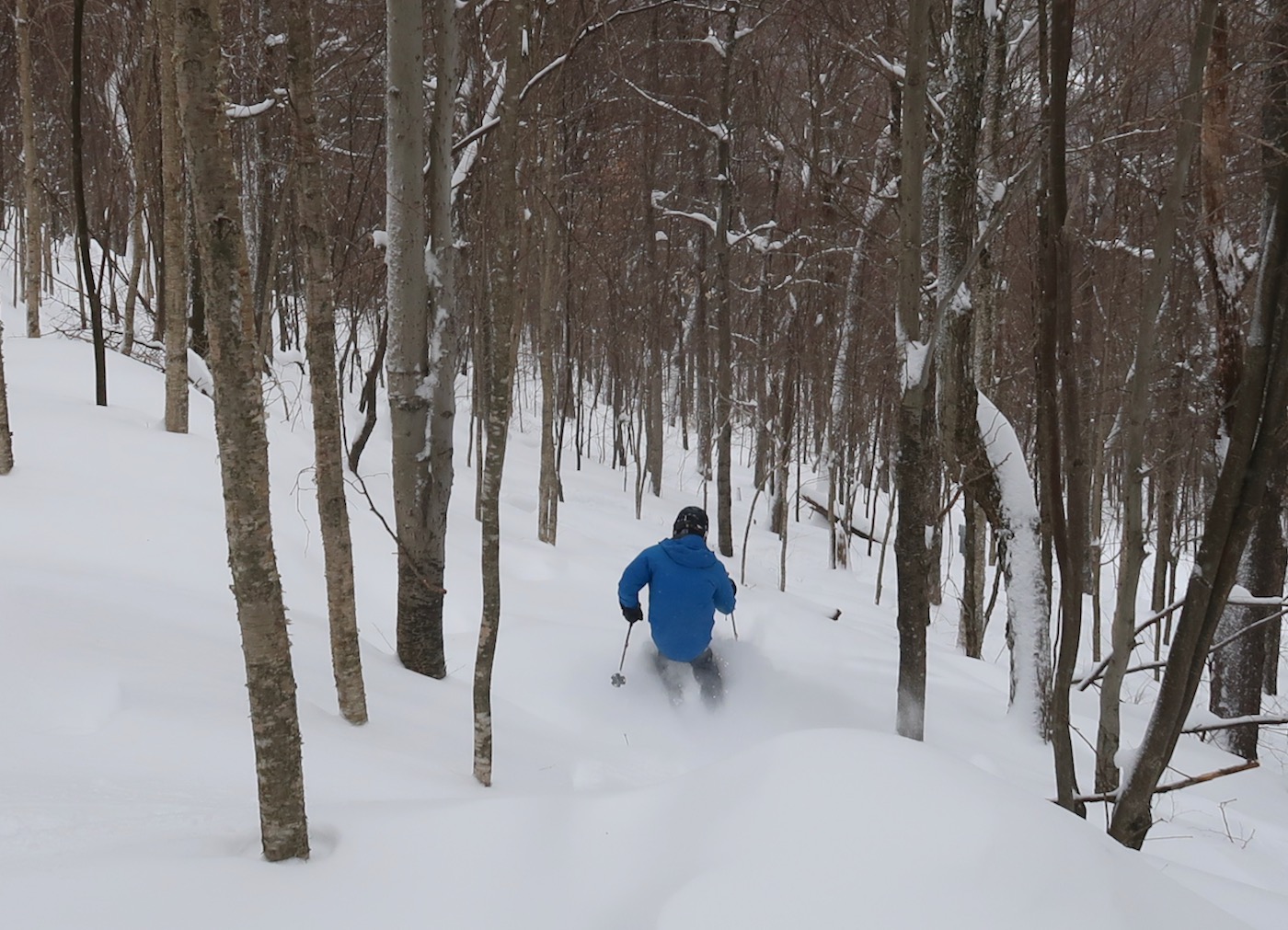 I kept pushing for low angle trees. All I want to do is float, and not hit a tree. One of my best runs of the day was my second run, a floaty affair way out to the right in a lower angle zone. I was alone and wished I had someone there to woohoo! with.
Our group grew to six and then eight, unworkable in my experience. It was hard to stay together and we soon broke into two groups. I find that when you don't ride lifts together, it's harder to plan strategy, stick to it and stick together. Scott, Marcski, Chris and me, it was all we could to keep four of us together.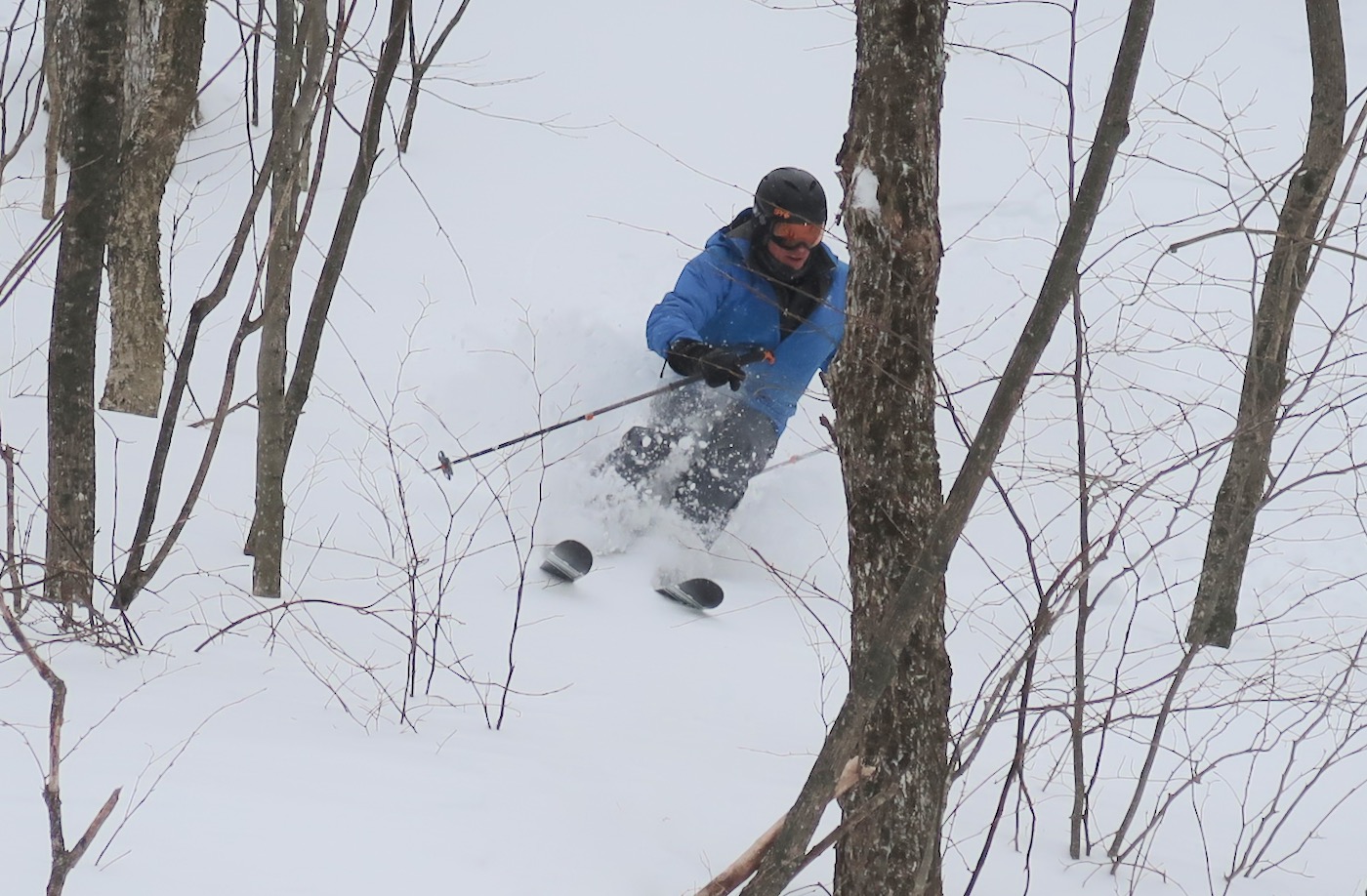 We found untracked on the double side, and it was deep. I'm not sure how this happened exactly, but at 11:30 it was just Scott and I, and he suggested we head to the parking lot to eat our lunch. It made sense to me. I'm now fully aware of how much harder it is to go all day, if you don't ever go inside. Skiing from opening to 2:30 with an outdoor break for lunch, feels like a good days work to me.
After lunch, we were headed to the lifts and I brought up the trees off Powderpuff. I'd heard some tell, and I was following up. Scott thought it was a reasonable idea and we went up the triple. It felt odd riding the triple on a pow day, but there we were.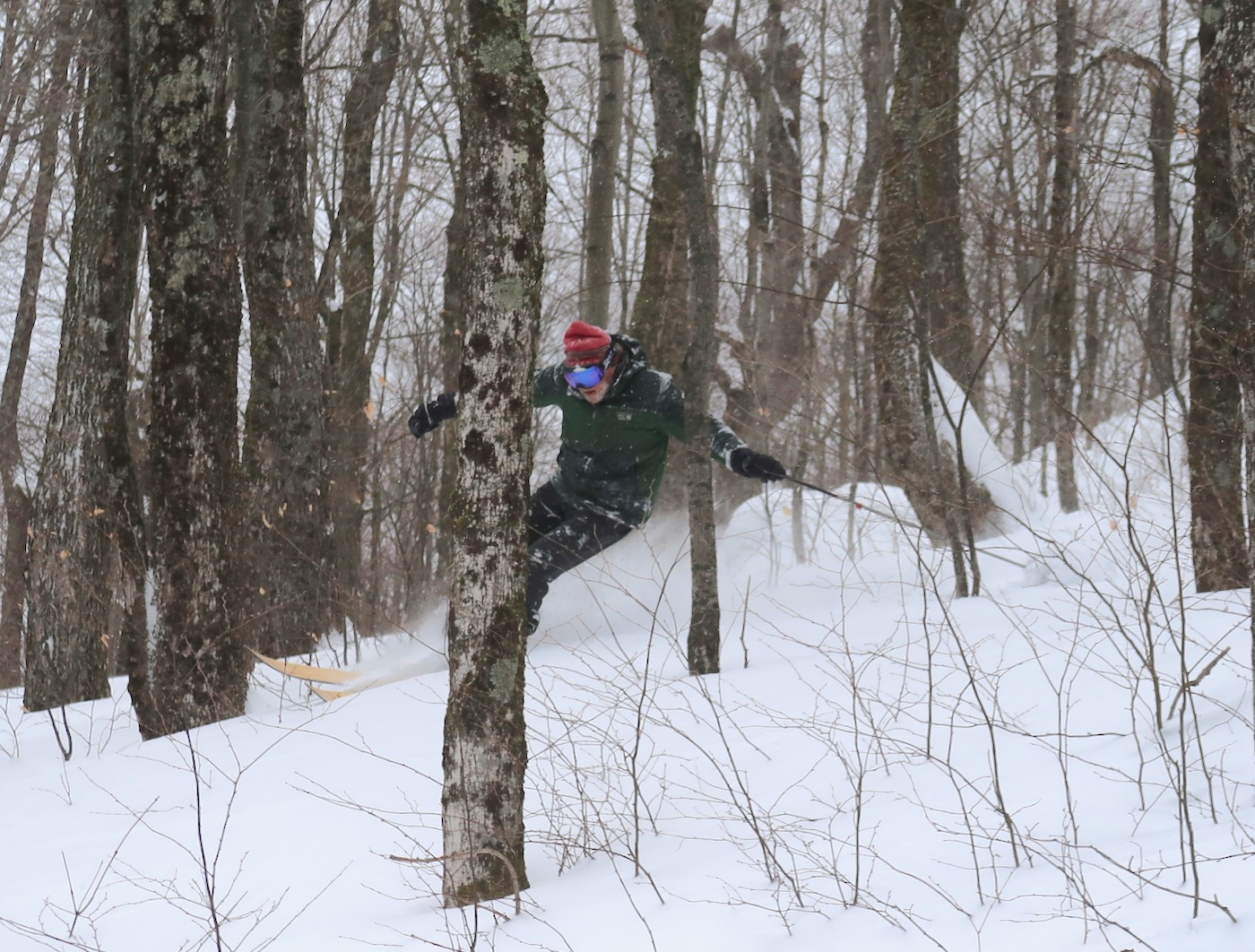 Regarding the trees on the triple side, I have a confession: while NYSkiBlog organizes the annual tree skiing work day, all I really do is promote (the hell out of) it. I have not lopped a single branch in all these years, and I have counted on the kindness of strangers to show me the goods when it snows.
I was unaware that we had done any work on that side. Conventional wisdom says don't spend the effort to clear terrain that gets a lot of sun. Well, somebody did clear it and in a weather pattern like this one, it paid off bigtime. There a many, many lines on that side of the mountain.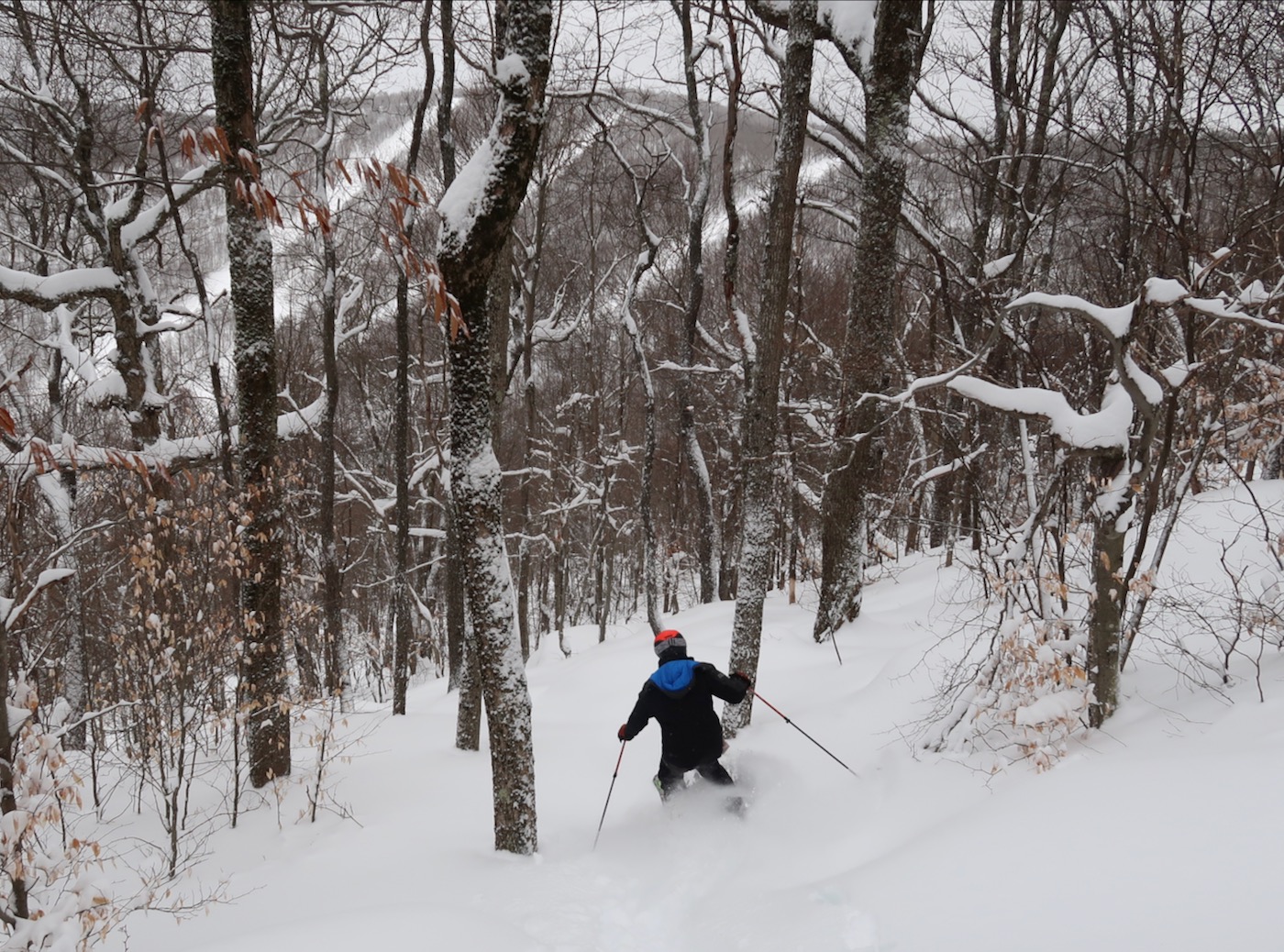 This was the land of nirvana for Scott and I from 12:15 until we quit at 2:30. I believe the day was in my top 4 or 5 for total untracked snow skied. In the trees the snow was so deep, and so consistent, that you could really have fun with it.
When we were exhausted, we called it. We shared our stoke out in the parking lot as we took off our boots. Then we headed back out on the road. I hope I never get used to the way we now come and go, without a proper celebration.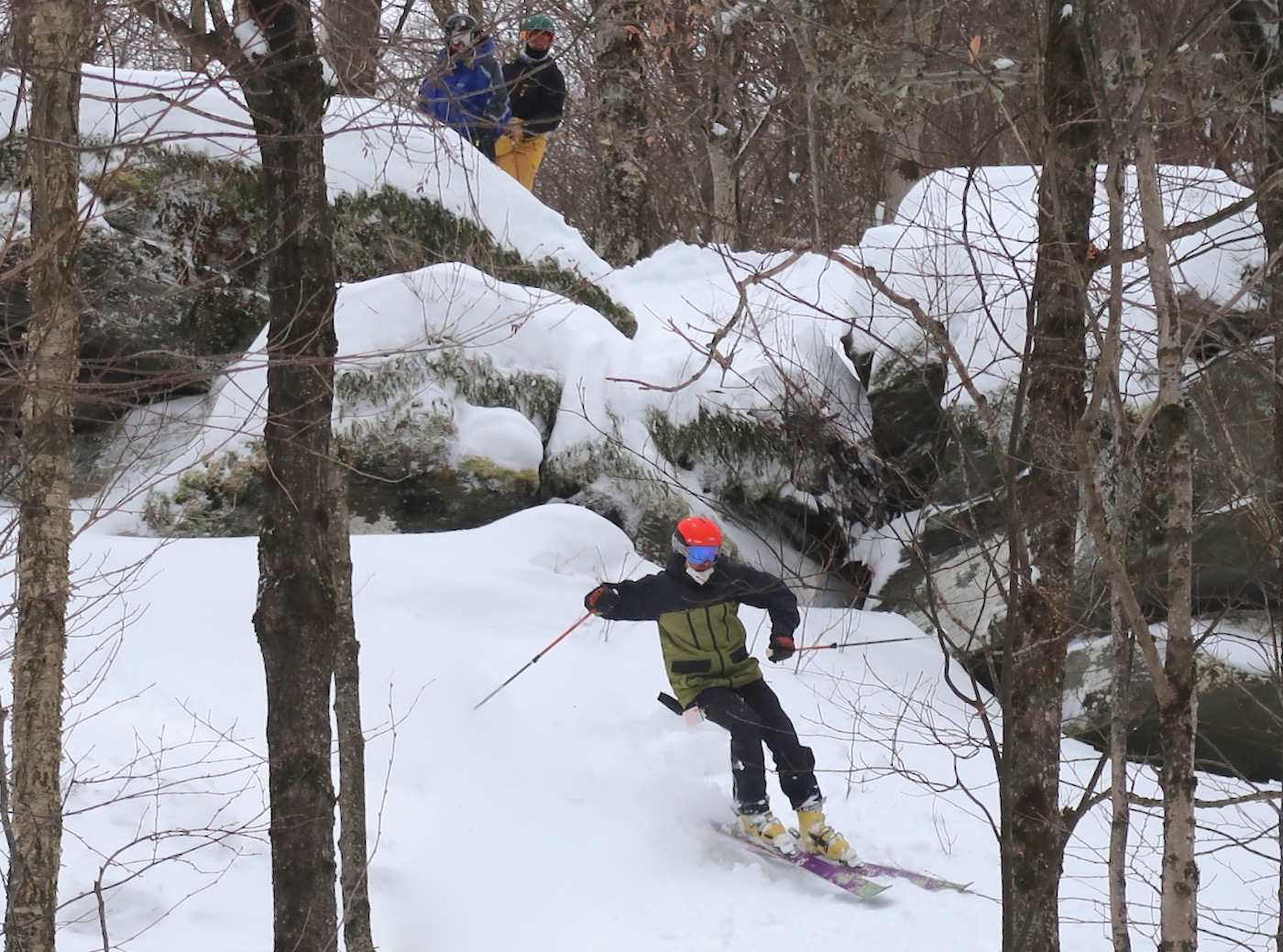 On my trip back, the drive in New York was very relaxed. When I got farther south things started to get weird. On 287, about 40 miles from home, a plow in the center southbound lanes, drops his blade right up against the divider and sprays a huge layer of semi-crushed ice and god knows what else onto all three lanes in front of me. This is when the excitement began.
---
Epilogue
All the cars around me started to slide, and for a moment, I was pretty sure some big shit was about to go down. I got a bit sideways, but was able to straighten it out. Others did too. I think after the initial shock of what happened, the drivers were able to control it.
I drove into the shoulder — out of the reach of the spraying ice — and then pressed the accelerator to the floor to get ahead of the plow. Elevated heart rate, but all good, I went on my way.
A few miles down the road a loud noise developed underneath the car. I hoped it was my muffler. I backed off the speed a bit, down to 45 mph, with flashers, and hoped for the best. It was dark and there was no place to stop. I drove a long way to the next exit and pulled into a Quick Chek. I was almost out of gas and I pulled up to the pump. Then I got out to look underneath.
My entire left rear tire was gone, I'd been driving on the rim. Apparently driving lightly on it because somehow that rim is back in use on my car. It is beyond me that you can engineer a car to be drivable with only three tires. I am in awe of this.
In case there is any doubt, I'm sure the ice from the plow was a factor. It was likely jammed up in my wheel-wells and rubbing until something failed.
Maybe this piece should be a pure and exuberant tale of deep powder. But it's me here, Harv the blogger, and this is what I do. In hotel California "some dance to remember, some dance to forget." For me, it's a little of both.