I pointed it out before, the tail is now wagging the dog. My ski destination choices are now about more than proximity, snowfall and terrain.
There are now other questions to be addressed. Have I been to a ski area before or is it new to my list? When was the last time we featured the area on the front page? Can I find someone to ski with me?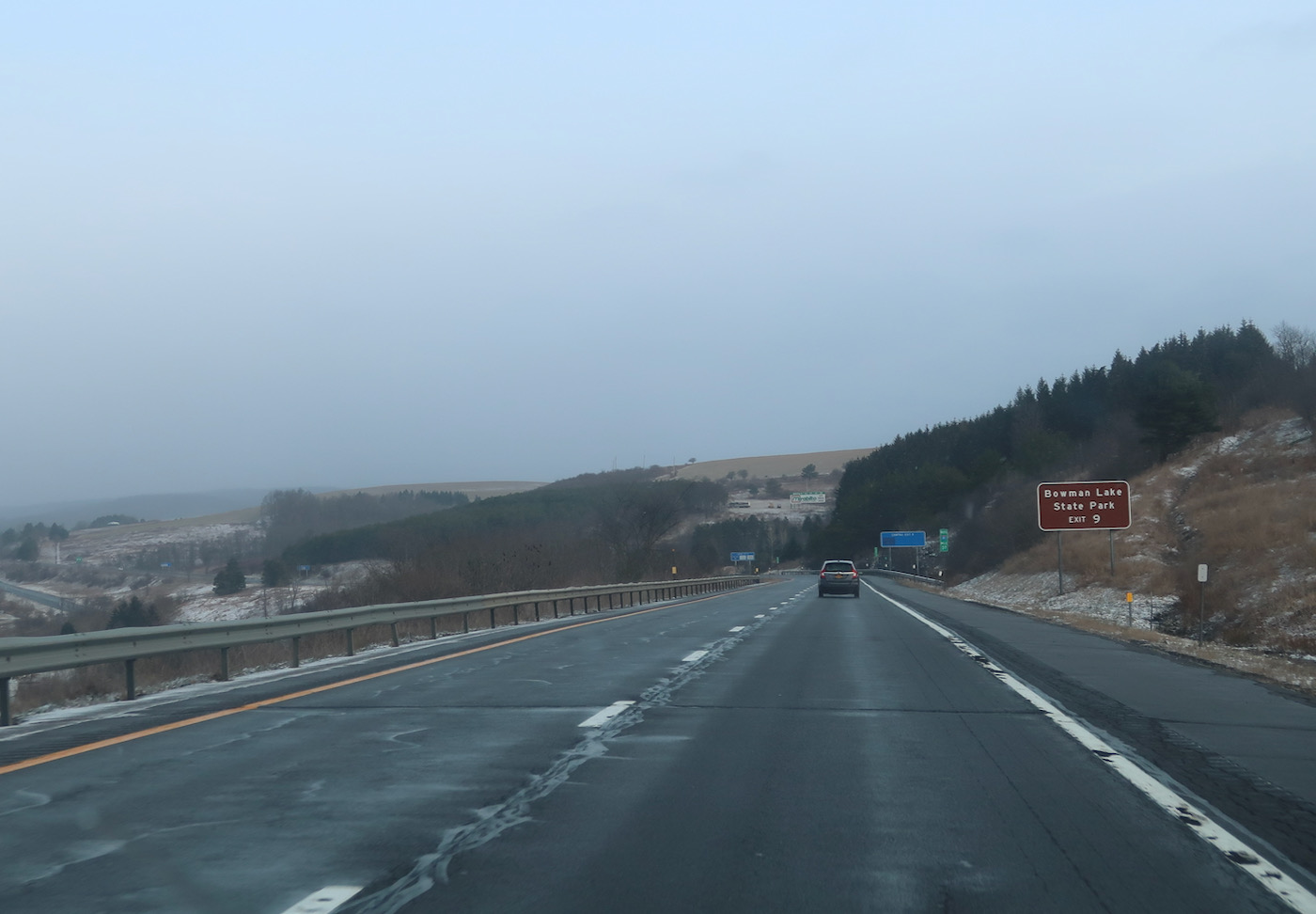 Editorially for us, New York ski areas are best, VT a close second. My goal every season is to ski new NY areas. Especially prized are ski areas in Central and Western NY. In New York, I've never skied west of Greek Peak and I want to do it.
Holiday Valley looked prime for Sunday, with a rare late-season Winter Storm Warning in place, all weekend long. It's an insane day trip for me, so when I couldn't find anyone to ski with me, I looked for an easier solution. I hadn't been to Greek since my first-ever trip two years ago, and I was pretty sure I'd find a ski partner.  Any chance for snow seemed remote.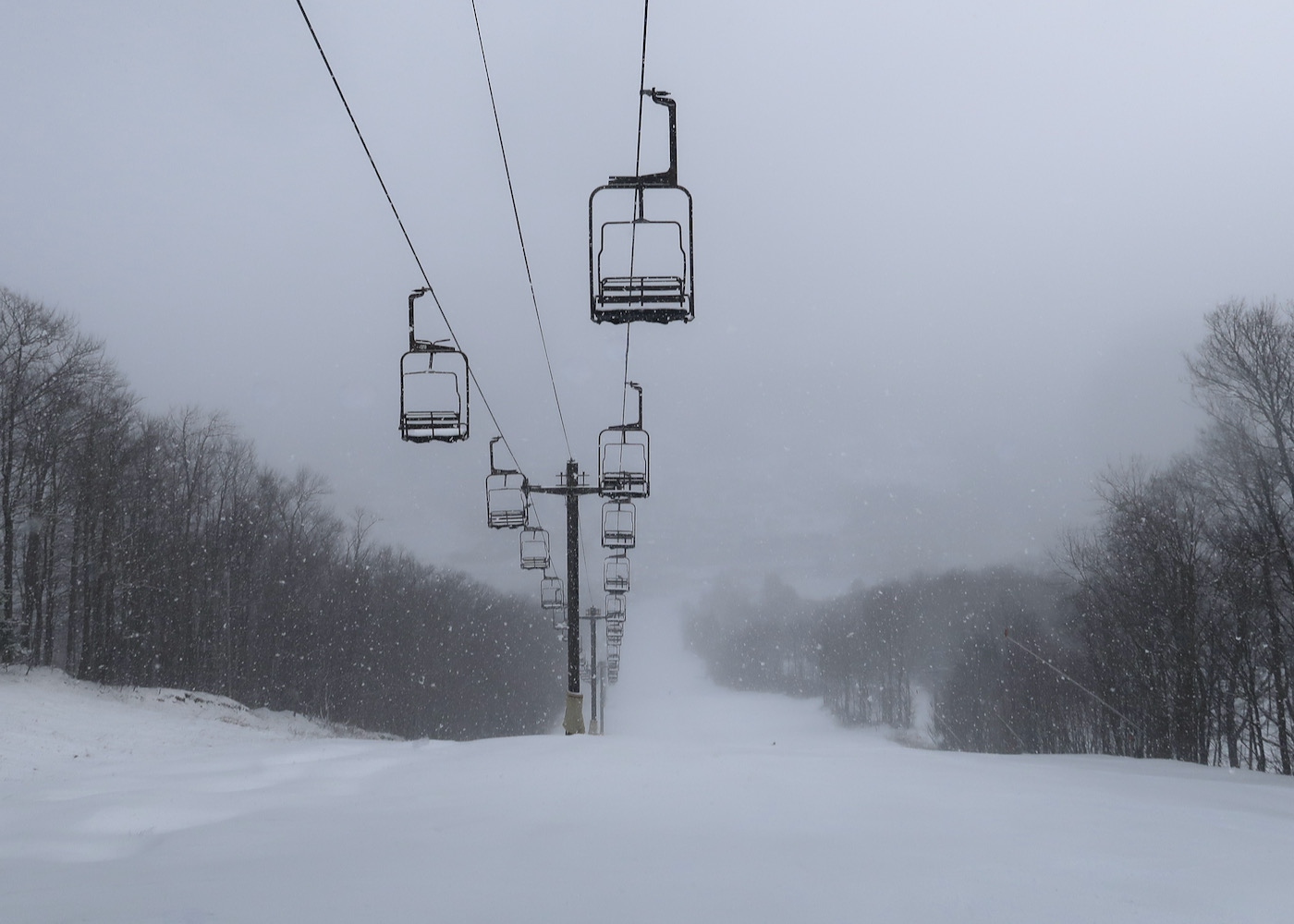 You can't really call Sunday a surprise powder day, when you're the only one who was surprised.  When I last looked at the NWS point forecasts on Friday, Song was looking at 6-to-8 inches while Greek Peak was forecast for 1-to-2. I've never skied Song, so that was the logical choice, editorially.  But I know a cast of characters at Greek, and I wanted to reconnect.
When you're talking about lake effect snow bands, 20 miles is probably a legit plus-or-minus error to apply to any forecast. Still, I wasn't counting on any new snow. I did, however, leave my options open. Before I closed my eyes Saturday night, I told Zelda "I'll be home around six, unless it is somehow epic, in which case it will be more like 9pm."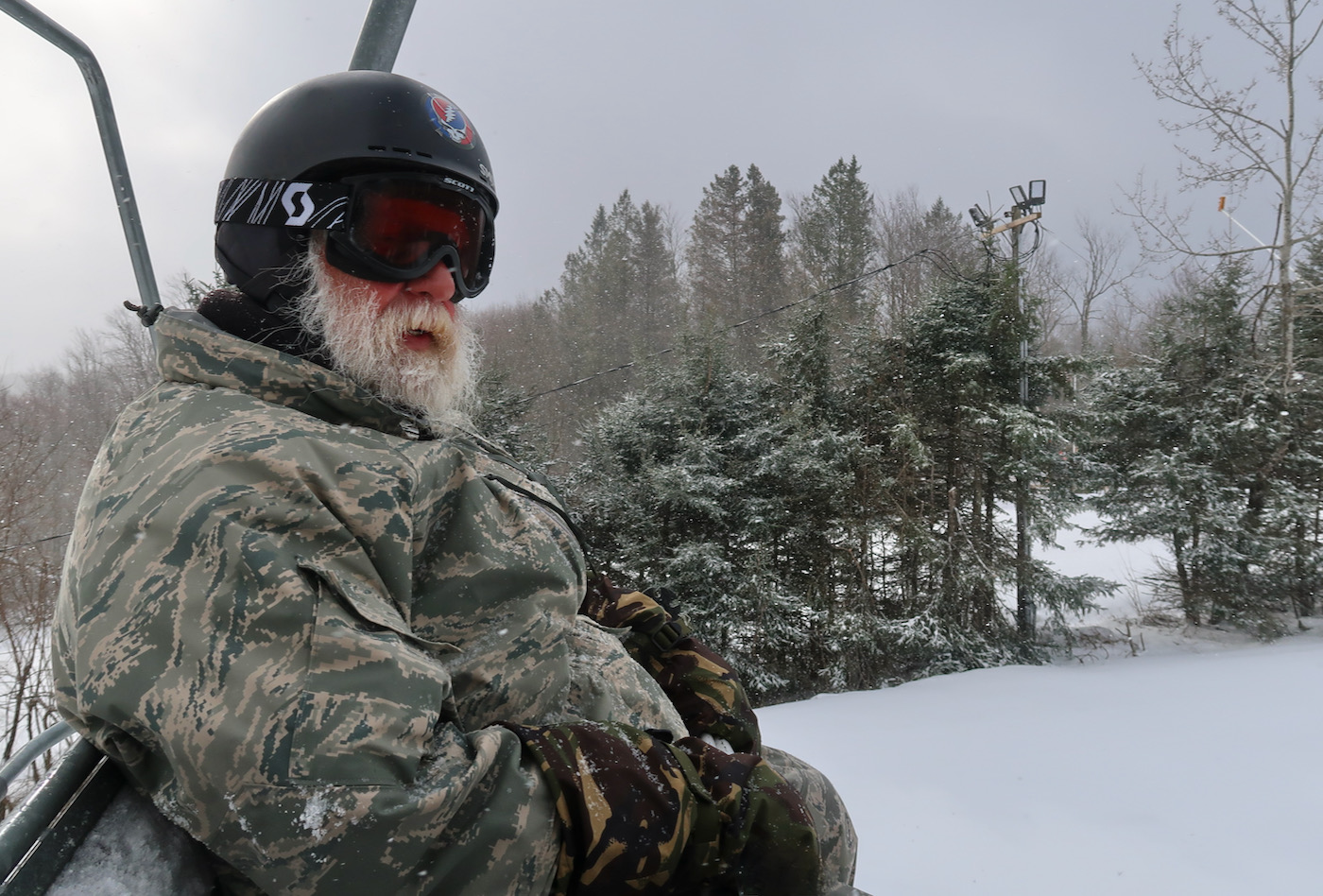 Greek is only 15 minutes farther from my house than Plattekill so I used my Plattekill 3:45am alarm. I wasn't excited about driving off into the dark when that alarm went off, but I did it anyway. Coffee and banana in hand, I headed north and west at 4:30.
The drive to Greek took me through Pennsylvania's aptly named Endless Mountains. The sun was coming up as I drove back into New York state. Paul Simon's America came on the radio and somehow it felt right for the moment. Those southern tier hills aren't spectacular but they are beautiful. Each time I return, they are more inspiring than I remembered.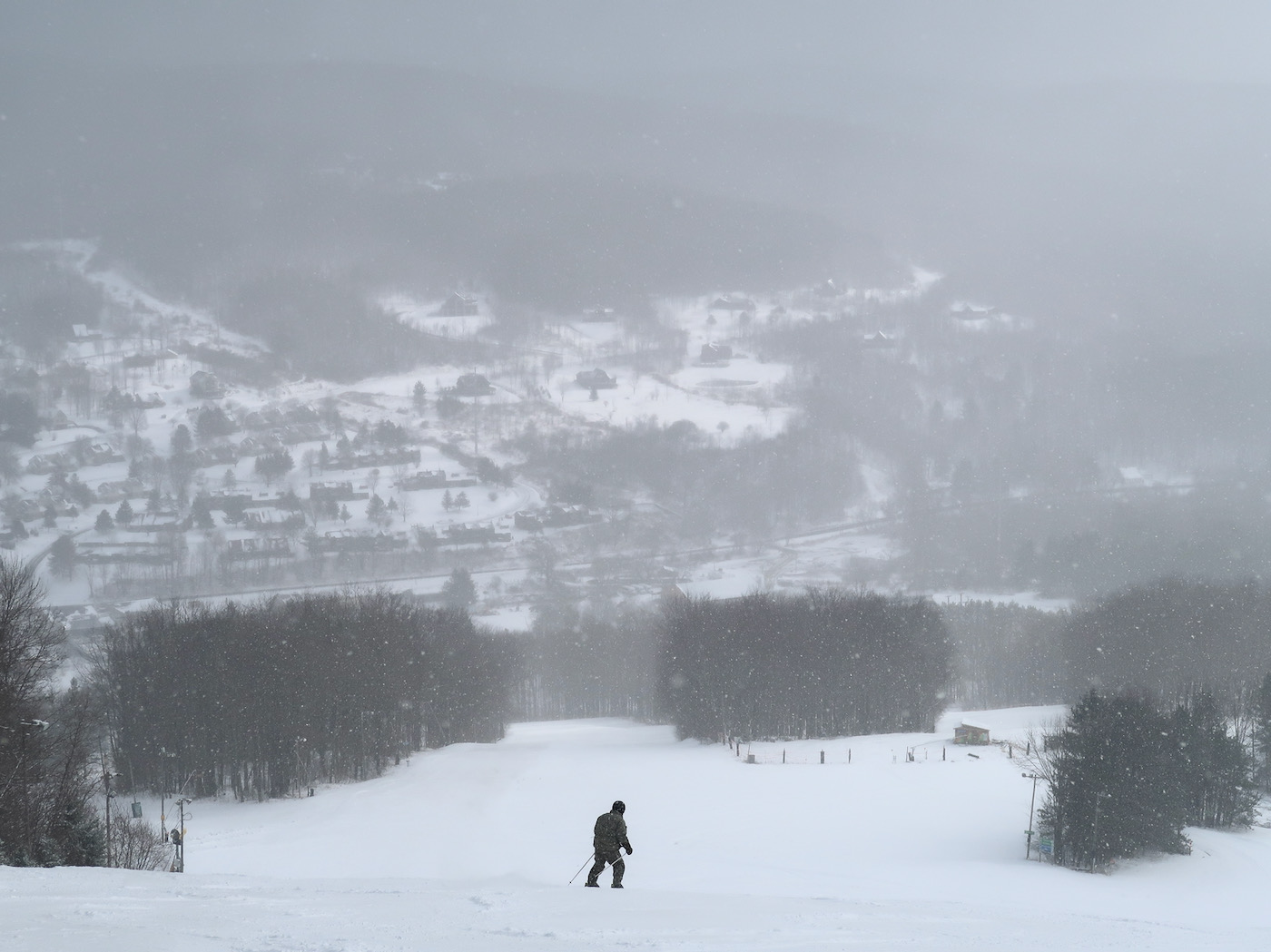 It snowed on an off in the endless mountains but stopped as I passed Binghamton.  Like most surviving old ski hills, Greek is in a snowy spot and it was snowing when I got there at 8am.  I parked right up front, maybe 50 steps from the spot where I got my lift ticket and put on my boots.
Everything was easy and I was first in line at 8:15. First chair was at 8:20, forty minutes earlier than the posted time.  I did a lap on my own, straight down the front underneath dormant Lift 1.  There was 4 inches on each chair, and maybe an inch or two, on top of some very firm cord below.  As I pulled up to the Visions Express again, I saw Camo John, and invited myself to share a lift ride with him.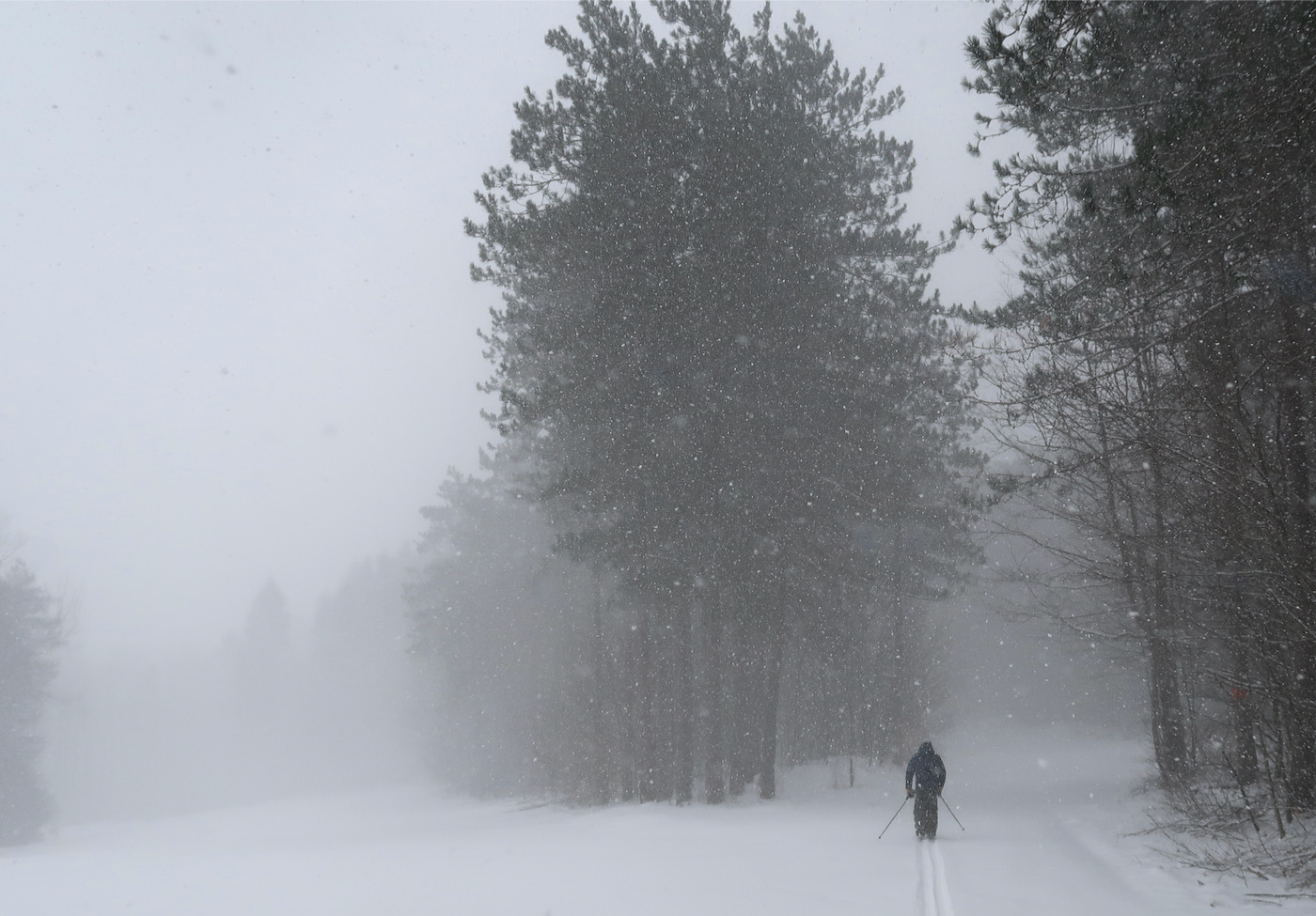 We skied everything on the front side, sticking to the edges to find a little more snow.
I had a special invitation to spend some time next to a woodstove in a sweet little cabin near the top of the hill.  Follow the ski tracks, they said.  My plan was to stop by after lunch. In the morning, I did a little exploring to see what I could see.
As I was poking around, StevieB Tele pulled up to say hello. It was a stroke of good luck as I had now somehow lost Camo John.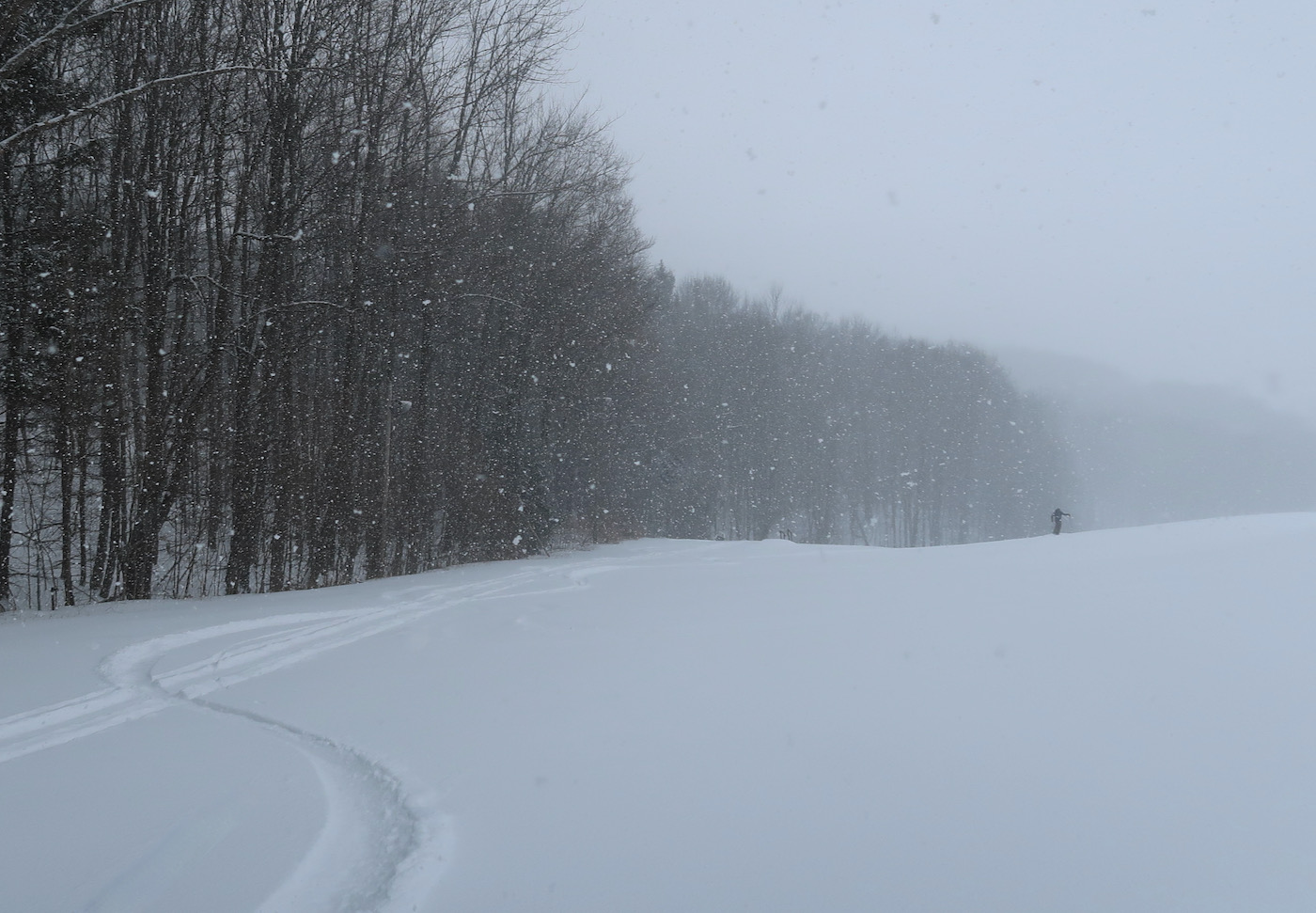 Across NY, last week's rain had taken natural trails down to bare ground, but most snowmaking trails had something remaining. From the lift it looked like Greek had made a lot of snow this season; the snowmaking trails had a solid base under the layer of new snow. Anything left ungroomed had all the new snow from the previous close on top, maybe 3 or 4 inches.
All we really wanted was enough pitch to keep moving, so we could float above the scratch.
We looked to skier's right to find low angle, blue and green terrain, and there was plenty to find. Considering how hard it was snowing, the wind was not too bad at all. Even Greek's widest trail were holding snow.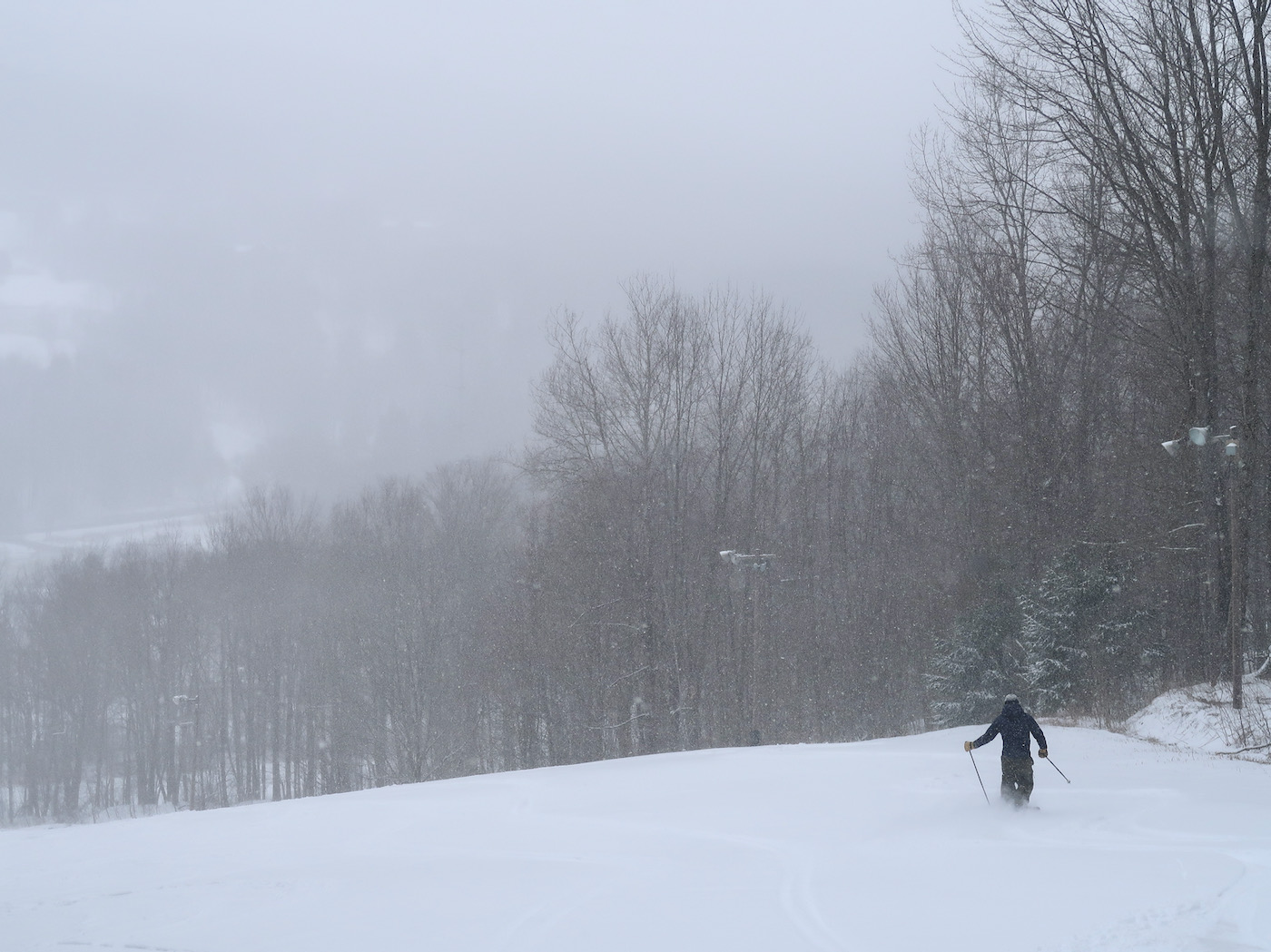 It continued to snow all morning. I was at the mountain for 9 hours on Sunday, and it snowed most of that time. There were at least a dozen intense blasts of snow as the lake effect bands wandered back and forth.
We were finding more powder than we could ski. Between the new snow falling, the wind filling in tracks, really low skier density and our expert pow farming technique we didn't have to work hard to ski untracked all morning long.  At one point we noticed it had gotten quiet as we were no longer scraping hardpack with our edges.
Steve had to jump at lunch time, so I pushed him for two more runs at 11:30. We saw WonderPony — a local equestrian and a reborn ski fanatic — coming off Lift 3. We convinced her to follow us for a run, and it paid off for all of us. Her shit-eating pow grin was contagious.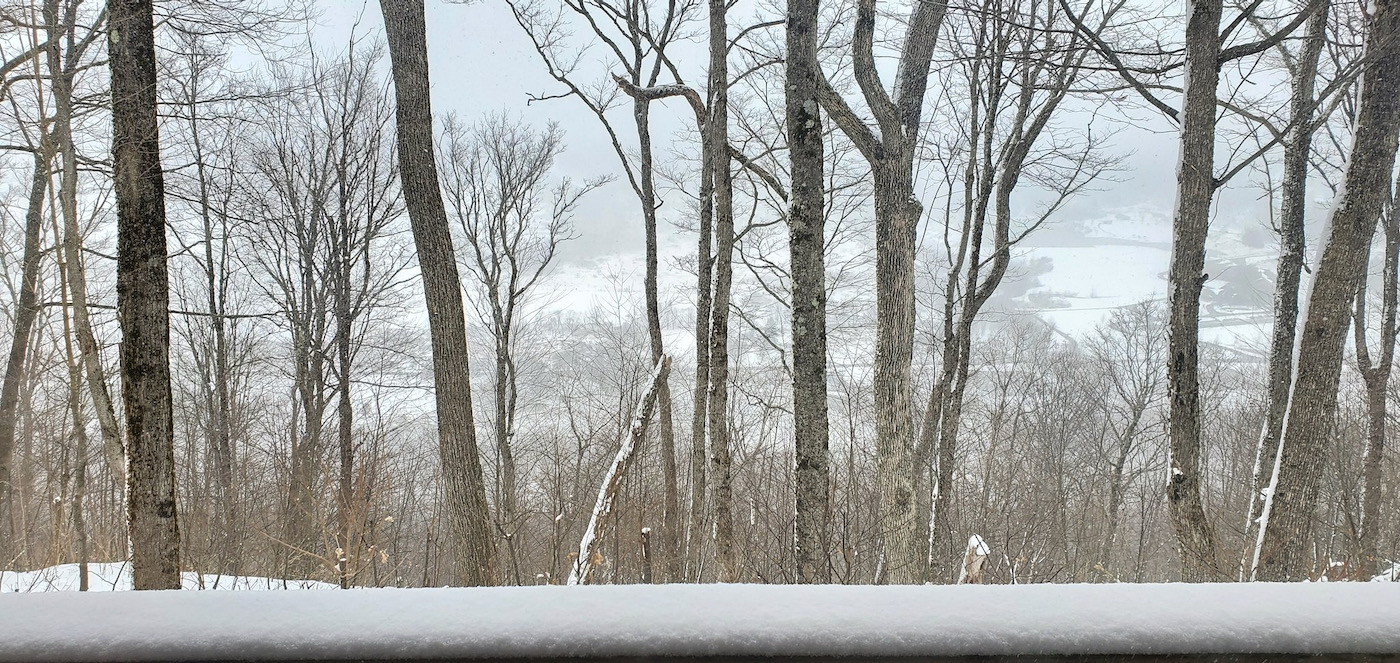 We'd found an efficient way to ski untracked snow, and we hammered it, over and over again, all morning long. As I was saying goodbye to Steve, the snow lightened up. It seemed like a good time for lunch. I was pretty sure my visit to the cabin would involve some frosty malt beverages, so I headed into Trax to put something in my stomach. The hostess recommended the burger and it was excellent.
Afterward I rode to the top, and found my way over to the cabin. The cabin is like infrastructure for a tight-knit club of Virgil Valley locals, skiers and riders. There was a large group inside laughing and telling stories when I arrived.  We made merry for the best part of an hour raising a glass, enjoying the views and trying to make each other laugh.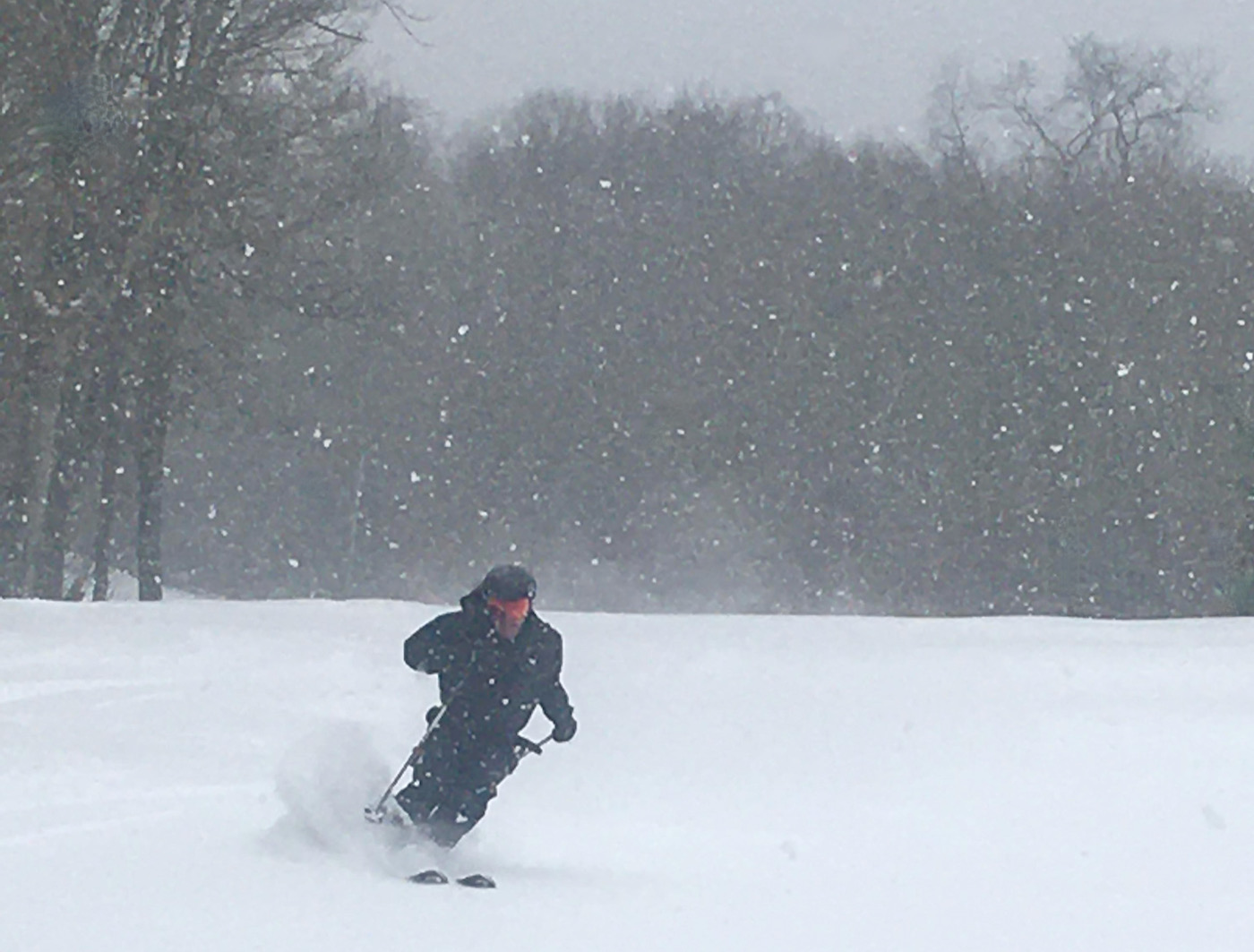 It started to snow again, hard, and my decision was made.  I was going to ski until the snow, or the lifts, stopped. A bunch of us dropped in and tried to stay together, and we did manage to do so for a few runs.  But I was on my own at the end of the day.
At 3:30, I thought I could fit in two more runs. By this time, I was the only one skiing that part of the mountain and every single time I came back, my tracks were filled in. There were plenty of lines, but even one line would have been enough to keep it going.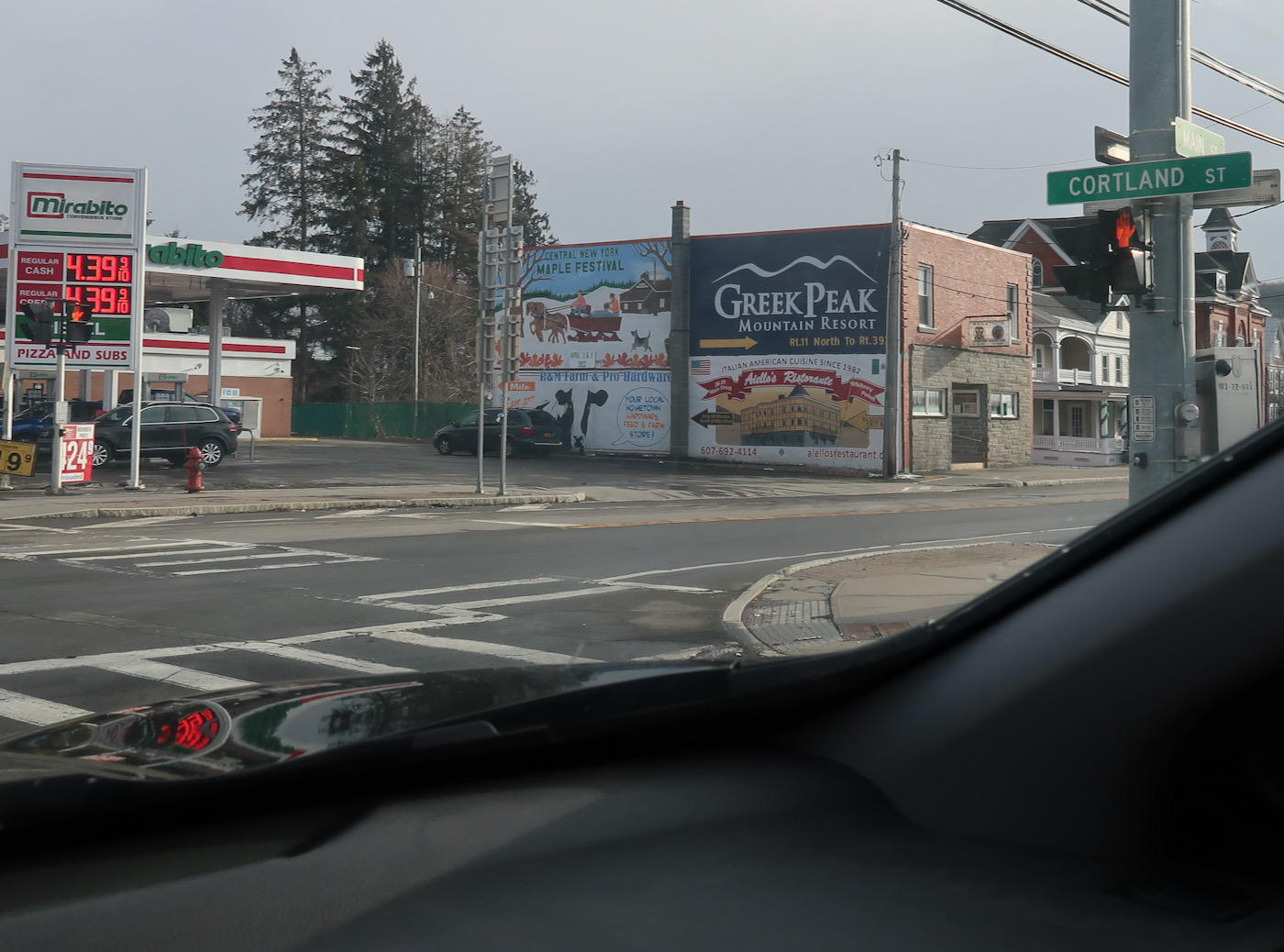 It turns out the lifts at Greek Peak, at least at this time of year, spin until 5pm. I was really surprised. It continued to snow hard, so I skied right up until the end.  As tired as I was, I kept thinking… "this could be my last powder run of the season."  I just couldn't quit.
When the lifts stopped spinning, I skied right back to a ski rack a few steps from the bench where I booted up. Within 20 minutes I was headed out down Route 11 into Marathon. There was no snow in town. None.
No doubt, six inches of miracle lake effect snow can do a lot make a ski day memorable. The other thing I'll take with me from this ski day was the friendliness of Greek Peak across the resort: tickets, retail store, lifties and Ops, the restaurant, patrol, and of course, the locals. Quite the day, glad I got out of bed.
---
NYSkiBlog has joined with The Indy Pass to bring exposure to independent mountains.
This piece is part of our effort. For more information visit the Indy Pass.
---