Confession time, but I doubt any of the NYSB authors will be surprised; I've got a bit of an OCD thing going on. I obsess about numbers, among other things. With just a few exceptions, the only truly legitimate numbers are even, and some even numbers are better than others. The best numbers are divisible by other even numbers like 12, 16, 24 or 36.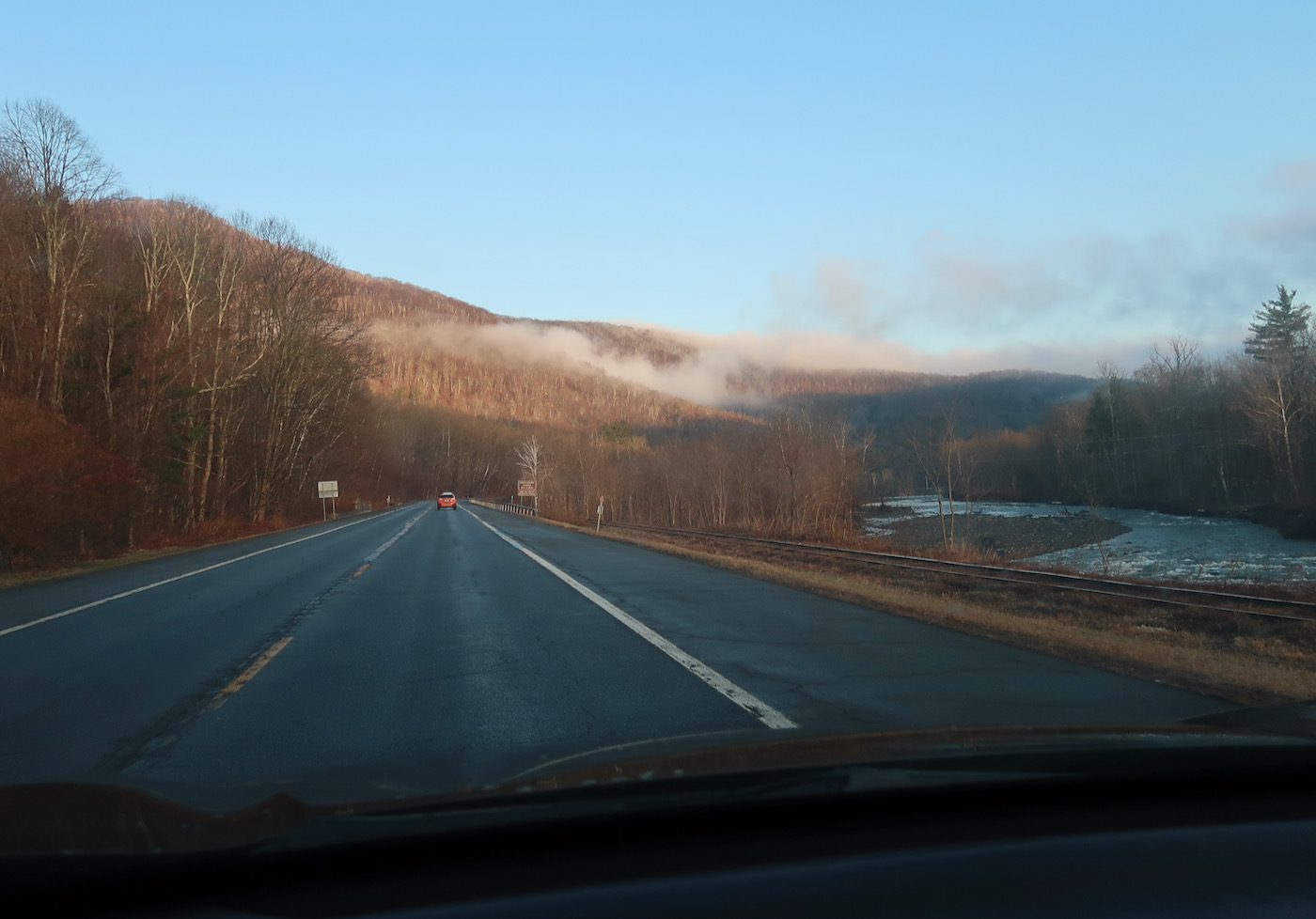 It effects me at work, slowing me down when I have to set column widths in a spreadsheet. It's also effects my ski day count and maybe even my skiing. Last week looking at the weather ahead, I was sitting at 21 ski days and the weekend looked wet. Friday, on the other hand, was forecast to be sunny and very warm, at the end of a warm week. Skiing Friday felt right.
My two primary passes are the SKI3 and Plattekill, and I don't get to Belleayre as often as I should. This past Friday Plattekill was closed for a rental, so I used my 3:45 am Plattekill alarm to get to wake and drive to the ski hill in Highmount NY, more than an hour before first chair.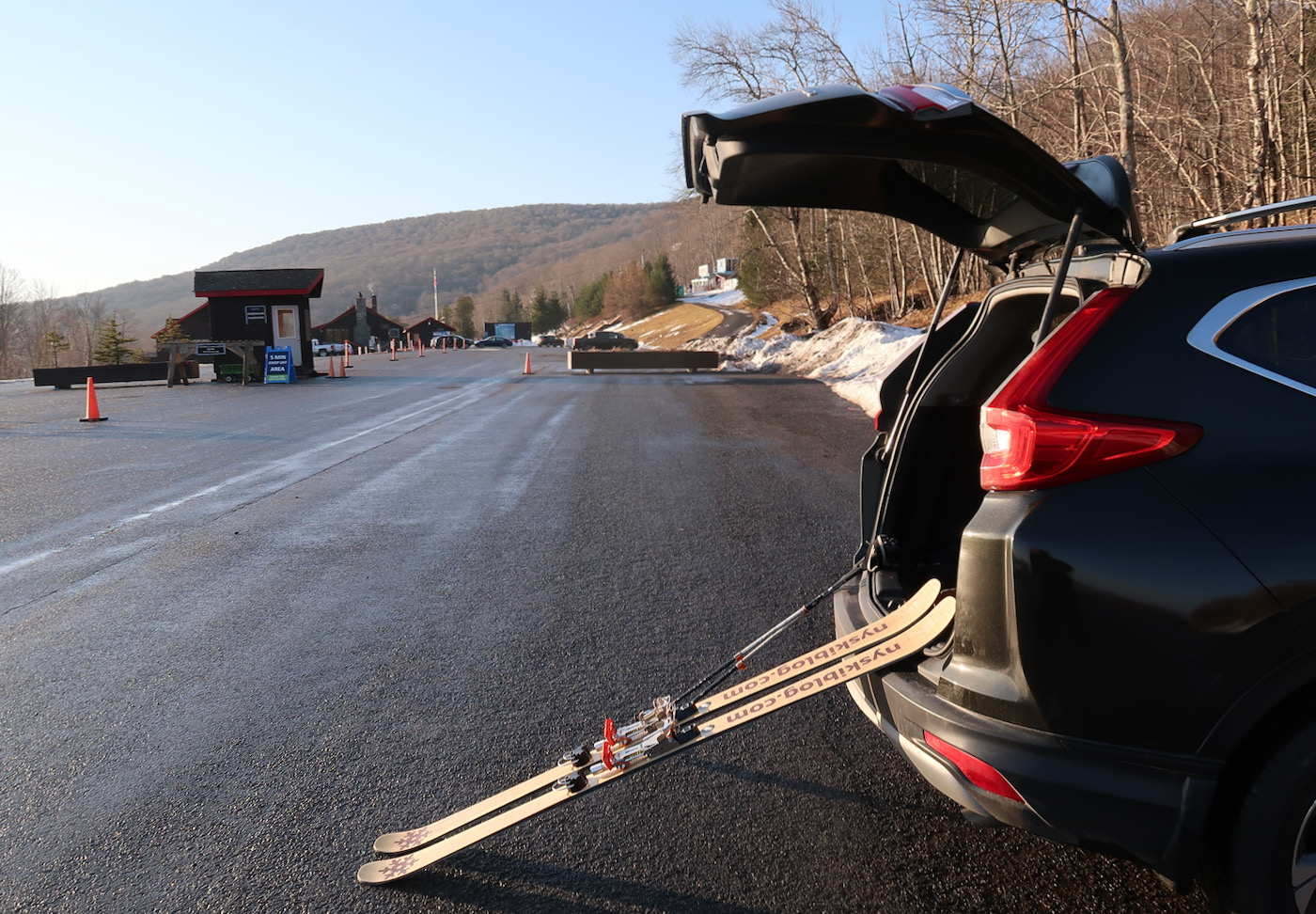 I was jazzed for a run to Belleayre. Over the last several years, Belle has developed a reputation for cultivating bumps, and I hadn't really skied bumps all season. This was my chance.
Night time temps didn't actually go below freezing since things had warmed up, so the corn was a bit suspect. Without a proper corn cycle, snow can get grabby. I was hoping that the midweek rain might actually move the corning along. It's true wax only helps so much, still I firmly believe in it when you ski in those kind of conditions. Failure to do so has cost me in the past.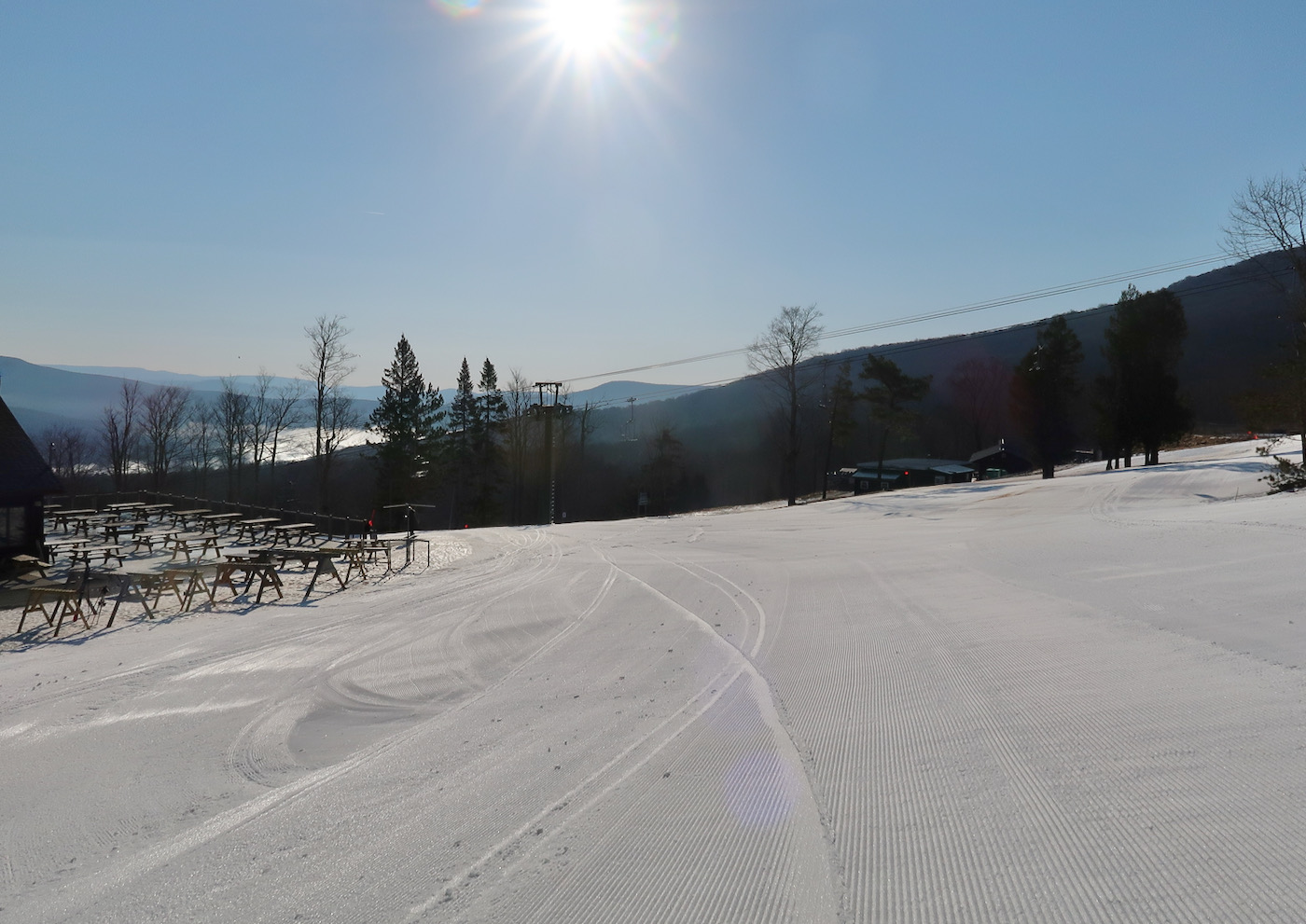 The last few seasons my daily driver has been a 96mm soft snow ski. Generally I tried to pick my days to suit them. Then a friend loaned me his Head Rev 4s, for a day of perfect bumps at Killington last May. It took me less than one run on Superstar to dial them in.
They were much heavier than anything I'd ever skied, and they were extremely torsionally rigid.  That day, they handled it all from soft turny snow to icy troughs. I had the energy to turn them and if you listen to those I skied with, I skied pretty well.
Fast forward to this past Friday, it was the kind of day I imagined when I asked Vin of WhiteRoom Skis to build me a better groomer and bump ski, with a layer of titanal inside.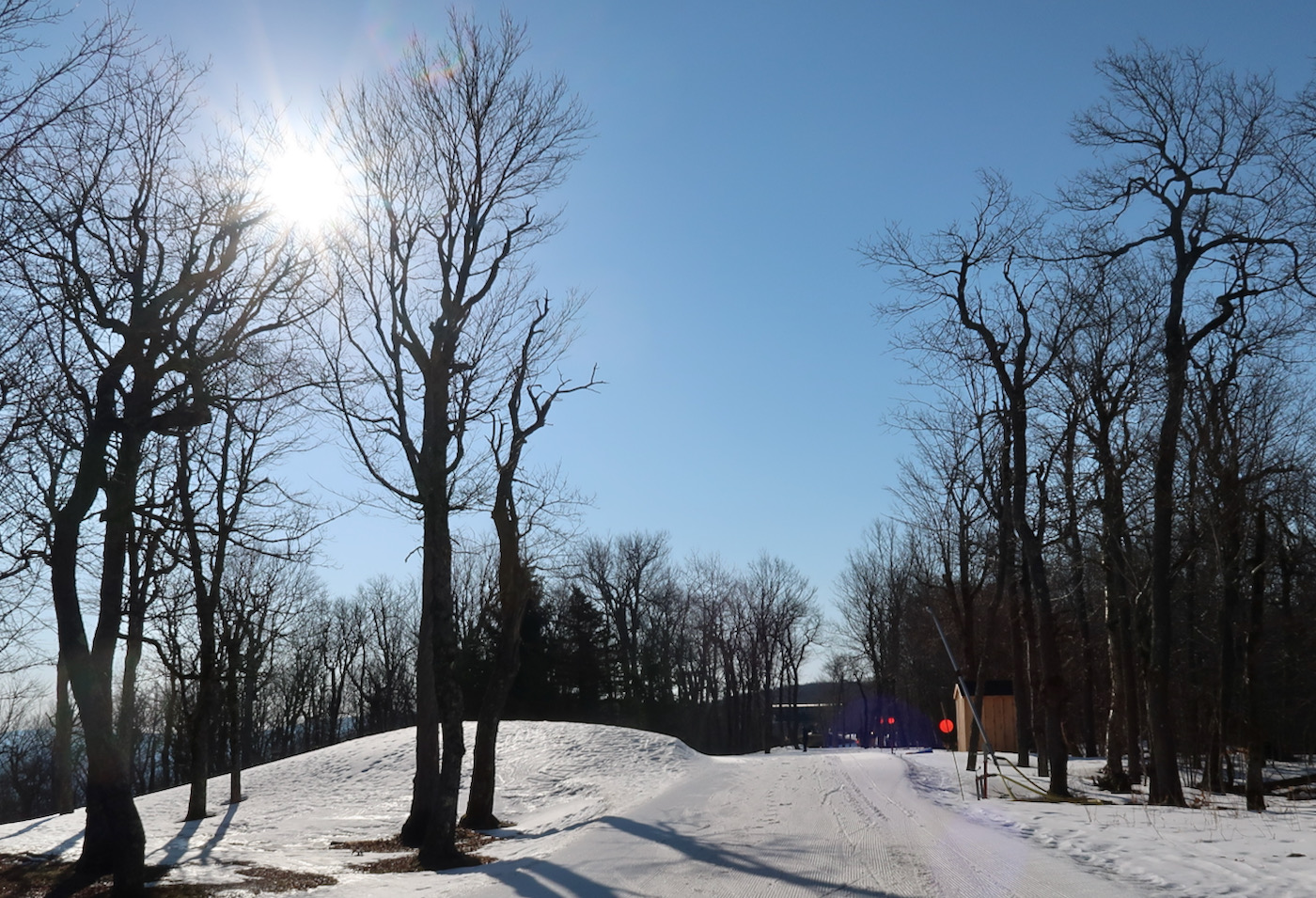 I wanted something similar in dimension and rocker/camber profile to the Heads. A ski that would be at home on corduroy or soft bumps.  It wasn't a pure-anything ski, but I knew we could build a ski that was better than my rockered 96s, for those conditions.
At the same time I ordered the skis, I ordered a pair of 22 Designs Outlaw X bindings. Vin delivered the skis by the beginning of the season, but the supply chain didn't deliver my bindings for months. Labor Day, Christmas and January were all given as estimates for arrival. In late February, I got the call from Sports Page. Finally, my bindings were in stock.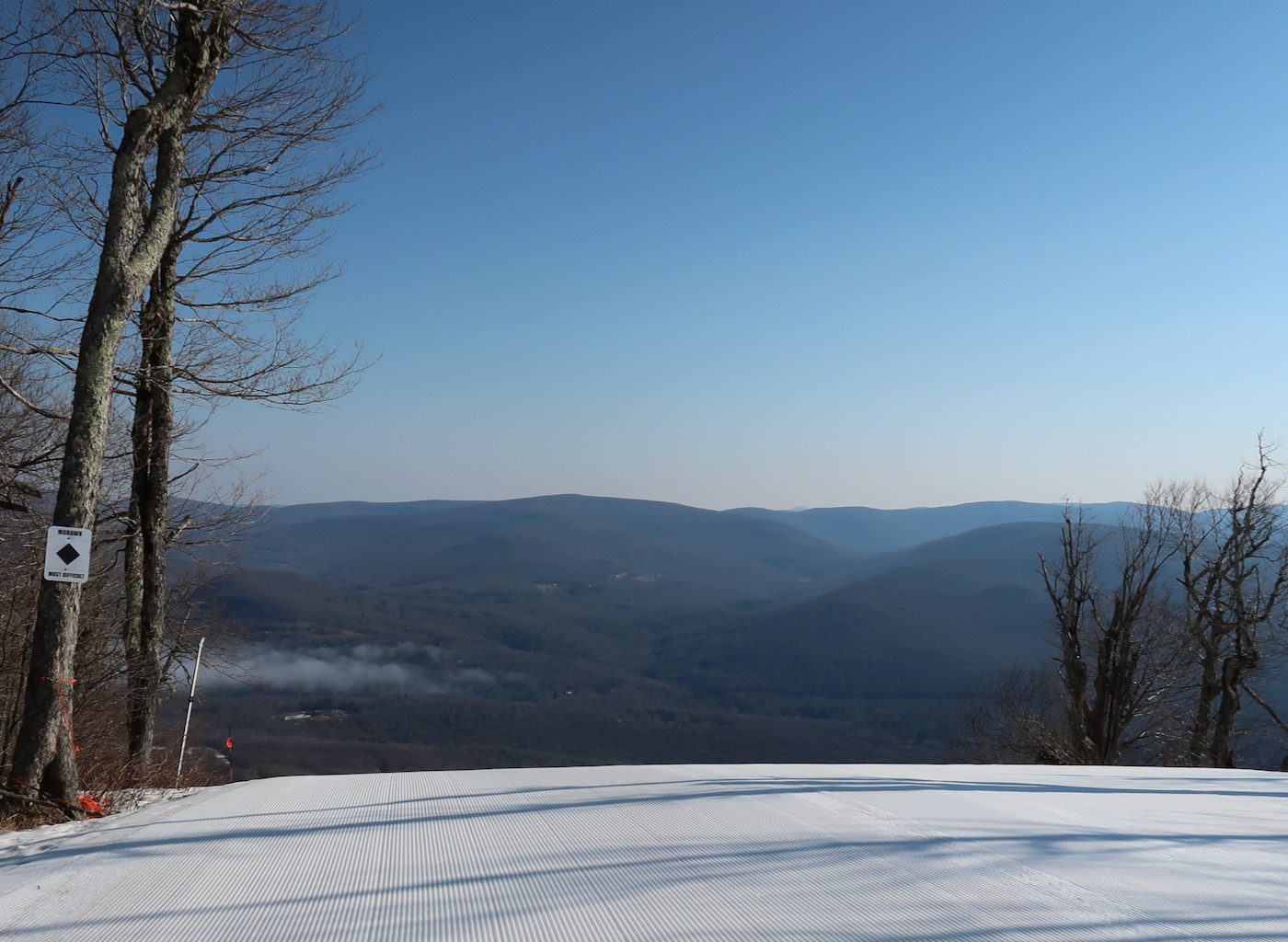 Tens days later, I got to the shop in Glens Falls NY and had the bindings mounted.  Because the ski brakes were still backordered, Sports Page threw in a pair of old school leashes, and off I went. Never used, but waxed and tuned, they were ready for a test drive.
Still, I didn't ski my new skis for almost a month. If you look at my streak that started in early February, the snow I was skiing was powder. I wasn't going to choose the wrong ski for a powder day, just because new skis were staring at me, all perfect, and ready to go. So they sat.
Last Friday certainly looked like the day to test those skis, my first opportunity to ski them as intended.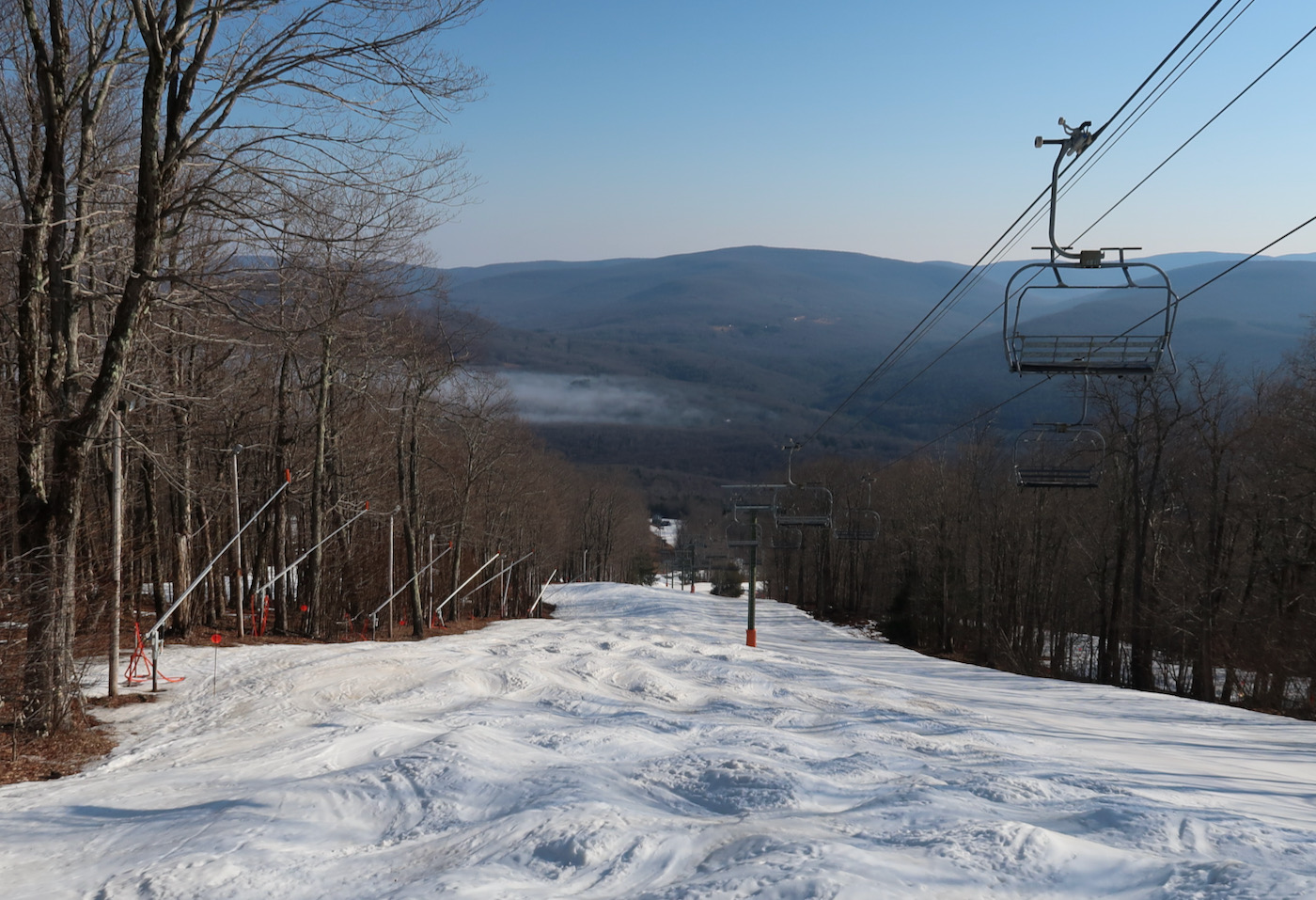 I'd tried to find a ski partner for the day, with limited success. At Plattekill I can show up any day and find a partner. Odds are decent I'll connect with someone at Gore too. I know a few Belle regulars, but I couldn't convince anyone to meet for first chair.  Scott told me he could drive over in the afternoon. I appreciated the effort.
The skiing was great right from the start. The bumps looked soft but there was corduroy everywhere, and the mountain was deserted, so I committed myself to tearing up the stripes first. The trenches I was ripping were deep and satisfying and it took several runs to complete the job.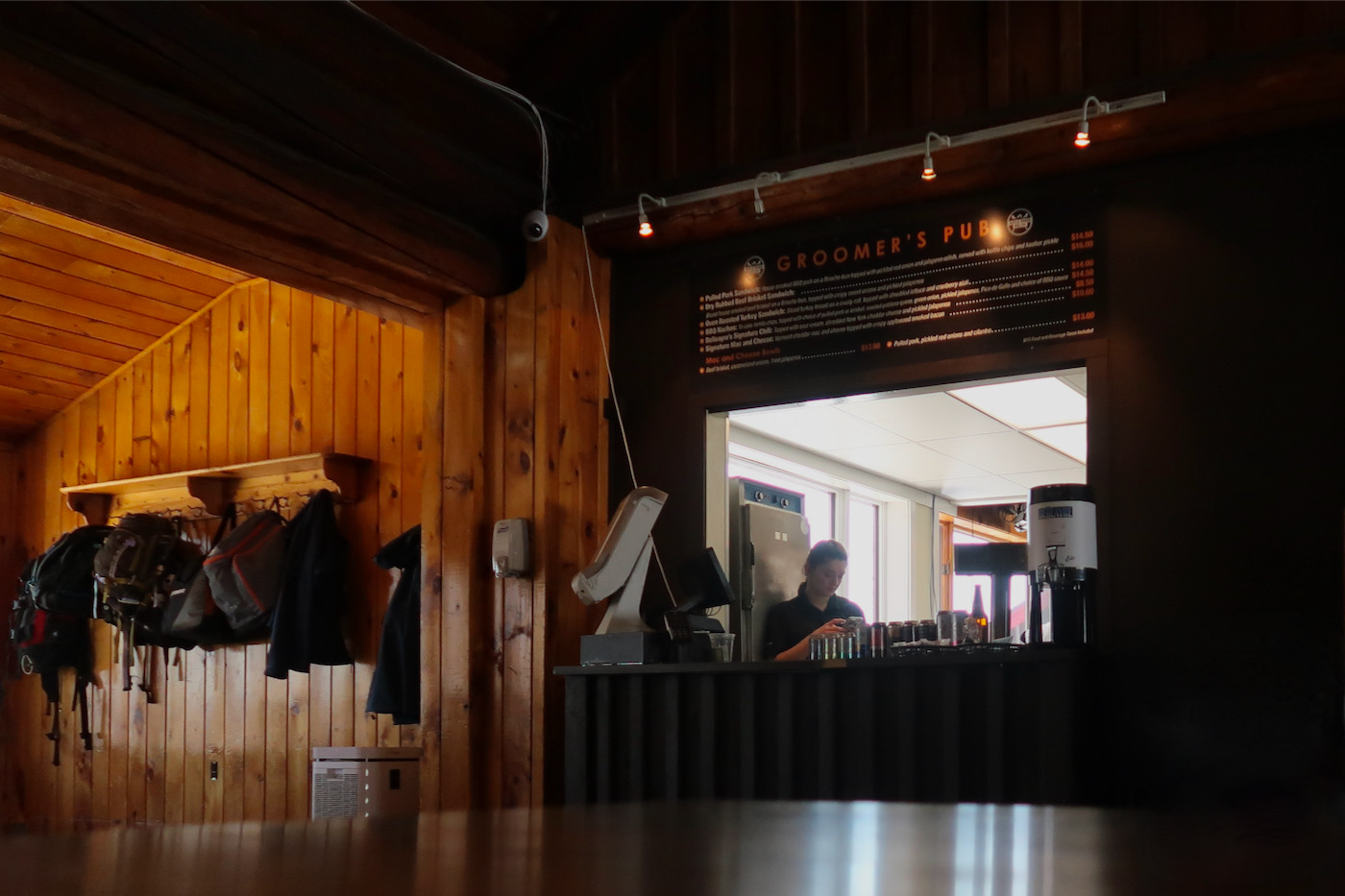 Eventually I went into the bumps. There were three or four trails with well formed lines, but all day, long I kept coming back to Belleayre Run. The stretch of bumps on Belleayre's signature trail is long, and after the headwall the pitch is low angle, a lot of fun.  The top was just a bit too steep for me to tele, so I'd bang my alpine turns on that first pitch, and then move into the tele-zone below.
Bumps were soft and perfectly placed for me to dance on my newly waxed super light skis, stringing dozens of tele turns together. I was lapping a liftline, yet still somehow all alone. It's true, there was no one to see some of my best skiing of the year, so you'll have to take my word for it. Smiling wide, if I did 24 runs on Friday, 12 of them were on Belleayre Run.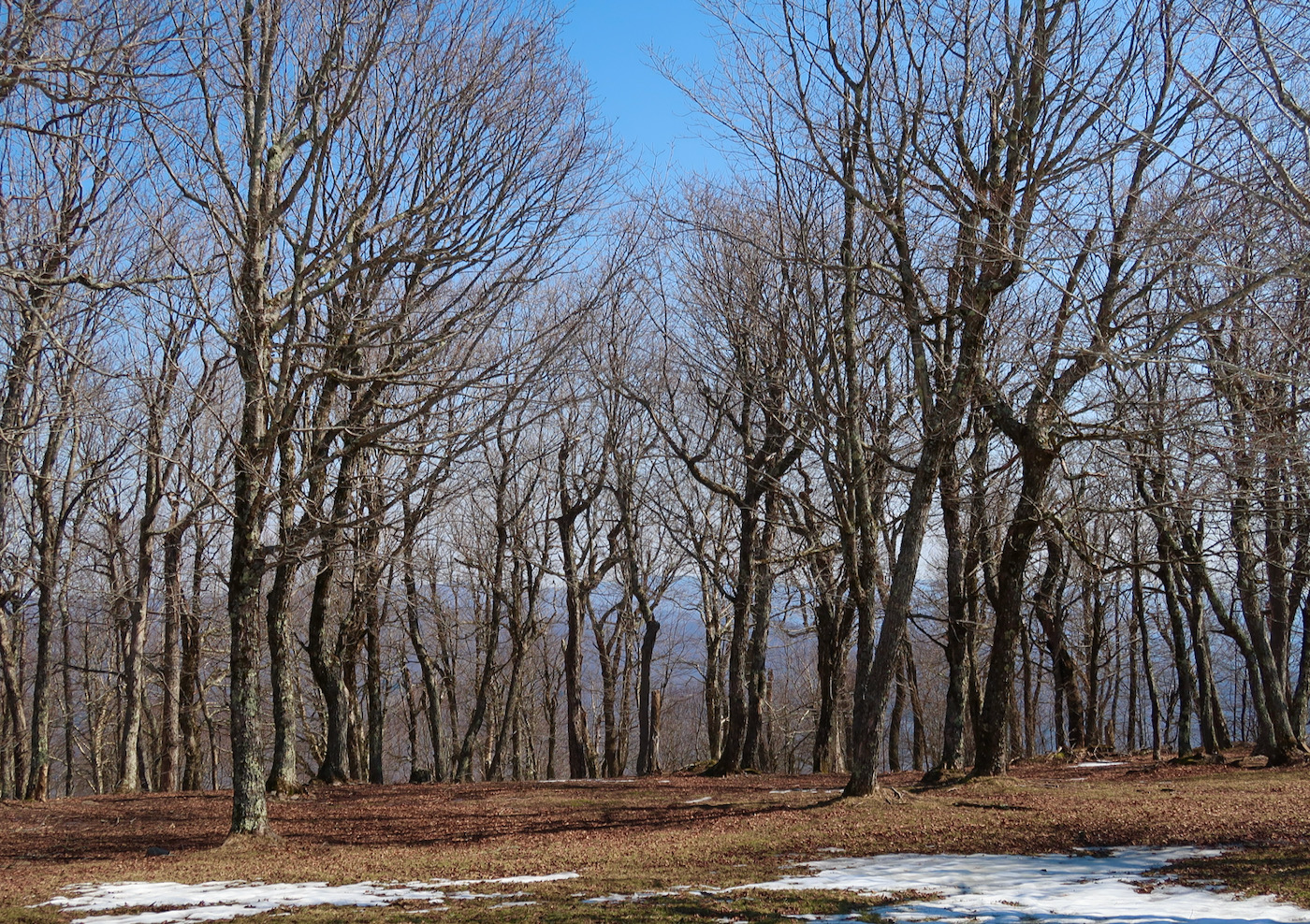 I knew I wouldn't last forever skiing with that kind of abandon, and I wanted top have something left in the tank when Scott showed up.  It was a conundrum as I knew that the snow would get stickier as the day wore on, and at that moment I was in the zone.
I figured Scott would have already eaten by the time he arrived, so I took an early lunch in the Groomers Pub to save my legs. I highly recommend the homemade chili, maybe the best I've ever had.
I headed back out and soon after Scott showed up.  After 5 days in the Alps, and two days rest, Scott was ready to rip. After skiing a few hundred thousand of vertical feet in do not fall territory earlier in the week, his comment was… "man these runs are short!"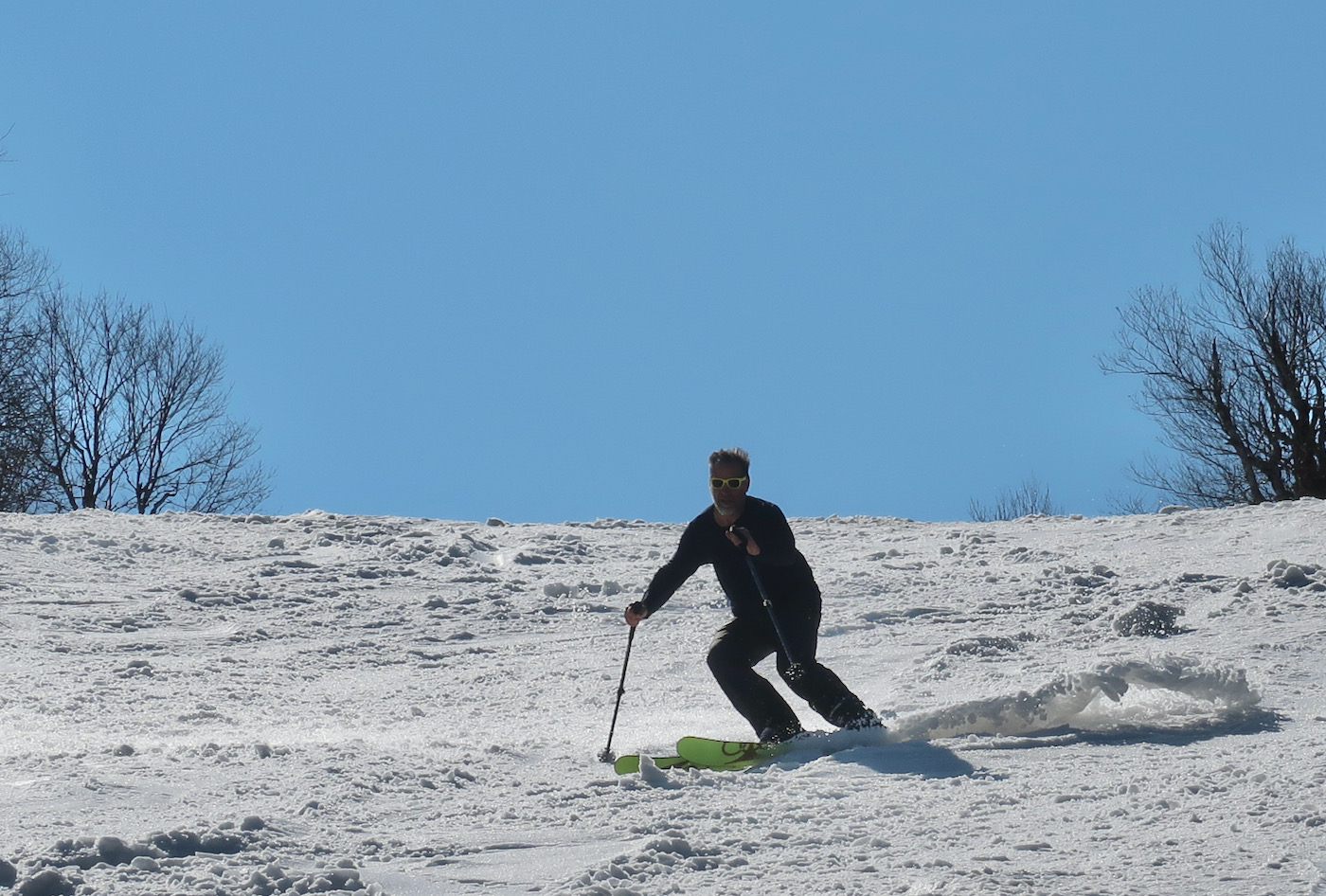 Ultimately Scott agreed, Belleayre Run was the place to be.  We skied until 3:15 when my legs gave out.
We took off our boots and had a beer on the deck, soaking in the sunshine. Then Scott and I headed down the road to the Peekamoose Restaurant in Big Indian to meet Hillary for a delicious dinner. I highly recommend the ribs. Afterward I headed off, down Route 28, smiling and singing Radar Love.
Vin, I love the skis. While they are roughly the same dimensions as the Head skis, they are much different, super light, nimble and responsive. Those Head skis, are more suited to blasting through thick cutup snow, but they are heavier and take more out of me. It looks like the guy who resisted having a quiver of two, is now skiing a quiver of three. I'm cool with that.
Back to the numbers, I'm at 22 days, so that's a bit better. If I can get two more spring days at Gore and ski Duck's Birthday at Big K in May that will put me at 25 days. You may recall at the beginning I said there were a few exceptions to the odd number rule. Ski day totals are ok if they end in five. For me, in my flatlander stage of life, thirty five is ideal, and 25 is the minimum. Welcome to my world.