Once again, the question has been raised in the NYSkiBlog Forums: which mountain is "better" Gore or Whiteface? The question will never be settled: each mountain has a distinct personality that attracts skiers who thrive there. The two mountains, and the skiers they attract, are different.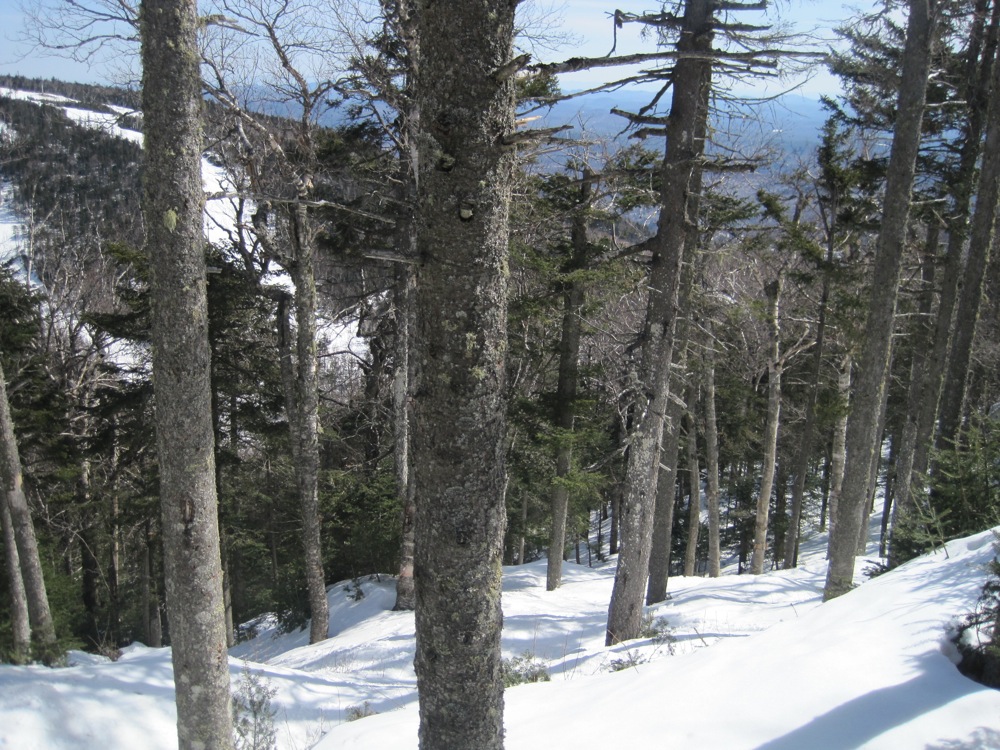 Whiteface skiers thrive on the uninterrupted vertical, awesome High Peaks views, Lake Placid nightlife and of course, the Slides. Gore regulars like the mountain's width and variety, the trees, and the sheer volume of terrain. If Gore passholders mind the exercise required by flat spots, and if Whiteface diehards are concerned about windholds after big storms, it's apparently not enough to get them to switch to another mountain.
For our family, Gore is ideal. I never rode a lift until I was 40, and my wife never skied until she met me; we're plenty challenged at Gore. The "short" vertical runs work for us too. Zelda and I love to lap the High Peaks chair and enjoy talking and taking in the views on the slow ride back to the top. I ski the trees, she skis the trails and we meet back at the chair for another ride. There are several pods at Gore where a tree skier and an intermediate can ski the terrain that suits them and meet at a lift.
Our challenges don't end when the lifts stop spinning. We usually ski all day, and for us "nightlife" is kindling the fire, taking showers, making dinner, reading stories, and hitting the sack. By the time I'm done with my blog post for the day it's close to midnight. I usually wake up 15 minutes before the alarm rings at 6am.
Whiteface is about and hour and fifteen minutes from our place near Gore. Because of the extra distance, I usually ski Whiteface when I'm in the mountains alone. In December, Whiteface's superior elevation and latitude can mean more terrain open. On a corn snow day in March, when the Slides go live, it's heaven on earth.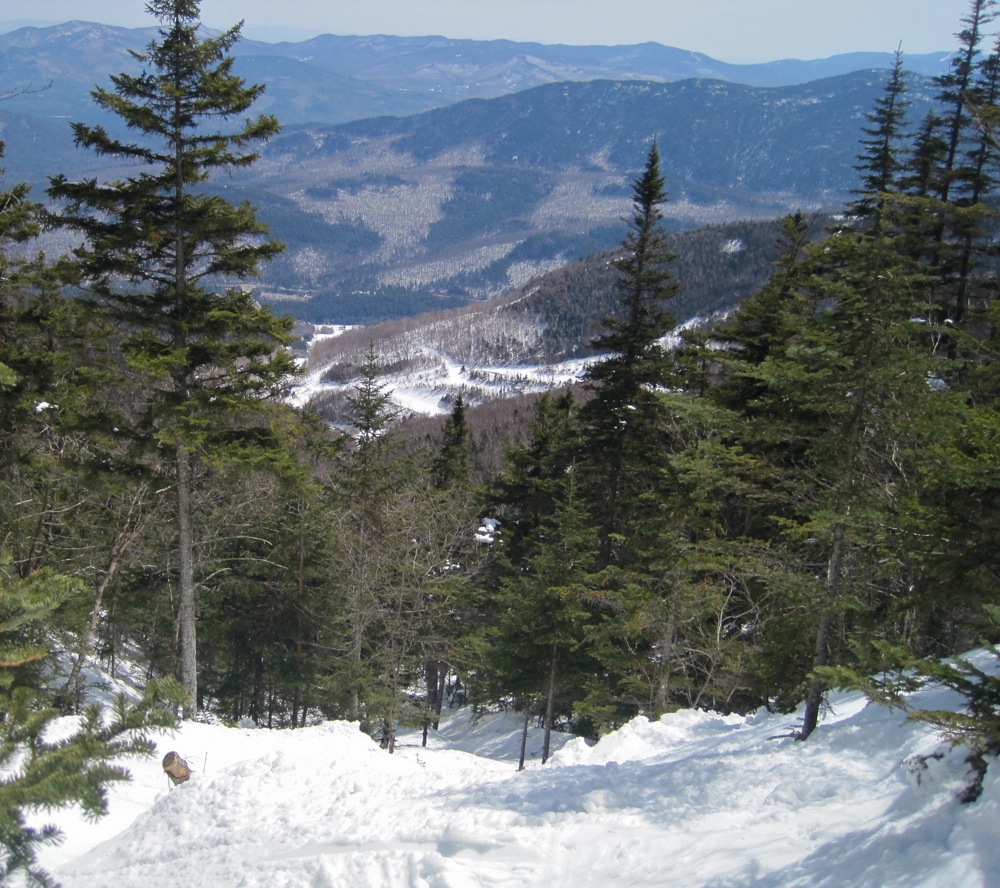 I often ski with expert skiers and high speed runs on Cloudspin and Skyward tire me out. I can more easily keep up in the more technical terrain turn-by-turn skiing required the Slides. And I've noticed that skiers tend to savor their runs in the Slides, which also works to my advantage.
I'll never forget one of the best ski days of my life at Whiteface. Skiing with Riverc0il and Highpeaksdrifter, we started the day lapping the Summit Chair so we could maximize runs in the slides. By 11am when they opened, I was already pretty tired out.
But getting in there, facing the challenge and the terrain — it energized me.  The snow was perfect corn, and the skiing was sublime. I'm getting a chill right now, writing it.
My attraction to the Slides and trees in general comes from the fact I value natural snow the most, even over terrain.  I'll take thin cover and base damage any time to feel real snow though the bottom of my skis. The extensive tree skiing at Gore is one thing that makes keeps me enthusiastic about the mountain.
There is a tree skiing culture at Gore that is special. It originally revolved around the "Men In Black" who have an interesting, symbiotic relationship with management. Those guys busted their butts to keep lines clean and skiable. They were friendly, generous and patient. Popping out of Mineshaft, you know Chuck was going to be standing there, smiling that big grin, waiting for everyone, never in a rush.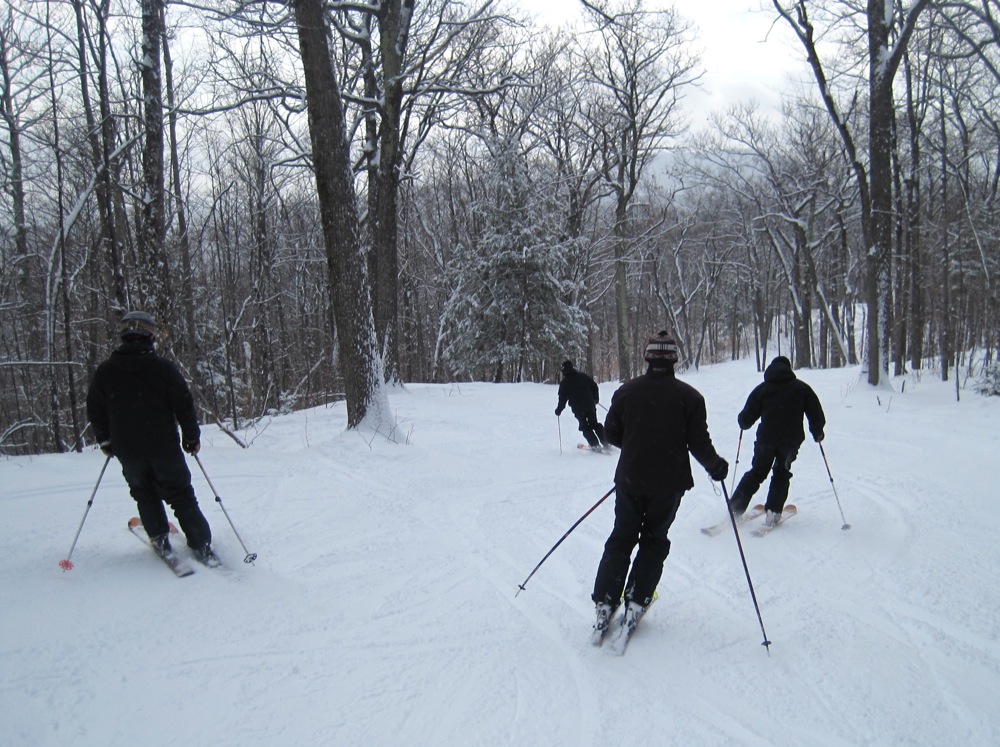 And Gore management, in my opinion, is progressive about opening terrain. You'll come to the entrance of a trail like Uncas or Hullabaloo and find a rope almost all the way across the entrance. At one side there'll be a small opening with an extra "Most Difficult" sign next to it. That set-up probably means the snow is soft but thin. Go on in if you want to, and take responsibility for yourself.
I love the liftline runs at Gore, in my opinion they are some of the best terrain on the map. Mike Pratt was a driving force behind getting all those liftlines open. And look at what Gore has done in a down economy; new terrain, more snowguns, more improvements every year. There is no question these moves are the result of the power of ORDA, but last year's snowgun deal was Mike's baby, and I give him a hell of a lot of credit for it.
Another thing I like about Gore is North Creek. Compared to bigger ski towns, it's a bit of an underdog. I like spending my money there. I know some of the business owners personally, and I know their families.  When I buy a sandwich at Sarah's Cafe or a cup of coffee at Izzy's, I feel like it matters. It's a place where I feel like I can have an impact.
While Gore may attract tree skiers and Whiteface captures vert hounds, it's also likely that each mountain breeds those types of skiers. But even more than that, I think twists of fate bring us to places and we grow to love what we have. That's a great thing about human nature, we want to like our choices.
And in the end, we don't really even have to choose; our ORDA passes allow us to ski both the tallest and widest mountains in New York. Rock on Gore and Whiteface and vive la différence.
Disclosure: this piece is written by a Gore skier. I've skied over 200 days at Gore and 20 days at Whiteface so I know less about the mountain.
What do you think? Leave a comment below.