I've been skiing weekdays this season. Obviously crowds are lighter, and it takes some juggling to manage work responsibilities. One loophole, our small company grants a lessor known holiday, Easter Monday. I headed to Gore.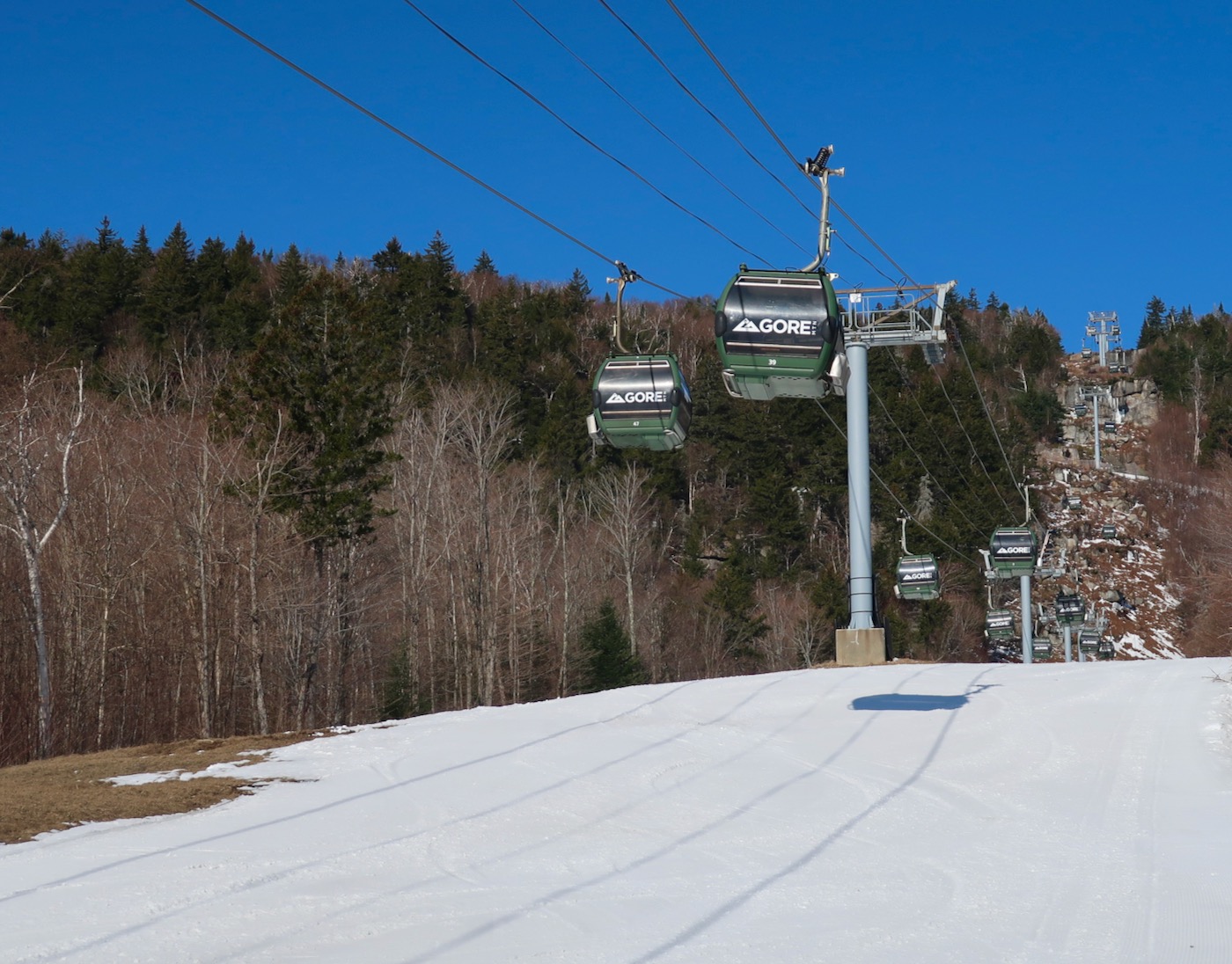 It worked out pretty well. I had a 3-day weekend with the family then, after Easter dinner on Sunday, I drove north to our cabin in the Adirondacks. I'd forgotten how weird it feels to load your skis into your car when it's 65 degrees and sunny.
When you get into the mountains, it starts to make sense again. There was little natural snow around, mostly just plow snow, but hey, I was in the mountains. Normally, if you're not rolling in at say midnight, you can see the bumps on Rumor as you approach from the south on Route 28.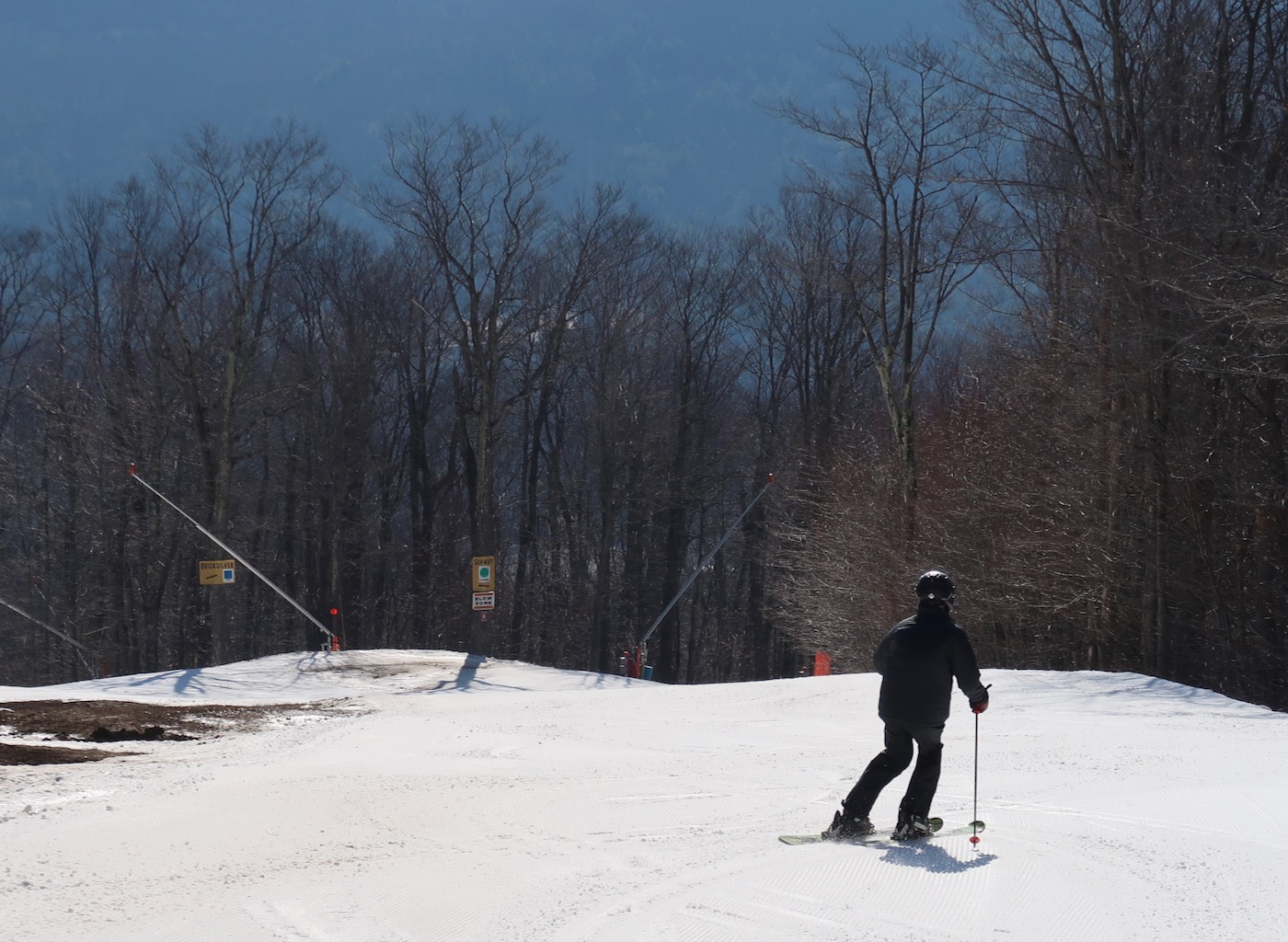 It's hard for me to arrive so late. I'm always excited about being in the Adirondacks, and ideally I'd have some time to soak it in before bed; light a fire, maybe sit on the deck, have a beer and check out the stars. But I had to hit the sack, if I was going to get up, bang bumps all day, and then drive five hours home afterward.
My plan was to rise at dawn, pack up and head to the mountain. I never charged our water lines when I arrived, so it was quick and easy. On this day, I was skiing with Duck, a great ski partner for me. He'd skied Sunday and felt that the snow would be soft at opening. We agreed to meet at 7:45 on the deck.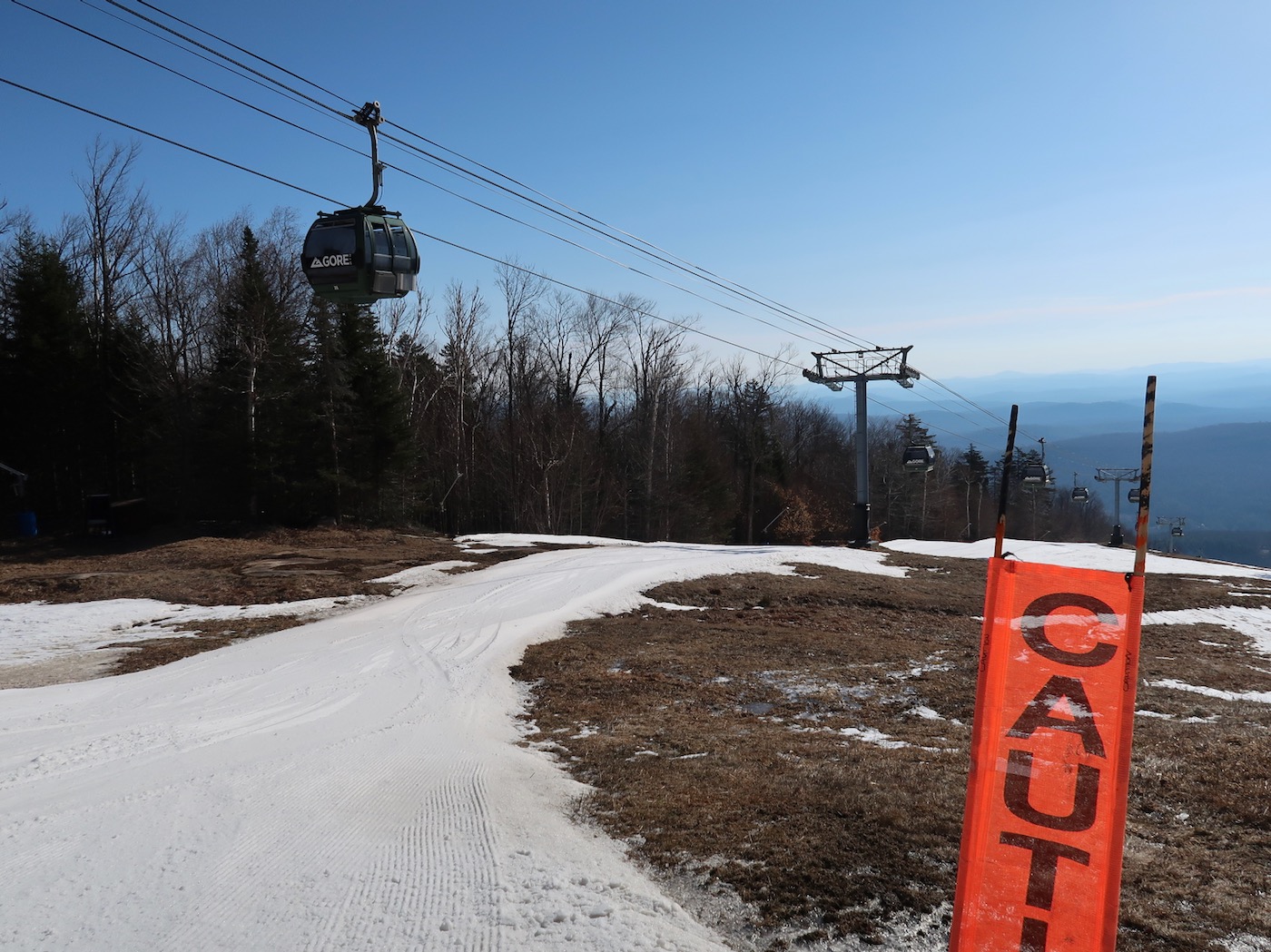 Sometime after 8am we rode the quad to the saddle and started to ski the lower mountain. Gore was running out of snow to connect routes down on the East Side. But it was soft and fun to ski the slalom to the bottom. We skied almost everything that was open, Sunway, Quicksilver, Pete's, Wild Air.
On our fouth ride on the Adirondack Express, I got a call from Cork.  Hawkeye was going off, we should just come on up to the top. Down Wood In without an issue and up the new High Peaks chair.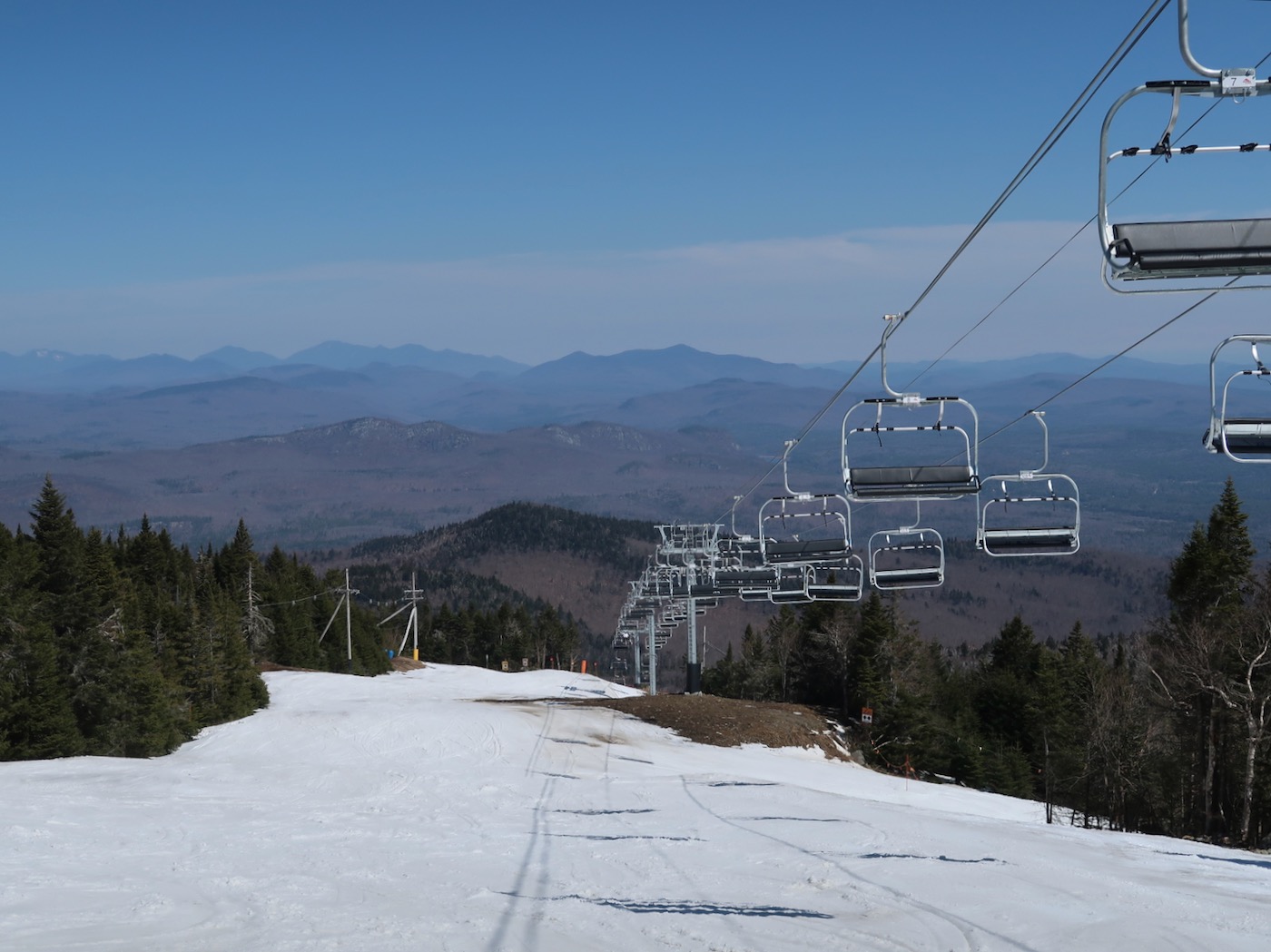 As was recommended, we started on the Straightbrook side with Hawkeye. It was almost laughably skiable. I've skied cutup pow that was so light it skied like untracked pow, but I've never felt that with corn. There were piles of corn all around and you could push through them without any extra resistance. Even that lower, kinda boring when groomed section of the run, was excellent.
We skied many laps before moving across the mountain to Lies, and then eventually Rumor. Lies was soft with manageable bumps and Rumor was also soft with much bigger bumps, at the top. The middle and bottom sections were a total blast.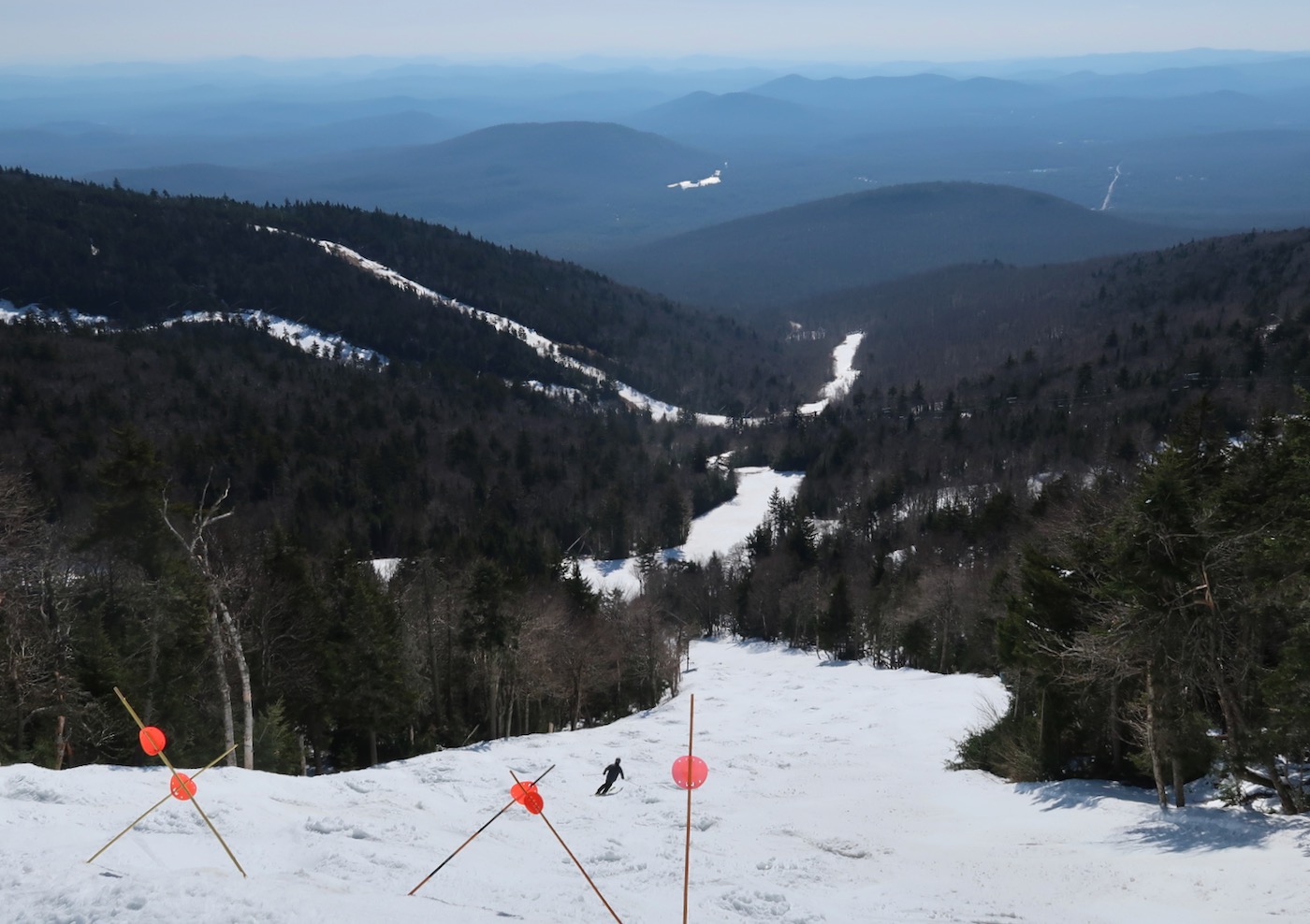 We did Rumor three times, which for me is a lot. I've had full seasons when I never skied Gore's steepest trail. On each run Duck beat me down, by a lot, and at one point he gave me credit for a good run, a real improvement in my hand position over just a few years ago. It felt good to hear him say it, he's got classic form.
By our third Rumor run it was after 1pm, and we were ready to start working our way down.  But not before skiing several excellent runs on the North Side, which was just coming in to it's own. On my last lift ride of the day, I got a call from my "healthcare system."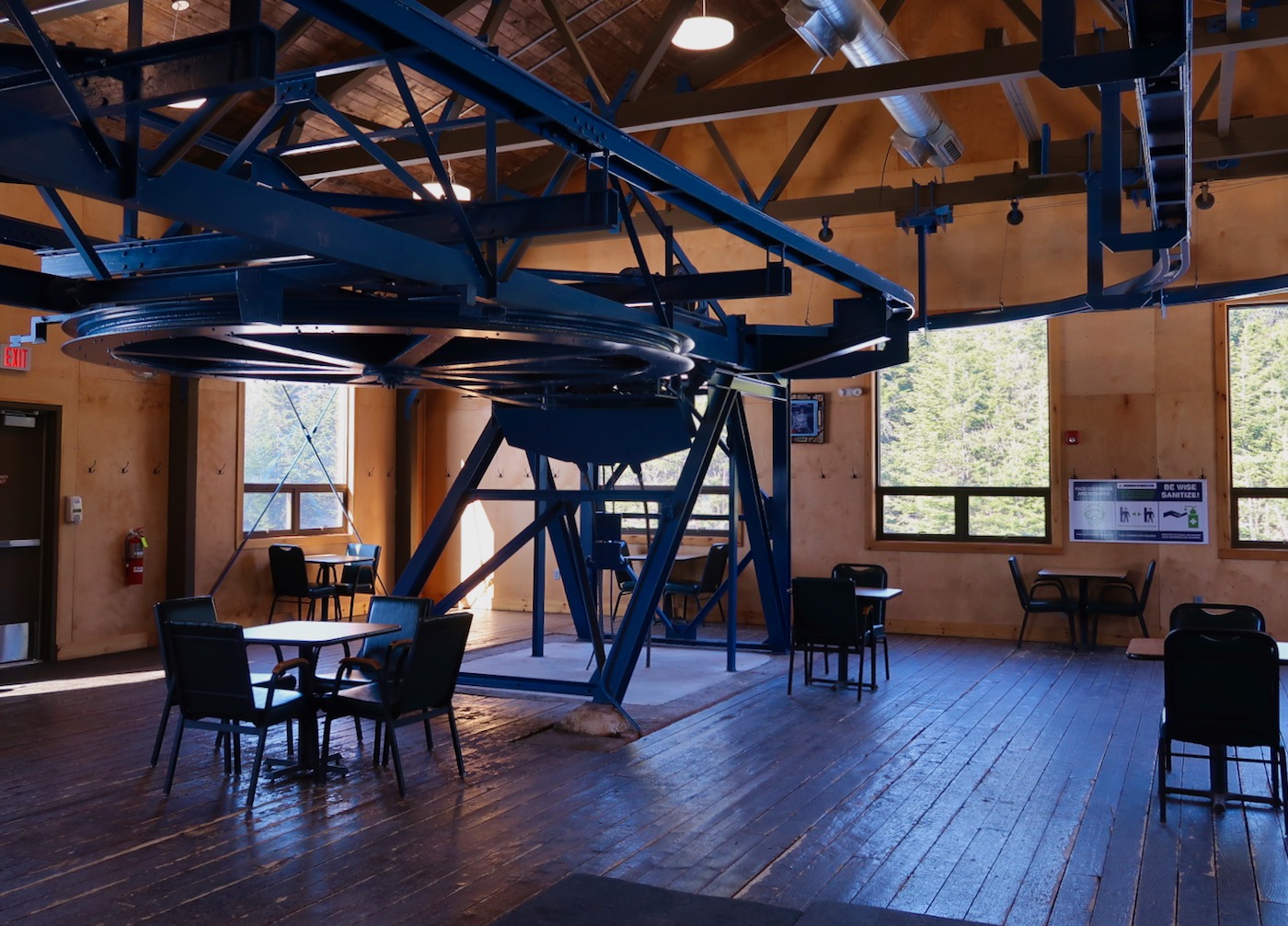 I was scheduled for vax #1 on Wednesday, the day after tomorrow. After I was shot, I had some covidy side effects, but they weren't even close to the case of covid I had. Friday I felt better, but not 100%, so I decided to call it, ruling out skiing Saturday's closing day at Gore. I'm hoping that in 6 weeks, there will be snow, and I'll be cleared for takeoff to Killington.
Whatever happens, for me this was great season. I've got 23 days in so far, which is well below my "normal season" average of 35. By my count, 18 of them were excellent. The rest were good. When you can take weekdays off, it really helps.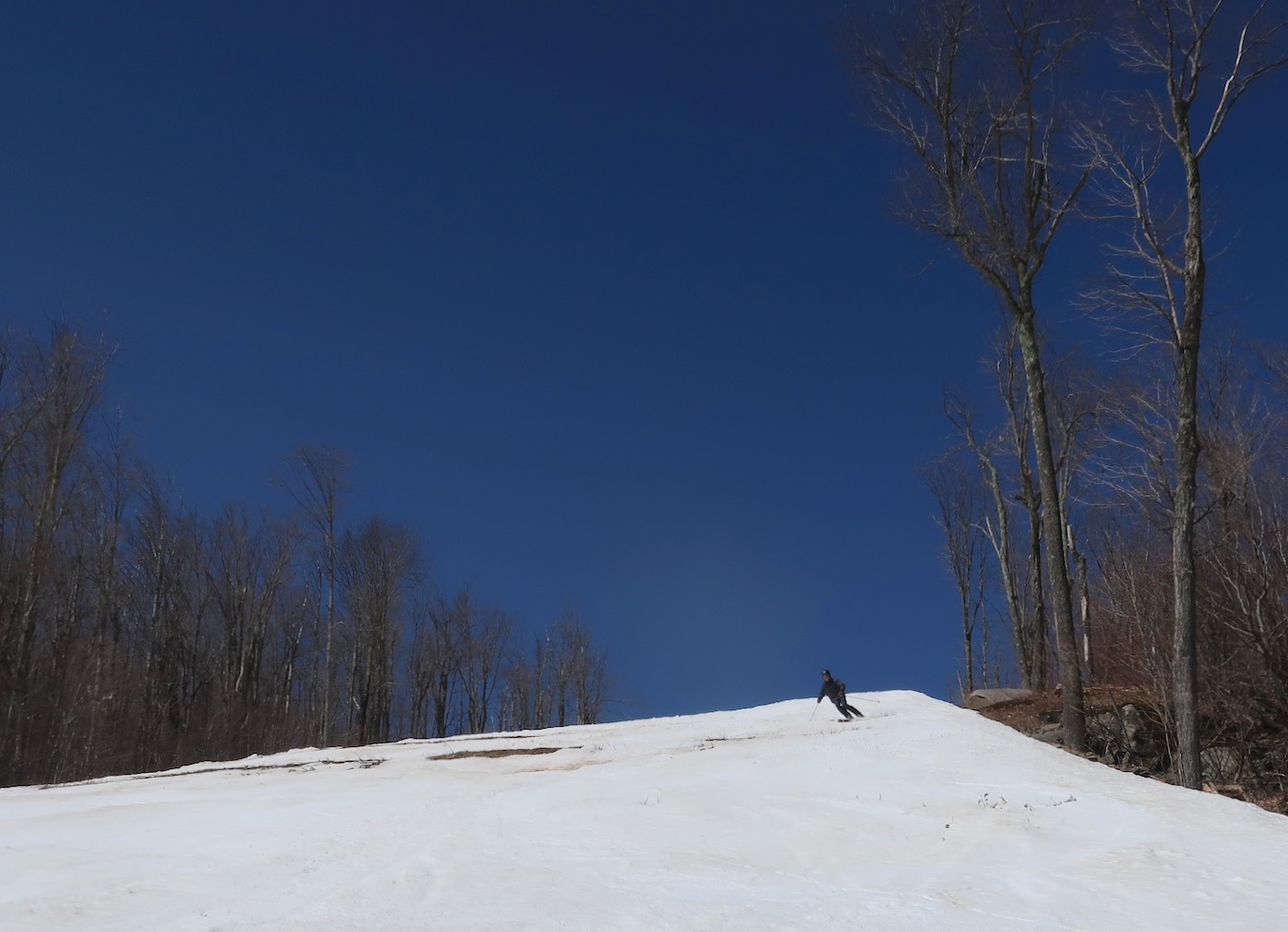 In the heart of the winter mother nature delivered. During that sweet mid-season run, temps were consistently cold for over six weeks, and we got regular snow. We never had that block buster storm, and we remain below our seasonal average for snow. But there is no denying the skiing was excellent for many weeks in a row.
The one day that moved into my Top 10 All Time Ski Days is the February Powderdaize at Plattekill, when it was so deep, we skied the entire mountain, with wild abandon. We skied the trees on the sunny side and it was unforgettable. At Gore, my best skiing was the two days of packed out trees I skied right before the rain that ended our great run of snow.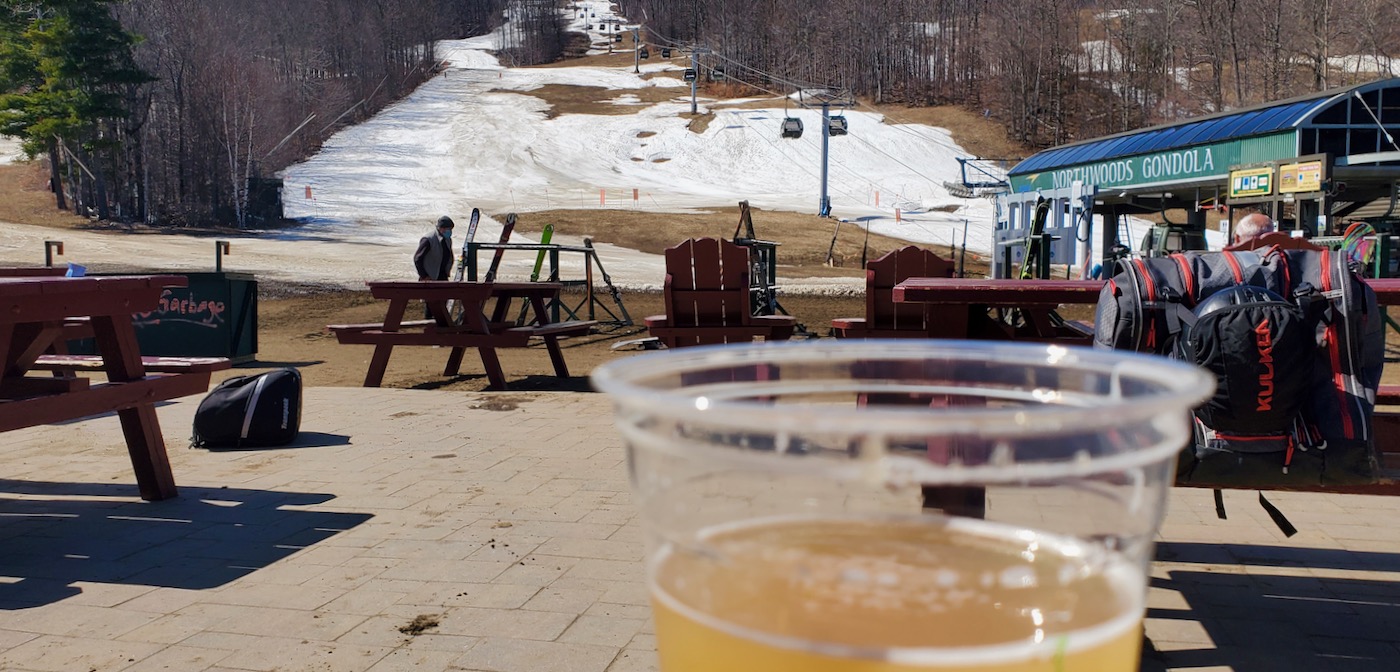 I'm shouting out the ski industry, especially in New York.  Here's to Bone and all the GMs and the owners, who took a risk blowing snow in November.  Here in NY it looks like that faith paid off. You could hear it in the parking lots: new skiers discovered our state. I can't wait to see the numbers.
FWIW, I actually think the Vermont restrictions turned out ok. A bunch of people didn't go and a bunch did, it seemed like VT did OK amount as far as covid cases. The situation probably encouraged a lot of day tripping, which to me seemed pretty harmless. Ski areas surely suffered lost revenue, but they did open. It's my hope that opening was good for them financially, in the long run.
I'm also hoping to post some pictures of snow from Big K in six weeks when I'm fully vaxxed. Superstar looks fat and I've already written my post title: "Return to Vermont!"
Skiing in New York ended too soon, but it's been a great season. Post a shout out in the comments, tell us about your year and shout to your favorite mountain, if they came through for you in a tough season.