This season, the new normal rewards weekday skiing even more than usual, at least for me. It's not ticket availability or crowd issues; this year my family needs me more on the weekends.
The result is I've had fewer total ski days, with more day trips to Plattekill and reduced overnights at Gore. The skiing has been great this season, so it's all good.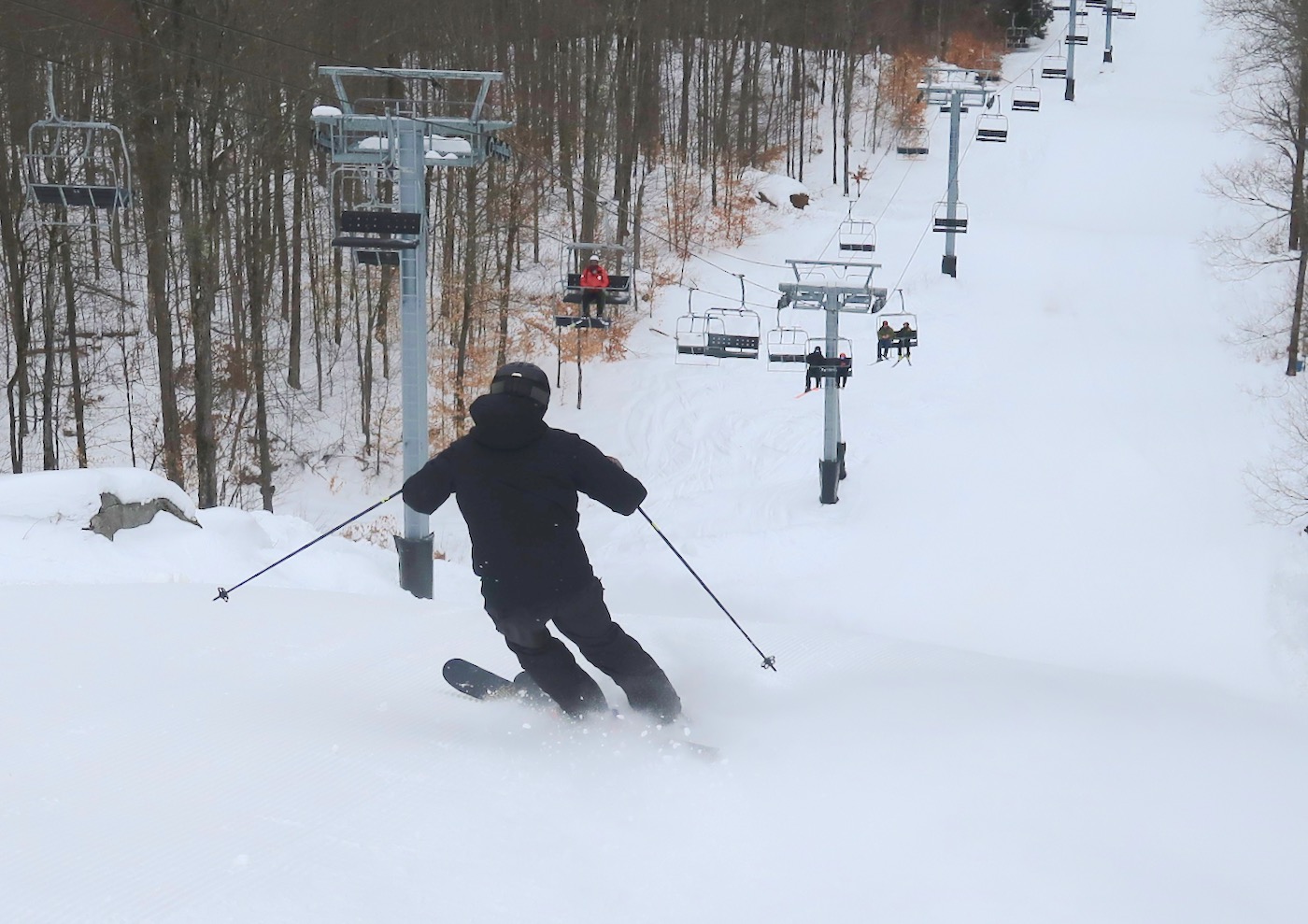 Still, before this trip I had only five days on my SKI3 Pass, four at Gore and one at Belleayre. With a chance of snow forecast for Tuesday of President's Week, I planned to ski Gore on Sunday and Monday and Gore or Whiteface on Tuesday.
There hadn't been much new snow in several days, and reports indicated healthy attendance at Gore, especially midweek. Nothing beyond a good lineup for first chair, but busier than the average weekday in a normal season.  I knew the trees would be tracked and packed. My hope was to ski two days of packed out trees at Gore and then score some powder on Tuesday, before heading for home.
Now I must say, for me — and I'd venture to include other Gore tree skiing regulars in this too — the phrase "packed out trees" is decidedly not a pejorative term. At Gore we regularly ski packed out trees and many of us like it, dig it, even thrive on it.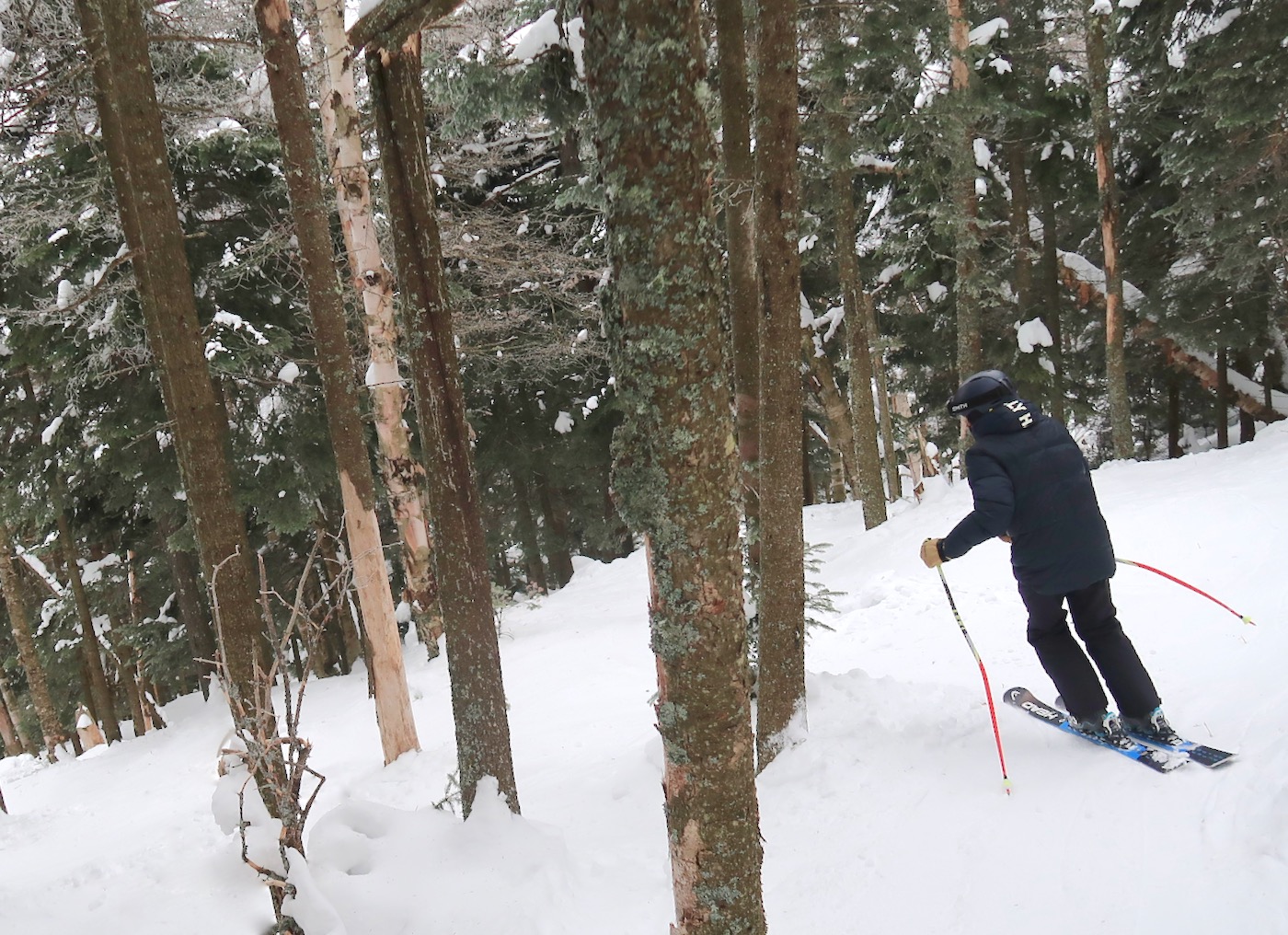 Gore gets less snow that some might think, but the trees are generally closely cropped and the underlying bedrock is very smooth. We usually get into the trees after about 40 inches of natural snow, and if we can help it, we don't come out until all the snow is gone.
On Sunday I came to the mountain alone, having done no legwork to find a ski partner. This lapse did not line up well with my strong desire to ski the trees all day long. My first temptation came at the top of Burnt Ridge. There was Barkeater, looking so fine.
I got off the quad and skated around to the glade entrance. I waited until three snowboarders dropped in and I fell in behind. It might have been safer to drop in ahead of them, but it seemed rude to do so. Instead I followed, trying to stay back, without losing contact.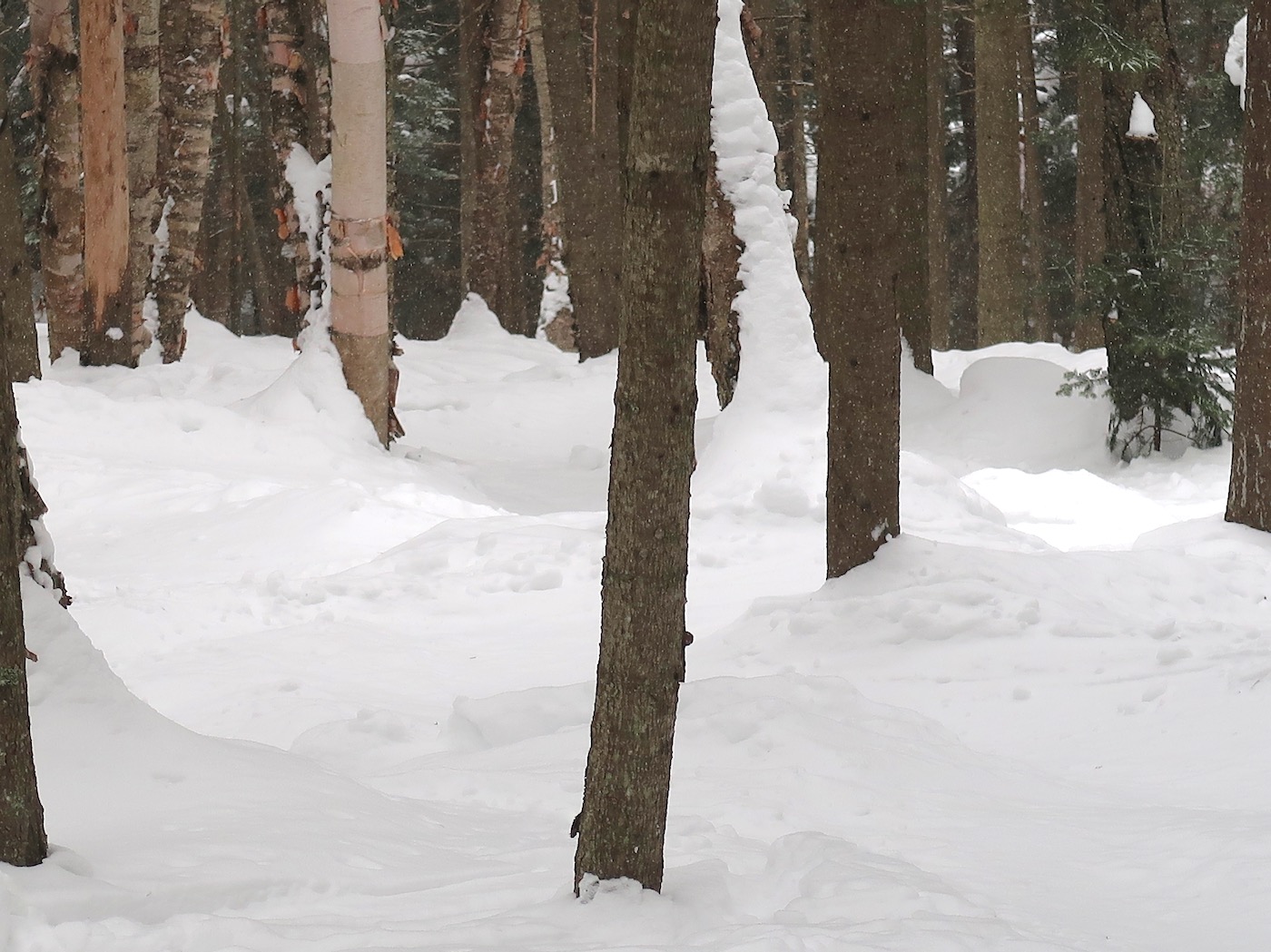 On my next run in the trees, I dropped into Tahawas; it's low angle, widely spaced and well-trafficked. I skied down to the North Chair, took Wood Out to the High Peaks Chair,and up to the summit. I'd thought I saw Bob K on the lift behind me, a few chairs from the top, but I wasn't sure.  I skied over to the entrance of Upper Steilhang and waited for a minute.
Apparently it was Bob and he'd seen me too, he skied right up to me. I asked him "Bob, what are you doing now?" He said, "I have a feeling my plans may be about to change. What are you doing?" I explained that I was looking for a partner for the trees.
We set off to methodically ski every single thing on Gore and Bear and Burnt Ridge. Bob led the way and I did everything I could to keep up. I skied until 2:30 thinking I should keep something in the tank, for Tuesday.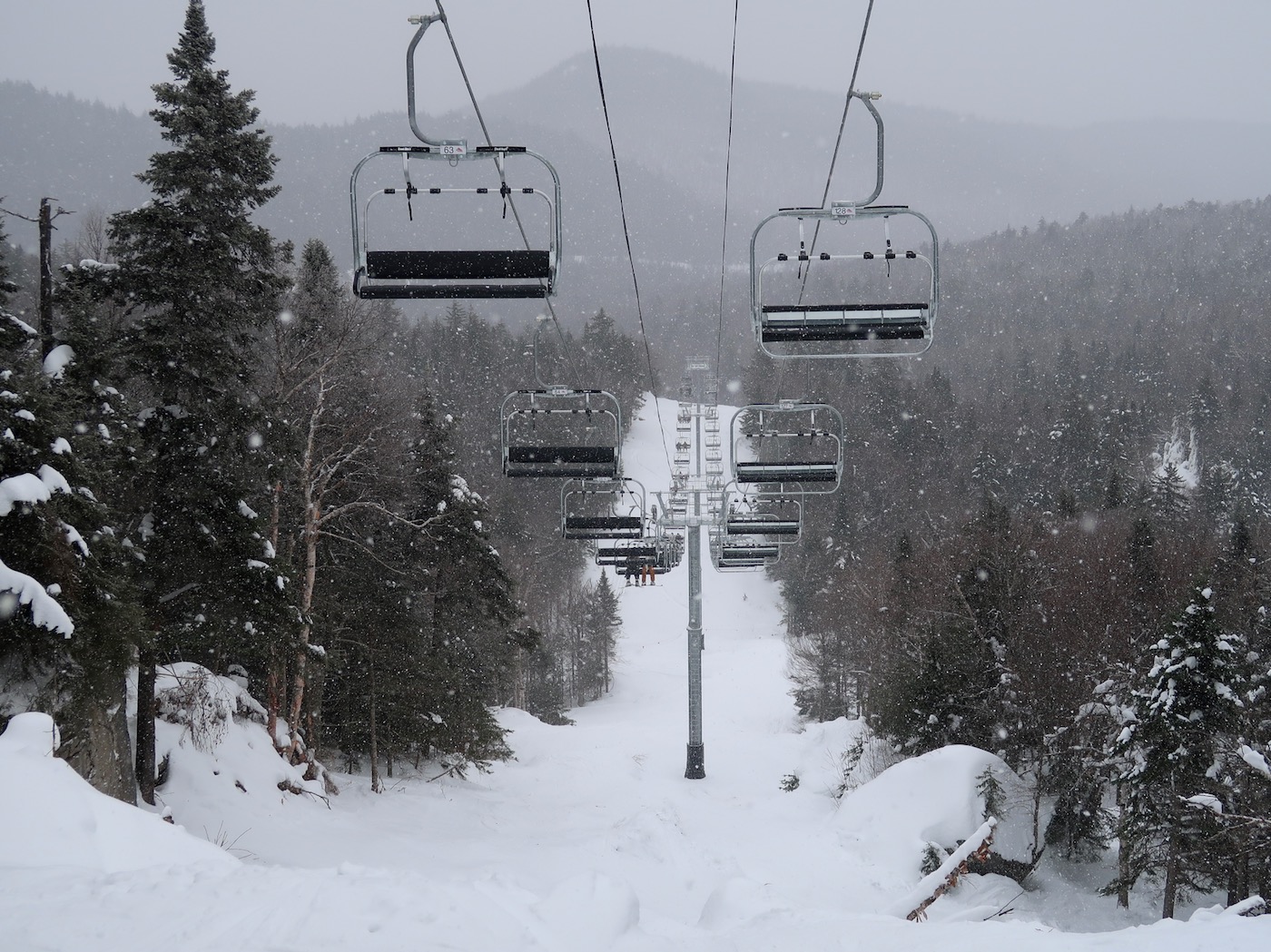 The next day I arrived alone again and skied all the same terrain. First chair at the Ski Bowl and over to Burnt Ridge. Boreas and Barkeater were roped so I decided to drop in to Tahawas.  Telerider and family were also getting off the quad, but headed in the opposite direction, down Pipeline to the Ski Bowl.  We shared that run in Tahawas trees and went our separate ways.
That was the moment that I abandoned the rule.  Faced with the choice of trees or no trees, I chose trees. I was alone in the trees for the rest of the day.  I headed up top where the snow was better and the cover was deeper.
By late morning it started to snow.  The forecast was for light amounts and we probably got an inch or two.  Sometimes a thin coating can make skiing harder, hiding exposed obstacles. But as mentioned earlier the cover was good, there were very few exposed rocks or trees. Throughout the afternoon, I found myself either first through, or at least with access to a line without a track, leaving me that thin powder to enjoy.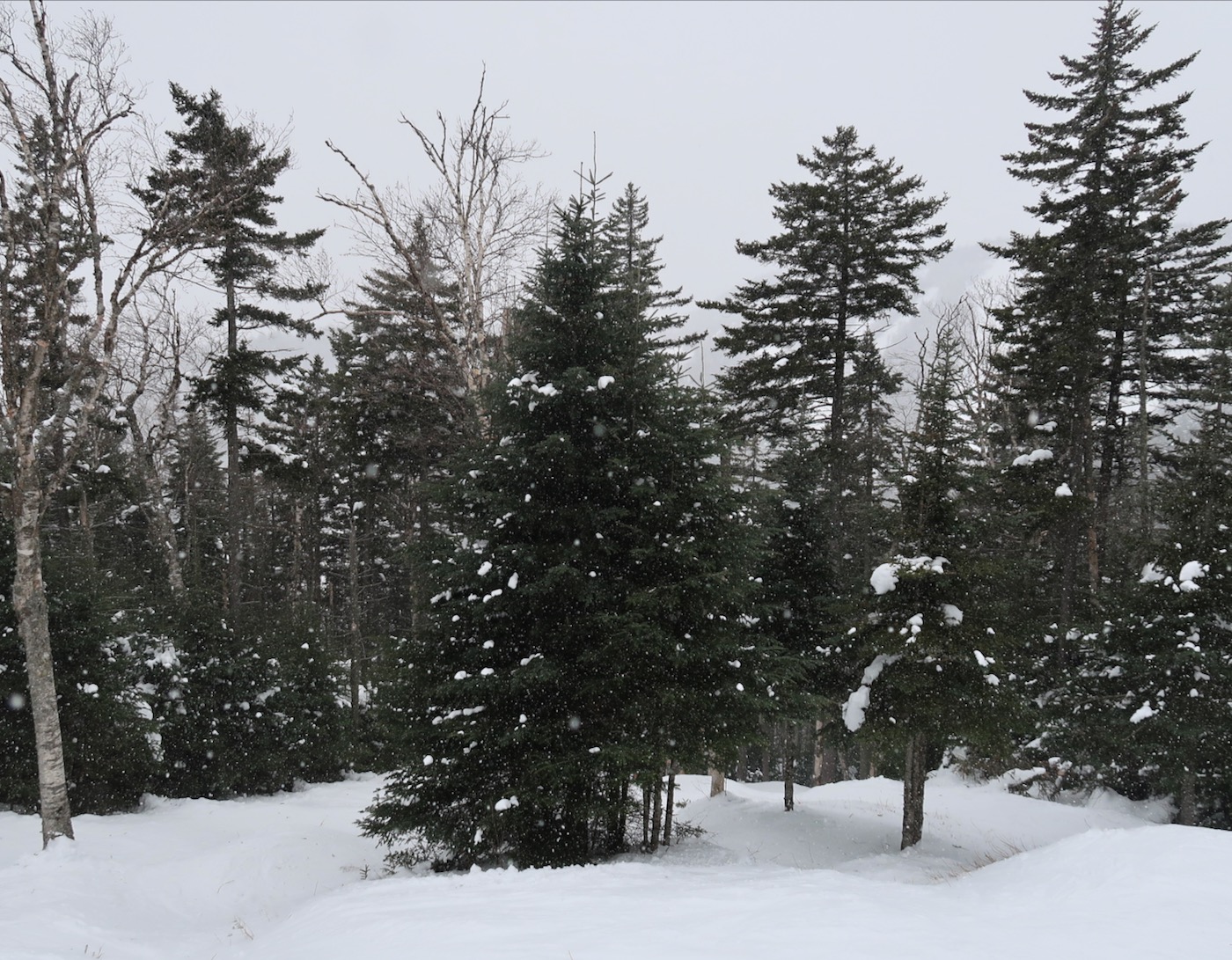 Right or wrong (ok probably wrong), I had the confidence to go in to the trees, because I had just been into all the same spots the day before.  I did make a concerted effort to find other tree skiers, but at times I was truly alone. I know I need to be more conscientious about lining up partners, especially when the trees are in play.
When Tuesday's storm swung too far north for Gore, I set my sights on Whiteface.  I was ready to go at the right time, a rookie mistake left me stuck, waiting for a big truck with a chain to pull me out.
Even so, I was on the road before 8:30, and could have driven to Wilmington. But I made the call to head home to the flatlands. I was smiling after two sweet days of packed out trees at Gore.