Each year I find a way to make my birthday fun. I get a few days off work and drive north to the mountains looking for adventure. When I pull it off, for the moment, I can forget I'm a year older. There's really only one rule for the trek: it has to include skiing Plattekill.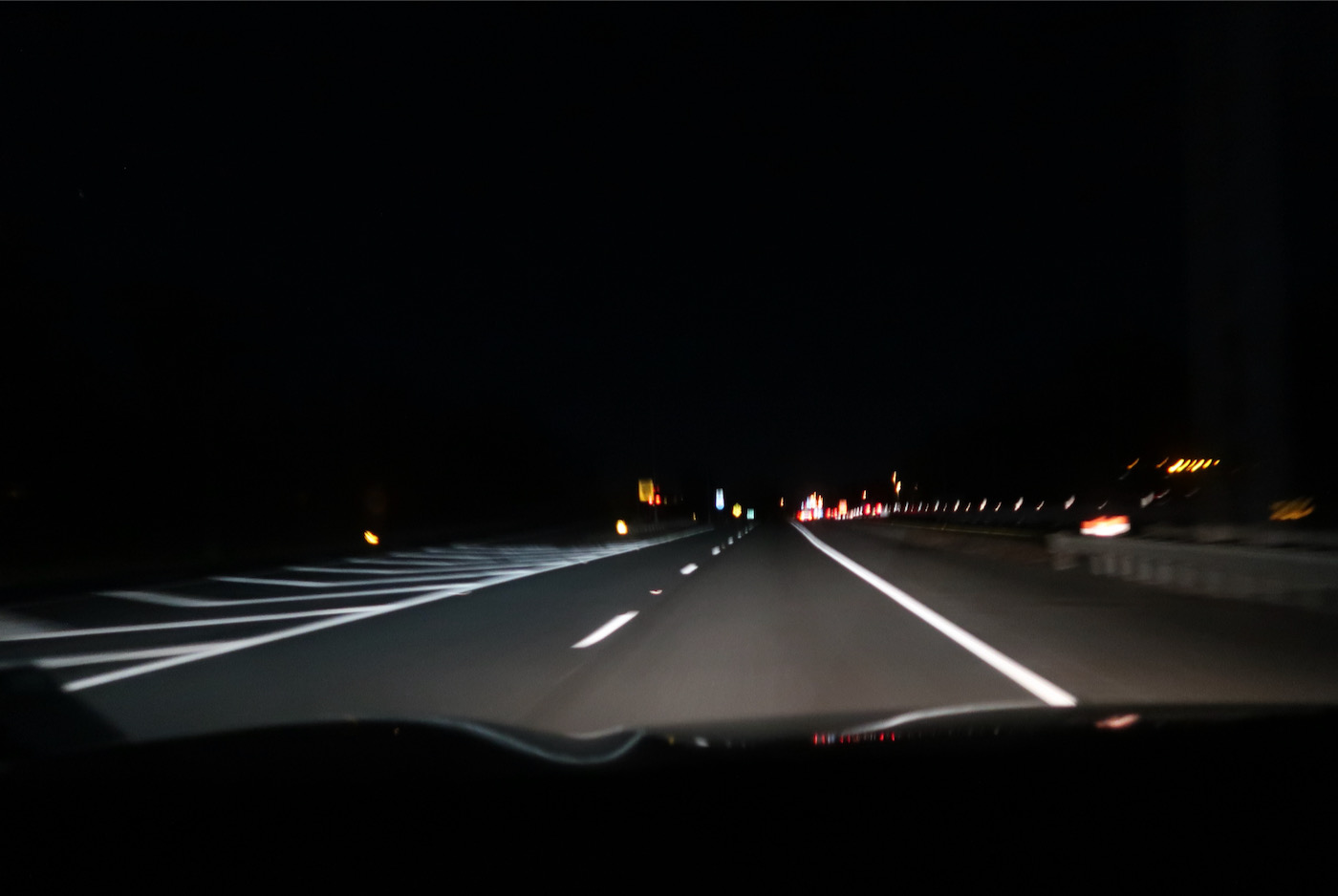 For me, being born in early January was a blessing.
When I was a kid, it stunk having a birthday right after Christmas. Nobody was the mood to party. But now, there's something I really want, that I can give myself, every year without fail. My present to myself is a solution to a problem: how can I avoid pondering the relentless march of time on the annual reminder of my birth? It's simple, go skiing.
The only downside is that my birthday falls a bit early in Plattekill's season.  Mostly I've had good luck. Over the decade that I've been honoring this tradition, five of my skiday b'days were off the hook. All of them were uplifting and fun. I know that some take my positive reviews with a grain of salt, but I don't care.  All that matters to me is, am I smiling, at the end of the day?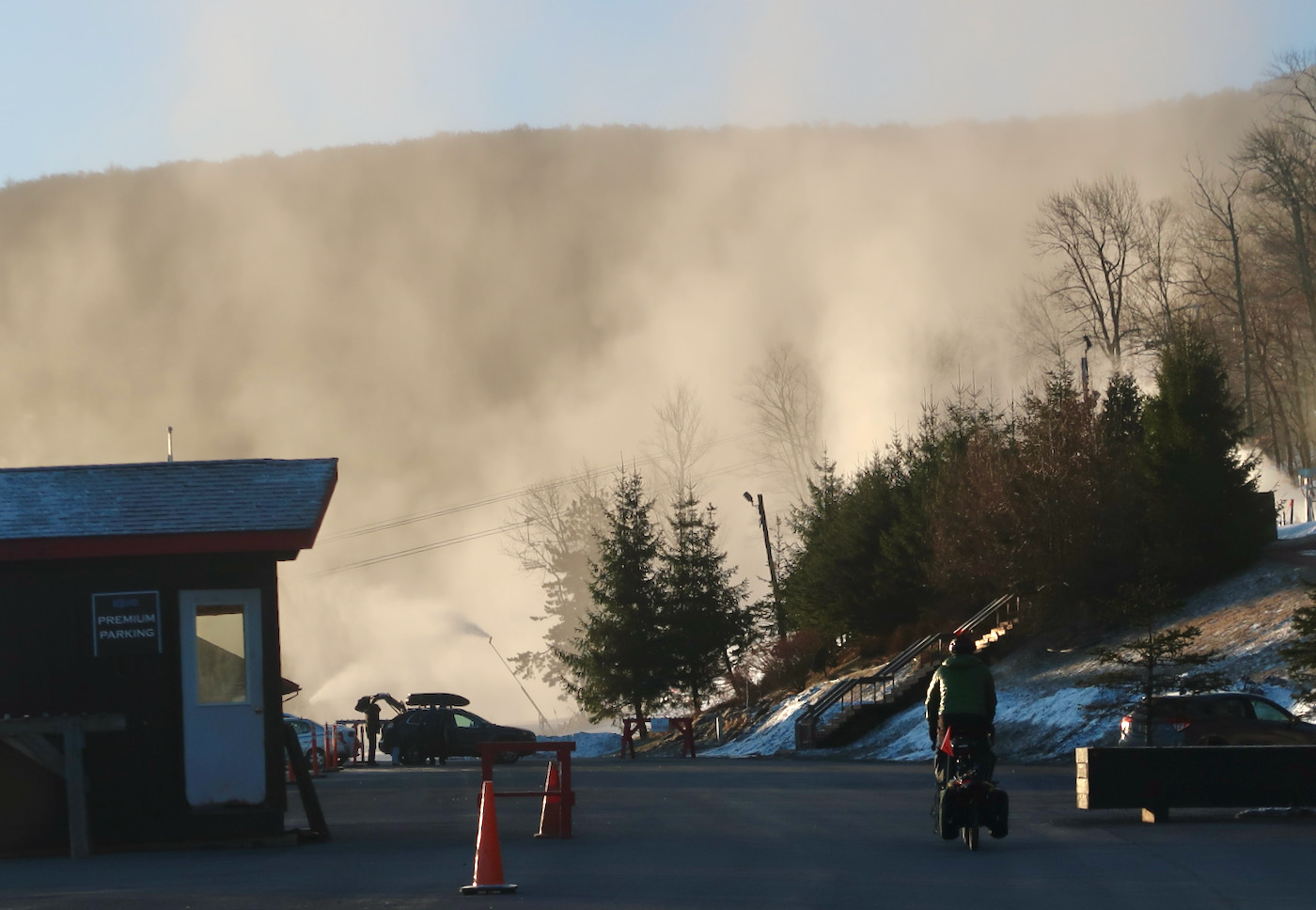 Before this year, the bday ski with the most marginal conditions was in 2019. We only had two or three ways down the mountain. As part of the festivities we hosted a special screening of Snow Farmers after dark in the lodge, and it was a day I'll never forget. Before we switched on the projector, I got to tell a Plattekill story to a 100 kindred spirits. So. Much. Fun.
This year looked be the toughest setup yet. Two weeks of rain and spring warmth set some of our favorite mountains way back. Magic was closed for the weekend. Gore was down to 39% of terrain. Plattekill's report showed one way down the mountain, known as the "S" — Sundown to Shredded Mozzarella.
I wanted to ski with one of our new writers, Rip.  He put up some incredible content this past year and we'd never actually met.  Rip is a Belleayre passholder from the Hudson Valley, and I tried to convince him to ski Plattekill with me.  He had some family logistics to work out, and in the end he told me it would have to be Belleayre.  I didn't fully understand why, until later.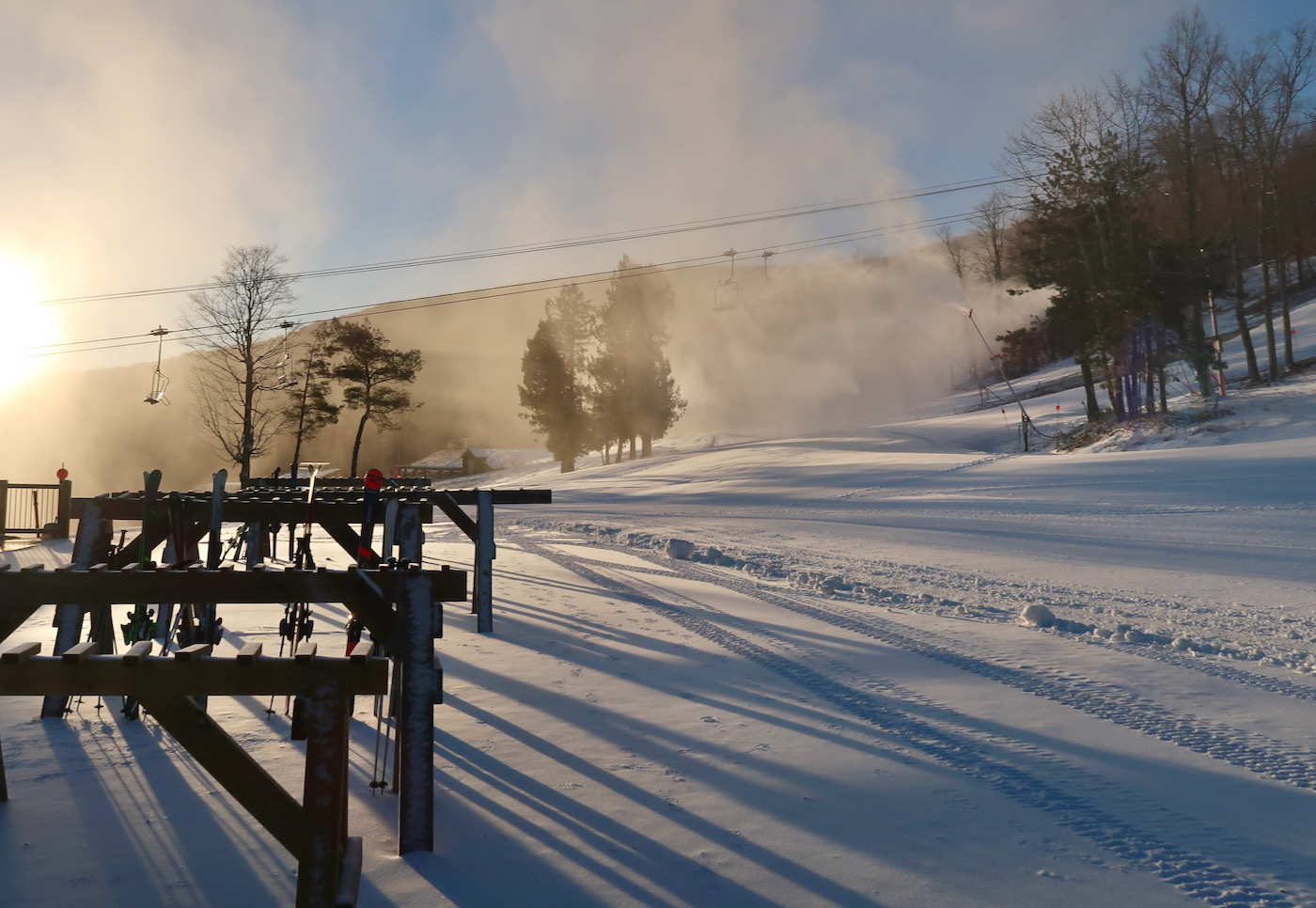 I agreed to start the day at Belle, ski the morning with him, and then drive over to Plattekill for the afternoon.  I've never skied multiple ski areas in one day; to me it feels like too much logistics. But on this day it seemed to make sense. I'd get to meet Rip, and Belleayre was reporting an astonishing 79% of terrain open for the weekend.
My Belleayre alarm went off at 4am, which is a pretty reasonable hour, in my world. If I can fall asleep by 10pm the night before, I'll get six hours of sleep.  I usually give myself an hour to get ready when I rise, but on Sunday I was out the door at 4:45. I arrived in Pine Hill at five-after eight, and there was Rip, just ahead of me, on his electric bike, with his skis in tow.
I'm not sure how exactly this got past me.  Rip told me he was going to ride his bike, but it didn't really occur to me what that entailed. It's 180 miles round trip, from his house in the Hudson Valley, and he did a significant amount of that in the dark. I still can't quite believe it.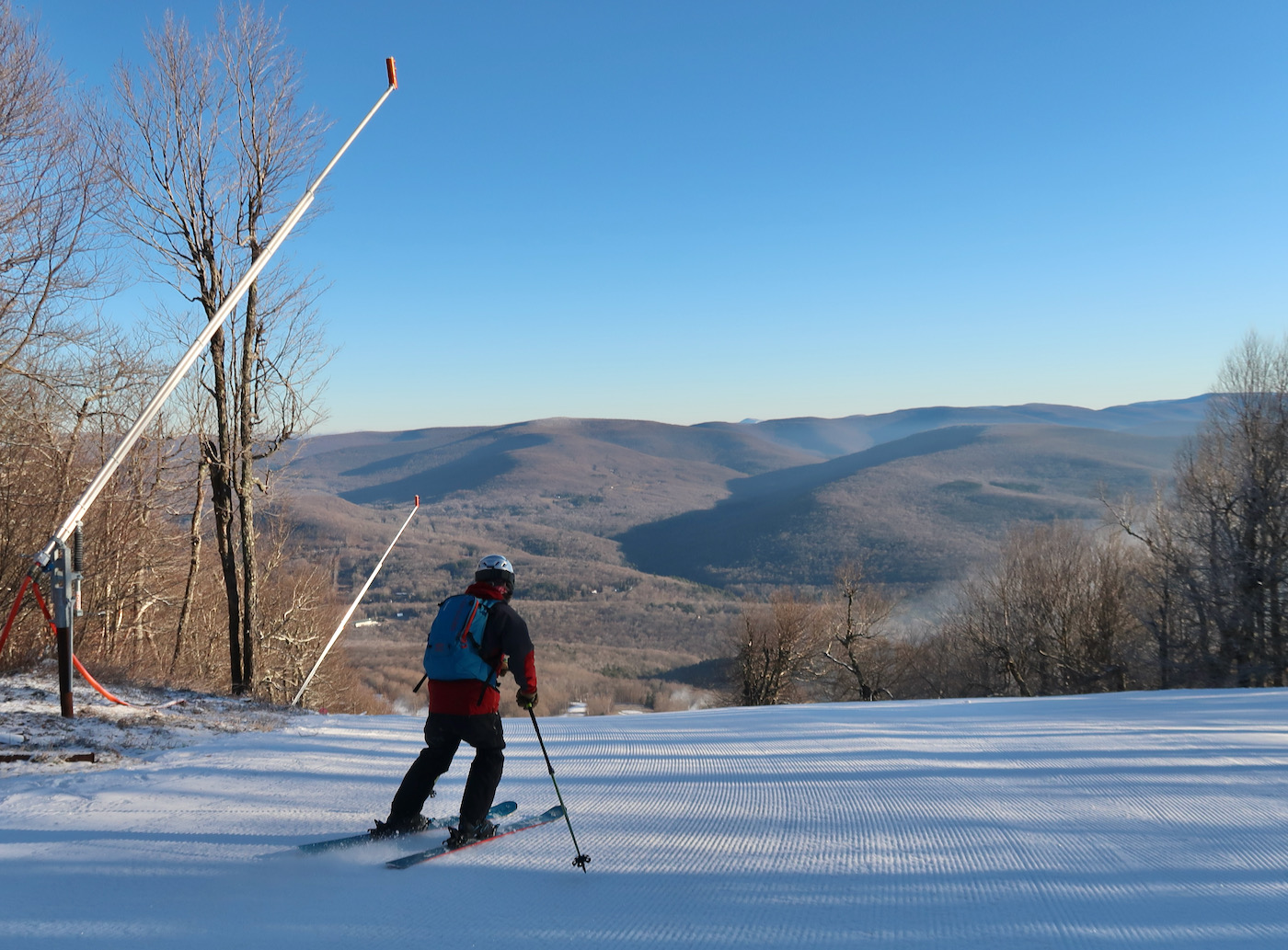 We headed into Overlook Lodge together and booted up. We were first on Lift 7.
I can't remember a year when Belleayre's snowmaking was this strong. All three ORDA hills have made significant investments, improving their ability to open new terrain, or recover from a rain storm. But even with the information I had in advance, I was stunned when I arrived. There was ongoing snowmaking everywhere I looked.
At the top we headed east on the Ridge, Belleayre's only traverse. I wanted to ski under the snowguns, but Rip, correctly pushed for cord while it was still available. We skied Onteora first, and after that it was pretty much a blur. Rip was on his home hill, and I followed.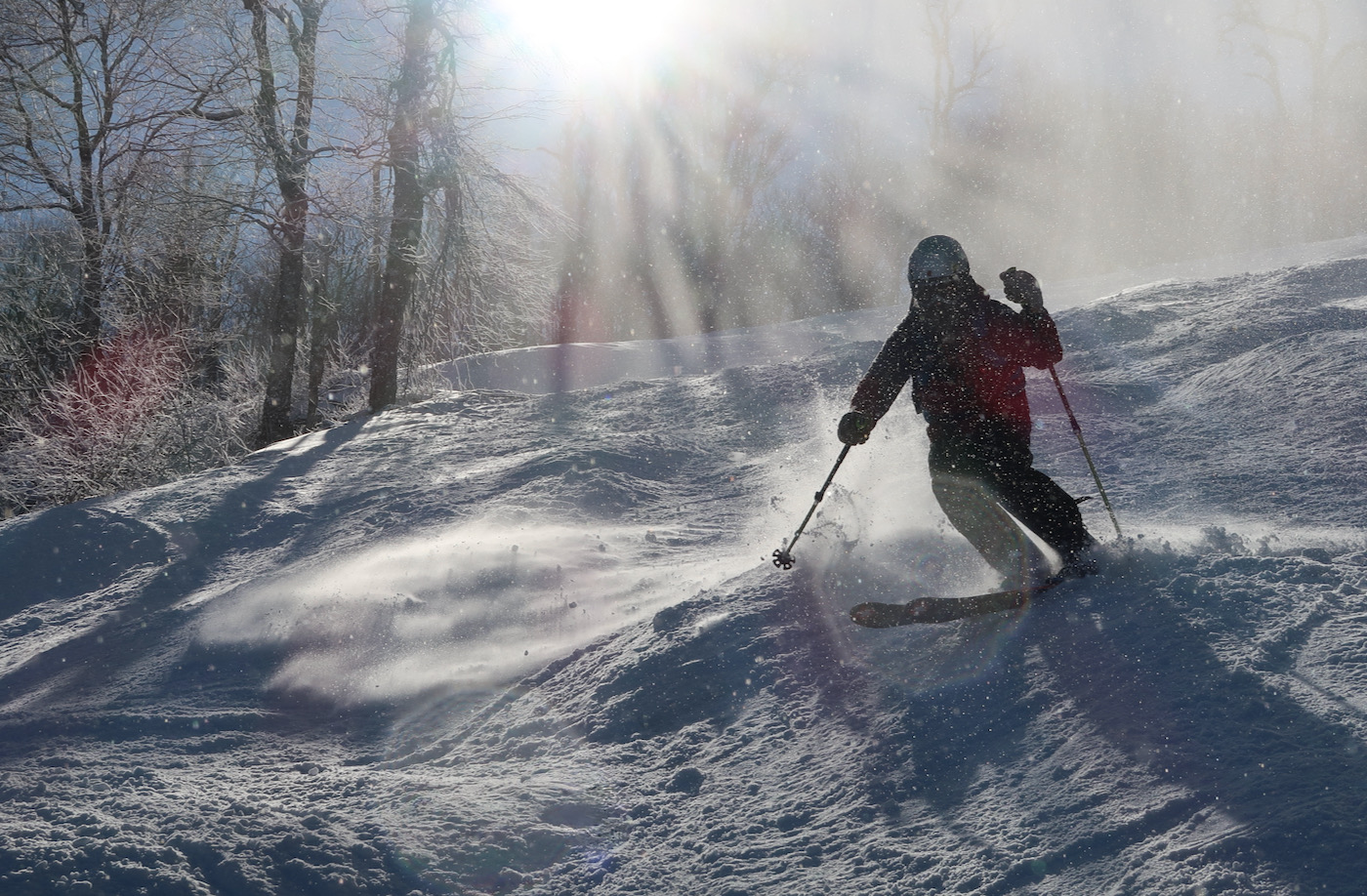 Any pitch that had snowmaking in the last 24 hours was fun to ski. There was no route down with soft snow from top-to-bottom, but there were many nice pockets spread around the mountain, and the conditions made us smile. Much of what didn't have new manmade was pretty good, and the rest was ok. All of it was 100% better than I expected.
We ripped all morning, looking for the best snow, taking a few pictures and talking about Rip's adventure.  More than just the epic bike ride in progress, his whole life has been an adventure, and he's got some great stories to tell.
As the morning wore on, trails with snowmaking got better and better. I was impressed with the quality of snow Belle was blowing at 28 degrees. We took a break around 11:30, shared a snack and headed back out for a few more runs in the bumps on Winnisook.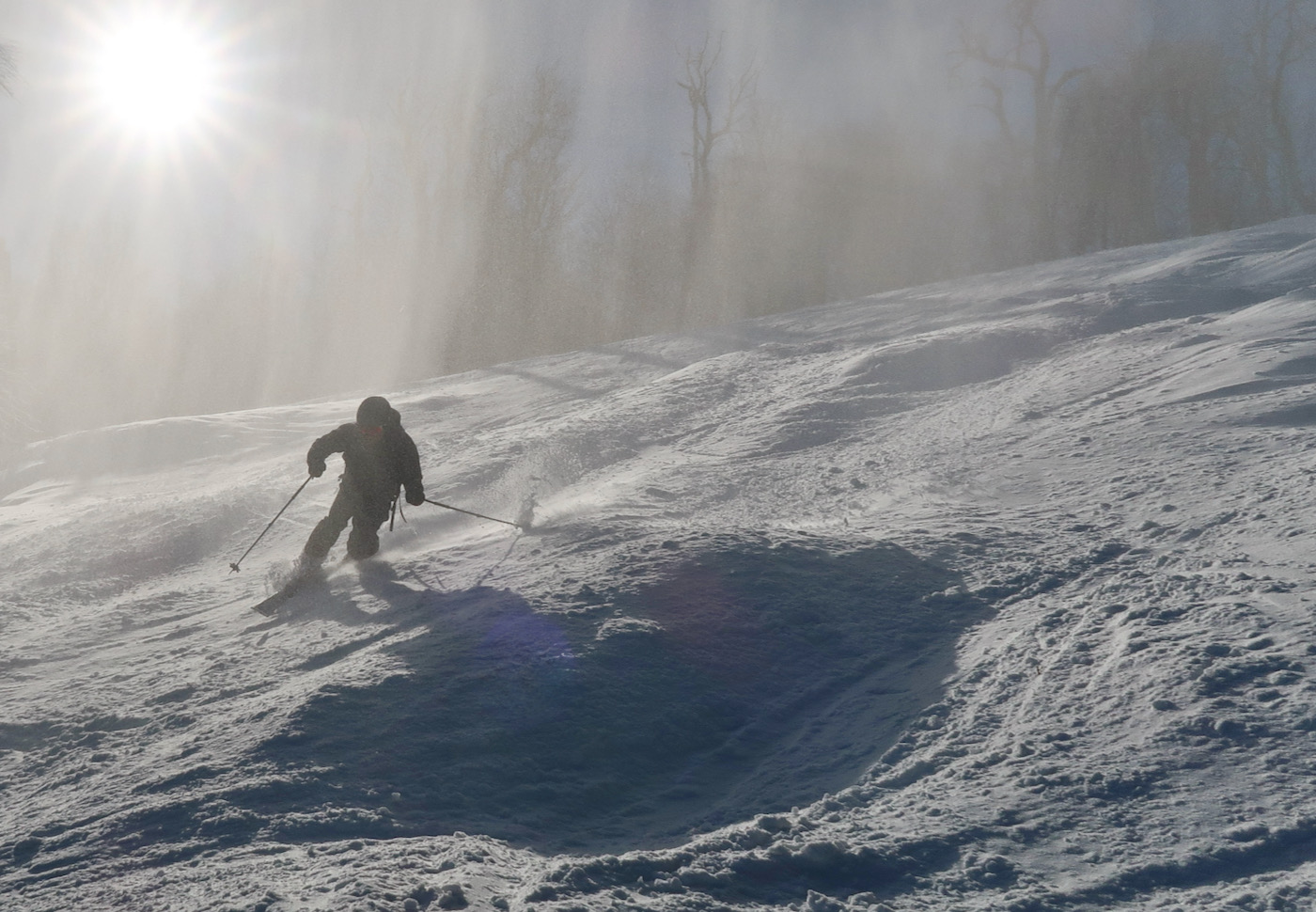 At 12:30 neither of us wanted to quit, but Rip had a long ride ahead of him, and I had a date with Plattekill. I drove west through Arkville and then up into Meeker Hollow. At first glance it looked like The Face was skiable, but as I got closer I could see that while Lower was in play, Upper was closed.
The season has started out really tough for all and Plattekill is no exception. In the last five years, mountain rentals have become key to Plattekill's future. The groups that rent the mountain are excellent customers, many of them repeat year after year, committing to the mountain months in advance.  These dates have been sold out for the last several years.  This year the first two rentals were cancelled.
I went into the lodge to get my season pass. Shannon saw me, smiled wide and gave me a big hug. She told me that the team was keeping its spirits up, in spite of the adversity. That fortitude comes from the top down. No matter what mother nature dishes up, you never see Laszlo sweat.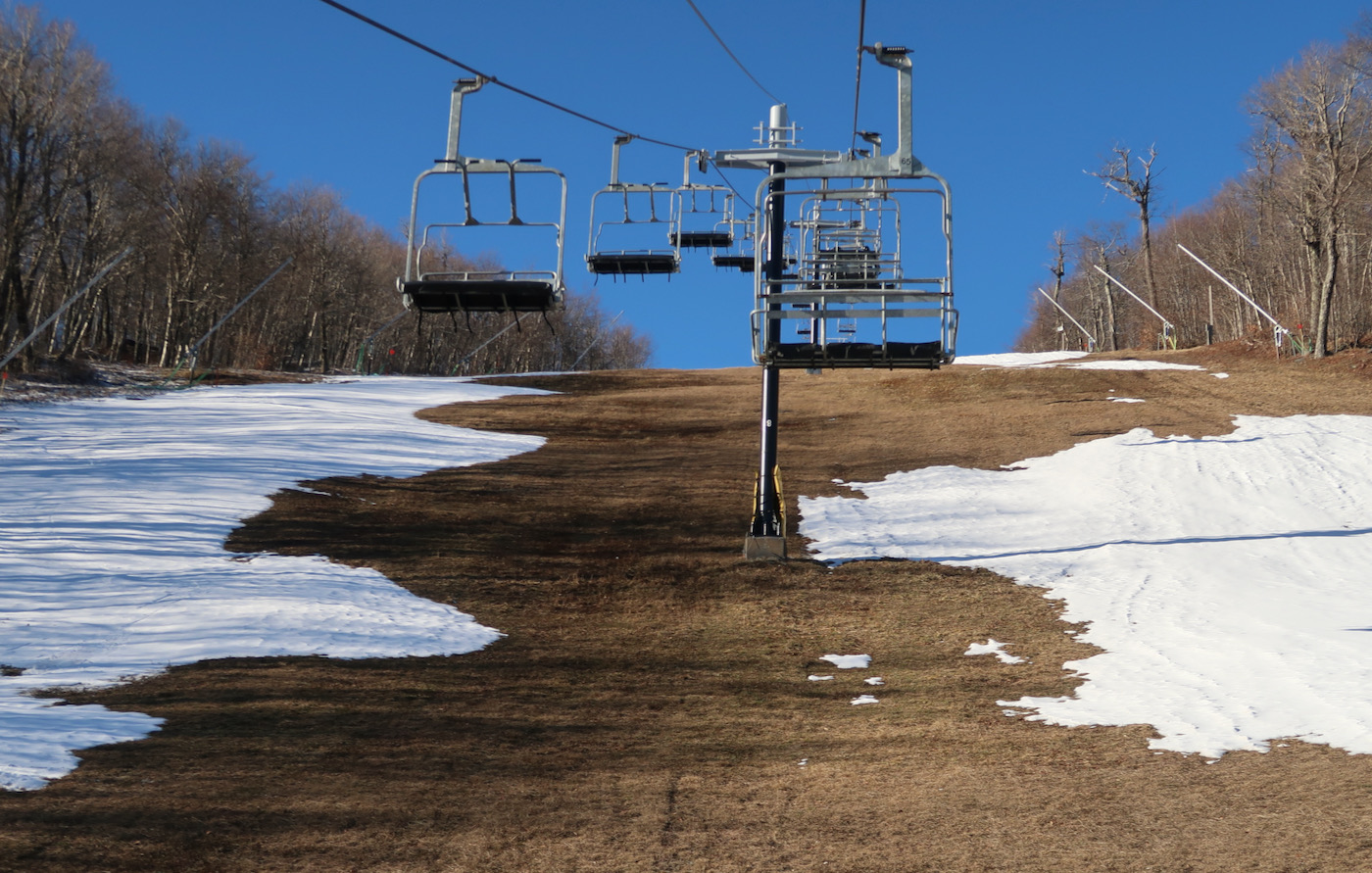 The crowd was light, but as I always do, I found friends to ski. I ran into Roman, the ski school director, coming out of the office and I spotted Sean Riley up stairs in the the lodge, in street clothes. "Sean! Are you going to ski with me?" "Let me put my boots on Harvey, I'll be right out."
Lower Face was in the sun, and although it wasn't listed as open on the trail report, it was skiing great. I love following Riley around, he makes every single thing fun. On our second lap Riley indicates that we were going to "ski" Upper Face. I agreed, knowing full well it was a bit nuts.
We skied until Shredded Moz went into the shade and then we called it.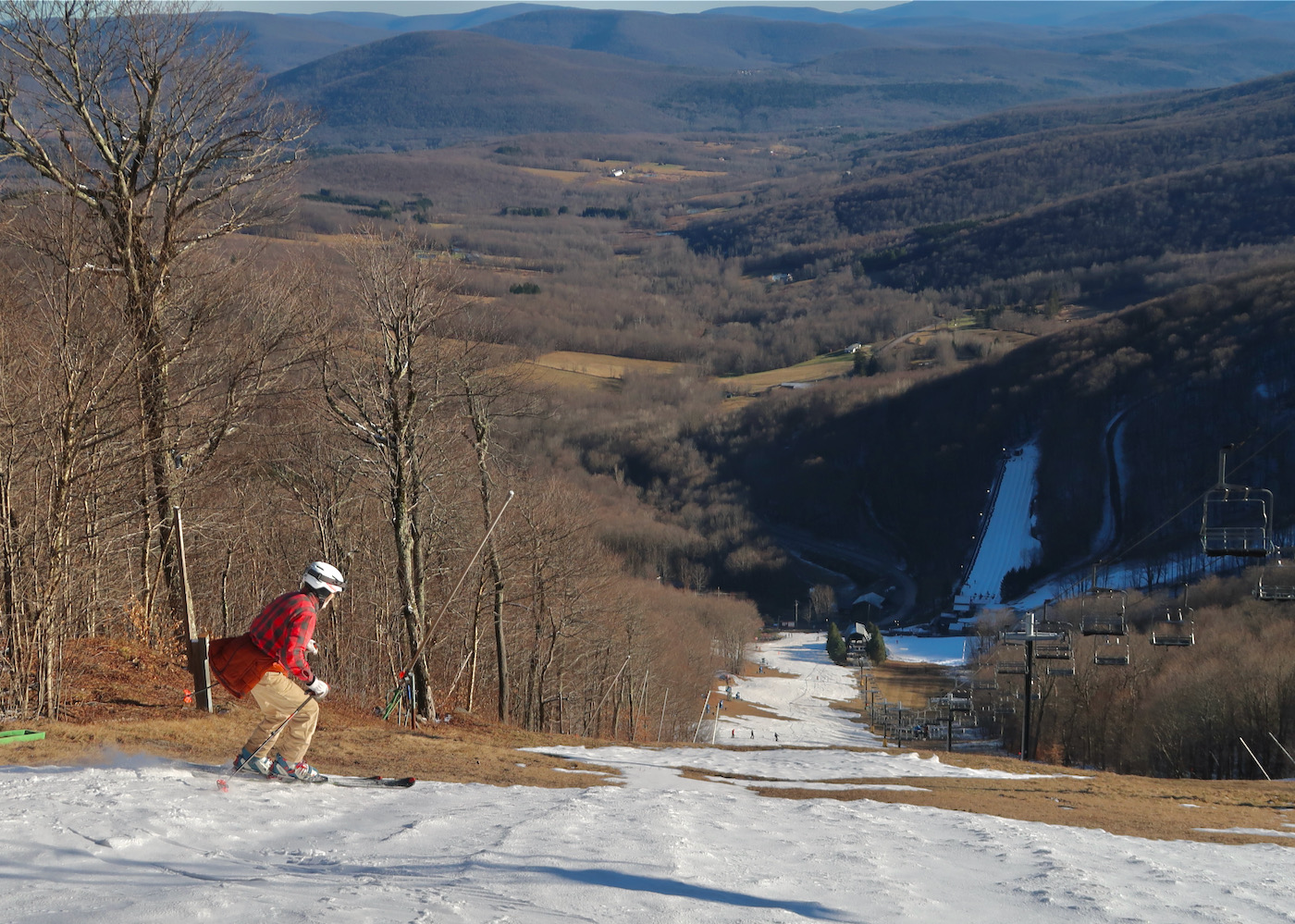 The first year I had a Plattekill seasons pass was 2011/12. My first ski day that year was my birthday, and at the end of the day I wanted to give something back. I headed into the bar and bought a round of drinks for the house. The round has been part of my tradition for the last ten years.
I headed down to the bar to set it up with the bartender. The bar was almost empty, so I started walking around trying to find people to share a beer. I came across Laszlo, Danielle and Bobby C and invited them to come on up to the bar. The crowd was light, and I had my smallest tab ever.
Laz took me down the see the entirely rebuilt control shack for the bottom of the double. In July of this past year lightning struck and the control room burned to the ground. Sourcing the parts, labor and insurance to fix the lift that serves 80% of the mountain's terrain was no simple matter in an era of supply chain disruption. But what's installed now is a big step up and the chair is actually spinning 100 fpm faster too.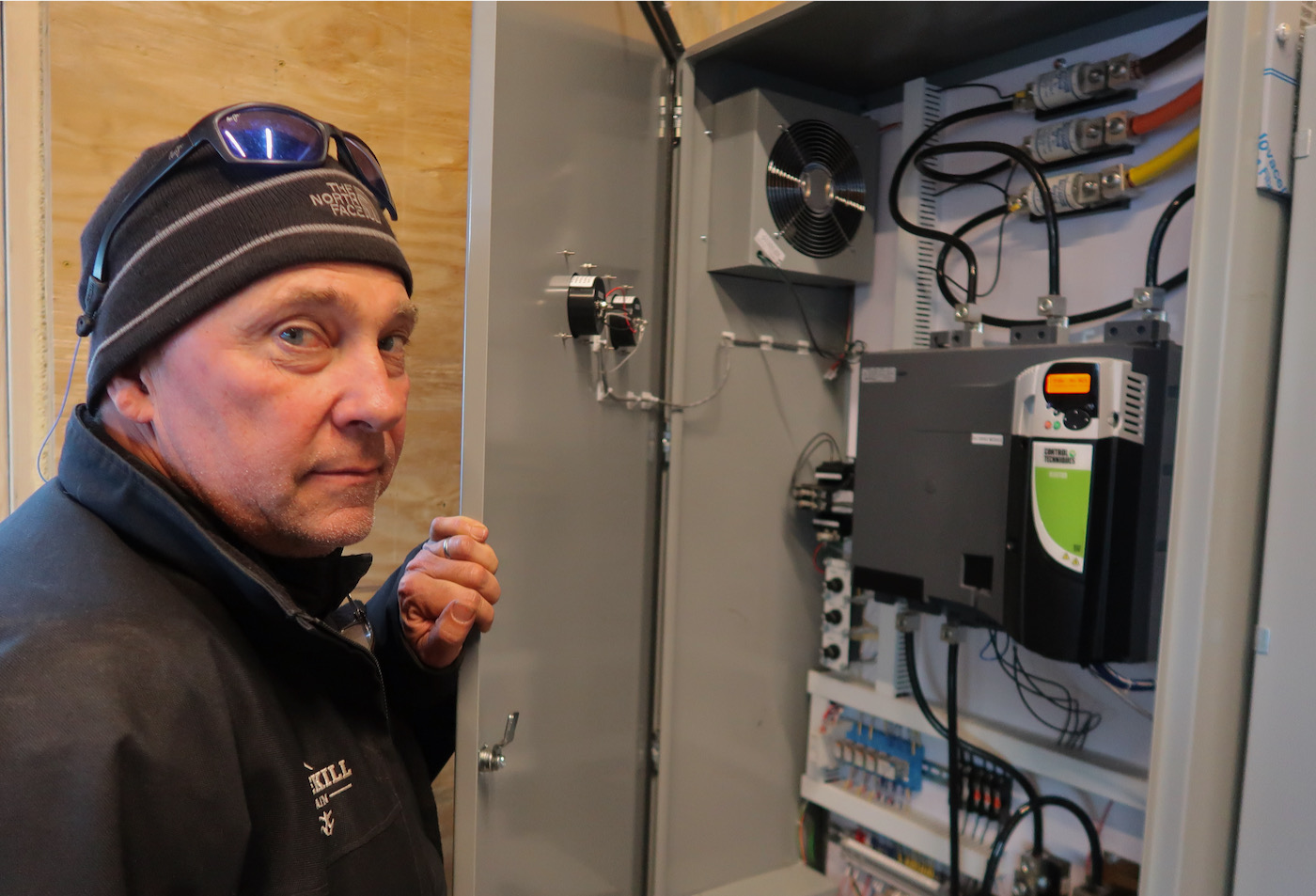 The most striking thing about my day was the contrast between Belleayre and Plattekill. It's clear that Belle has what they need to open terrain in challenging times like those we are facing this winter. The snowmaking show they have put on this season is impressive.
It's harder for Plattekill. Imagine owning a skiing area as a family, trying to decide whether to spend your own money, on an early season snowmaking window.  If skiing is going to survive in the Catskills both mountains are going to need robust snowmaking capacity.
I discovered Plattekill in 2010 through friends who were Belleayre skiers. I came to appreciate Belleayre's role in New York skiing when I wrote a history of Belleayre back in 2016. I love these mountains, and I want both of them to succeed.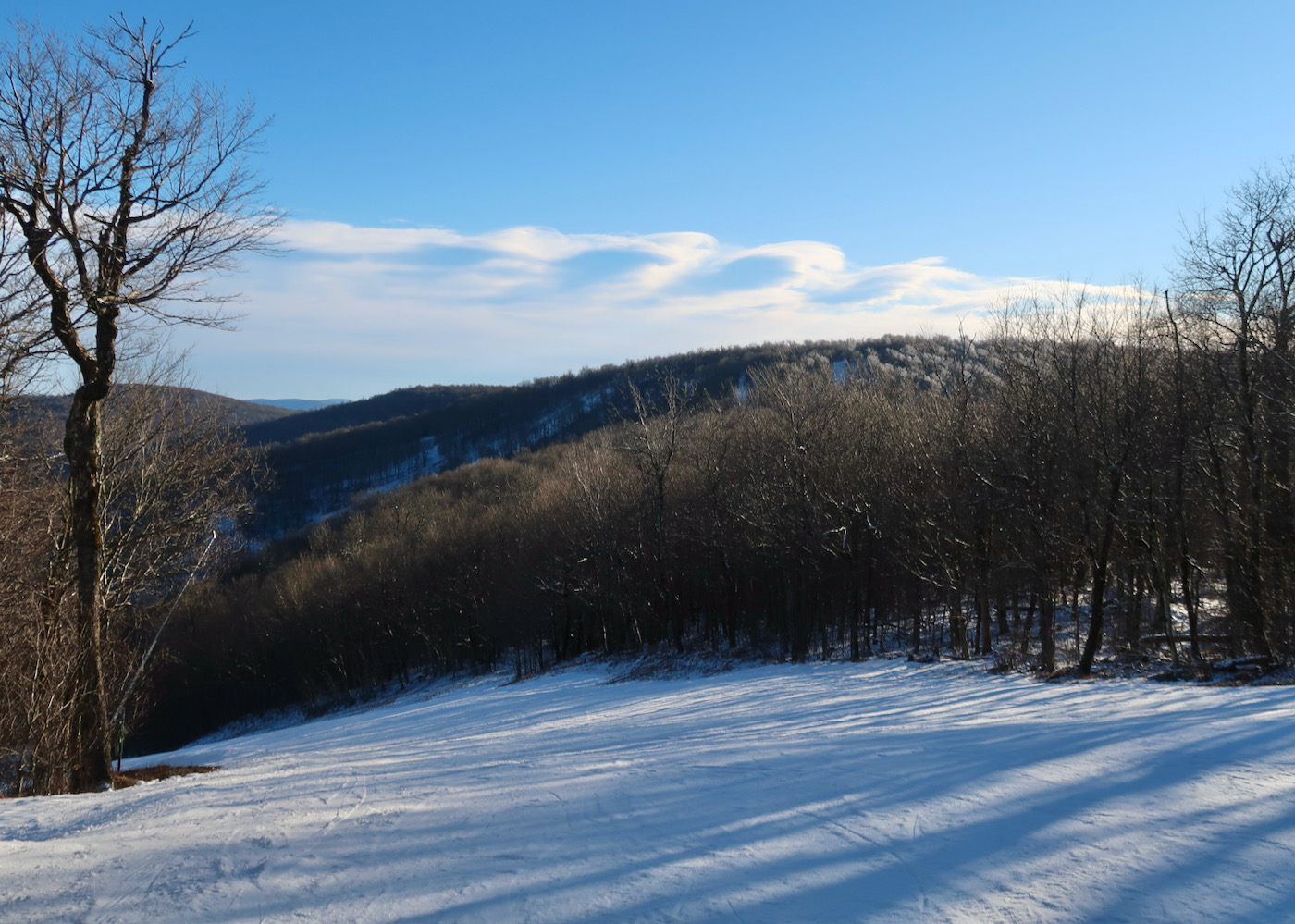 The state, in conjunction with NYSERDA and SANY, has done good things to try to level the playing field for public and private ski areas in New York. Most recently was the 2018 program that distributed five million dollars in energy efficient snow guns to private ski areas, using an 80/20 plan that required a 20% match from the operators. This plan worked extremely well for New York.
To make snow with a snowgun, you need compressed air, pumping capacity and a water supply. Energy efficient guns cut down on the amount of compressed air you need to make snow, reducing your electric costs. Each ski area likely has at least one of those variables that is limiting snow production, holding them back.
Plattekill has significantly upgraded their compression and pumping capacity over the last two years. Now the limiting factor is water storage. They need a reservoir up top, that they can fill when it rains, and pump out when it's cold. The land is there, the pit is there, but it needs to be lined with clay and plastic to hold water and the cost is more than you'd expect, well into six figures.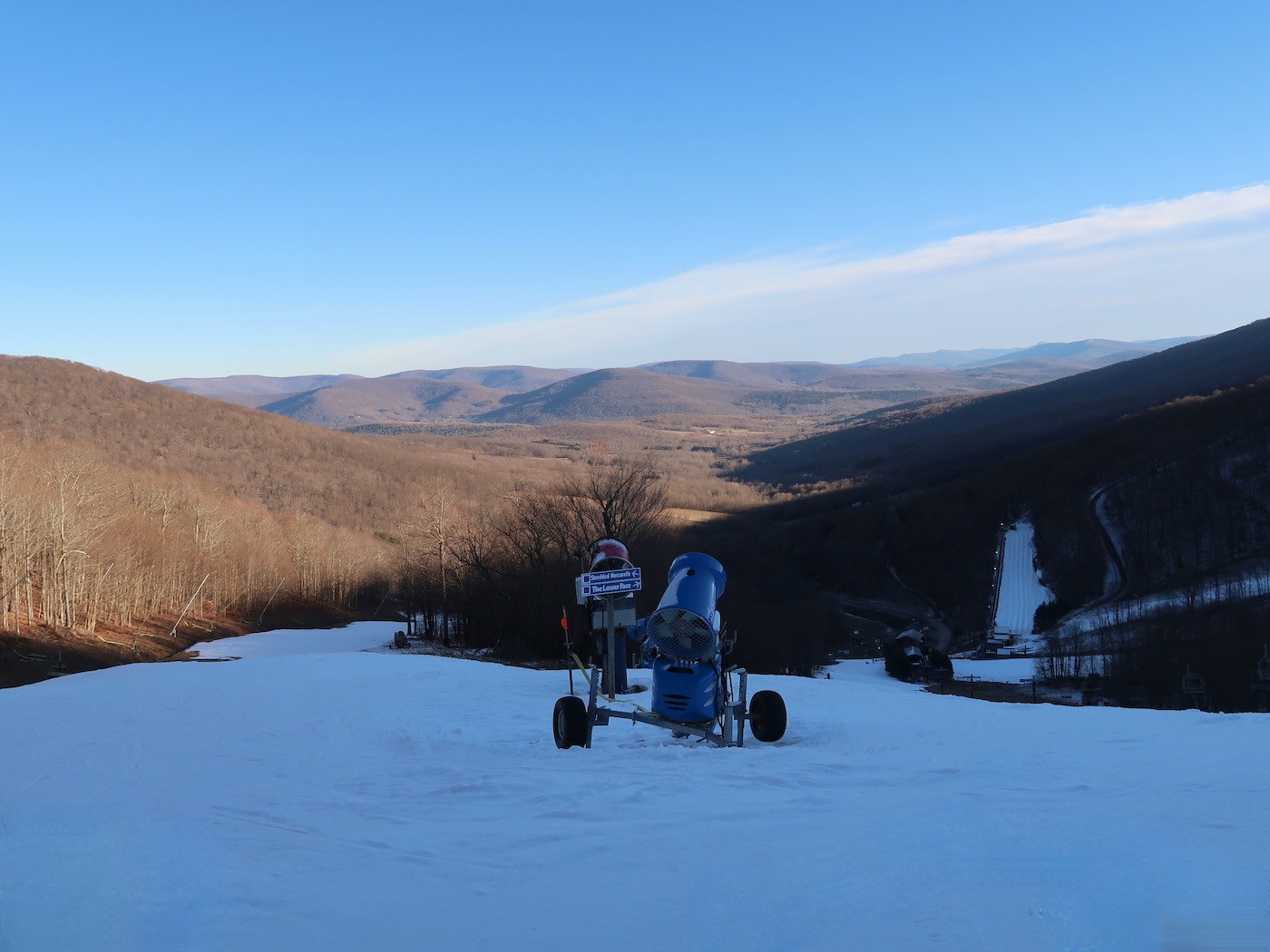 Plattekill has outlasted all the other small, family-run ski areas in the Catskills, because they are blessed with good snow, great terrain, reliable lifts and an owner who's upgraded his infrastructure while avoiding the kind of debt that could sink him after a couple of bad years.
I wish I had an innovative financial solution to this challenge that I saved for the end of this piece, but I don't. I've long dreamed about a low interest loan program sponsored by the state, that each ski area could apply to their own "limiting factor" but I'm told it's not practical. I have to accept that the best I can do is to ski the hill and share my love for the mountain.
If you have an idea about how small independents can finance crucial capex projects, or if you just want to share the stoke, please post in the comments below.