Just before 3pm on Tuesday July 12, intense "straight line" storms came through the Catskills. In Delaware County the weather was extreme for several minutes. At Plattekill, the storm passed and after that, at the end of the workday, employees went home. At 5:45 pm an alert neighbor saw smoke rising from the base of the ski area and called it in.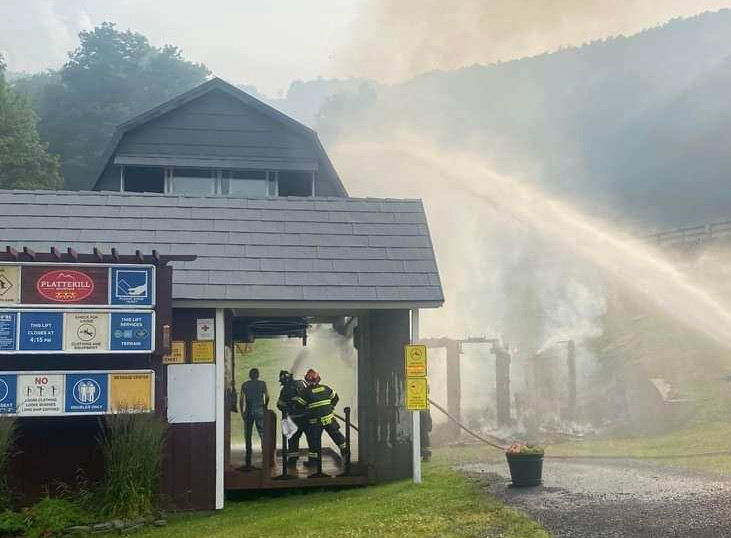 Based on the timing and nature of the storm, those on the ground believed that lightning struck the control shack, at the base of the double chair.  If so, it may have smoldered for a while, before it was seen and reported. For the moment, until the insurance company can make their official determination of cause, the shack ruins will stay where they lay.
I first saw pictures on my phone, the control shack was gone, but the lift itself was largely undamaged, outside of some melted shingles and plastic windows.  Credit for preventing what would have been devastating loss has to go to the quick action by Roxbury Volunteer Fire Department.
When I reached Laszlo by text, his immediate concern was getting another wedding deck built, at the top of the triple. This project was started this past Friday and will be ready for a wedding this weekend. By a stroke of luck there was no wedding this past weekend.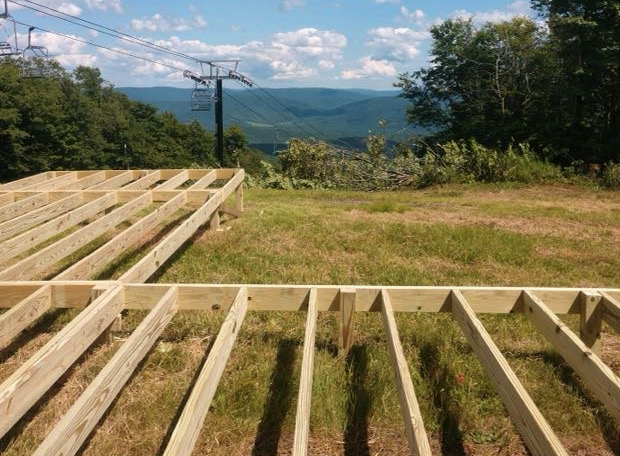 The biggest challenge is to source the Hall control parts needed to get the double spinning in time for ski season.  It's a job with logistical challenges — including insurance, parts, construction and inspection. With all of that going on, Plattekill is in the midst of a trail and snowmaking expansion.
To review, the Plattekill double needs a specialized component set, built with scarce microchips, part of the same supply chain that is vexing auto manufacturers. To quote a recent article in the NY Times:
"The most advanced category of mass-produced semiconductors — used in smartphones, military technology and much more — is known as 5 nm. A single company in Taiwan, known as TSMC, makes about 90 percent of them. U.S. factories make none."
The word spread quickly: Plattekill was (and is) in the market for a 200 HP DC drive. I didn't know what that was exactly so I asked Laszlo:
"It's the brains of the lift. It's a full system, that makes the lift operate safely, start, stop, slow, emergency stop, senses faults and detects towers from the cable running off etc. It communicates with every input both manual from lift operators to automatic such as tower detection, and communicates with the top."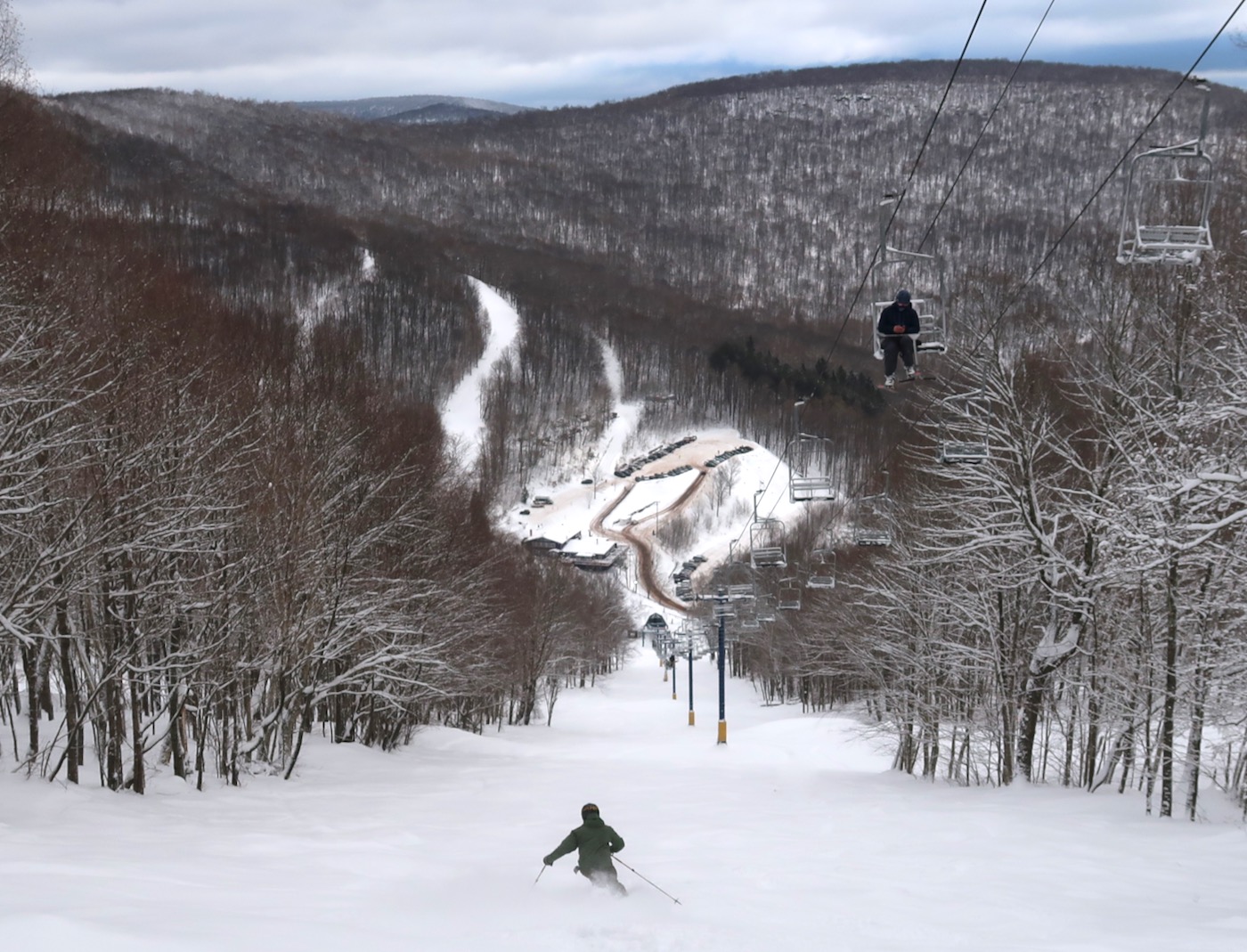 Laszlo was encouraged by the response to the outreach:
"The ski industry is amazing. I've gotten emails and calls to our office from as far away as California with ski areas willing to help. Locally as well, Tim at Woods Valley, Kris at Pats Peak and Caberfae Peaks in Michigan have all reached out. No less than 30 ski areas and industry professionals have offered to help. We will definitely pay this forward."
Obviously the Double is a crucial part of Plattekill's operation. It's important to me too. This past year Gore and Plattekill combined were 50% of my ski days.  While there are several lifts I depend on at Gore, there is really only one lift at Plattekill I need to have a great day.
Plattekill's double serves most of the expert terrain, all the most reliable tree skiing, and it provides access to acres of incredible sidecountry.  If I had to chose one lift in New York to ride for an entire season, the Plattekill Double could be it.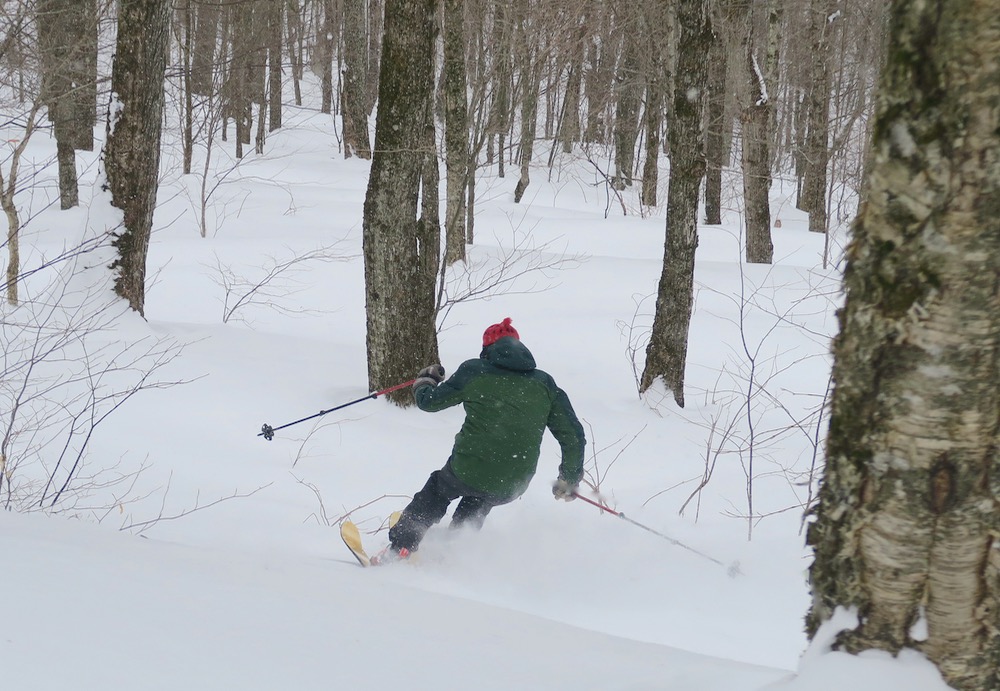 One other piece of news lost in the shuffle, there has been talk of converting the double to a triple. Plattekill is currently in possession of 87 triple chairs recently acquired from Windham. While there are all kinds of reasons to do that upgrade, I've been secretly hoping the Plattekill Double would live on in its current form.
To me, The Double is a brand icon for Plattekill.  It seems, at least for now, that the icon will remain as a double and the triple chairs sold, to help offset the expense of the lift repair. Stay tuned for more details on that.
Finally, in the last few days, I've spoken with both Laszlo and Macker. At this time, Snowbasin has a drive system that looks promising. I'd call Laz cautiously optimistic about getting this done in time for the season. Macker was all in: "We're running a ski area here, we need to operate our lift, we will get it done." I too believe. See you on the hill next season.