The day after the Craftsbury Marathon, I drove to Trapp Family Lodge for a recovery ski. I hadn't been there in 15 years.
Yes, that Trapp Family. The hills are alive, sweet vocal harmonies, cavorting in alpine meadows, and all that. After fleeing Austria, the von Trapp Family settled in Stowe, VT, buying a substantial piece of land and opening their first guest house in 1950.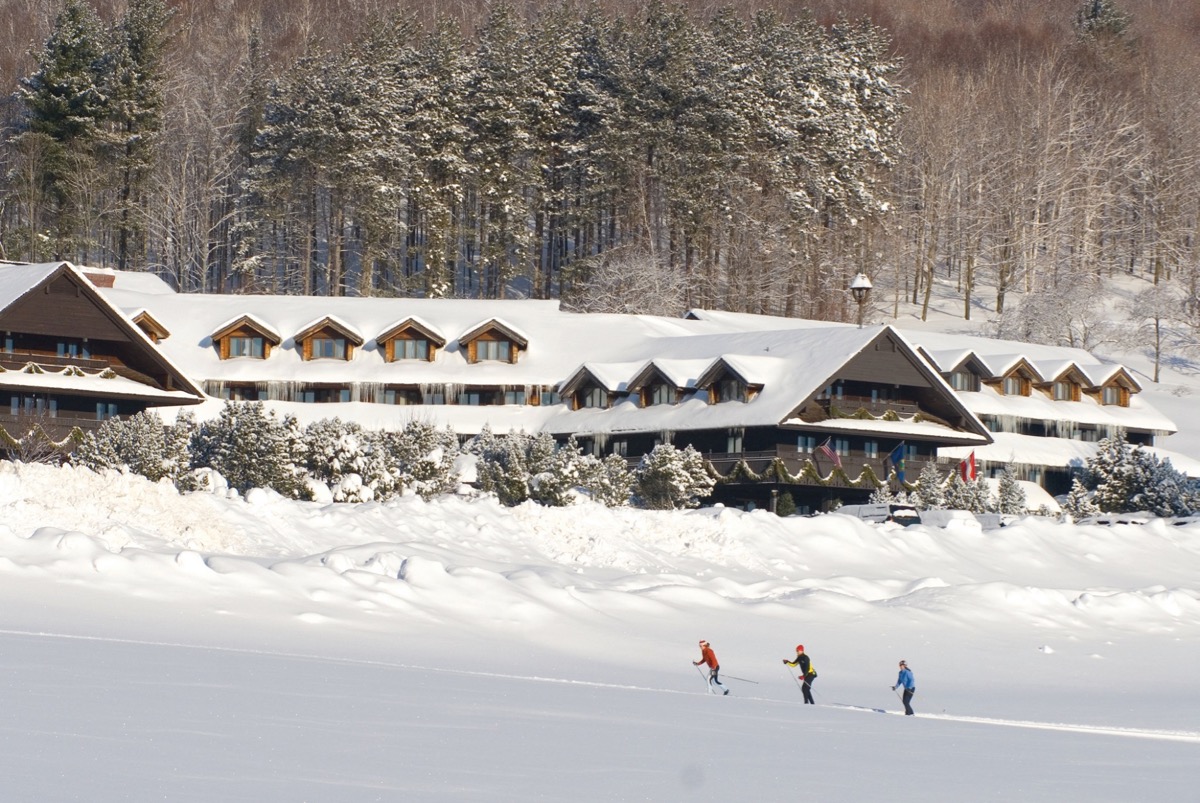 In 1968, the Trapp Family Lodge opened a cross-country ski center. According to their website, it was "the first of its kind in North America." Mohonk Mountain House began offering ski tours to their guests in the 1930s, but they didn't — and still don't, to my knowledge — have a lodge for day guests.
How does one define a nordic ski center? Despite my interest in ancient ski history, I'm not going to parse that one.
For several years, ending when our daughter was maybe five years old, my wife and I participated in a house share near Sugarbush. The other people up for the weekend would go to Sugarbush, Mad River Glen, or to Lake Willoughby for the ice climbing. We'd drive up to Stowe to ski at Trapp or at Mount Mansfield Nordic. Sometimes our housemates would join us. But time passes. Couples have kids and other life changes, and people drift away. The house sharing group disintegrated gradually.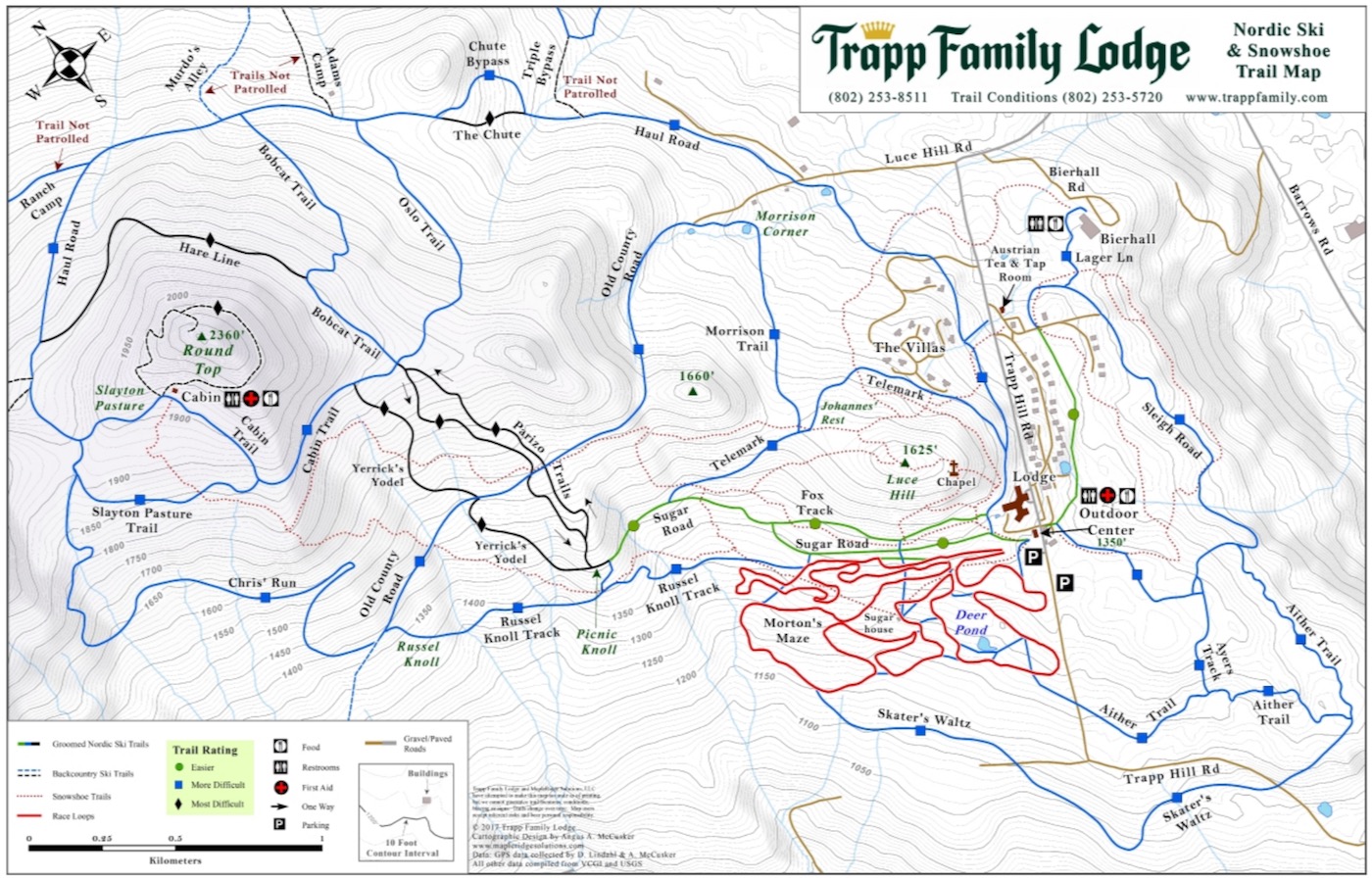 As I pulled my skis out of the bag, I saw familiar faces from the previous day's race. We chatted about the previous day's adventures. I worked kick wax on to the skis I didn't use in the race and set out.
Retracing a route that we used to do during the house share days, I set off down the Sugar Road, a long, gradual downhill. The kick wax stuck here and there, but it was OK. After a kilometer or so, I came to Maria Plaza, a sloping open field where multiple trails intersected. I took a hard right and started up the Parizo Trail.
In the shadow of the lower slopes of Mount Mansfield, there's a lot of up and down in the Trapp trail system. While most of the trails are two-way, the black diamond Parizo is nasty enough that there's a one-way Parizo trail going uphill, and another one for down. I was still wrecked from the marathon, and I herringboned uphill switching to kick and glide where the grade was manageable.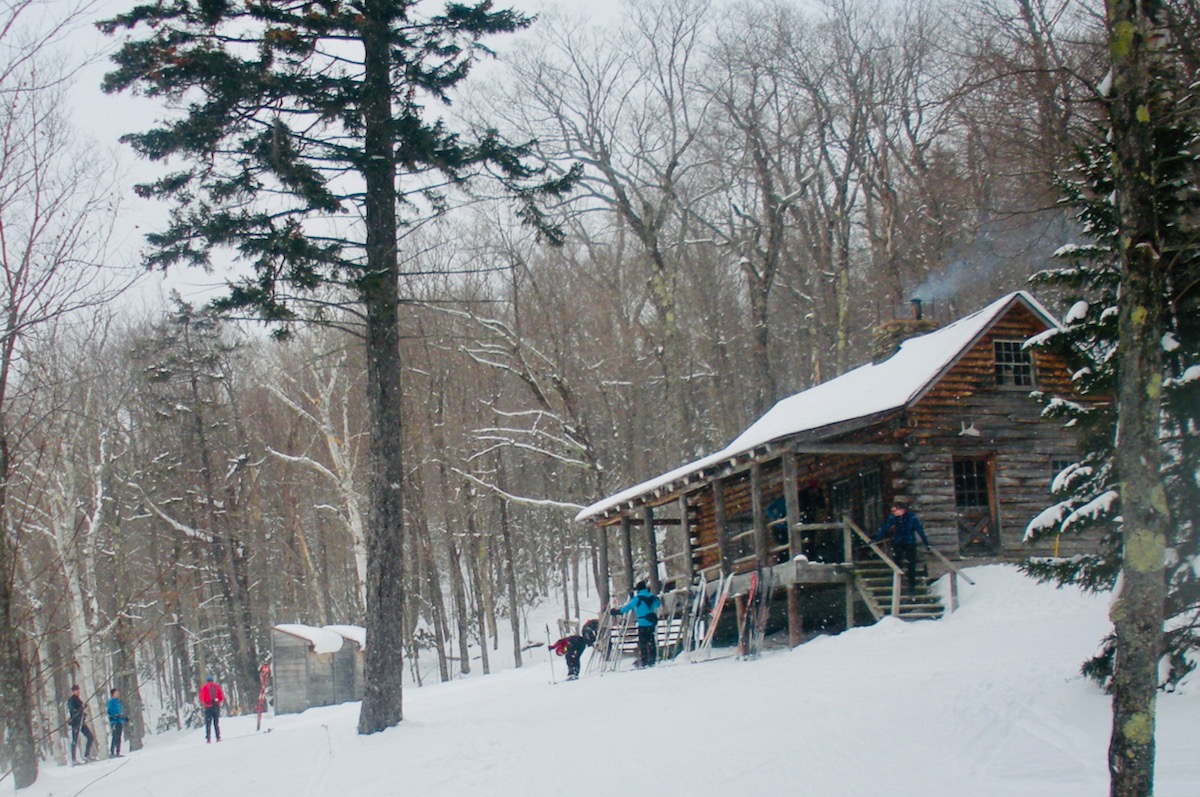 My snail's pace was good to remember how beautiful this place is. I had the trail to myself except for one person gliding by me on skate skis. Birches and pines, loaded with snow, and the sun bravely trying to shine through low clouds. The day at Trapp was perfect midwinter conditions.
Eventually the Parizo trail ended at an intersection, and I followed the Cabin Trail, which traced a contour line, continuing uphill gradually. A couple more kilometers, and I arrived at the cabin at Slayton Pasture, in the shadow of Round Top mountain. This log cabin, of unknown vintage, is staffed by Trapp employees and you can buy snacks and warm drinks, or just chill by the fireplace. It was already busy inside. I filled my water bottle, and considered my options.
Back in the day, our classic return route would have been the Haul Road. A long, gradual descent, the view across the Green Mountains from the start of the Haul Road is by itself worth the cost of the trail pass. The Haul Road also connects with the Ranch Camp Trail, which you can descend to the Mount Mansfield Nordic system. We'd make a few trips from the Trapp Lodge, past the Cabin, and down to the Mount Mansfield lodge, and then back. Around 20 kilometers, or maybe a little more.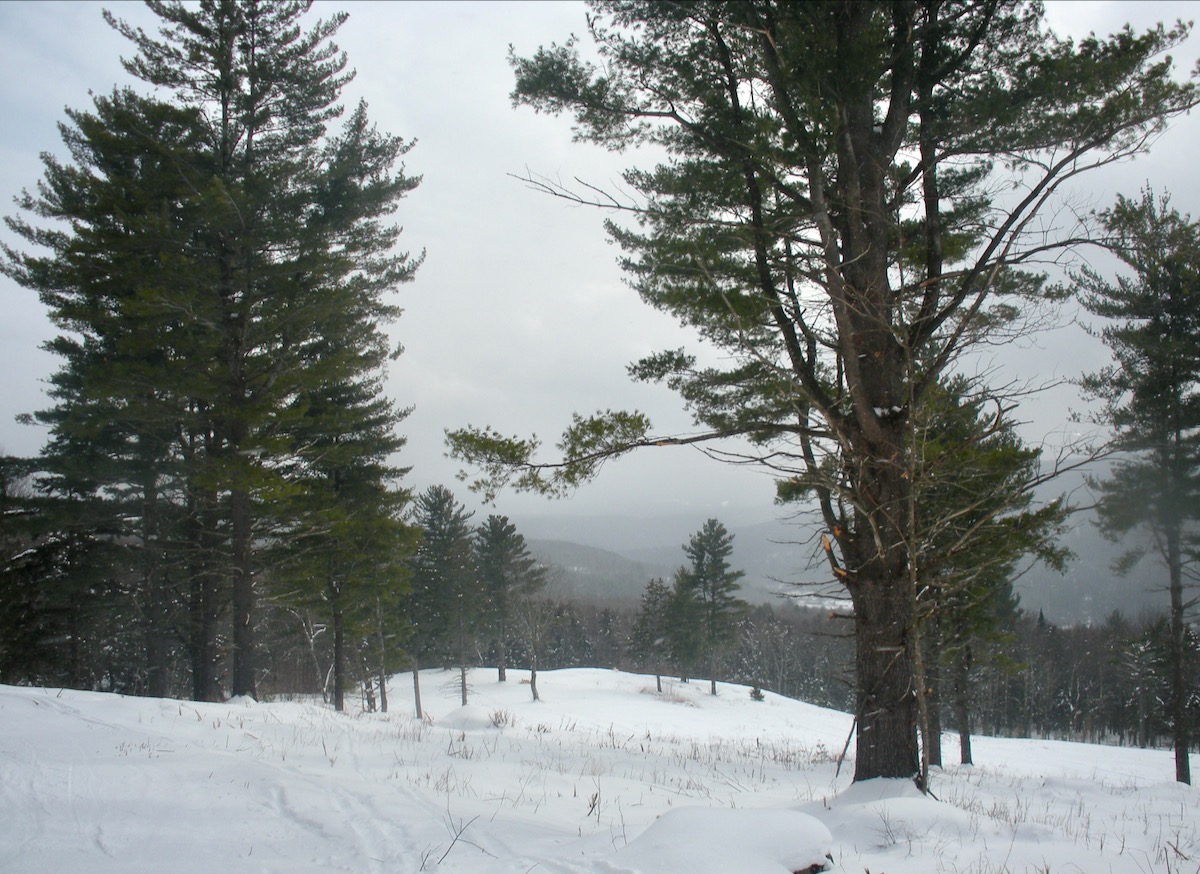 No way did I have the gas to go to Mount Mansfield. And the Haul Road is the long way back to the lodge. I didn't want to retrace my steps, so I opted for Chris's Run.
The start of Chris's Run was easy enough. Then it turned into a wild downhill ride, with your correspondent snowplowing most of the way. There are two plunging, tight 90-degree corners, without a lot of runoff, one of which ate me up. One of the few times I've wished I was on metal edged skis. After I stopped to catch my breath, I continued to Russell Knoll, still heading back to the lodge.
Here, I encountered an entrance to Morton's Maze, a new addition to the trail system. A few years ago — I don't exactly remember when — the Trapp Family Lodge commissioned trail designer and biathlete Olympian John Morton to lay out new trails that would meet FIS race standards.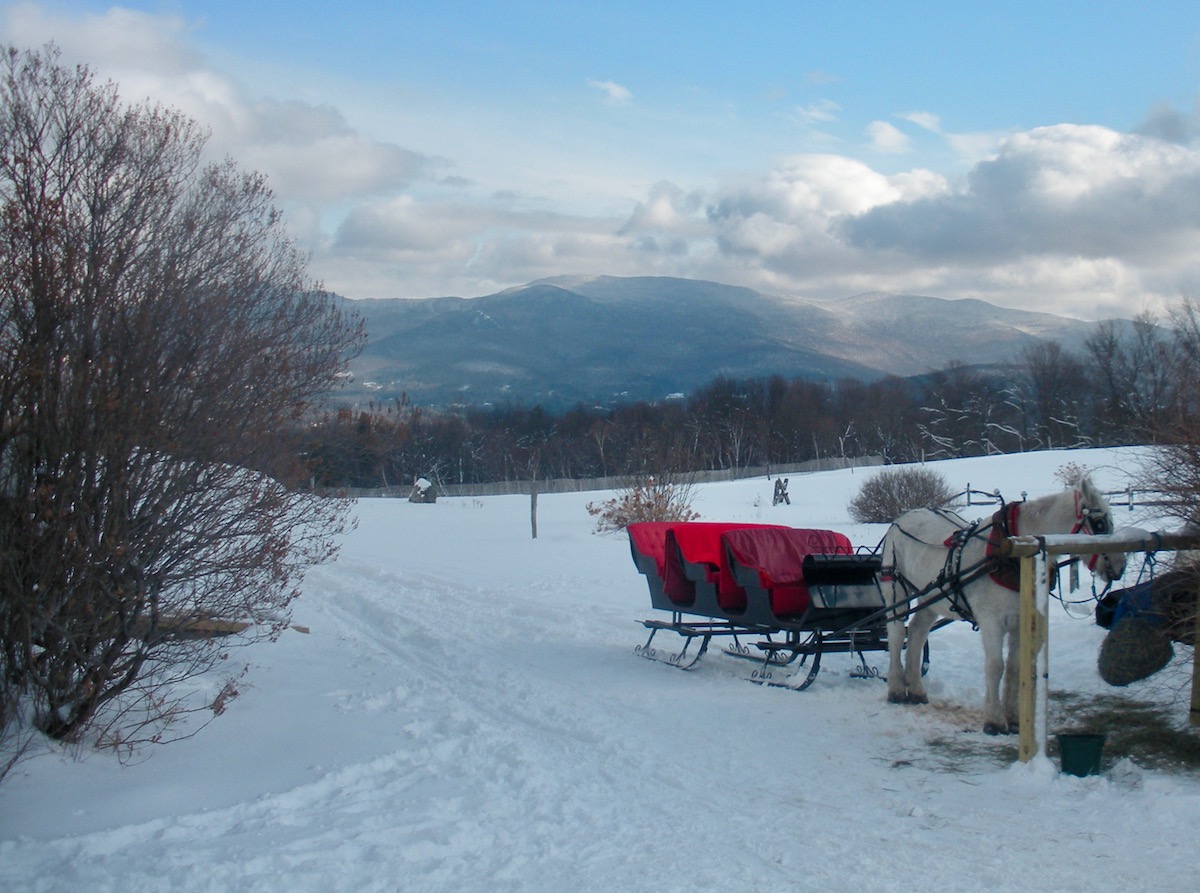 The new trails had been on my radar when I drove here. I went in a few hundred meters and hit one corner hard. While it was challenging, it was banked and not super tight like some of the sections on Chris's Run. But after racing 50 km the day before, and I'd had less than super leg strength on Chris' Run. I may still be able to knock off a 50 km race, but the recovery is harder these days. Discretion was the better part of valor.
Morton's Maze would have to wait for a day when I was fresh. I resumed my kick and glide back to the lodge. In two hours, I'd managed to drag my sorry backside a measly 10 km.
I ate a sandwich I'd made with bresaola, fontina cheese and spinach and ruminated. It was the first day I'd hit primo conditions this winter. While I would have liked to ski for a couple more hours, it wouldn't have been prudent.
At my age, I'm thankful to be moving easier than I was four years ago. We had our child late, and I shelved my bucket list for a long time. It's come back in a rush in the last 6 months, like a late midlife crisis. I can tell that the window of opportunity is closing for the big days on my bucket list. When I recover, it's time to get to gettin'.
---
First photo courtesy of Trapp Family Lodge