After a big day at Plattekill on Wednesday, I went home to work Thursday and Friday morning. Out the door at 1pm on Friday afternoon, I drove to our ski hut in Johnsburg, NY.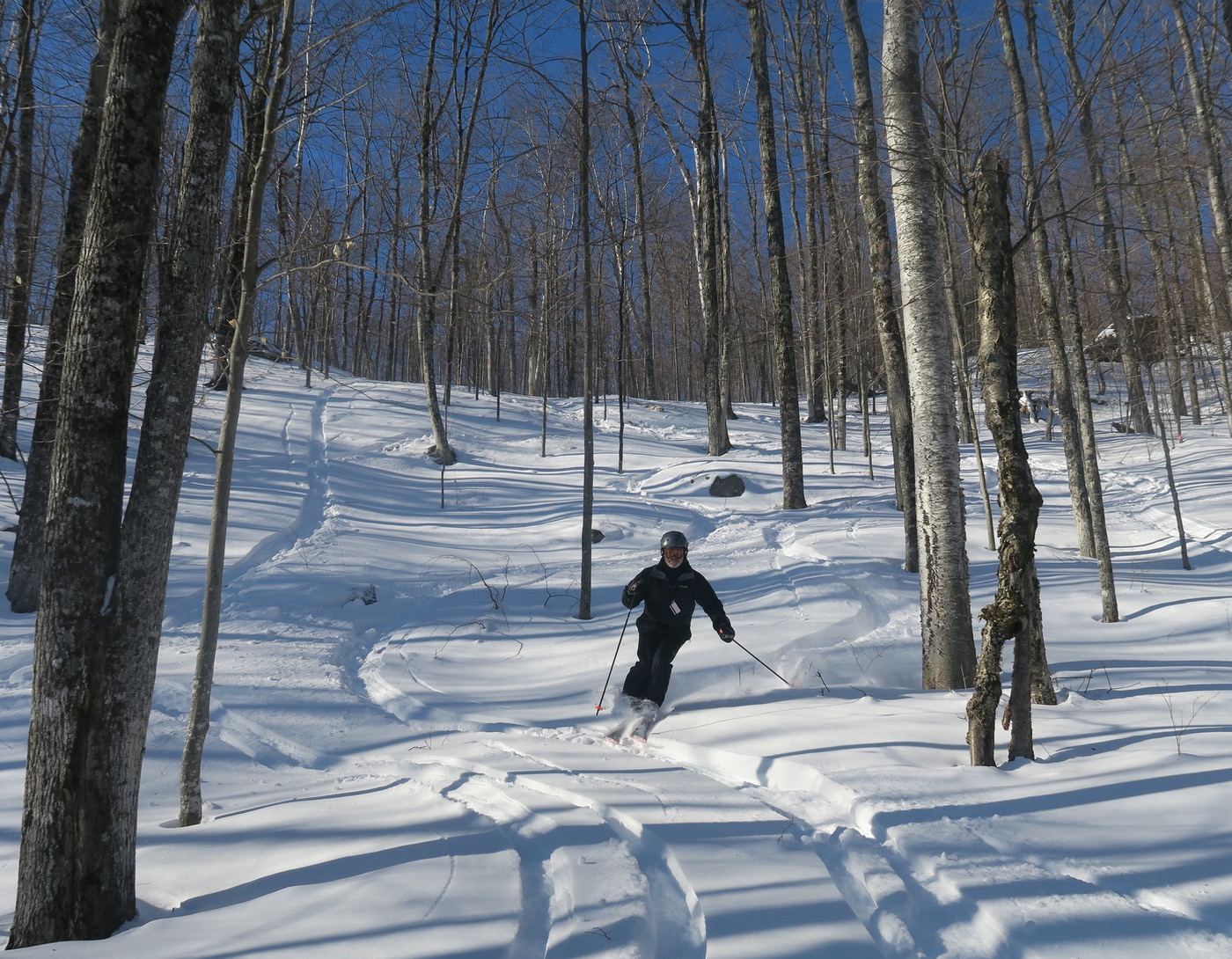 The next morning I was at the North Creek Ski Bowl early. Things were looking good when my friend Duck stepped into the yurt before first chair to boot up. After a lone warmup run on Moxham, we went into the trees, and struck paydirt.
We hit our favorites hard and then headed up to Burnt Ridge. We ran into another musketeer — Suds — en route. Riding the quad we could see that ropes were down on the trees, and we hit Boreas in fine shape.
My objective was the Dark Side via the Tahawas trees. With the best laid plans, my run of good luck this season was about to go on break. Looking back on it, we had been skiing pretty hard all morning, in areas of thin cover.  There was a lot of good snow around, but in low-angle, low-elevation glades there were boney spots, and at times, sparks.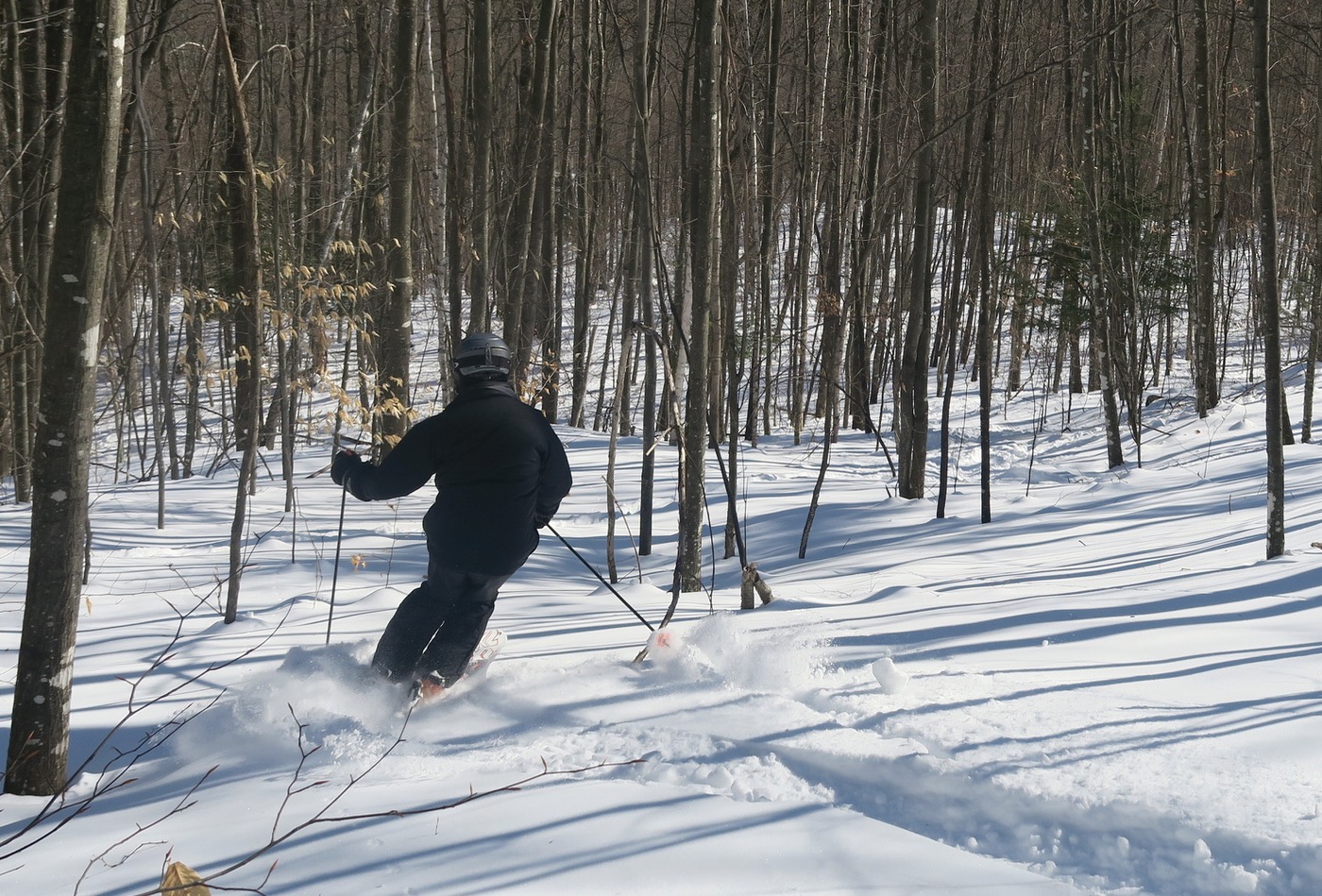 I was coming right down the fall line of the Tahawas trees.  I took a jump turn to my left, and it was clear to me that my inside ski was gone. The snow was soft which was quite handy, at that moment.
Even before I saw my binding still attached to my boot, I knew what happened.  If the binding had merely popped open, I'd feel the ski tugging on my foot through the safety cable. Not good: my foot was fancy free.
I knew I couldn't make it far on one ski, in deep snow, so I just set it down. It was all very gentle. I sat and watched my board sail out of sight on skiers right.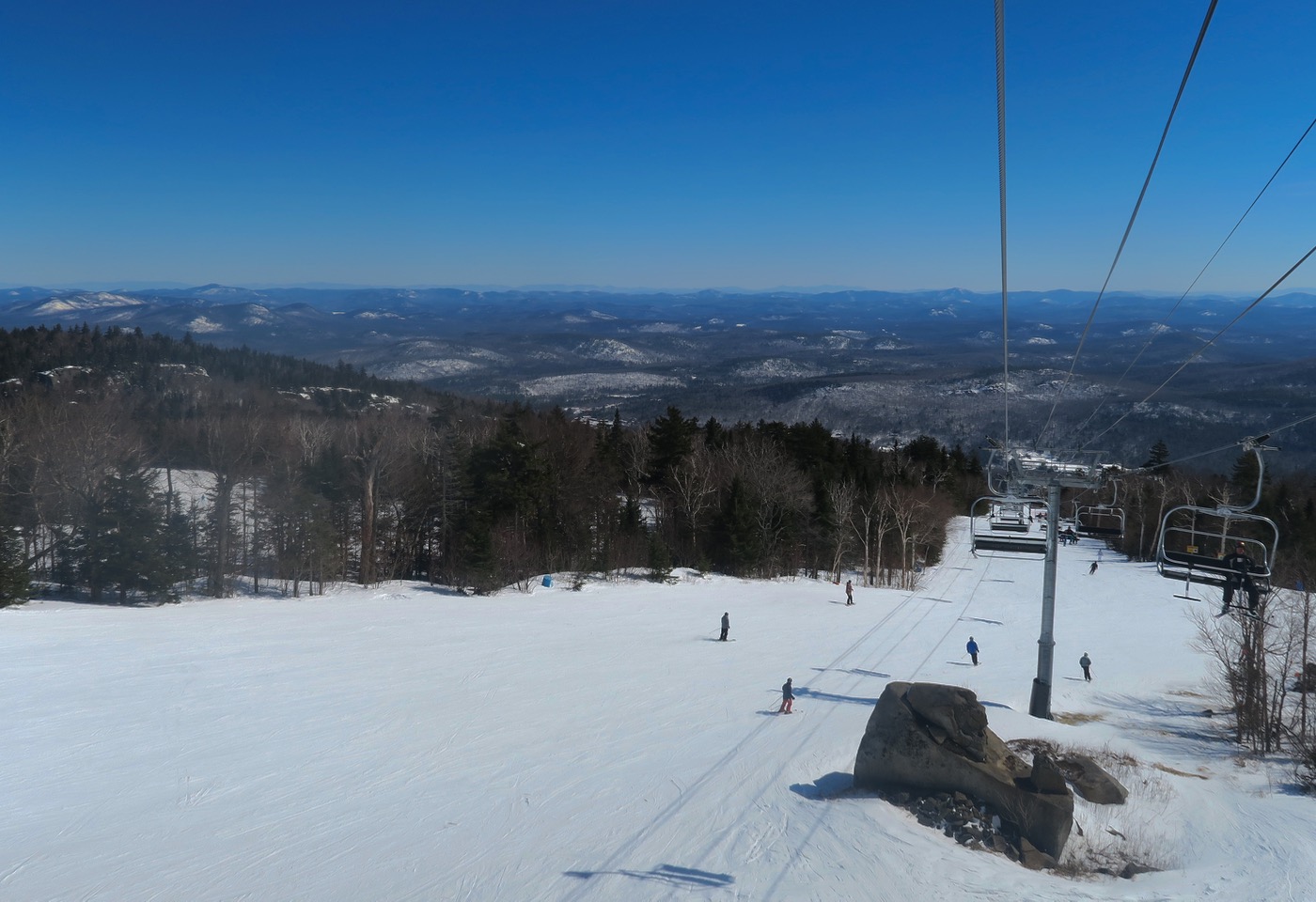 I removed my other ski and tossed it over my shoulder. I made my way down to the North Chair, with the binding still on my boot; it was easier than carrying it. I offer my sincere apologies to all for the deep postholes I left in the Tahawas glade. I got on the North Chair and pondered my left boot. At the top Duck and Suds agreed to do one more lap, to search for my ski.
In the saddle, another friendly patrol hooked me up with a ride down on the new Adirondack Express. I'm told it's called the ride of shame, but I thought it was pretty cool. A smooth and fast lift, bringing you down into the valley, spread out in front of you, on a spectacular sunny day.
I felt like I'd arrived in an alternate universe; a world of waffles and lodges and gondolas.  I hadn't been to the Gore base in several weeks, spending the last two months at simpler ski areas like Plattekill, McCauley and the North Creek Ski Bowl. I couldn't bring myself to go into the lodge, so I sat and waited on the deck, for Duck and Suds to ski out.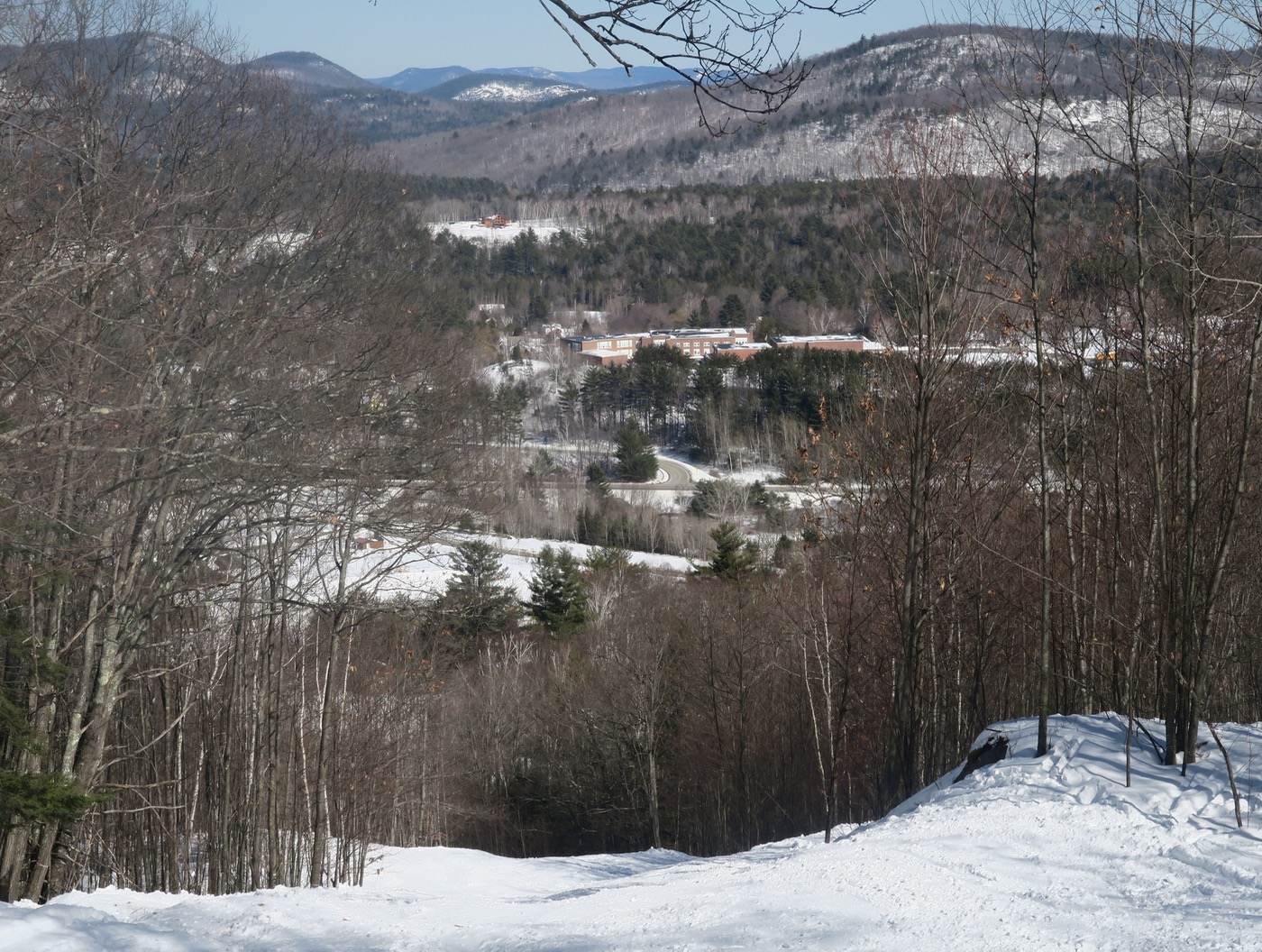 My friends bought me an amber ale to cheer me up. Then we called a noted local gear shaman for advice. He recommended the Garmont Prophets mated to Cyclic 115s with an NTN Freedom binding. I drove to the edge of town to grab my backup and headed back to the hill.
I banged out three more runs, one each on Peaceful Valley, Moxham and 46er.  My two bit NTN review: I got used to the "tippy toe" pretty quickly.  I could see how you could rail parallel turns, even with the huge skis I was riding.
At 3:30 I went back to our cabin and passed out on the futon. I slept from 4pm until two in the morning. I woke up thinking about my lost ski and posted on Facebook: 50 bucks to anyone who brought it out of the woods. The offer stands.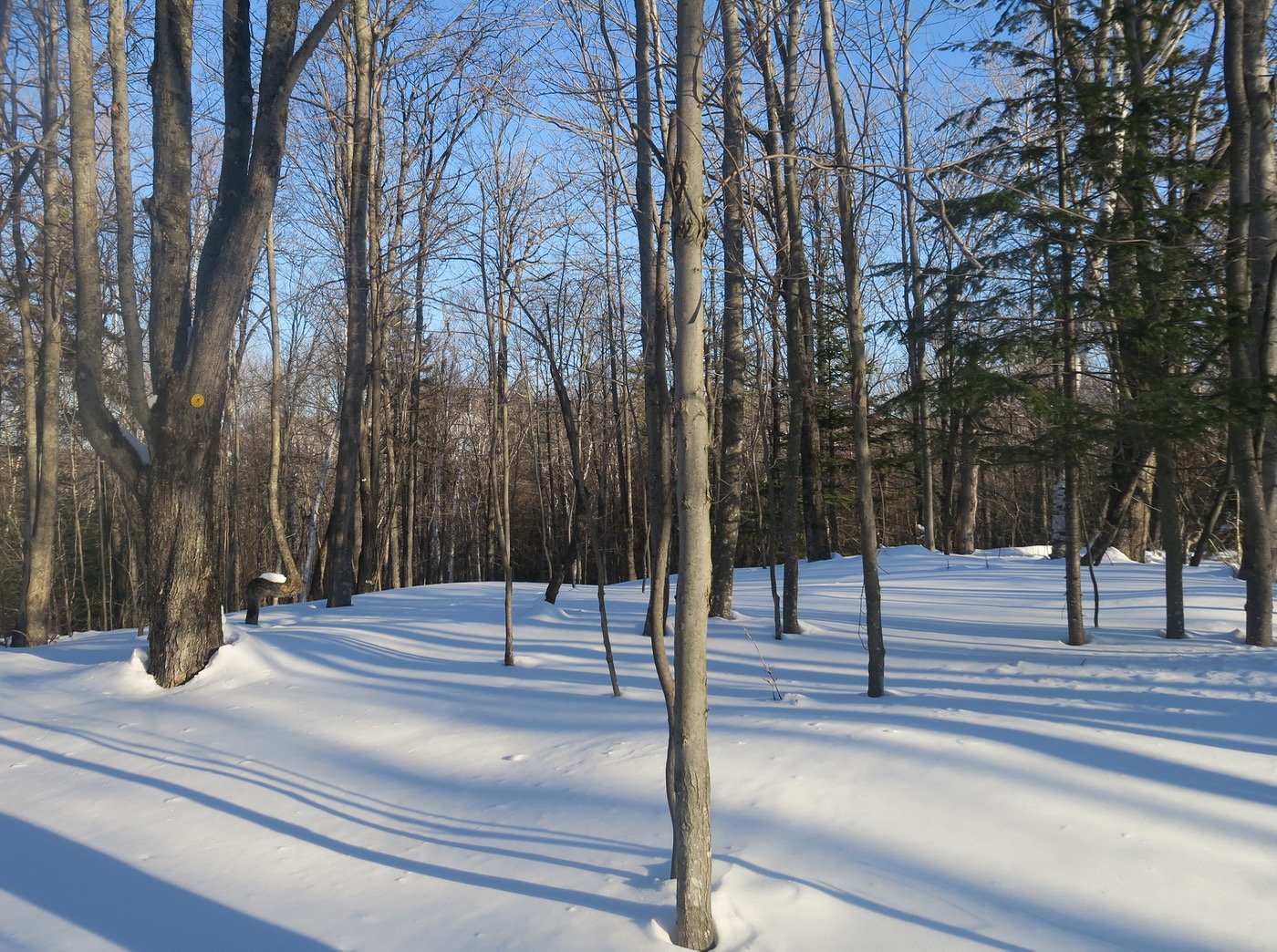 I couldn't sleep. At dawn I started setting tracks on our nordic trails, primarily grooming the hills for turns.  I love skiing our woods, and the only pair of skis I had left were perfect for it.
Then, more friends. Local nordies Dick and Ed reminded me that my Rossi BCs are a pretty good setup for the local backcountry. Off I went, down to meet them at the pickup for the Raymond Brook Ski Trail shuttle sponsored by VisitNorthCreek.org .
From the Bartons Road trailhead we skied up to the height-of-land on the trail. At that point we climbed higher towards Ives Dam and on to Rabbit Pond.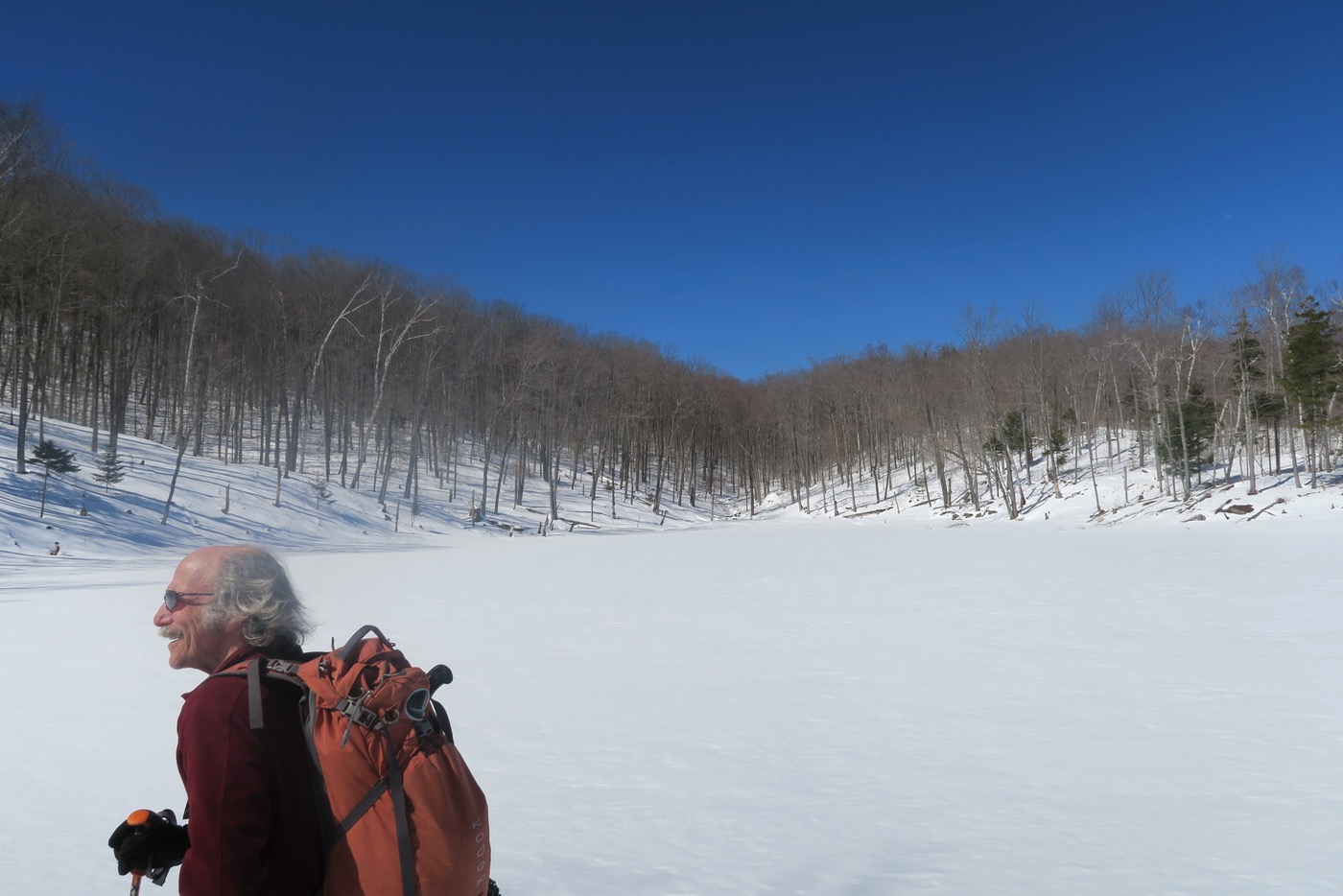 The ski out was a mix of powder, icy corn and mank. The weather was spectacular and the company was great. Of course, dropping 1500 feet in natural snow on nordic gear is always a thrill.
Back at the trailhead, we shared a beer and a few moments of camaraderie before I headed down the road to tackle the world once again.
There's something comforting about facing challenges with people you can count on. I really appreciate all the help from my friends.