With snow in the evening forecast, I bailed from Craftsbury at 3 PM. Fastest way to Ticonderoga, NY? Google maps had me dive off of Vermont Route 14 on to Cemetery Road, eight miles of dirt, to get to Route 15. Brilliant. Once I was on Route 15, I drove on autopilot to the bridge over Lake Champlain. Snow was falling as I arrived at the motel.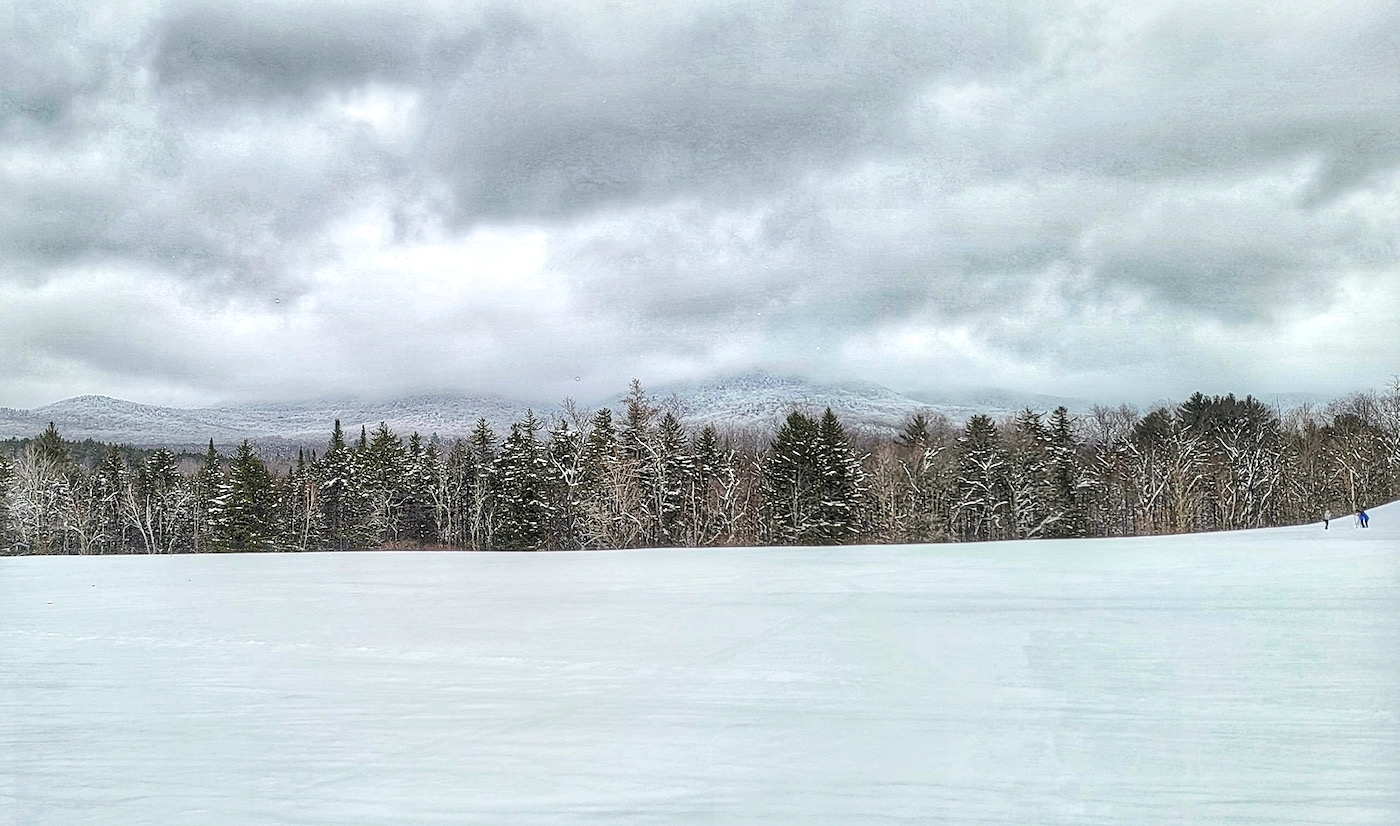 Ticonderoga is a cool spot. Despite the massive eponymous fort, it's likely off the beaten path for most people. The main drag had a cool vibe, including a museum featuring sets from the original Star Trek TV program. Local eateries feature autographed photos of William Shatner, Leonard Nimoy, and the guys who played Scotty and Bones.
Rikert Nordic was my last ski destination for this trip. It's the nordic center operated by Middlebury College at their Breadloaf campus, high on the spine of the Green Mountains. It's a separate facility from Middlebury's [alpine] Snow Bowl up the road.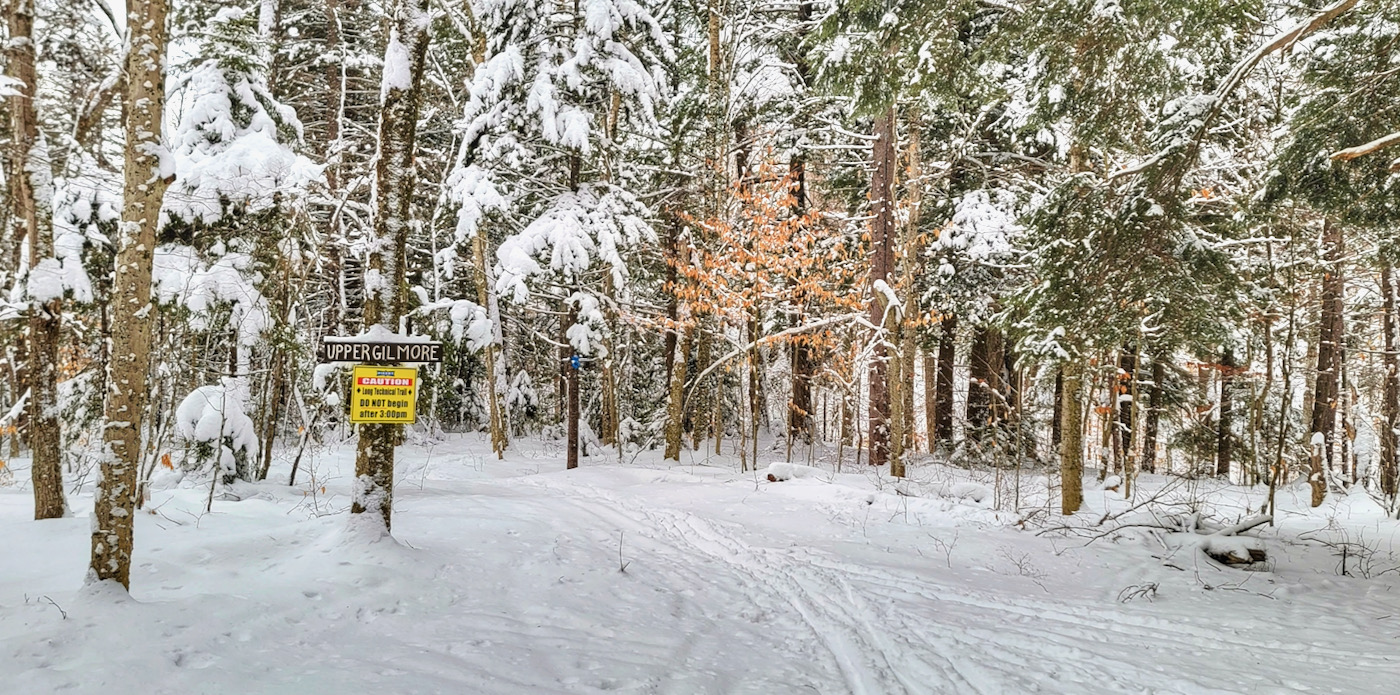 The Snow Bowl was Middlebury's first ski facility, with ski trails cut in 1934, and a rope tow "that takes the drudgery out of skiing," according to one of the old videos on Rikert's web site. Nordic skiing started in 1975, with four trails and an old barn serving as a lodge.
Over time, Rikert's trail system grew — it's now 55 km. In 2012, their 5 km race loop was homologated by FIS, and in the following year, Rikert installed snowmaking on this same loop.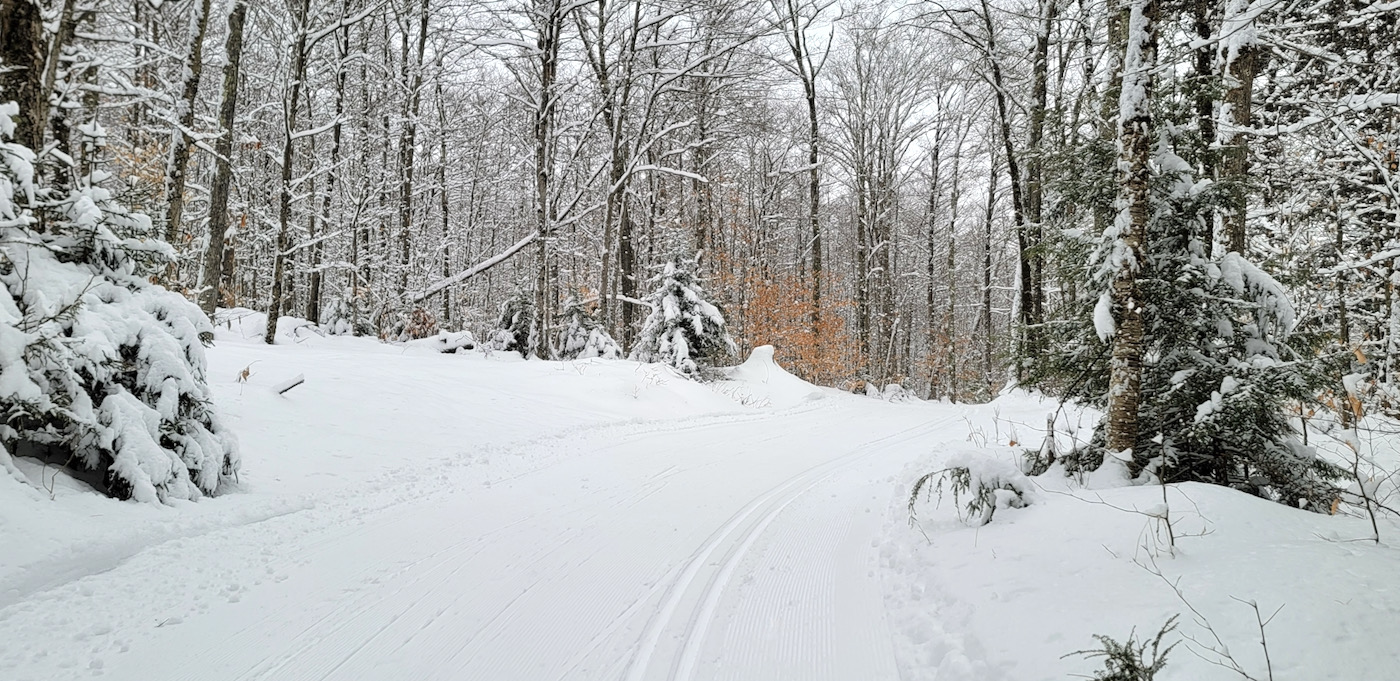 When I woke up on Monday morning, snow blanketed the shooting brake and the motel parking lot. I got myself organized, cleaned the car off, and off we went back to Vermont. With the snowy roads, it was slow progress. I stopped for breakfast in Middlebury, then made the final 10 miles to Rikert. Route 125 is a daunting drive that shouldn't be taken lightly.
At the ski center, on Breadloaf Mountain, it was 28 degrees. Kick waxing in conditions near freezing has always been a problem for me, but on Monday it worked out. Just stay outta the tracks, and my kick zones didn't ice up.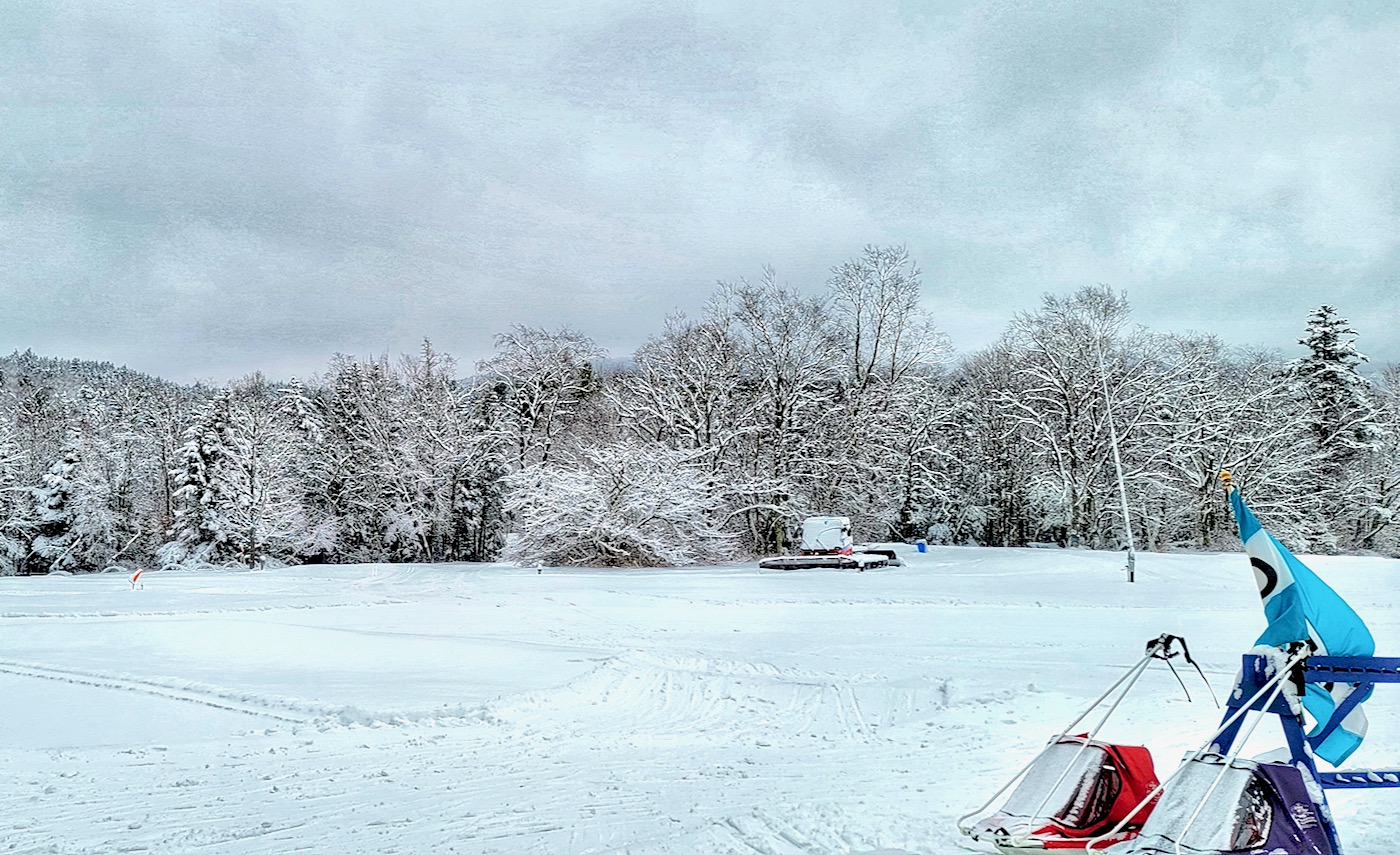 With 13 inches of snow falling over three days, they hadn't been able to groom the entire trail system, but there was still plenty to have fun. With a map, but no idea where I was actually going, I bombed downhill from the lodge and ended up on Upton's Figure 8.
Snow hung heavy on the trees, and the grooming was great. Here and there, windblown snow obliterated fresh corduroy. Unfortunately, there were more than a few stream crossings, including one where I had to remove my skis. The ground hadn't completely frozen, and 13 inches of snow was about 30% of total snowfall to this point.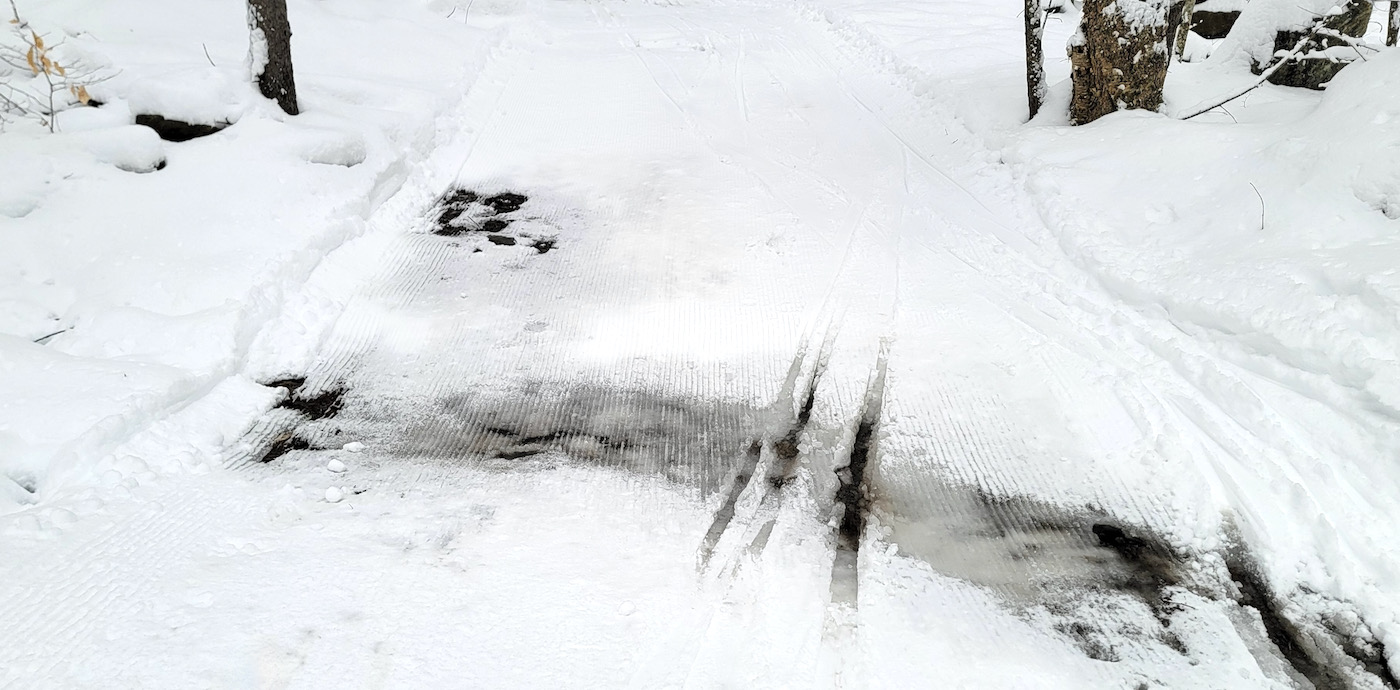 Stream crossings aside, it was great skiing. I looped around, went up the Frost Trail — poet Robert Frost had a cabin near here. A long uphill, not super steep but long. Not knowing where I was going, I went around some trails up high and came back down the Frost Trail, checking speed all the way.
Quite by accident, I happened on the FIS homologated loop, and scoped it out. While demanding, the climbs weren't as brutal as those at Gore or Mount van Ho. The downhills were doable. As I looped around, each time I could hit the descents more aggressively. There was one downhill section with a patch of unconsolidated powder, and it ate me up. That's OK, if you don't fall once in awhile, you're not going fast enough.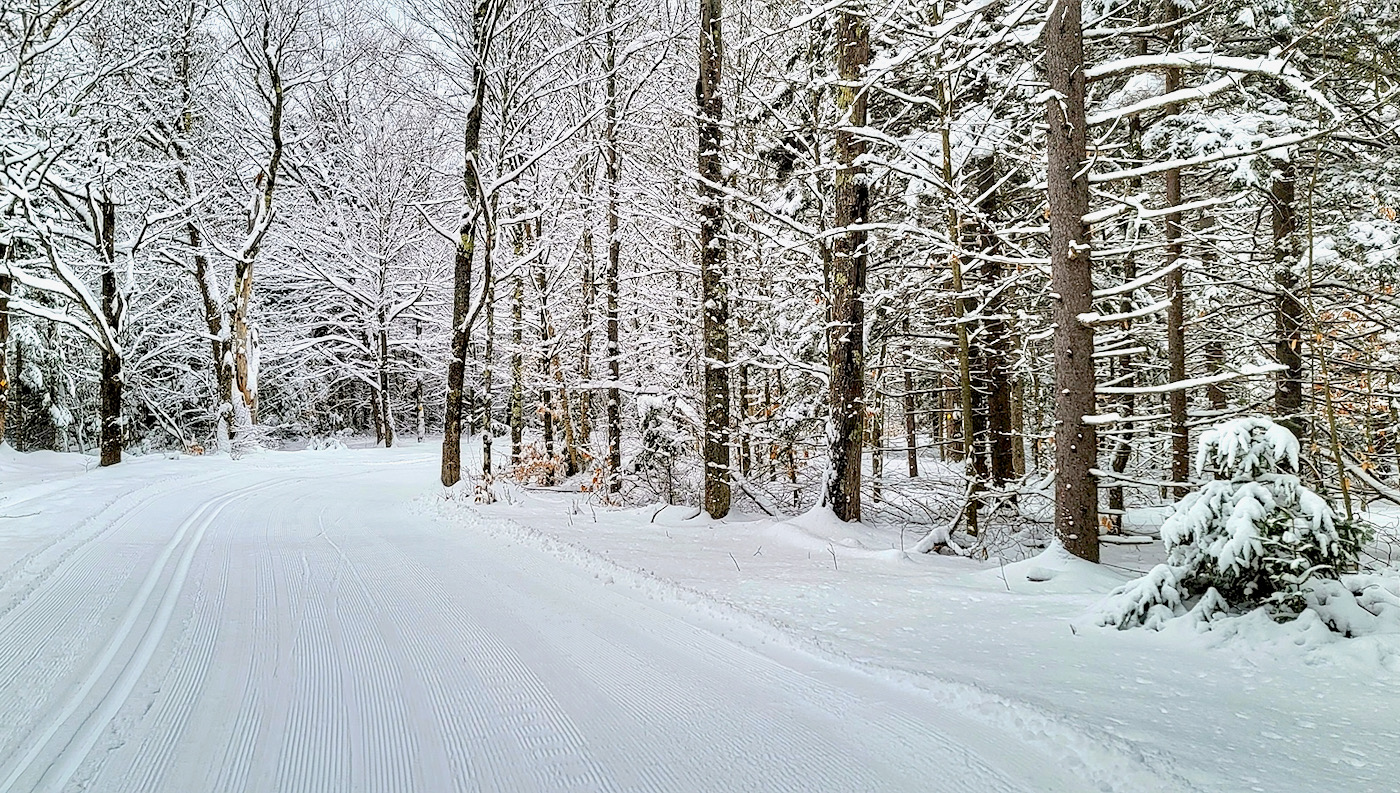 After three hours, I was toast. I dragged my sorry backside into the lodge, ate my sandwich, and headed back to the motel.
The next morning, I was nearly as sore as I was after my first ever long ski, lo those many years ago. I drove back to Rikert and skated out the Gilmore trail, which I hadn't I hadn't skied the day before. I intended to do a big loop, to Upper Gilmore and Brown Gate. When I arrived at the Upper Gilmore junction, it hadn't been groomed. I looped around the rest of Gilmore to Crooked Brook, which takes you back to the main trail system.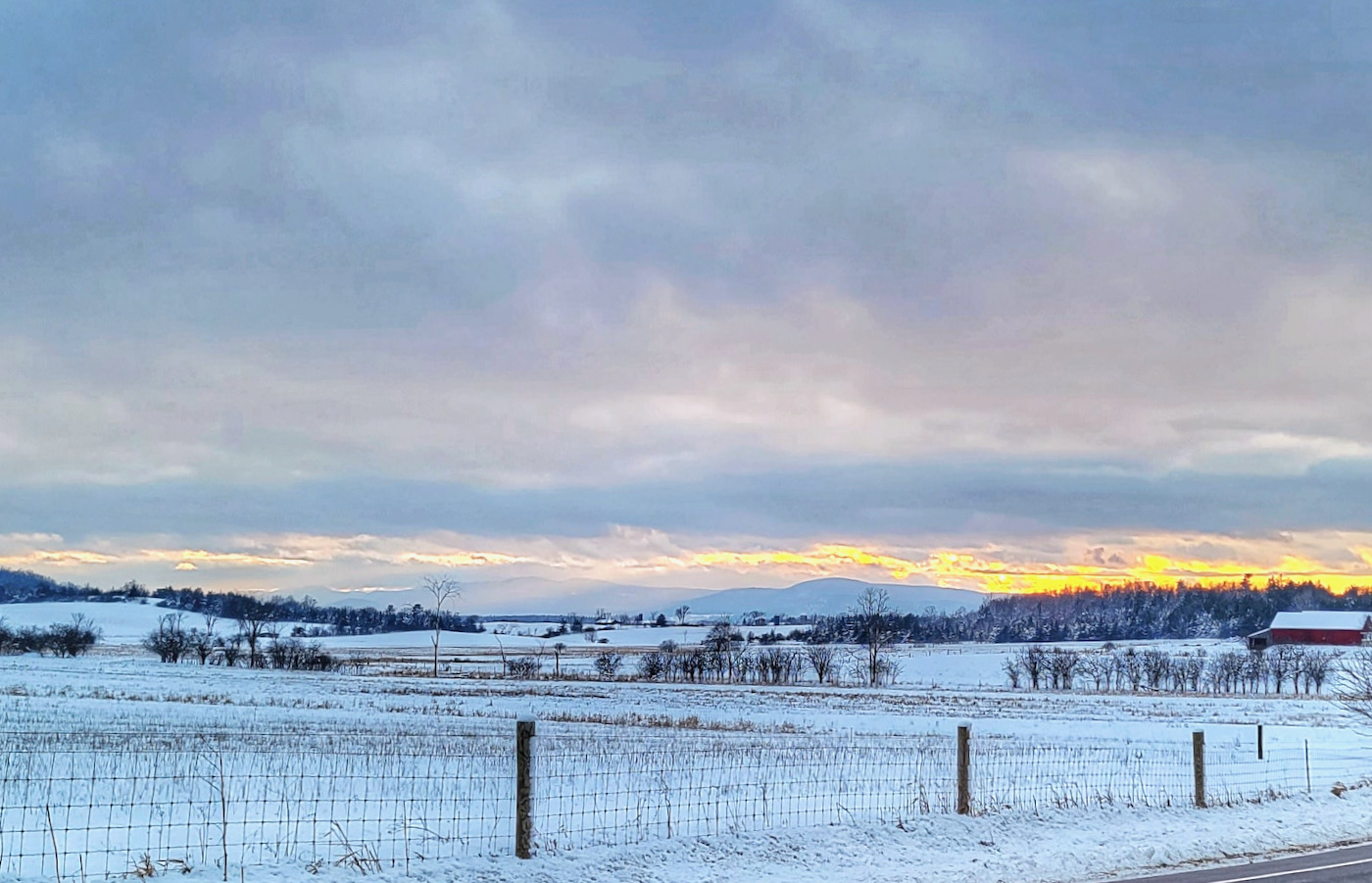 After 90 minutes, and something like nine hours of skiing in four days, I was fried. It was hard to say goodbye to Rikert. While it doesn't have the 20-mile postcard views afforded by Jackson, or Craftsbury or Viking, it was stunningly beautiful.
A leisurely drive back to Ticonderoga, and a good night's sleep. The next morning, I packed up and bailed early. I almost beat the day's storm: near Albany on the Northway, and then for 70 miles on the Thruway, it was tough going. Thank the gods for snow tires.
In the end, was all the driving worth it? I didn't hit all of my bucket list destinations, but got one of the big ones. With the shitstorm I've had in my personal life, it was definitely worthwhile to assume the life of the itinerant athlete.
---
NYSkiBlog is joining with The Indy Pass to bring exposure to independent mountains.
This piece is part of our effort. For more information visit the Indy Pass.
---