All week at my desk, reports from the hill told of stellar spring conditions, with skiers pealing slices off the steepest terrain on the mountain. It rained on Thursday and then dropped in a quick blast of cold air for the weekend. As we passed mid-February, I was sitting at 16 ski days, with a three day weekend in front of me. The season isn't getting any younger, sometimes you just got to ski.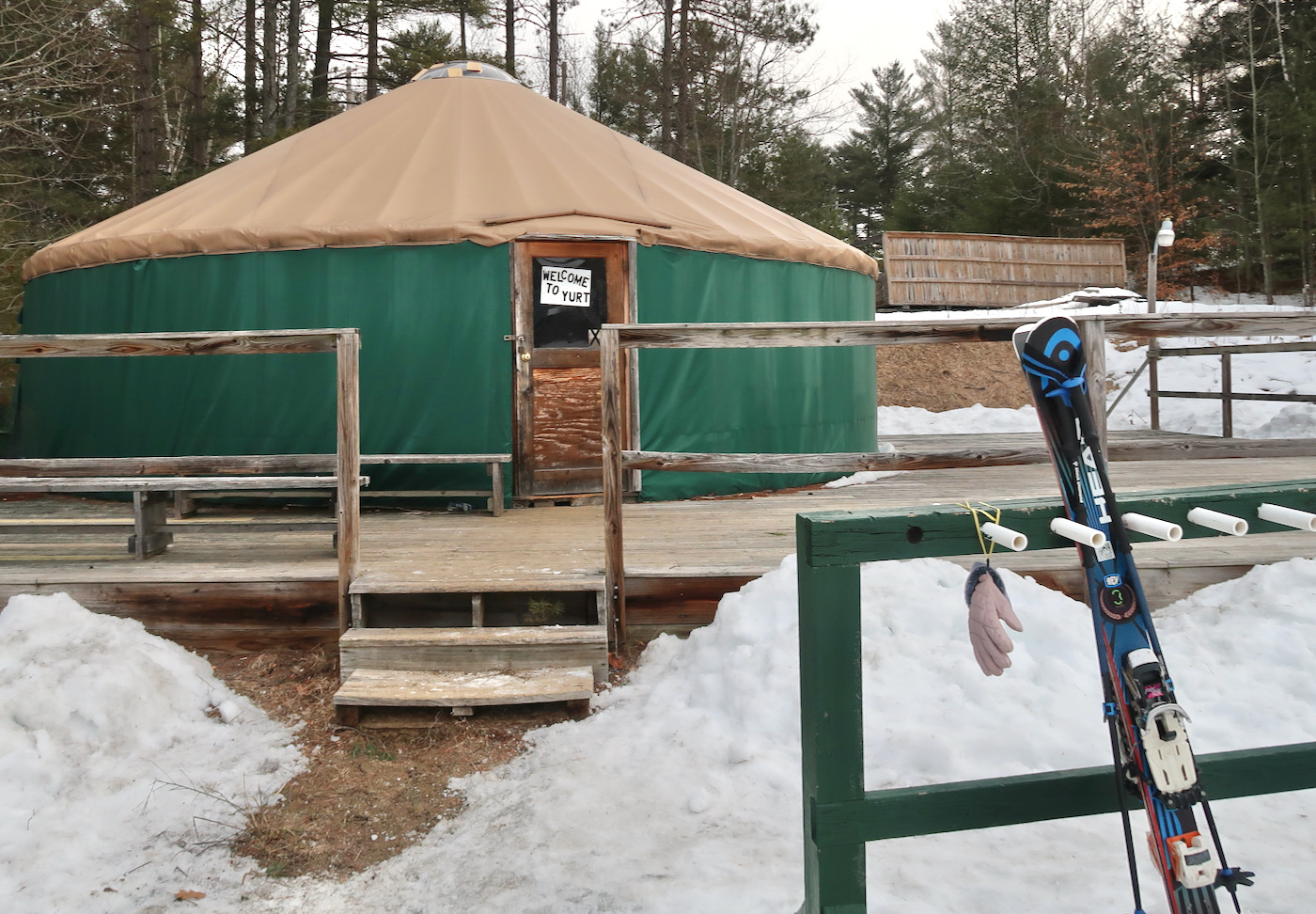 I slept late Saturday and drove to the mountains in the afternoon skipping what seemed like it would be the iciest day of the weekend. Sunday looked warm-ish with a little sun and Monday was forecasts as a mixed bag of snow and rain.
A holiday weekend isn't exactly in line with my penchant for the road less traveled. One advantage of the President's Week holiday at Gore, by that time in the season the mountain is likely to have all lifts spinning. Even in this somewhat grim year, Gore delivered on that expectation. With the Ski Bowl in play, a skier could arrive early, boot up in the quiet of the yurt and grab first chair.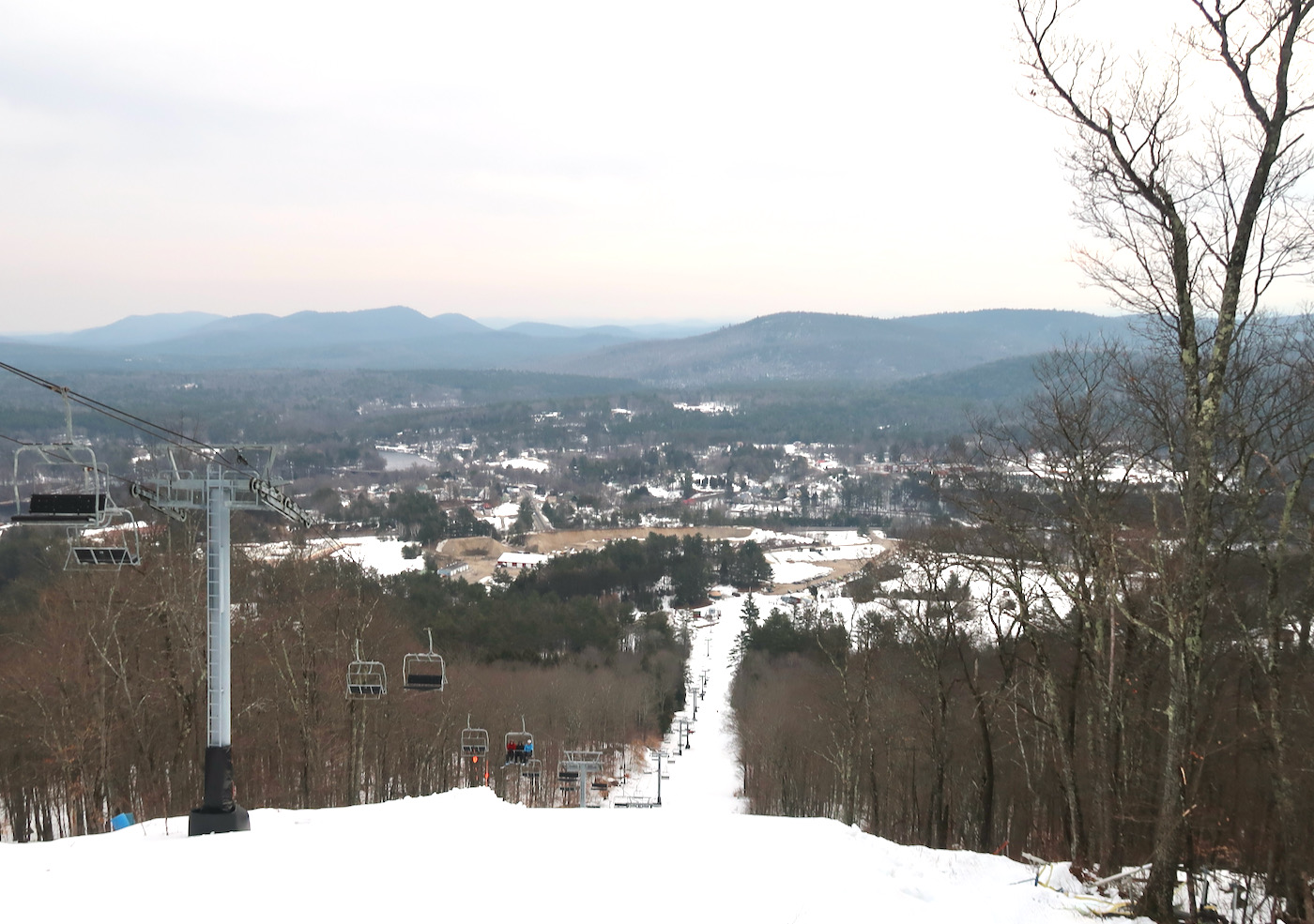 The opening of 46er is always kind of a big deal among skiers in North Creek. A signature run at Gore, it has been visible from town for decades. In the 1930s the Ski Bowl was cleared of trees with a rope tow running up the hill.
It's almost an unwritten rule: If you get first chair at the Ski Bowl, and 46er has been groomed, you've got to hit it. At the headwall, I stopped to take in the corduroy in front of me and North Creek in the distance. The 46er headwall is the steepest pitch at Gore that is groomed regularly, and even groomed flat, it gets your heart racing.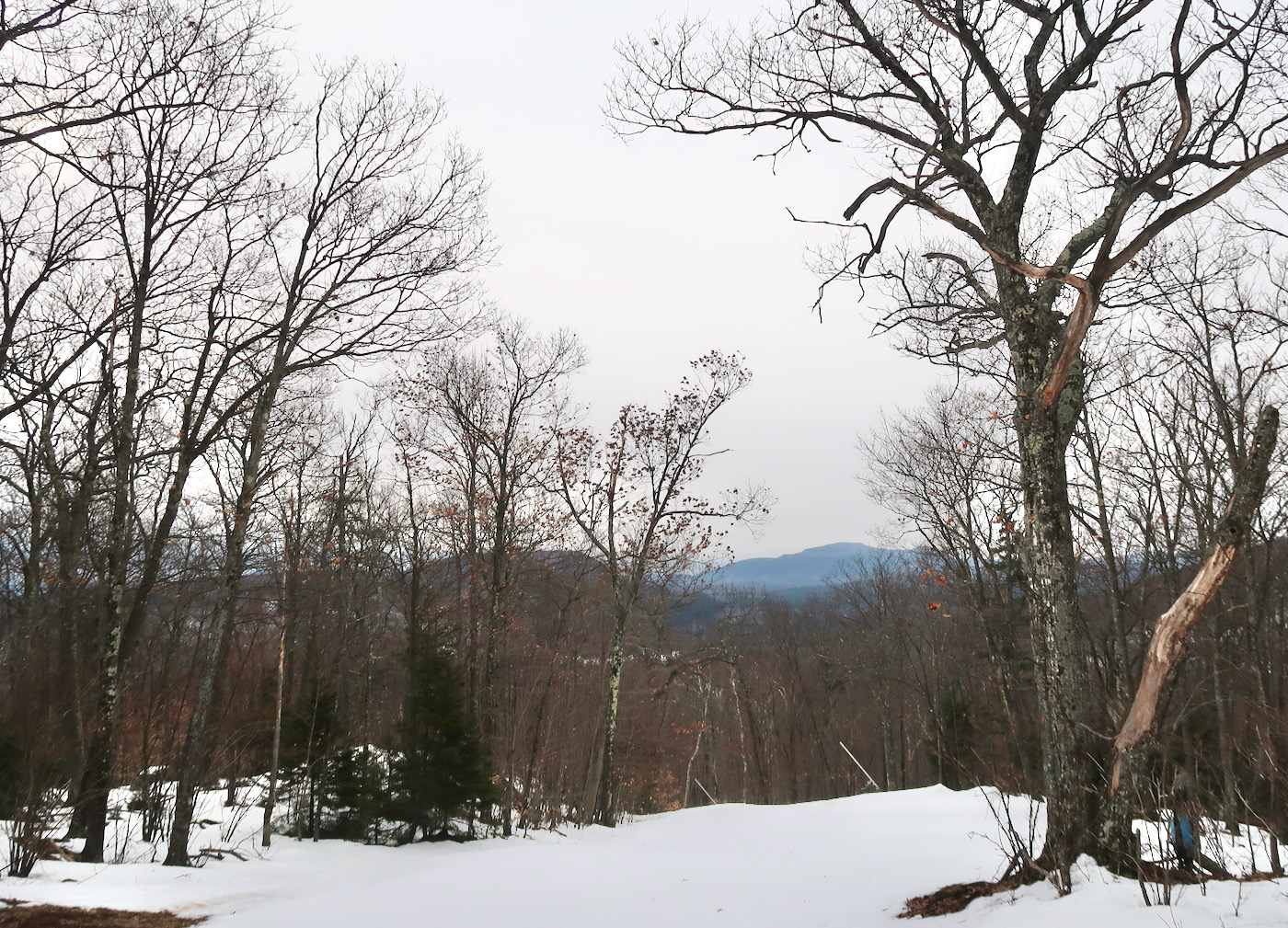 Oak Ridge was next, and it was possibly the run of the day. Oak Ridge and Moxham are original trails from the ski bowl, built before dynamite was part of trail design. Both trails following rolling and sometimes steep terrain in a way that creates rythmic g-forces that make me smile.
After a run on 46er and two on Oak Ridge, I started to climb the ladder. On busy day if you work your way up north side of the mountains, you can often find good skiing without ever waiting for the gondola. And if you are hoping it will warm up during the day, you only get to the higher elevations, later in the day.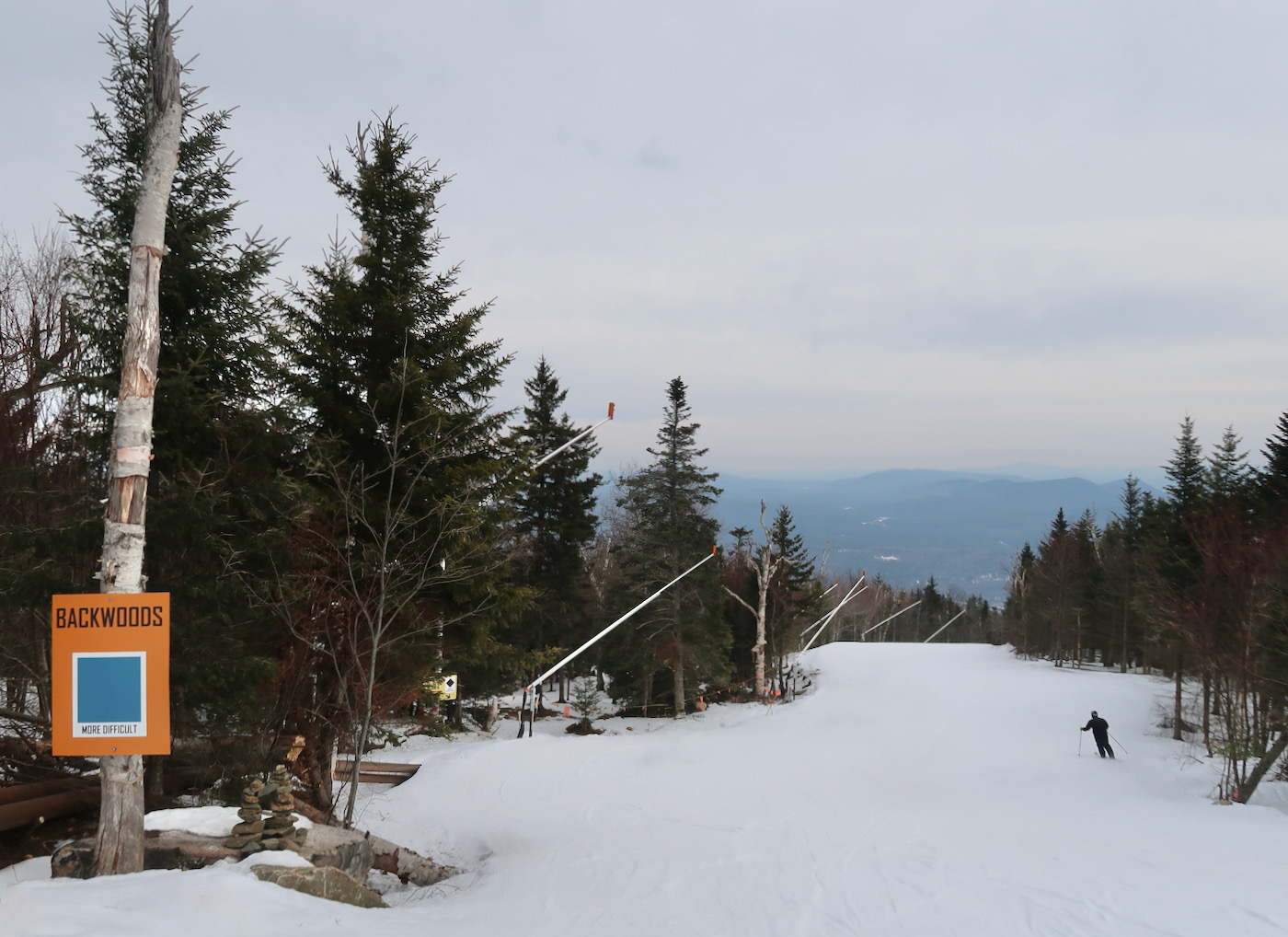 I wanted to see Backwoods, the new trail on the Barkeater side of Burnt Ridge.  I walked it with Bone in the summer when it was under construction, and this was my first time back at Gore when the trail was open.  Of course, I also wanted to ski Sagamore, Gore's rippin black-and-blue.
Riding the quad it was clear Sagamore hadn't been groomed and wasn't being skied. I didn't understand it, but wasn't concerned, I was sure there was going to be plenty to ski and do around the mountain.
Conditions on Backwoods were good enough for me to see the potential in the new trail. The upper section is a nice width, with fun rolling terrain. Then on the lower section, like many trails at Gore, it gets steep and dynamite was required to retain it's blue trail rating.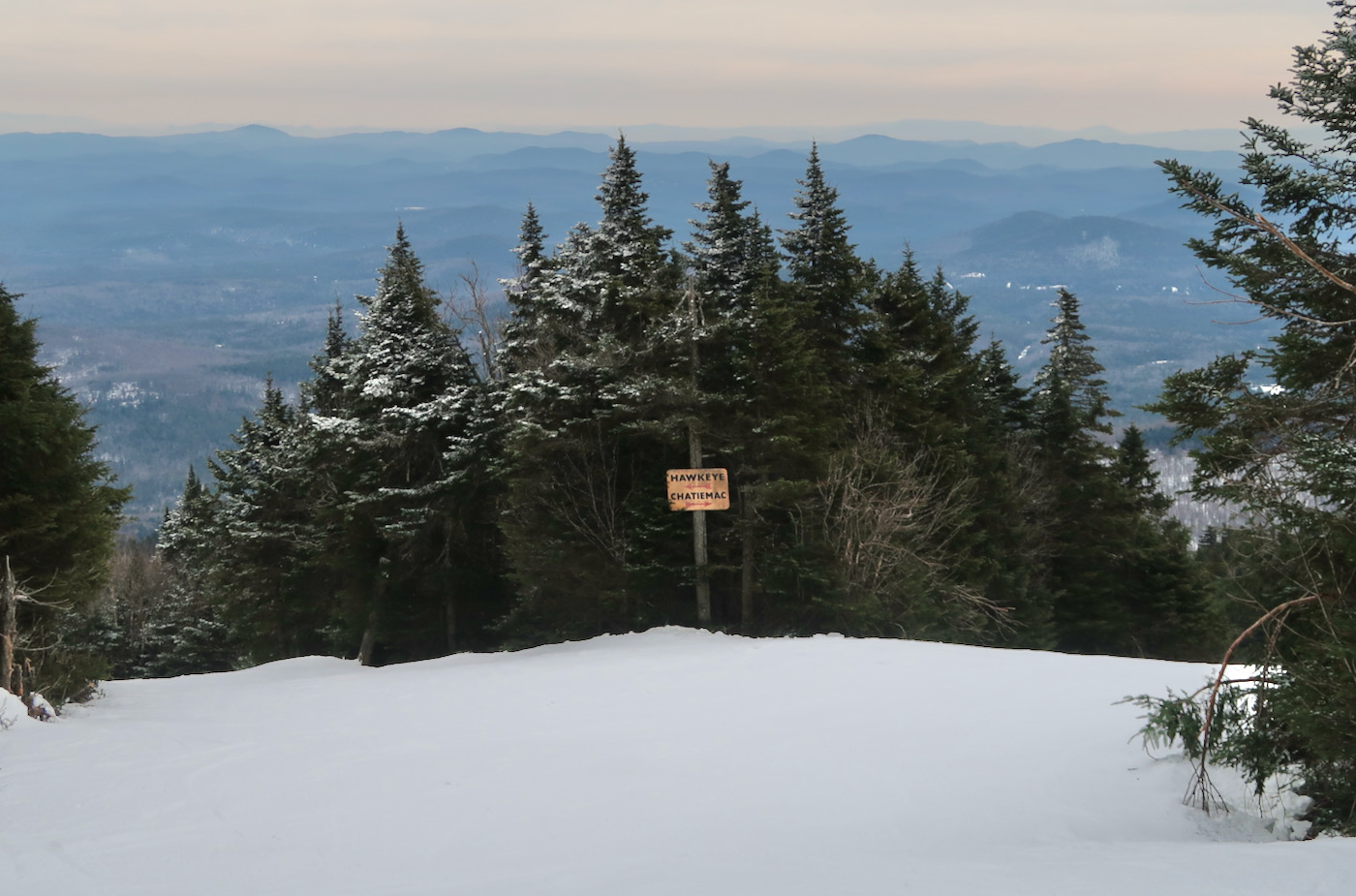 We moved from Burnt Ridge to the North Side. It was clear that Tahawas had some newish manmade snow, and it was skiing really well. I skied it several times.
There was something odd going on, and I don't think I was the only one who felt it. Objectively conditions were not good, and you might even call them bad. General surfaces were icy which a limited amount of loose snow on top. Still it was very skiable, and it seemed people were having fun. It was close to freezing and that definitely helped.
Can the skiing be good, when the conditions are bad? It doesn't seem possible. But there we were.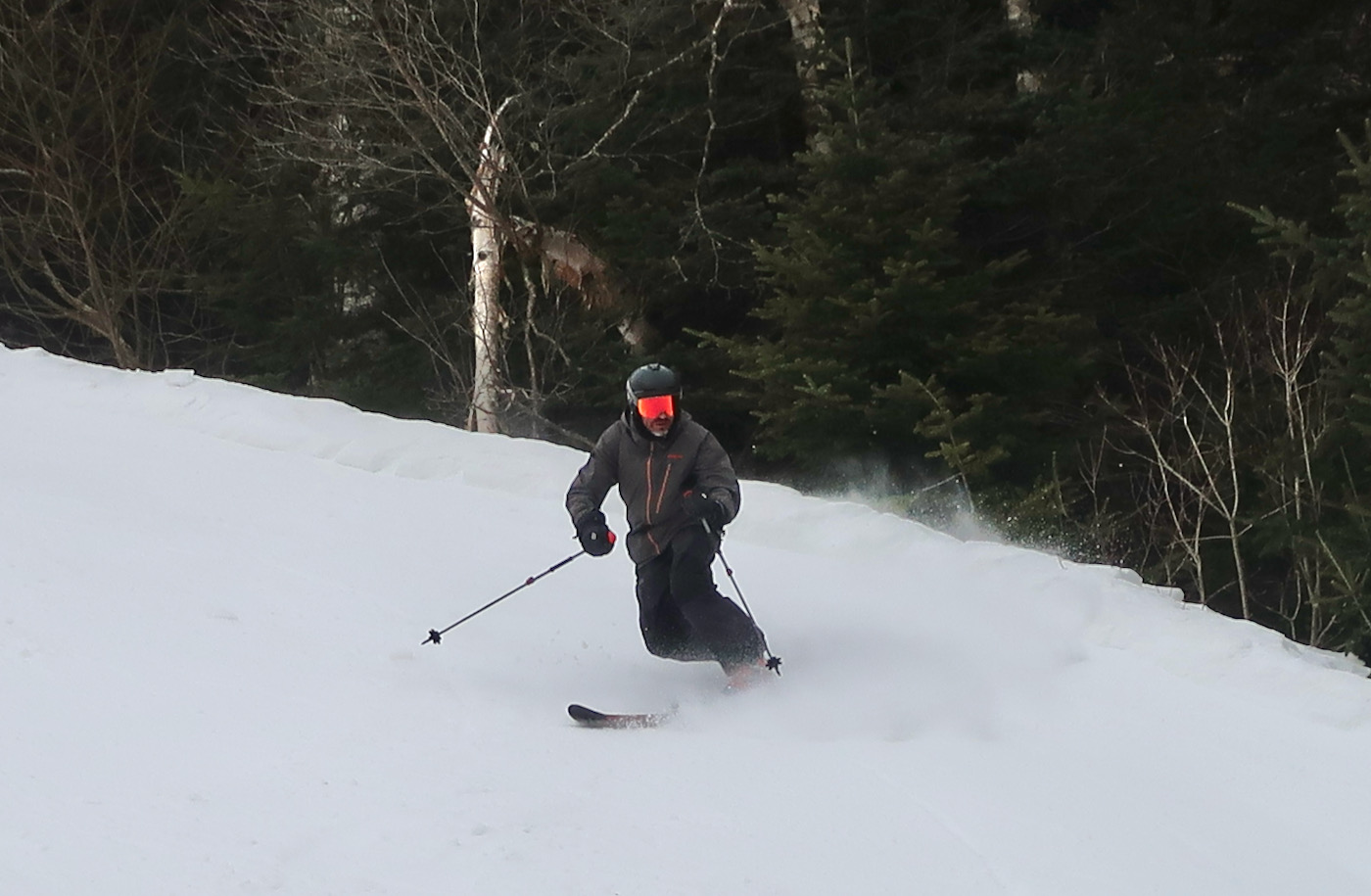 I ran into Telerider, Jake and Jeff in line in the Saddle, I think. Topridge also had some manmade snow on top and we spent quite a bit of time skiing it.
I found myself following Telerider, keeping my head up, watching him. He was sticking to tele-turns almost exclusively, while I usually revert to parallel turns when conditions are firm. He was 100% in balance, hardly using his edges at all.  This inspired me, and I tried to copy what he was doing.  I never thought I would say this but I had a great day doing tele-turns in some borderline icy conditions.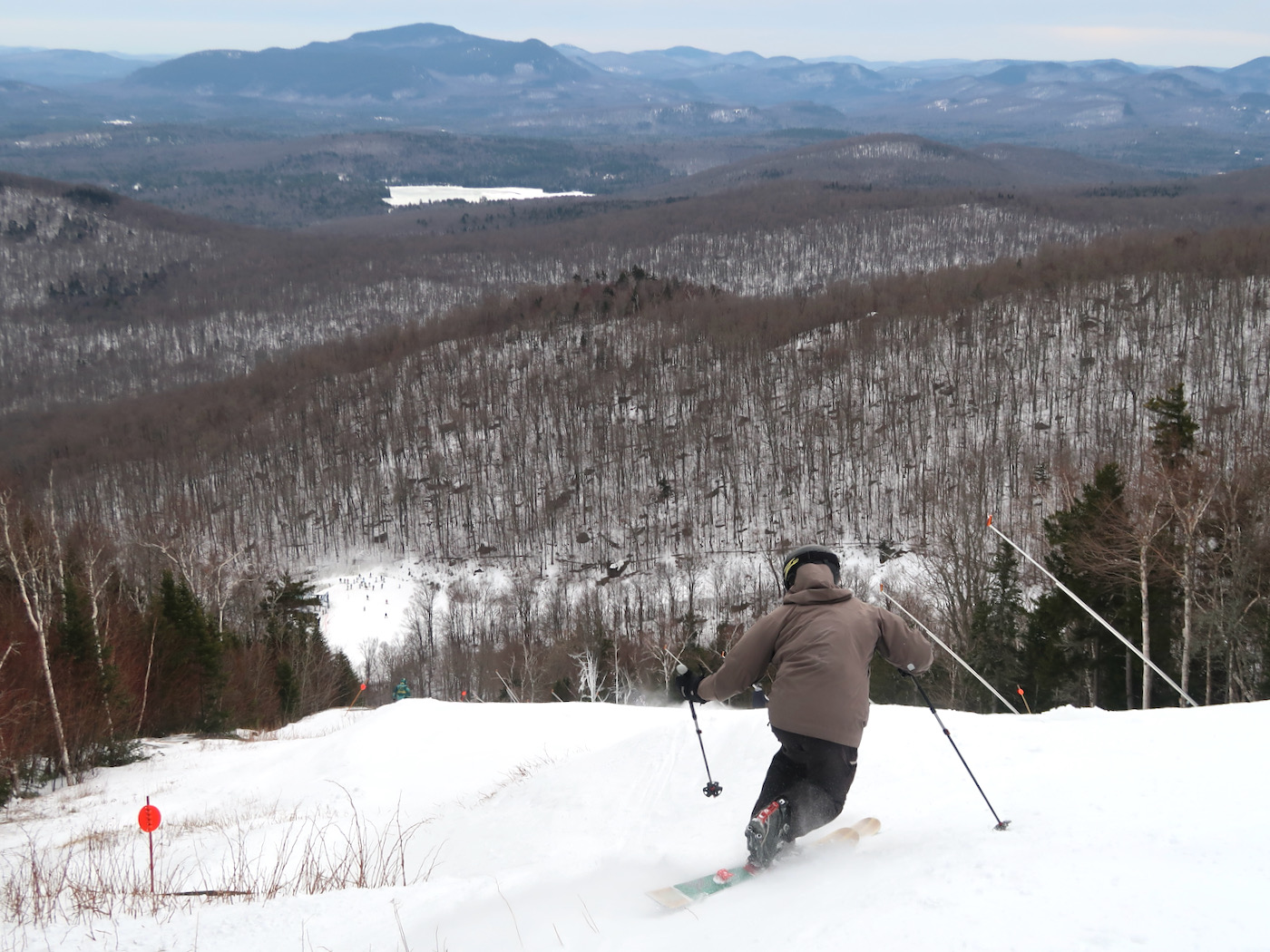 We skied until late in the day, separating when it was time for me traverse back to the Ski Bowl.
Monday was even better, a forecast of mostly cloudy with rain and snow yielded a day that was partly sunny and well above freezing. Climbing the ladder was again perfect for the day, as trails got slushy and sticky, we went higher.
I Pipelined Out around 2pm and headed south dreaming of snow to come.