The awesome early season storm that dropped 27 inches of snow on Hunter last week, also spread the love to some of our other favorite mountains, including Magic and Plattekill. Both mountains planned to open on Saturday December 7, and both stuck to the plan, taking advantage of cold temps to save the powder for opening day.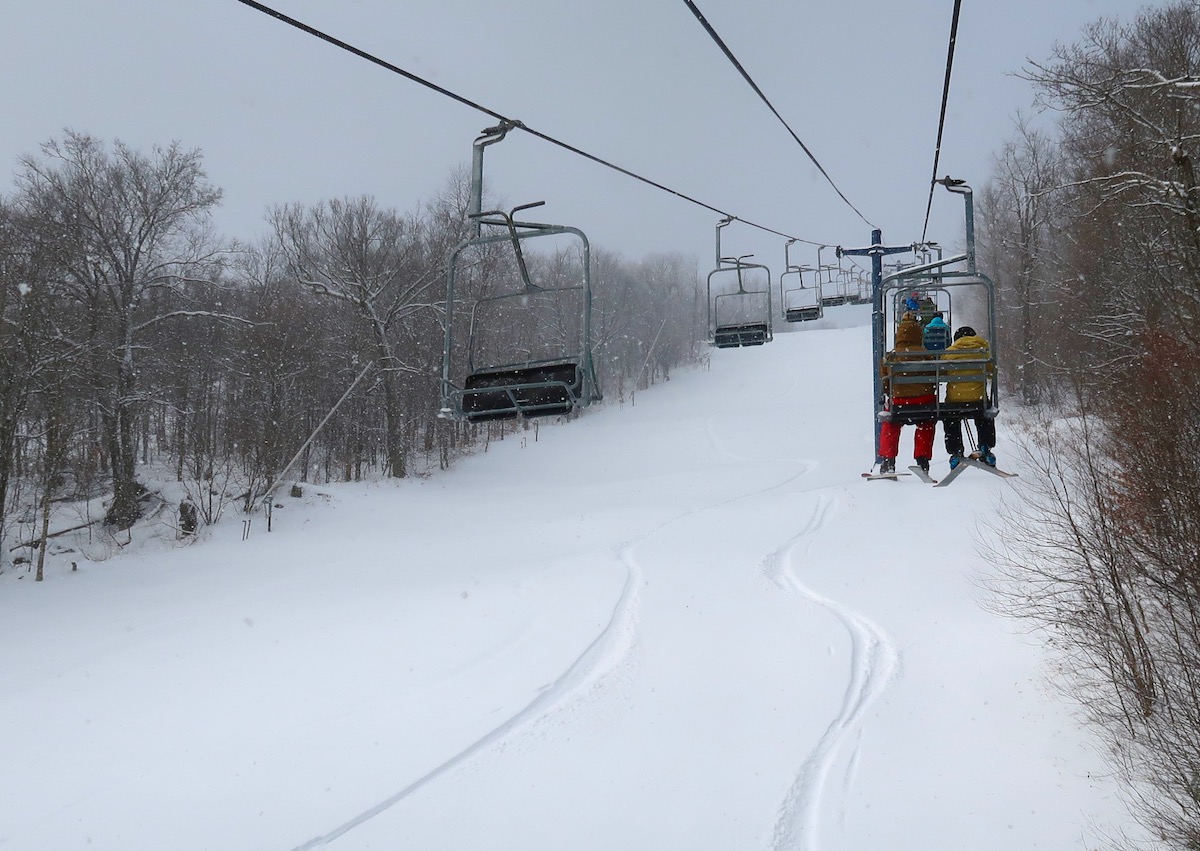 Putting the financial wisdom of this aside for a moment, it also worked for us desk jockeys, giving us another shot at skiing that great storm.
Brownski and I discussed our assignments. He's all in on the Indy Pass this year, so he and the boys were off to Magic. More on that later this week. For now let's just say that for me, it felt right to be heading to Plattekill for opening day.
As is my way now, I was looking for a partner, to meet for first chair. I texted Scottski late on Friday night, and he got back to me even later. "Hey man where will you be at 8am tomorrow?" He gave me five letters back… "Platt."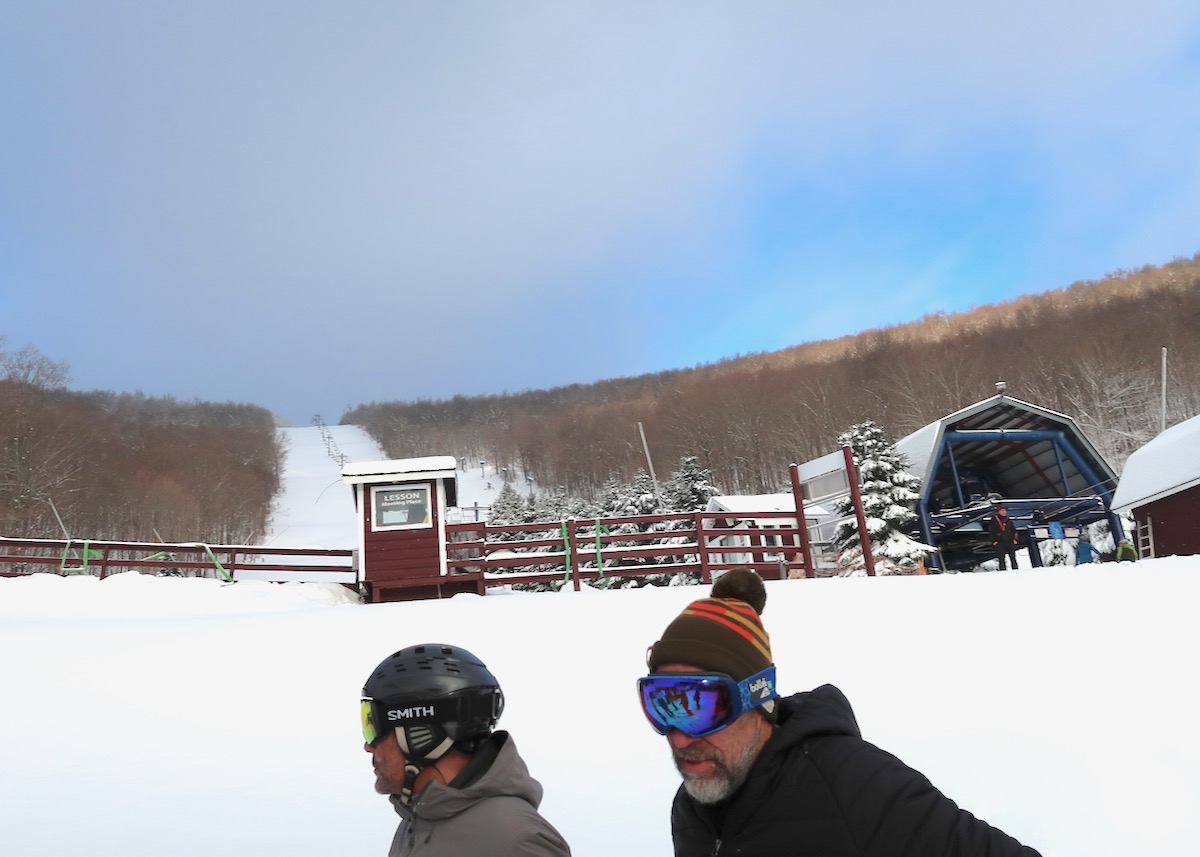 I set my Plattekill alarm, was on the road by 4:30, and arrived at the hill at 7:45. I knew I needed extra time because I wanted to get my seasons pass, and on opening day — a powder day — there would be a line at the office.
I booted up in the bar and then went down to get my ticket. A line was forming, I was maybe ten back. Danielle was cranking out Liftopia tickets and season passes on her own. In a few minutes, Scottski was behind me in line, so when I snagged my pass, I grabbed his online ticket too. I headed towards the lift, and Scott went to boot up.
I got in line for the triple. It almost always spins before the double, right? On a pow day, we'll either rip right down the Face, or start hoofing it to Blockbuster.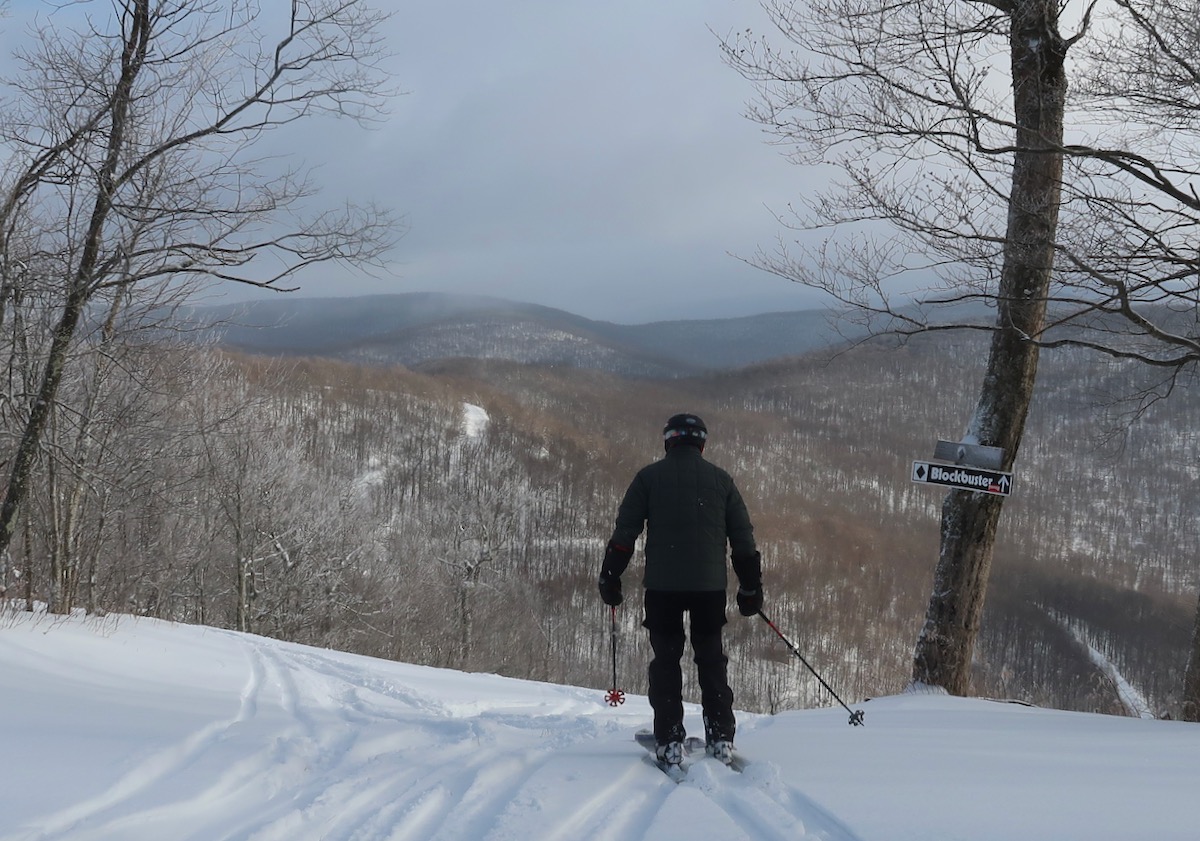 But a line was forming down at the double, and Alan Belsky was in it. What did he know that I didn't?  Of one thing I was sure, I didn't want to be at the back of that line for the double, on a pow day. I dropped down the embankment and fell in line.
As we rode up the air was loaded excitement. It was that powder day anticipation, with 100% of terrain, on December 7, opening day, all added on top. Just wow!
The way it worked out Alan was a chair ahead, I rode with Sean, Scottski and Buckethead were right behind. At a basic level, I understand "no friends on a powder day" but have never really lived by it. But riding the double, over Plunge, with maybe 10 skiers ahead of me, I couldn't resist. I took off from the lift and ripped it, and it was so much fun. No pics, no nothin', just ski.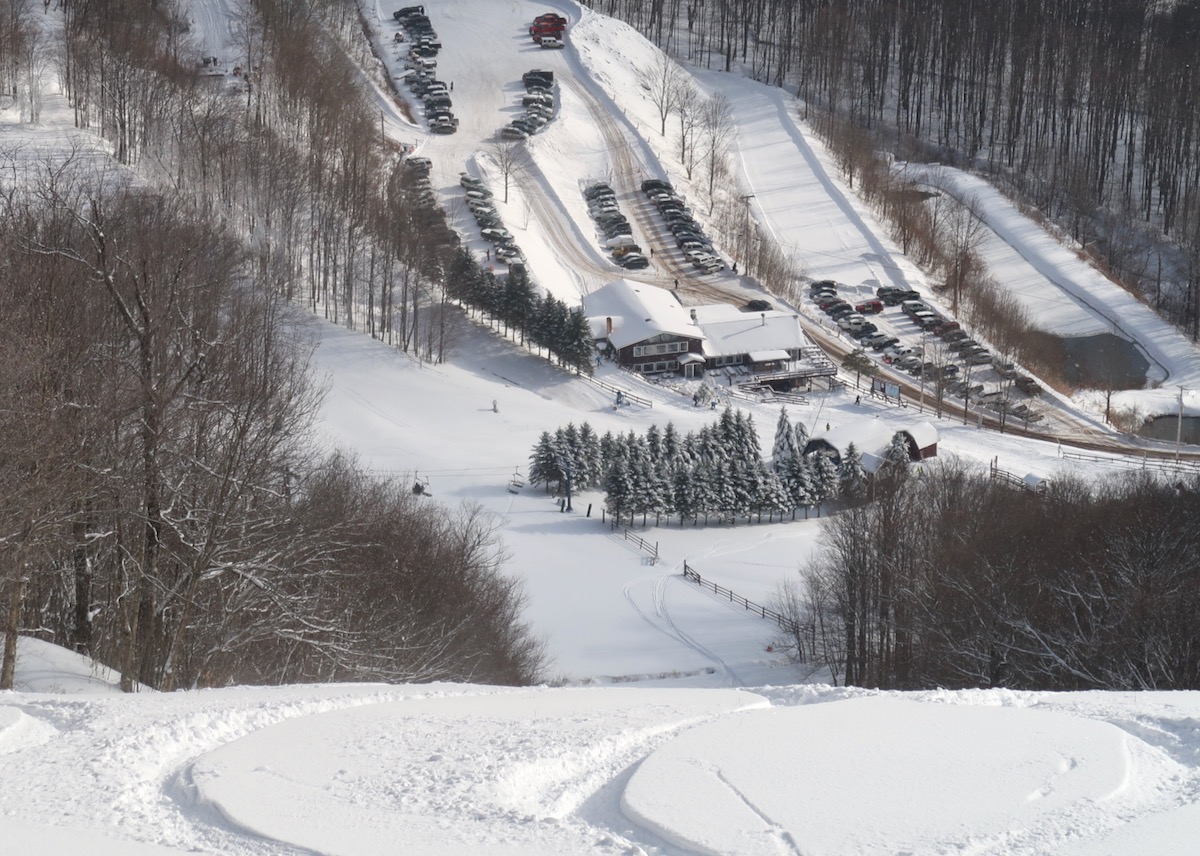 Sean and I did technically stay together on that run as we got the next chair together. We headed to Block. On that second run we were hopping between expanses of untracked snow, grinning from ear-to-ear. Each of our first five runs were all time, and could easily end up as some of my best trail skiing this season.
Over the last five days, Plattekill had at least two feet of snow, that had compressed to something a bit less. Somewhere down in there was a game-changing supportive layer that made adventurous exploration possible. Earlier in the morning, I was surprised to hear someone predict bad skiing because of the "killer crust." What?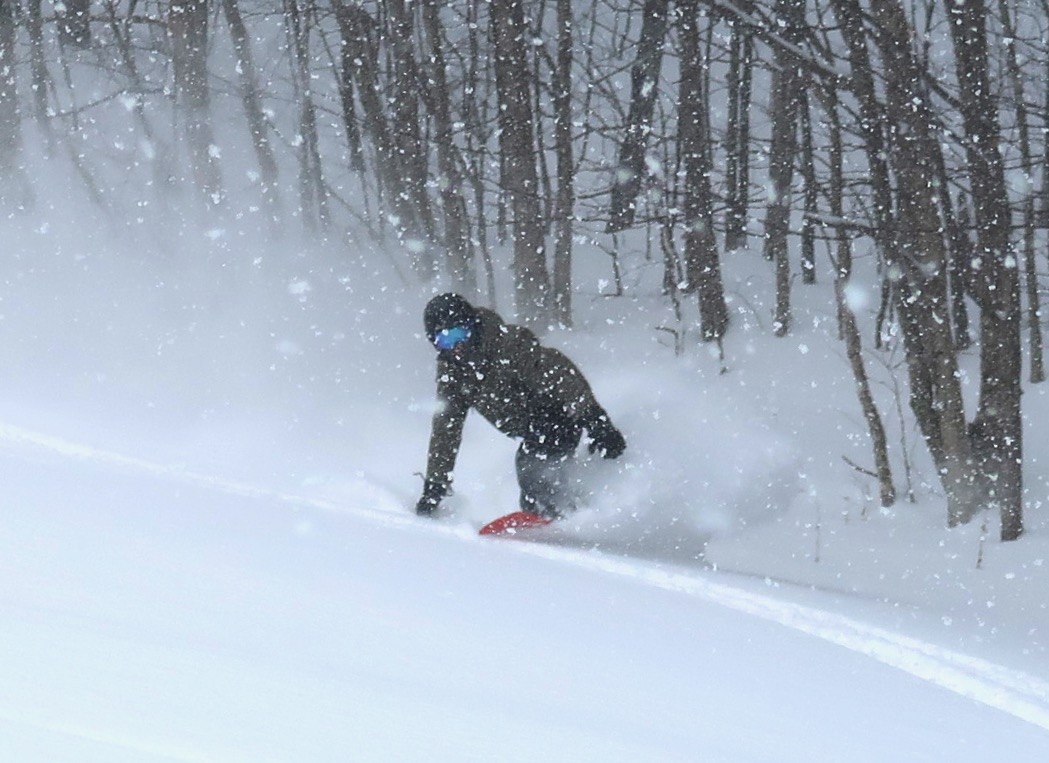 After that we started into the woods. First going after small shots here and there to test the cover. Snow depth was variable, and I never figured out why it was deeper in some spots. No matter, when we found good snow we kept coming back to it.
Mountain orientation isn't my exactly my thing. Like where are we now, how do we get back here for another run, that kind of stuff. I relied on Scott and Sean for that kind of thinking, and it paid off.
Lower angle sections of the double side woods are filled with traverses and we were dropping in, off the traverses, looking for fresh snow and working to end up back at the lift, above the tubing park.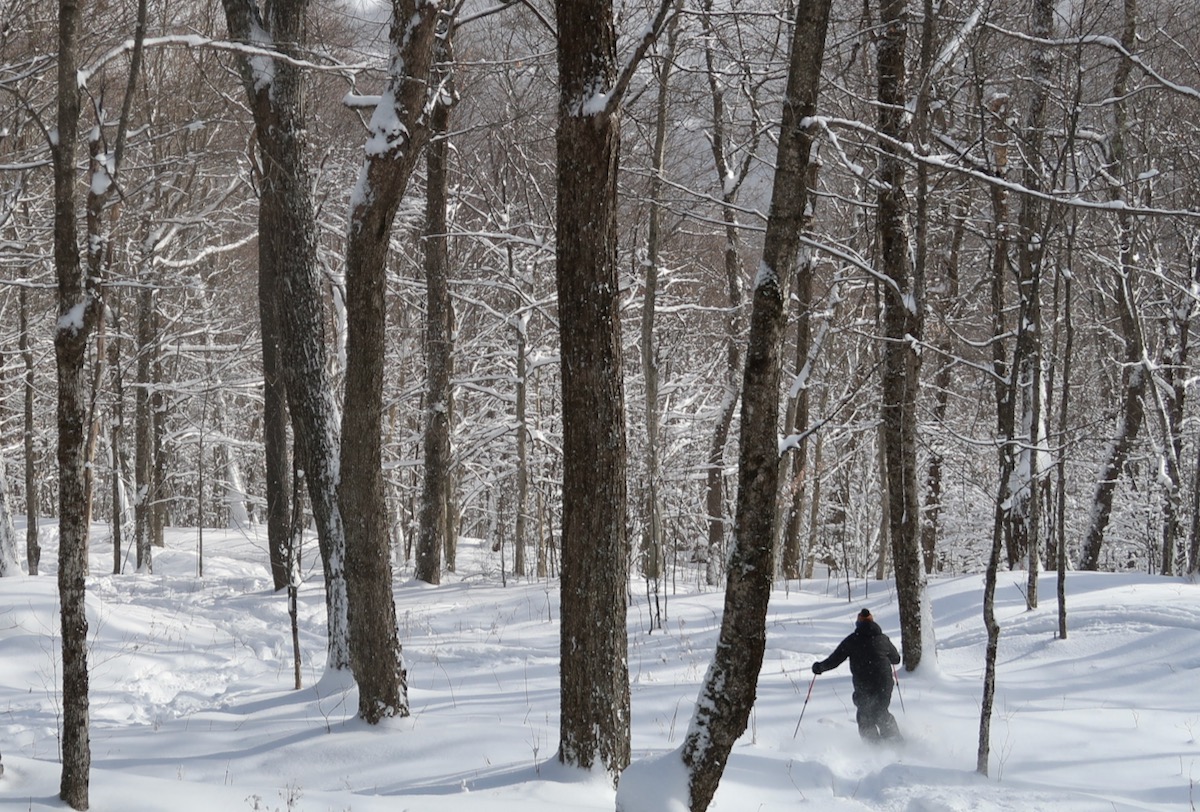 All day the mountain was in full on "Meeker Hollow mode" pulling snow out of thin air. At times it was dumping, and at other times the sun was breaking through and the falling snow was glistening in the air. Adding to the feeling of wonder, it felt like the snow was falling on us and only us.
We skied from first chair to 3pm and after that, we headed inside to get warm and dry and have a beer. And yea marvel, at a day that would have been Top 10 at any time of year.
Beyond kismet, opening day 2019 felt like full universal alignment. Welcome back.