Last week, after a major rain event on Tuesday, my hopes for a great weekend of family skiing were tempered. We made the call to sit out our traditional start to the season, at Gore, after Thanksgiving.  We opted to get our Christmas tree and hang out at home.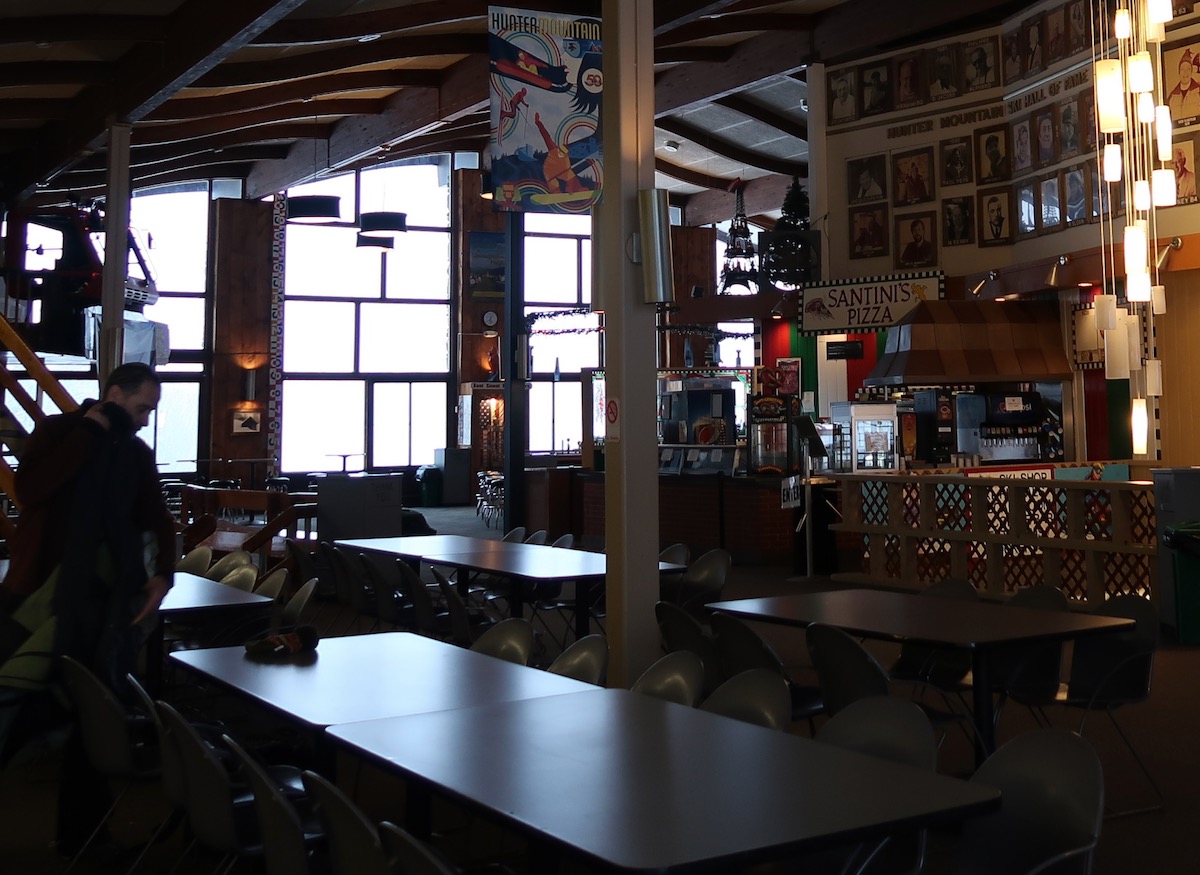 While Winter Storm Ezekiel never made it on to my radar, I was vaguely aware of a chance for redemption late in the weekend.
As the week came to a close, forecast snow amounts grew, and my plan to watch the storm from my desk at work began to evolve. As I walked out of the office Wednesday evening, I called out "see you on Tuesday!" just in case.
On Thanksgiving Day we hosted the extended family for dinner at our house, the first time in 20 years. On Friday, we bought this season's Christmas tree and went ice skating. On Saturday afternoon, while the womenfolk were enjoying The Nutcracker, I was headed north, towards our place near Gore.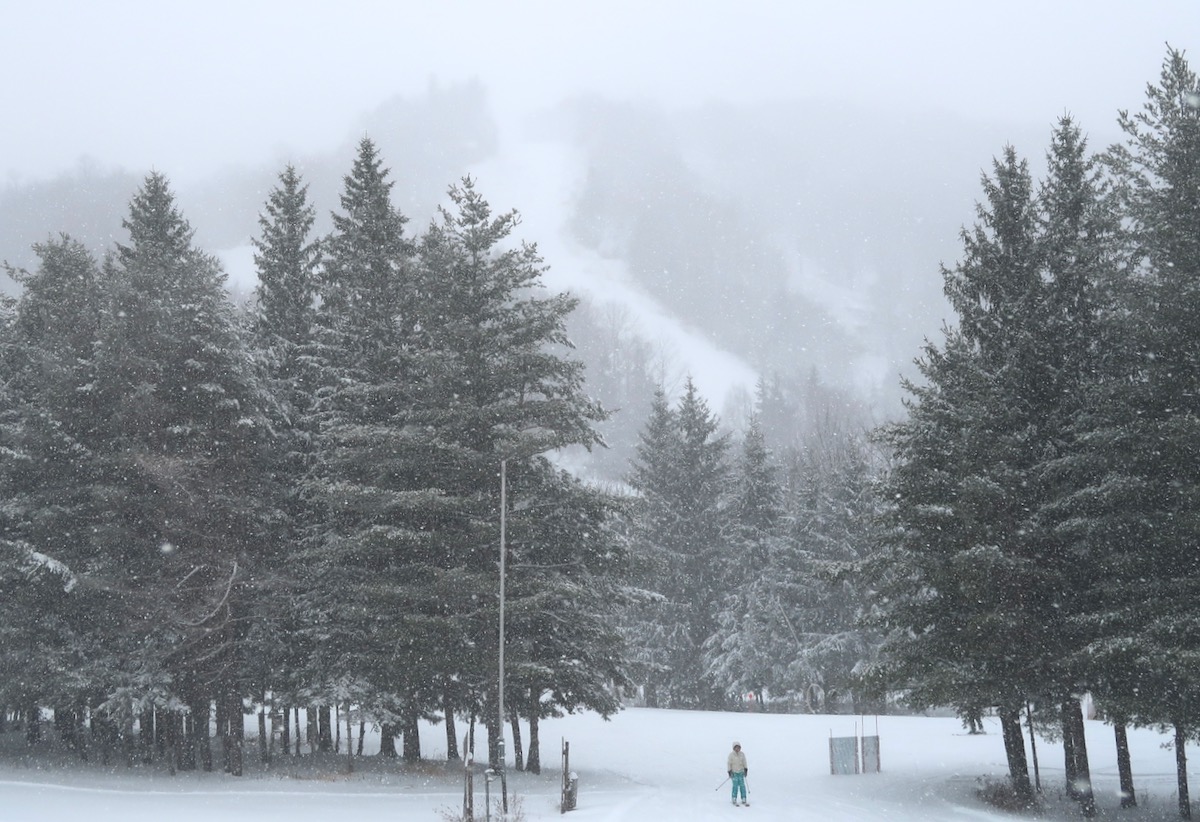 On the drive I started to think about my options. The heaviest snow was forecast to fall south of Albany, in and around the Hudson Valley. I was looking for a way to ski it without driving through it.
Skiology Matt gave me his input: "If you want to ski Hunter on Monday, you'd better leave Gore by noon on Sunday." I'm rarely receptive to the voice of reason, when I first encounter it. I resisted.
Gore was beautiful on Sunday, with spectacular views and fun snowmaking whales to navigate. Sometime during the morning, NWS pushed the start of the snowfall in the Adirondacks back to 3pm. And it looked like at least some of what was to going to fall on Sunday would fall after closing.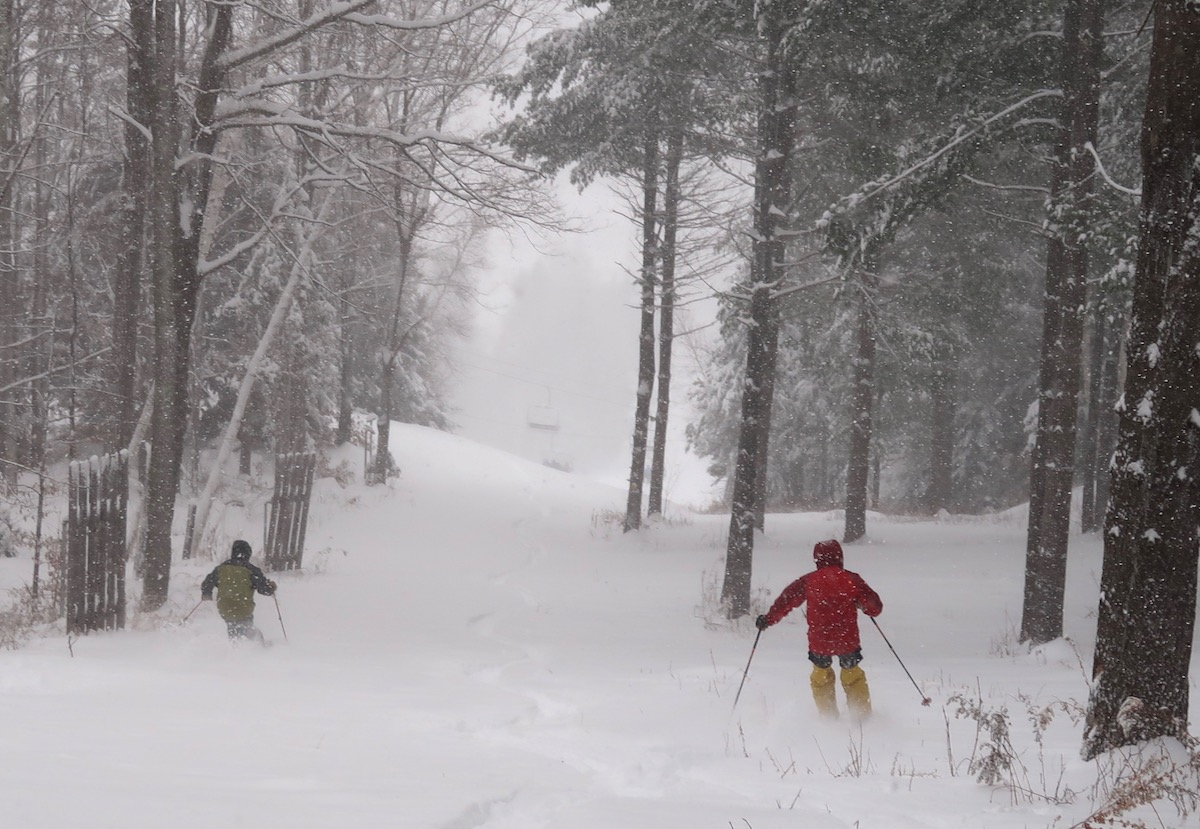 The opportunity to get past Albany with a shot at Hunter was too good to pass up. In the afternoon, it looked like there might be an opening, a chance for me to get through the Hudson Valley and down to Hunter, which by now was progged as ground zero.
Scottski had generously offered a bed at his place, and out in the parking lot at Gore, I texted "on my way." As I approached Albany, the visibility was poor, but traction was still good. Traffic was moving at the speed limit. It was odd to see everyone using their flashers while moving along at 65. I've seen this called out as a gaper move online, but IMO it was really working.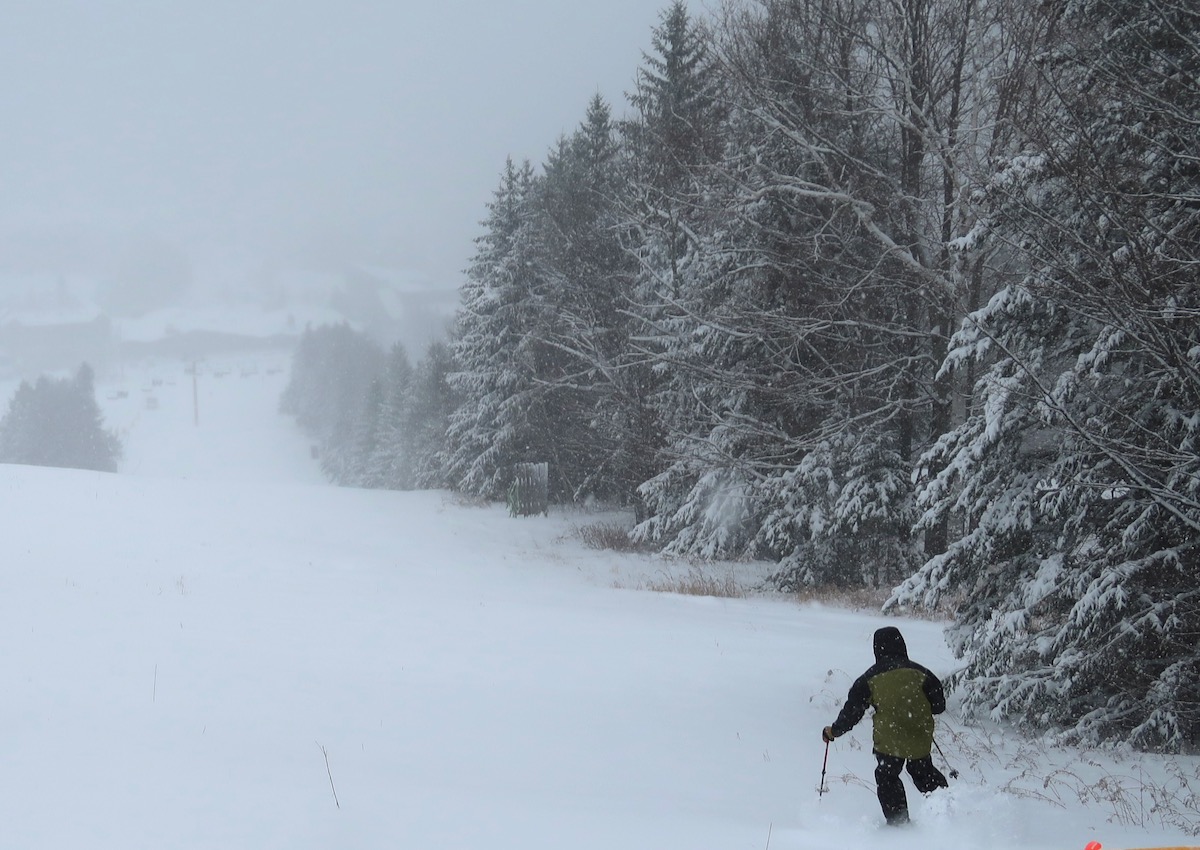 I made good time and arrived just before dark. Scott and I spent the evening watching the weather, setting up a snow stake in the front yard and checking it every ten minutes. At his place, around 1000 feet, it seemed like we got six inches overnight.
In the morning Hunter was reporting a foot. The radar and webcam looked promising.
We made coffee, scraped the excess wax off our skis and started the drive to Hunter.  As we got closer to the mountain the snow picked up and was sticking to the road. We arrived an hour before first chair.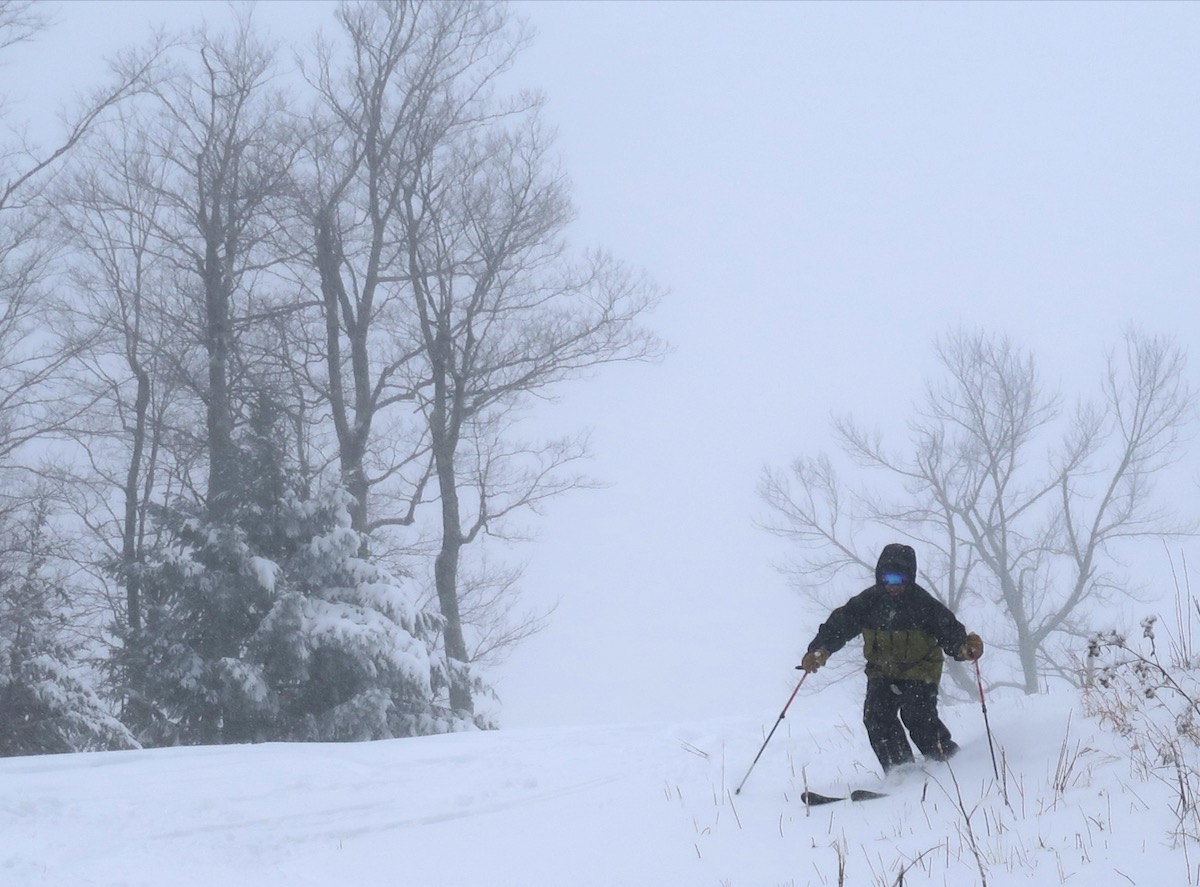 The Kaatskill Flyer was slated to be down all day, so the preferred route to the summit was a combination of the B Lift and the F. This may have actually helped a couple of old guys looking for untracked snow, slowing down the Hunter pow hounds.
A great surprise, for first chair we rode up and down with Plattekill legend Sean Riley.  I must say it was GREAT to see him back on the hill after he was on the DL last season.
Terrain off the B looked ignored so we skied there first, then we moved to the top skiing off the F and the D. I don't know Hunter as well as I should, but Scott's a local and really knew how to get the most out of the day.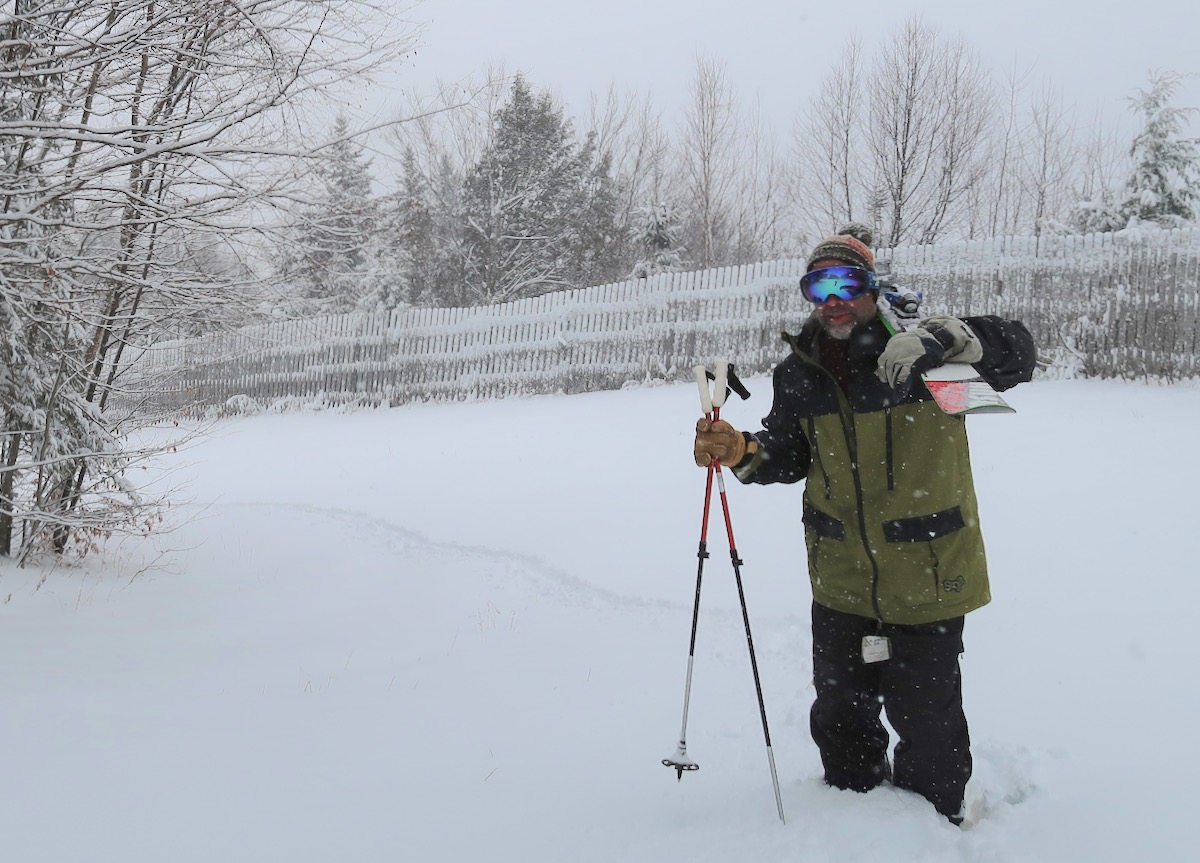 It was windy and it snowed all day long. Looking back on it, that could have been a formula for base damage, a midseason feel combined with a December snowpack.
But the snow was something special. Not exactly easy to ski, but very supportive. On our first run we tried some terrain with no manmade base, and it was sublime. I was a bit stunned that we were floating above whatever lurked below.
On parts of the mountain, the snow was 8-10 inches on top of a solid manmade base, and you could absolutely fly through it.  But to ski anything without a base you wanted the full depth of what had fallen. By noon we had 18 inches of new snow and you could ski almost anywhere.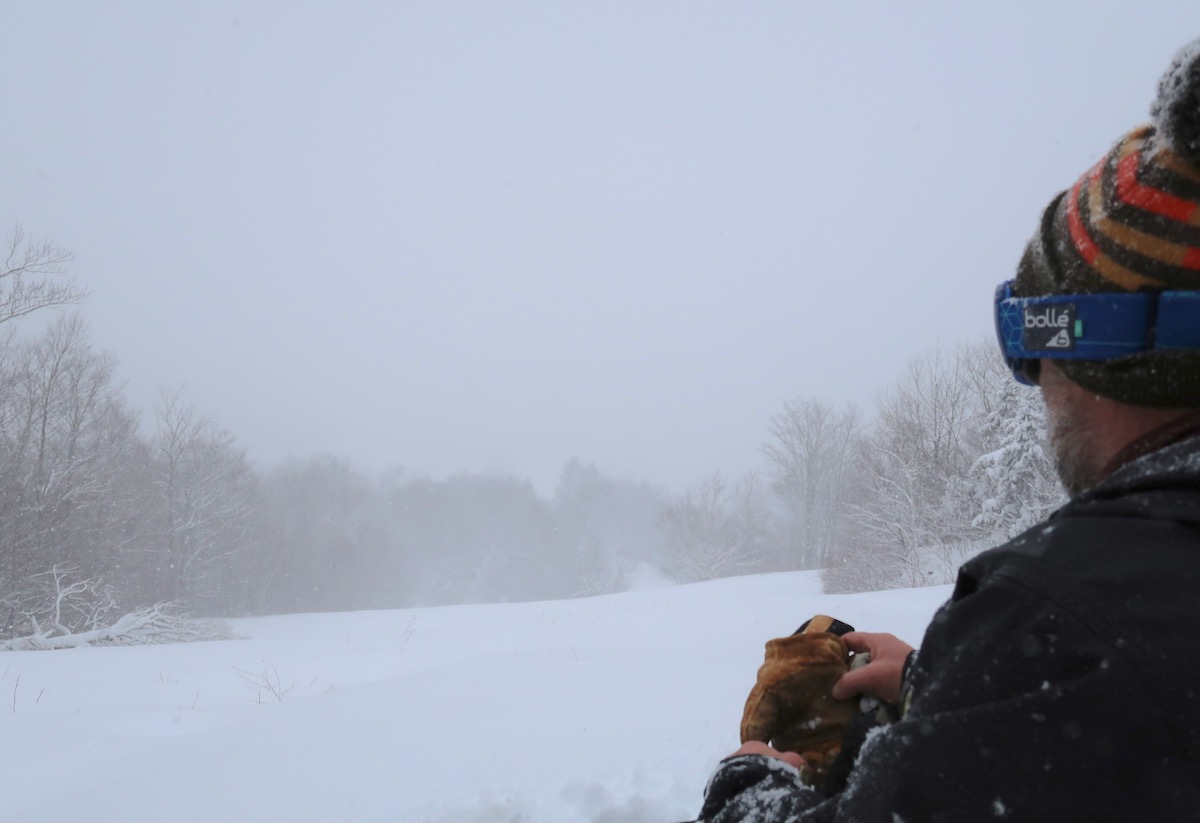 In the deepest snow, I'd been relying on my side-by-side parallel turns to help keep me afloat. Every time I found untracked, I was working on bending my knees to avoid driving from the back seat. Doing it over and over again… I felt like I made good progress.
We skied every piece of smooth snow we could find. Then we went into the lodge for a snack and made plans to explore the east side.
Up we went, gaining altitude like two sports being short-roped through the North Col on Everest. When we arrived at the top, we sat down in the snow to catch our breath and take in the scene. It was windy and cold, but for the time being we were warm and content. After savoring the moment, we dropped in, for the first of our two "final runs."
A midwinter feel, with a manmade and natural base, and lots of fun nooks and crannies. My first pow day this season, rack it!