It's no secret, I'm getting old. To ease the transition, each year I try to mark the milestone by skiing something that makes me happy. Last year I had covid on my birthday and it broke my streak of over 10 years, where every birthday was a celebration. This year I was determined to get back on track.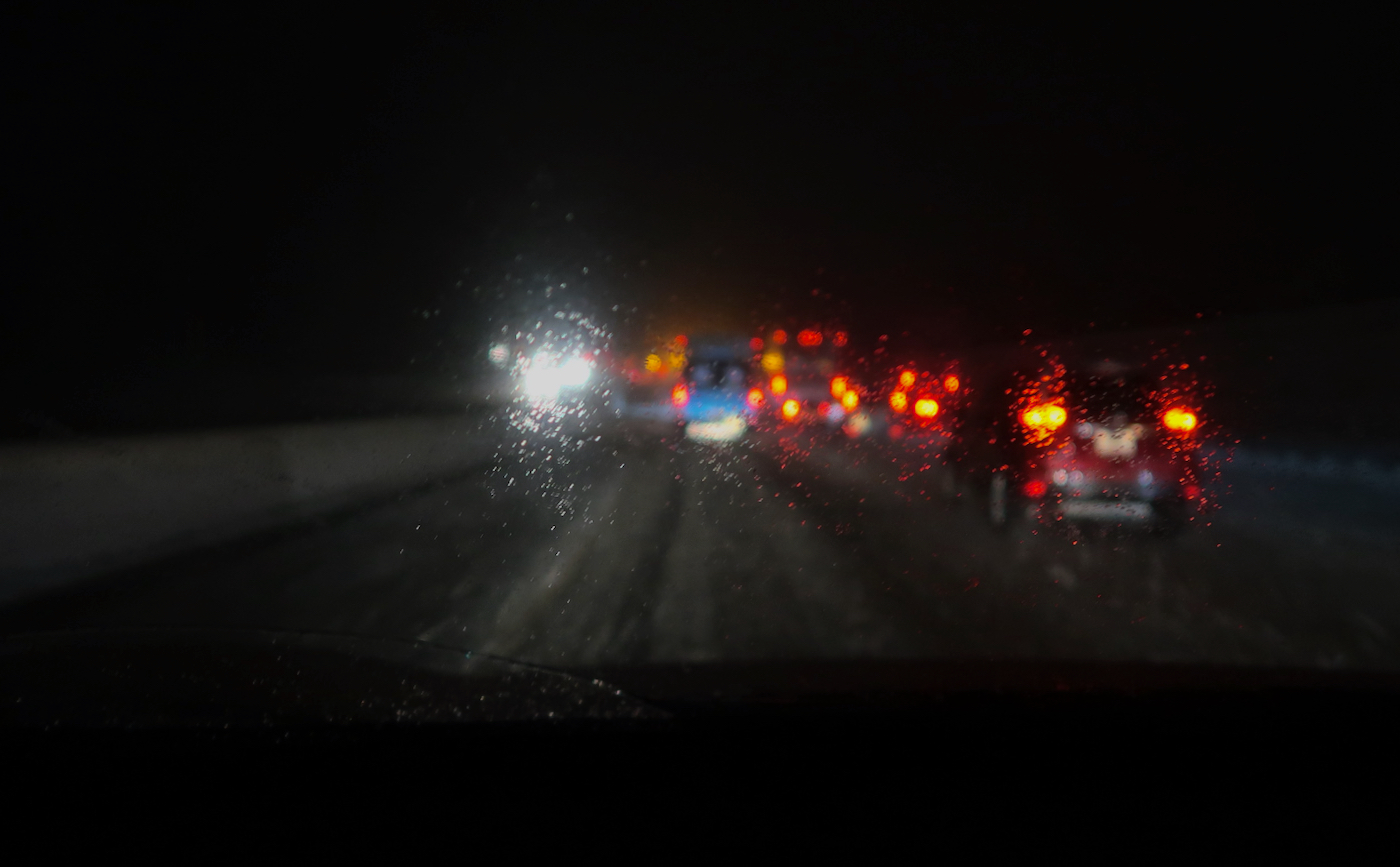 The common denominator in my birthday success over the last decade has been my focus on Plattekill. While my Jan 8 birthday is relatively early in the season, somehow, each year I've had a great ski day. Over those years conditions have ranged from acceptable to incredible, and I admit it doesn't hurt that I totally love the place.
Before I get into it, one more quick thing about the getting old part. My plan was to use my standard Nor'easter Alarm, set for 2:45am to allow one extra hour to drive to Plattekill, and still arrive 45 minutes before first chair. I tried to follow the plan, but it wasn't quite enough.  I didn't quite make first, but I was close.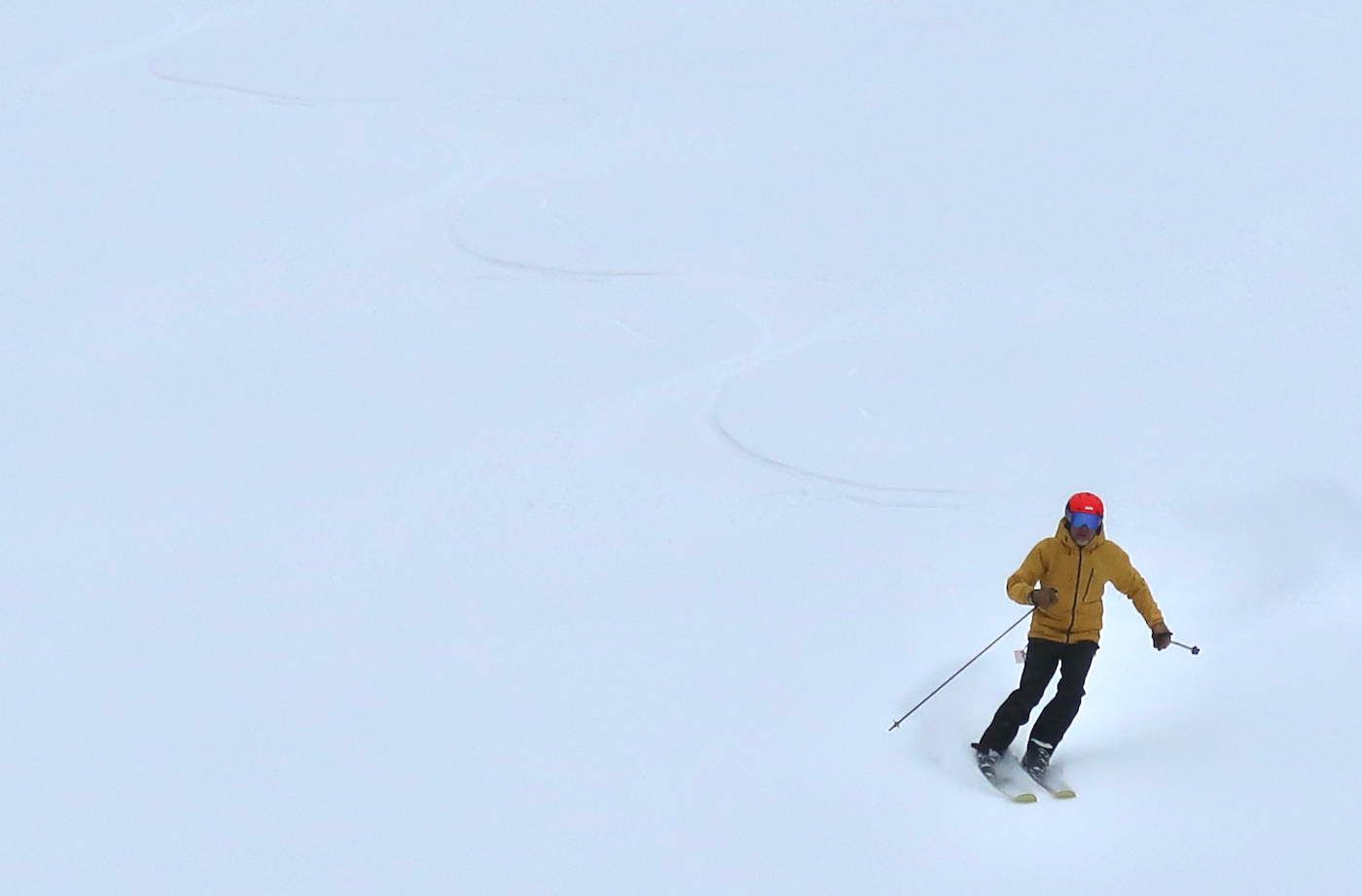 I battled the coastal storm for the first 80 miles of my drive. Soon after I made it into New York, it was no problem to drive the speed limit.
I arrived nearly an hour later than I'd hoped, in theory, just as "first chair" was loading. I knew the lodge would be nearly empty at this hour, but still booted up in my car to save time. This was my first visit of the season so I went down the office to grab my pass (Thanks Shannon!). There was no one in line when I got on the lift at 8:55. Up the line as far as I could see, I didn't see anyone, the chairs were empty.
Four or five inches of snow had fallen overnight and it was still snowing. Halfway up the line, I saw Scott coming down The Face, slicing underneath, through the new snow. At the top I went the other way, Sundown to Shredded Moz, hoping for a better chance at my own blank canvas.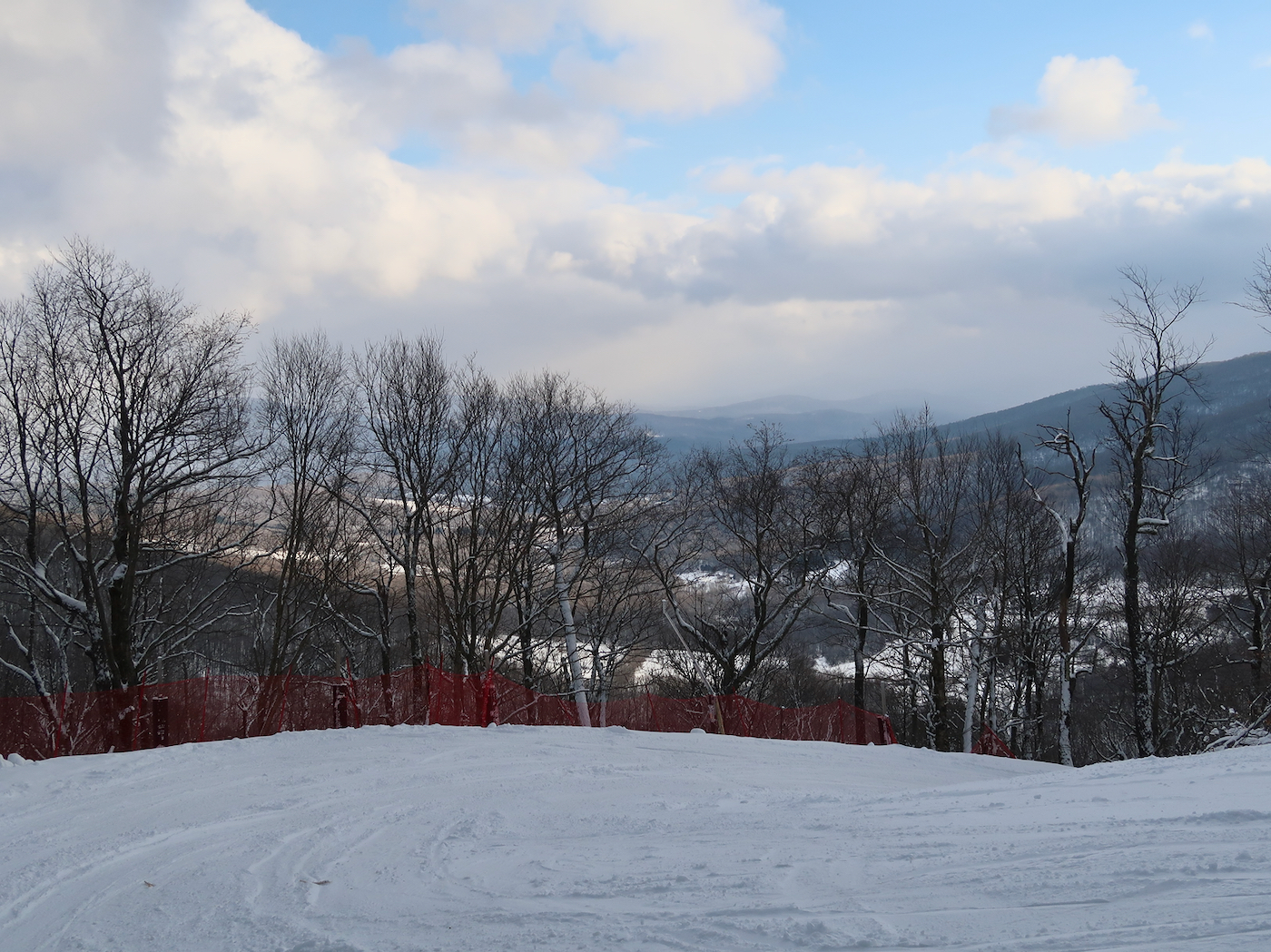 We skied everything off the triple, several times.  Ribbons of untracked snow lasted well into the morning and I never waited for behind another skier in line for the lift. We did multiple laps on Powder Puff.
I've skied Plattekill's signature 8000′ green trail many times. But I never realized before this past weekend, the pitch on Powder Puff is consistent enough along the full length of the trail to pull you all the way down in six inches of powder. With the right amount and consistency of snow, you can surf it all the way down. I can't easily explain it, but it was really fun.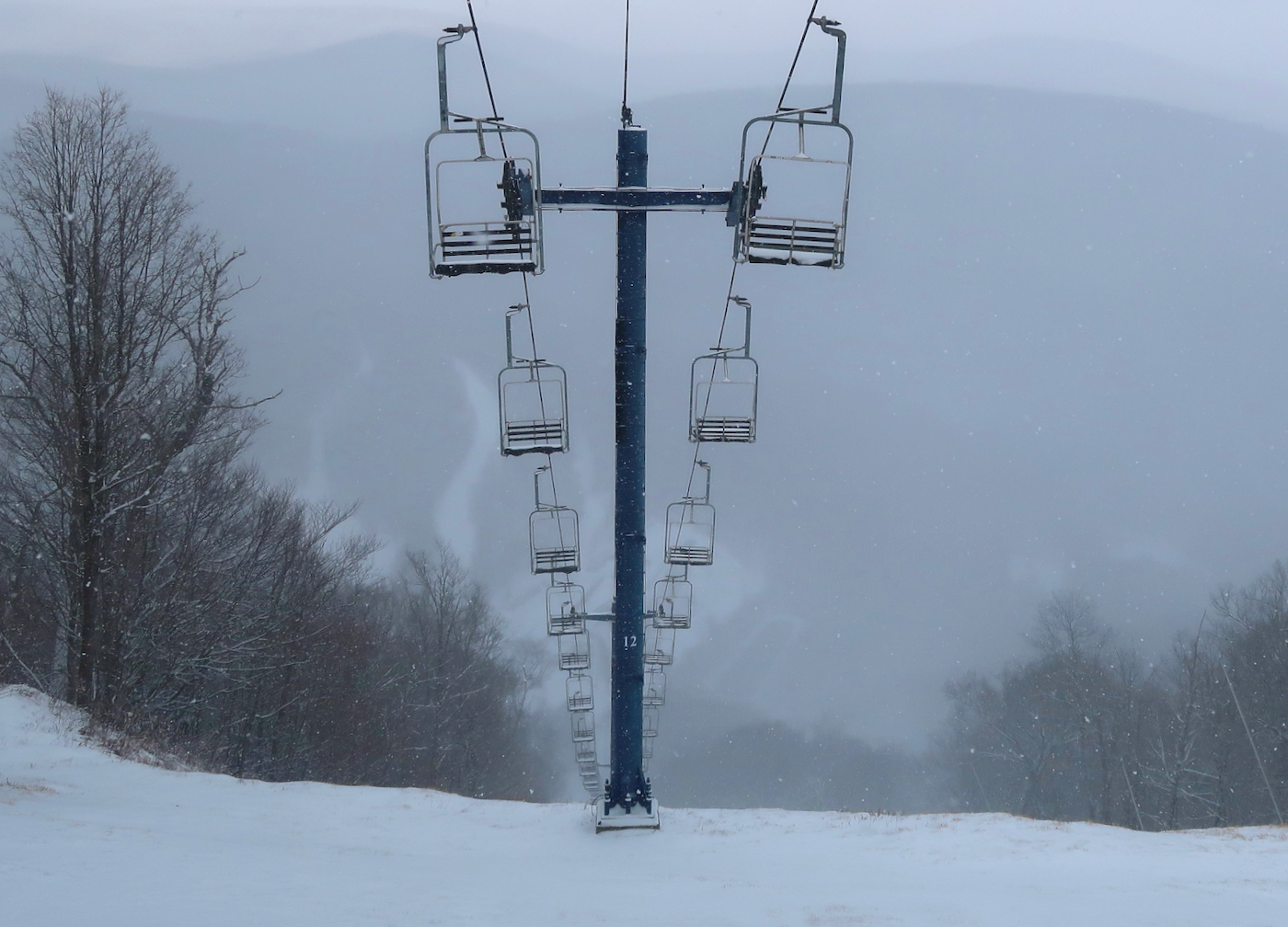 My first run on Powder Puff was at 10:30, and it had been tracked by just a handful of other skiers. I was borderline giddy after my first run and Scott agreed to do it again.
As I got to the very end of my third lap, I came across a woman, alone, skiing and smiling, doing her best pizza wedge.  Grinning myself, I asked her "what did you think of that?"  She said "this was the first time I've ever skied, and I did it!"  It was something to behold, she was so excited and happy.
The new snow didn't fully "bond" with the surface below, but there was enough adhesion that the turning was really fun. With light skier traffic and snow falling throughout the day, the skiing was good.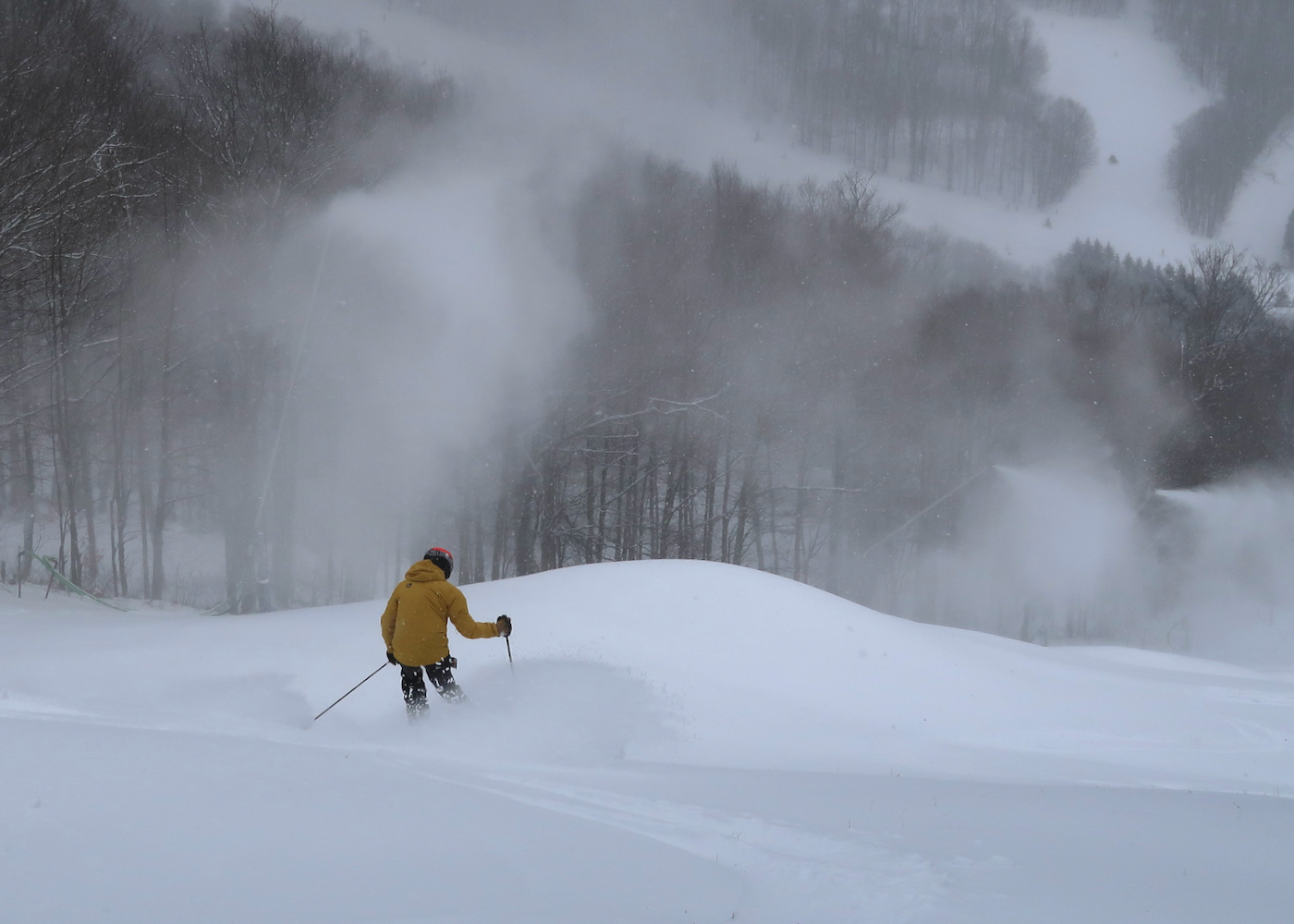 Around midday we took a break and I went into the bar to start the annual Plattekill Skier Appreciation Round. Each year NYSkiBlog uses proceeds from our advertising to buy a beer for each skier, as a sacrifice to Ullr and to support the unique phenomenon that is Plattekill.  I spoke to Lisa the Bartender and we were all set.  We had a cold one and headed back out to finish our ski day.
---
This season Plattekill is showing off improved snowmaking with a new compressor and some piping upgrades that allowed them to blow on the entire length of Powder Puff — or any trail with snowmaking — at once, cutting the lead time for the trail in half.  This is big people.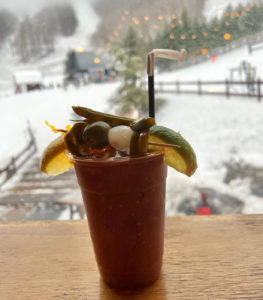 You can tell what terrain is most important to a mountain by looking at the order of snowmaking.  At Plattekill it's Sundown to Shredded Moz and then The Face.  Powder Puff is next, then on to North Face. One difference this year, it sounds like OPs will move to Plunge before next weekend.
That news is sweet music in my ears. The generally uncrowded nature of the place means that if we are going to have bumps, we're going to have to get organized.  I hope, that no matter the weather, they'll be able to leave the lower section of Plunge ungroomed all year, using Giant Slalom to complete a top-to-bottom groomer.
Another successful birthday safari that started at Plattekill. Long live the indies and on to Titus!